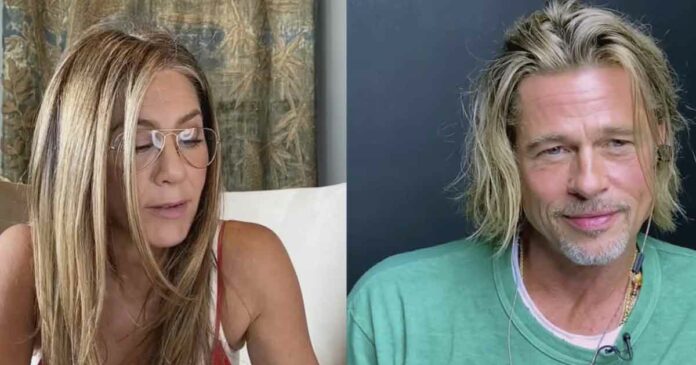 If you are a fan of the Brad Pitt and Jennifer Aniston duo then you can't miss watching this video! On 17th September 2020, the couple came together and participated in Dane Cook's Feelin' A-Live, a virtual live table read of Fast Times at Ridgemont High.
You can't miss notice how their eyes meet and how they notice each other while on the zoom call. Fans always go crazy for moments as such. We can see those sparks in the eyes and it's for sure, more than Jennifer and Brad, we the fans went crazy to experience something like that.
Jennifer even said something romantic and sensual to Brad that we can't stop ourselves from listening. Though in character, the lines came out perfect and matched the intensity of the romance between them. And if you are interested to know the exact lines Jennifer said to Brad then here they go:
"Hi, Brad. You know how cute I always thought you were. I think you're so sexy. Would you come to me?"
Can you believe it? These were the lines from Jennifer to Brad Pitt! Too flirty!
Doesn't that sound like someone just got together and might have a naughty night tonight? Well, don't get too excited as these were the lines from the X-rated scene of the movie they were table reading for, but the lines really knocked off the audience.
In case, if you have started wondering if or not the duo was alone. Then let's clarify that they were not. Rather they were accompanied by Morgan Freeman, Henry Golding, Julia Roberts, Jimmy Kimmel, Shia LaBeouf, Matthew McConaughey, and Sean Penn. And all these stars came together for an unrehearsed table read of the 1982 coming-of-age film.
Well, for those who don't know, in these events a character from the film is assigned to every person taking part and they ought to read the lines of the character while maintaining the flow. Interestingly in this particular table read we are concerned about, there were a few original characters from the movie but they too didn't know which character they might have to play in the event.
Luckily, Jennifer got the part of Linda Barrett whereas Brad Pitt got to read the lines of Brad Hamilton, a character from the movie. Maybe even fate wants them to go romantic as the characters they got are amorous high school students and had some spicy scenes together as evident from Jennifer's lines above.
The lines by Jennifer were still fine until Morgan Freeman narrated a hot and steamy scene between Jennifer and Brad! The narration goes as follows:
"He(Brad Pitt's character) walks to Linda(Jennifer's character). She reaches out and grabs him for a kiss, pulling him close. Then she pushes him away so he can watch as she carefully unstraps the top of bathing suit."
"The incredible Linda Barrett's bre*-sts fall loose, Lord have mercy. She takes Brad's hands and places them on her as she begins unbuttoning his shirt. They're just about to fall into passionate lovemaking when…"
As the movie goes, it's a day-dream scenario, where Brad is imagining Linda making a move on him.
Here's the video of the steamy lines said by Jennifer. Also, Freeman's dialogues are included too. Watch patiently because Jennifer's line comes up somewhere in the middle of the video. And don't miss those giggles and looks on everyone's faces. No one in the call could help escape a smile when the steamy scenes are ongoing. Watch it here:
What on earth IS this and why did I need exactly this today?pic.twitter.com/2KM3LtxcMp

— Sucharita Tyagi (@Su4ita) September 18, 2020
So as a fan of the Brad Pitt and Jennifer Aniston are you not happy yet? You just got a steamy scene described between the couple and they were listening to it together! Oh boy! The call couldn't be anymore steamy than that. And we never expected to witness scenes like these between the two. Well, fate can bring you to places you never expected to be!
We don't know yet if things between the two are as steamy as the scene they did. But there's a sect of the society who want to see them together as they looked cute that way. But again the decision lies with the two and we would gratefully accept any advances they make.
The event in the picture did quite well and served as a fundraiser for CORE (Community Organized Relief Effort), a humanitarian organization co-founded by Penn, and Reform Alliance in the fight against COVID-19. If you were watching the streams then you might have noticed a "donate" button on your screen. In case if you wish to donate you might try out texting CORE to 707070. All donations are your responsibility, act according to your discretion.
Here's the video from the Table read if you want to watch!