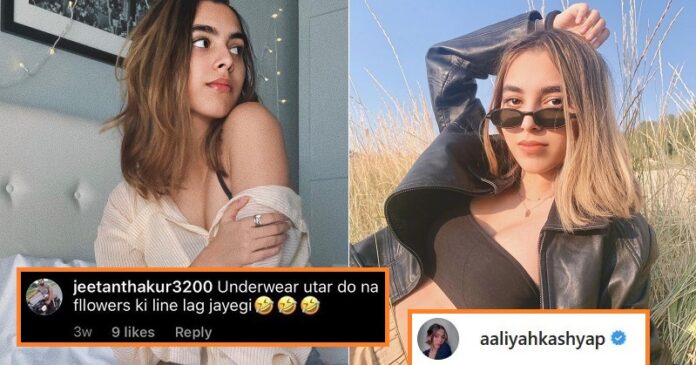 Social media is a place where fame and trolling go hand in hand. This sad and harsh reality of social media has come to light once again. And, the recent victim of this harsh reality is filmmaker Anurag Kashyap's daughter Aaliyah Kashyap. The star kid is very active on the microblogging site and also savors a huge fan following. Recently, she posted a video on her Youtube channel and disclosed about receiving rape and death threats for posting a picture of herself in lingerie.
View this post on Instagram
Aaliyah shared in the video that netizens slut-shamed her and also dropped awful comments on her post, which badly affected her. She said, "People were telling me that I should be ashamed of being Indian and posting stuff like that. People were sending me rape threats, calling me a p***titute, sending me death threats. That whole incident of the picture got me a lot. I was crying constantly. I was very upset."
Further, Aaliyah added that later she realized that she shouldn't be getting affected by these disgusting trolls. These people have nothing better to do and are hiding behind their phones like cowards. While talking about how she dealt with the kind of hatred she received on social media, Aaliyah said, "I honestly just block everyone. If there is anything even remotely negative on any of my social media, I just block them because I want my social media to be a positive place."
Aaliyah, a 20-year-old also shared a note stating that she received rape and death threats, and how it challenged her mental health. She said that these past few weeks have been crucial to her mental health and she has never been more afraid as she was.
The note said, "The past few weeks have been really hard on my mental health. Ever since I posted a photo of me in lingerie, I have been getting the most vile, degrading, and disgusting comments. I have never felt more frightened than I have in the past few weeks to the point where I considered deleting my Instagram. I have tried to ignore the harassment and shrug it off but the truth is that we need to speak about it because these kinds of comments contribute to the rape culture that affects all women in India (and the rest of the world) in one way or the other."
You can read the full post here:
View this post on Instagram
Her statement is what every single woman in the world, goes through for being herself on social media. Aaliyah even shared that this excessive sexualization in society has in the past led up to her being sexually assaulted by a middle-aged man as a minor. Now, it is high time we start calling out the people on social media for their toxic behavior. More power to you, Aaliyah!