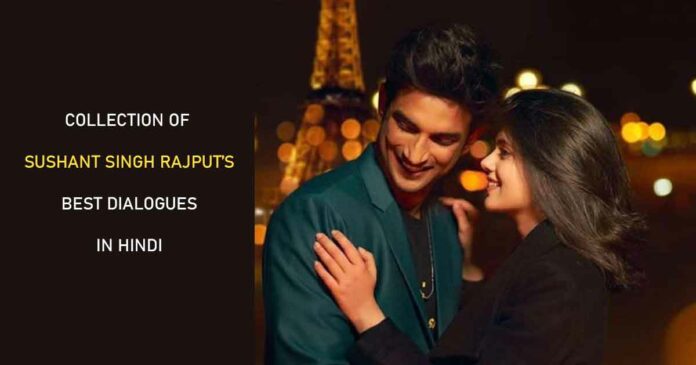 Sushant Singh Rajput has given us some great movies and many more dialogues to cherish for the rest of our lives. We remember him through his words now, but every heart wishes to see him one more time. His dialogues are great and find application in our life as well.
To keep him alive in our hearts, we have picked a few important dialogues uttered by Sushant Singh Rajput in his movies. Feel free to share them and make an impact on everyone's life. The dialogues are in Hindi because that's the language of the nation. It increases the reach of his dialogues, gives more impact and value to everyone.
Best Dialogues By Sushant Singh Rajput In Hindi
#10 The dialogue from Dil Bechara when Sushant says he is a fighter and he has fought his war nicely. The dialogue is presented in Hindi in the image below.
#9 Sushant's dialogue in Hindi where he says "Jis mehfil ne thukraya humko, kyun use yad kare, age lamha bula raha, aao uske sath chale." 
#8 Result never decides whether you failed or passed, but the efforts you put in decides it. So focus on your results rather than focusing on your result. A quote by Sushant in Hindi.
#7 In this quote, Sushant says that the most important thing in life is one's life. But ironically he took his own life. May he RIP. Find the best quote in Hindi below and share it for others.
#6 The one where Sushant says we have forgotten to live life because are so much stuck in success, failure and stuffs like that. Rather, we should learn to live life. A quote by Sushant Singh Rajput in Hindi.
#5 This quote from Sushant's movie Chhichhore is too deep and perfect for all students in today's world. He says everyone knows what to do if they are successful but what to do if they fail, no one knows about it. People don't even talk about it. A deep quote to think about by Sushant, find it below in Hindi.
#4 When Sushant question in his film dialogue asks whether the middle-class people do something for the country or not. The answer is they watch the movies. You can find the dialogue in Hindi from Sushant's movie below.
#3 What is a real loser? Sushant Singh Rajput in his movie says that a person who loses from himself is a real loser. The quote in Hindi is from Sushant's movie Chhichhore.
#2 People work day and night but as pointed out by Sushant Singh in his movie, there should be a balance between family and work. 
#1 Sushant Singh's movie dialogue from Raabta where he says there is no fun Eid if people don't observe 'Roja'. A perfect quote to share on Eid!