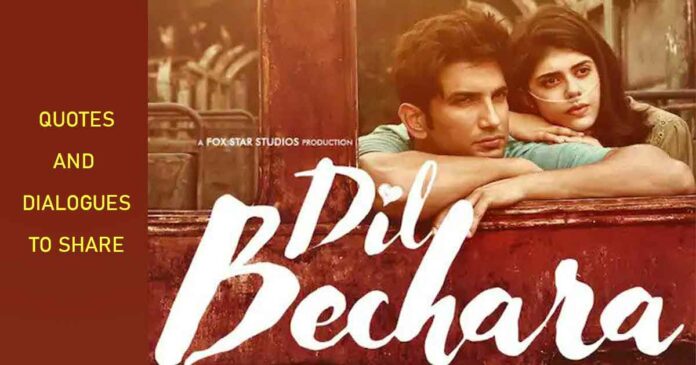 Dil Bechara, the last movie of Sushant Singh Rajput's career where he performed with Sanjana Sanghi as Kizie Basu. The movie is an emotional experience for all the fans who watched it. The untimely demise of Sushant in real life and again in the movie triggered some odd nerves in us and made us cry.
We feel the movie is really great and as a tribute to the actor who was passionate and different from everyone, the one who could dream about stars while living on the earth. Sushant may not be among us now but his works and words will keep him alive always. Here we have tried to capture some of his words from his last movie, Dil Bechara.
Enjoy the dialogues and quotes from Dil Bechara here and share it with the world as a tribute to an exceptional talent who left us early.
#10 In a scene Kizie says, lagta hai mai reality show ki contestant hu, par jab bhi kabhi eliminate hone wali hoti hu to koi vote kar ke bacha leta hai. In her life, Manny played by Sushant Singh did the same when he came into her life and started loving her more than anyone else.
#9 "Meri Rani zinda hai aur tab tak humari kahani bhi zinda hai." These lines show true love at it's best. Manny by Sushant and Kizie showed us all how true love can be eternal. The quote below is more than we need to fall in love.
#8 It's really hard to lose someone to cancer. And if you love them more than your own life then it's even harder. Kizie in Dil Bechara says, "Jaise usne entry li, vaise hi usne ek din exit li. Aur mujhe fir se akela chodh gaya." It perfectly describes the pain she is going through.
#7 Pushpinder was the life support for Kizie's lungs and she would not survive for long without it. So the dialogue Kizzie says expresses her feeling the right way, "Jaise Pushpinder mere lungs ke liye jaruri hai, vaise tum mere heart ke liye zaroori ho."
#6 Sushant Singh Rajput as Manny in Dil Bechara movie cam into the life of Kizie Basu and taught her to live her life the right way. But he left her early leaving her alone. In the dialogue below Kizie says it loud, "wo mazak karta gaya,hasta gaya, aur mujhe jeena sikhata gaya…aur dheere dheere mere jene ki wajah banta gaya…"
#5 Sometimes the best thing to do is to just sit with your loved one, nothing to talk nothing to discuss. Just enjoy the silent company of each other. Dil Bechara was a story where Sushant and her girl didn't have much time.
#4 Kizie was a unique name and in Dil Bechara movie they say it means Chipku. The way Kizie came back really proves it. And this dialogues really means a lot to a person who is dying.
#3 Pyar neend ki tarah hota hai,dheere dheere ata hai. Is it true for every lover out there? Well, atleast Sushant Singh Rajput and Kizie felt it that way.
#2 When Sushant Singh Rajput and Kizie Basu go out together on a date then this dialogue comes up. Indeed true, the two of them were necessary for each other's heart.
#1 A dialogue from Dil Bechara movie where Kizie expresses her thoughts on people who someone from their life. And we are left to wonder, tooti hui zindagi Kizie ki this ya un logo ki?