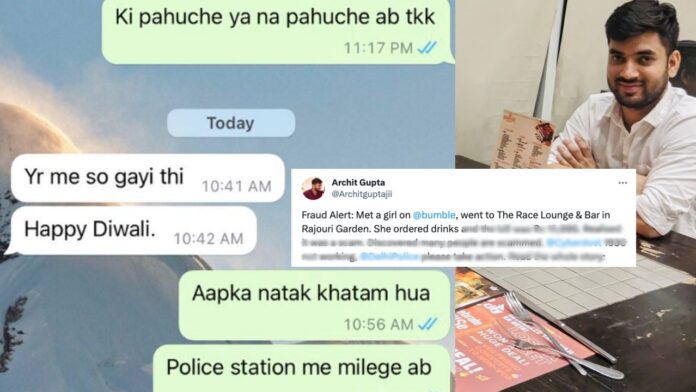 The online dating realm is growing progressively precarious for individuals, with numerous cases emerging of people falling victim to scams orchestrated by their Bumble dates.
If you use dating apps such as Bumble and Tinder in your quest for a meaningful connection, exercise caution in your interactions. Scammers are becoming increasingly active on these platforms, demanding vigilance.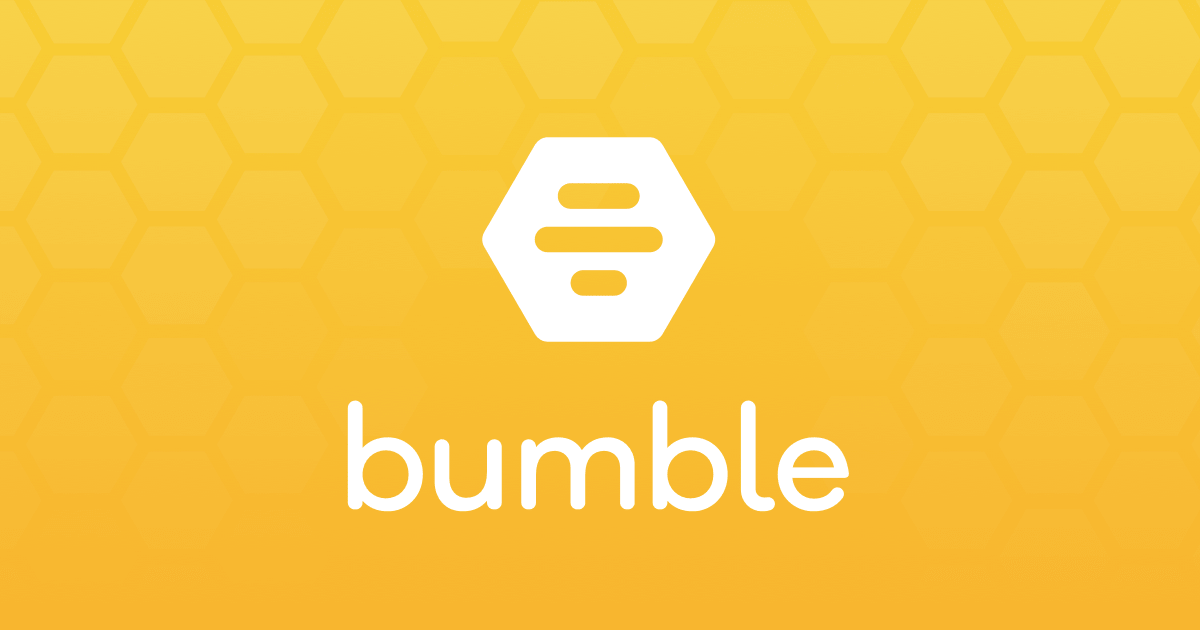 In a recent unfortunate incident, a Delhi-based journalist fell victim to deception from an individual he encountered on Bumble. This is not an isolated occurrence, as similar scams have seen a surge across various dating apps in recent months. Despite the apparent sincerity of individuals, it is imperative to approach online connections with prudence, staying alert to their actions and safeguarding yourself from potential scams.
Bumble Scam in Rajouri Garden
On the social media platform 'X,' Archit Gupta recounted a cautionary tale about his Bumble date in a detailed post. He disclosed how he fell victim to deception by the girl he encountered on Bumble.
In Gupta's narrative, the girl proposed meeting at The Race Lounge and Bar in Rajouri Garden. Despite Gupta's reservations about the cafe, he decided to comply without objection. While at the cafe, the girl ordered a drink, and Gupta chose a Red Bull. The shock ensued when the bill arrived—a staggering Rs 15,886 for a hookah, multiple glasses of wine, a vodka shot, chicken tikka and a water bottle.
Despite his disbelief, Gupta settled the bill. Due to a glitchy machine, the waiter had to tap his card four times. After a brief restroom break, Gupta returned to find the bill mysteriously gone from his table. The situation took a peculiar turn when the girl suddenly declared she was leaving with her brother and vanished unexpectedly.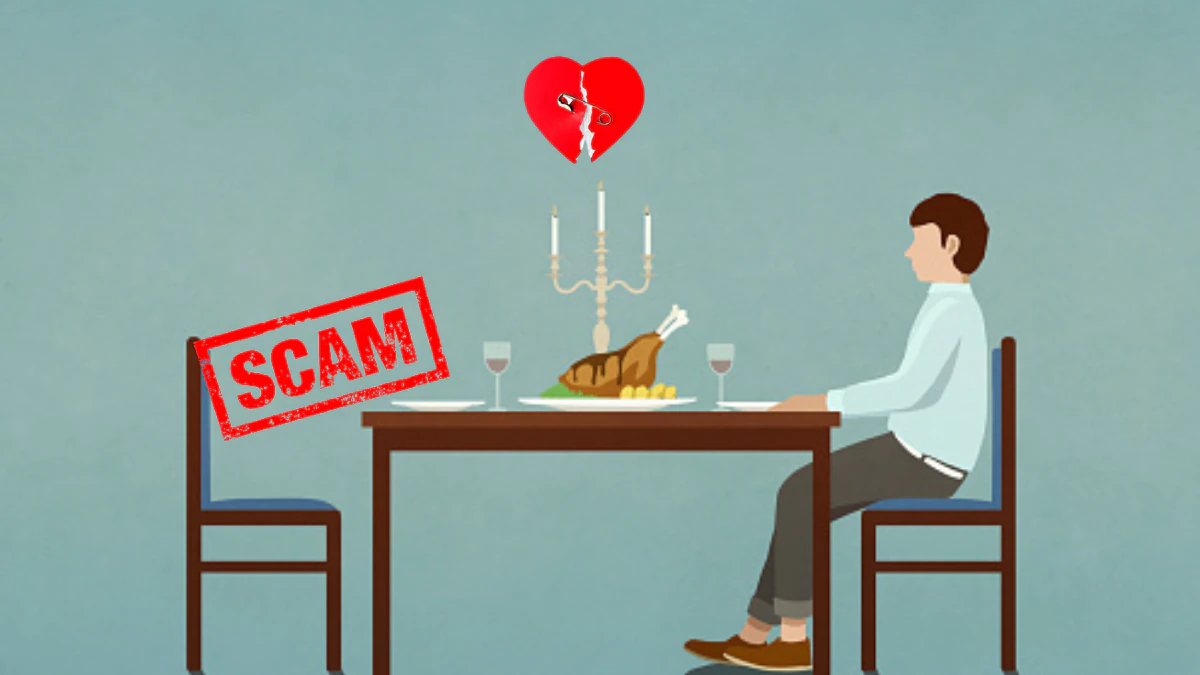 Despite making desperate attempts to contact her afterward, Gupta's calls and messages went unanswered. It was at this juncture that Gupta came to the realisation that he had inadvertently fallen prey to a scam. This realisation prompted him to share the cautionary tale on 'X' as a warning to others.
In his post he stated, "Fraud Alert – Incident Date: 10.11.2023. I'm 25 years old and single. Thought of giving Bumble a chance to find a genuine date, but ended up with a scam." Gupta elaborated on his encounter, emphasising the substantial Rs 15,886 bill. Stunned by the prevalence of such occurrences, he called upon @Cyberdost and @DelhiPolice to intervene, stressing the importance of heightened awareness and safety protocols on dating platforms.
Fraud Alert: Met a girl on @bumble, went to The Race Lounge & Bar in Rajouri Garden. She ordered drinks and the bill was Rs 15,886. Realised it was a scam. Discovered many people are scammed. @Cyberdost 1930 not working, @DelhiPolice please take action. Read the whole story: pic.twitter.com/Ux18iYSRm1

— Archit Gupta (@Architguptajii) November 11, 2023
Happy Diwali. End of conversation. Blocked by her. 😅 pic.twitter.com/dh7NpFDA5o

— Archit Gupta (@Architguptajii) November 11, 2023
@DeepikaBhardwaj @barkhatrehan16 @ANI @PTI_News @aajtak @BBCHindi

People described how they were scammed. (Google reviews) pic.twitter.com/VkDUhRWhjA

— Archit Gupta (@Architguptajii) November 11, 2023
Gupta highlighted the prevalence of scams occurring in numerous cafes and clubs in the Rajouri Garden area. He disclosed that certain cafes, in coordination with girls on Bumble, have enlisted bouncers to coerce individuals into settling bills forcibly. He is now urging the Delhi Police to intervene and take decisive action against both the cafes and the scammers. Despite engaging in deceptive practices and defrauding individuals, these wrongdoers appear to be evading accountability without facing any repercussions.
Netizen's Reaction
This is happening very frequently. Have made so many posts about it

— Deepika Narayan Bhardwaj (@DeepikaBhardwaj) November 11, 2023
The red flag is girl himself will ask u to meet even before u ask her..n that's common sense u r not Shahrukh khan and how she is asking u to meet in first chat only..people should b careful too!

— Dr Rahul Saraswat (@DrRahulSaraswa1) November 11, 2023
Scamming is in vougue.
But you shouldn't paid the entire bill by yourself.
Next time whenever you are going for a random date , just order few things and ask his/her to pay the bill.
This advice is for both genders.

— POOJA DUBEY (@poojavdubey) November 11, 2023
Similar Incident

in Pune
Recently a man based in Pune incurred a loss of Rs 22,000 at a Pune cafe during a meeting with his Bumble date. What began as a promising match turned into a distressing ordeal, culminating in an exorbitant bill of Rs 22,000 at Gypsy Restro Bar Bhugaon, Pune.
The victim who opted to remain anonymous on social media, shared his troubling experience with journalist Deepika Bharadwaj, who then posted his account on 'X' while safeguarding his identity. He outlined how his date swiftly ordered wine and a hookah without discussing the prices. The man was taken aback when presented with an unrealistic bill, including a hookah priced at Rs 10,000, a wine bottle at Rs 15,000 and a wine glass at Rs 1500.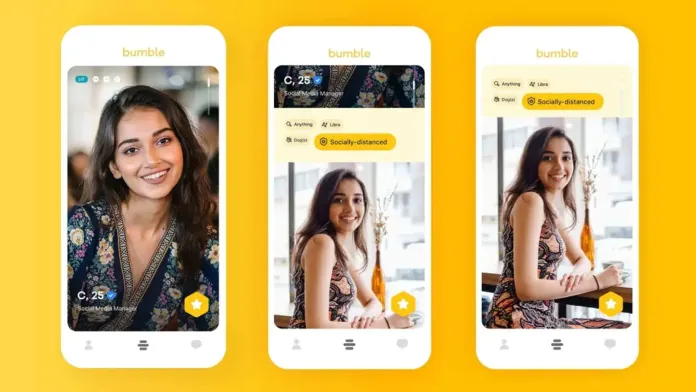 When he expressed doubts about the bill, his date purportedly threatened him, asserting that failure to settle the bill might lead to damage to his car by the restaurant owner. Distressed and feeling coerced, he reluctantly agreed to pay the bill.
This incident prompted numerous online discussions, with people sharing their perspectives on similar occurrences on Bumble. Some speculated that the girl could have been employed by the restaurant to lure customers and overcharge them. There were suggestions that the restaurant might have used intimidation tactics to force individuals into paying inflated amounts.
Read more: 'Why Do Women Live Longer than Men?', Let These 20 Pics Do The Talking