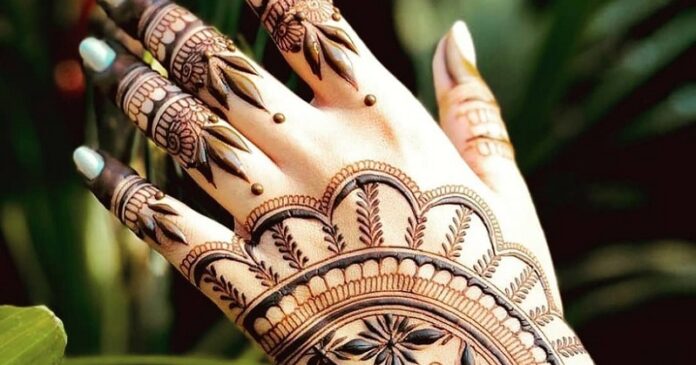 In the last few years, the popularity of Arabic mehndi design for hand has skyrocketed! With its modernism and distinctiveness, it breathes new life into classic mehndi designs. Arabic mehndi incorporates floral artwork and geometric patterns to create stunning, vibrant designs. On the basis of inventiveness, we come with new mehndi designs every day. Because Arabic mehndi is the most simple to apply and that is why it is increasingly popular among modern brides. It has a very basic and elegant vibe because it is less complicated to develop. We've put together a few amazing Arabic mehndi designs that will leave you speechless. It's time to start saving some ideas for inspiration!
Here are some of the best Mehndi Designs in Arabic style.
1. Detailed Henna Design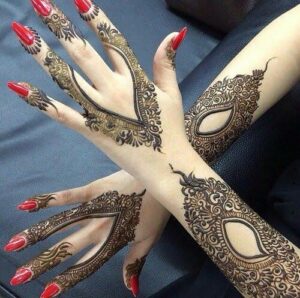 We adore how this design incorporates both details and open spaces! Despite being modest, it gives the impression of being fuller. Even though it's a simple Mehendi design in Arabic style, it'll make your hands shine out.
2. Leaflet Arabic Mehndi Design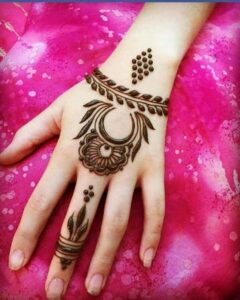 For your roka, how about an Arabian mehndi design? Well, we've found the ideal solution for you. The focus of these designs is on a lovely presentation of leaves and dots! Because thick mehndi is used in Arabic designs, this design will appear quite rich once the color has dried.
3. Latest Arabic Design on Wrist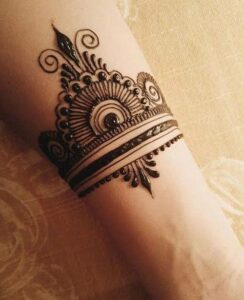 Who says you have to have your hands completely covered in Arabic mehndi designs all the time? Take a peek at them! These wristband patterns are just stunning! If you don't want to have henna applied to your hands, you've found the perfect alternative. It's also really simple to create!
4. Jaal Arabic Mehndi Design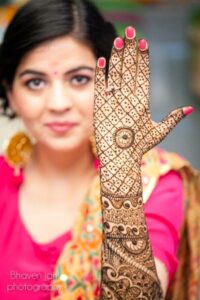 While we all have seen traditional jaali designs, this one's more effortless! It involves no other complementary patterns, thus bringing the entire attention to the beautiful jaal details. Jaal designs in the form of Arabic henna designs give an illusion of the hand being adorned with delicate jewels.
5.

Contrasting Full-Hand Mehndi Design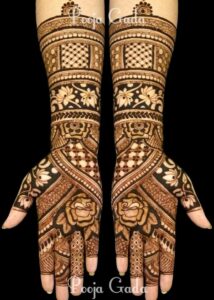 A never-before-seen full hand Arabic Mehendi design with two diametrically opposed designs. The simplicity of this design is what makes it so popular among modern women! Isn't it true that they're made for each other?
6. Arabic Mehndi with Motifs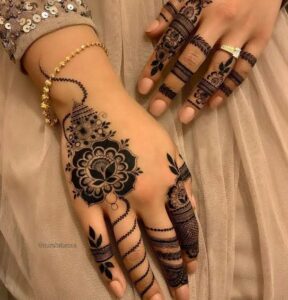 The ornate designs that accentuate the hand are the design's features. In a nutshell, it's an intriguing design that's a sight to behold! For the modern bride, this detailed and gorgeous minimalistic Arabian Mehandi design is a must-have.
7. Palm Cuff Decorative Design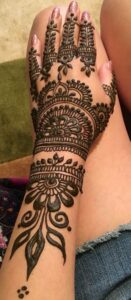 A few years ago, palm cuffs were all the rage! We decided to create a mehndi design that gives the idea of that jewelry piece now that the craze has faded. This one has a lot of panache in displaying designs like lotus and leaves. Don't forget that this Arabic henna design will free up your fingers so you can grasp that glass of wine.
8. Geometric Arabic Mehndi Design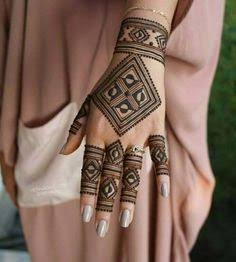 It's a stunning Arabic mehndi design for hands with a tribal tattoo-like pattern and geometric patterns. When done with black mehndi, it looks the nicest. Very attractive to the eye! This Arabian mehndi design is worth bookmarking because of the bracelet on the forearm and the bead-like features on the fingers.
9. Butterfly Mehndi Design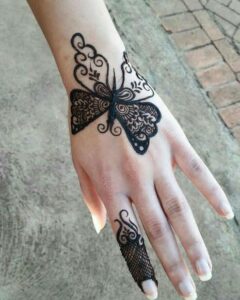 Woah! This one is aimed squarely at millennials. It's the newest trend in Arabic mehndi art, and it's impossible not to attempt it. Because of its stunning beauty!
10. Lotus Mehndi Art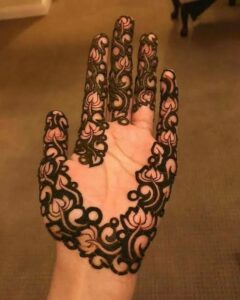 These patterns are certainly appealing due to the swirls and twirls made while combining the lotus pattern. Don't be shocked if these floral Arabic henna designs become really popular on the internet in the future because they're so unique and lovely!
11. Rose Motif Design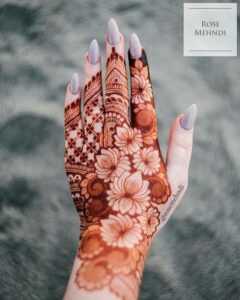 Flowers aren't just for weddings; these elements in your Arabic henna design will get you plenty of compliments as well. If you're having a small wedding and don't want to go overboard with the mehndi, any of these options are suitable for you!
12. Floral Bridal Mehndi for full hands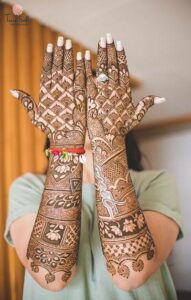 Is it possible to have a flower shower with an Arabic Mehendi design? Who'd have guessed that a single-design mehndi pattern could be so appealing? The hand is covered with thick flower designs that are basic yet appealing.
13. Lateral Arabic Mehndi Design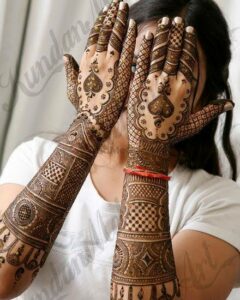 Simple Mehandi designs, like this one, don't have to be boring or unusual. While the design is typical of a flowery pattern, it is formed on the hand's lower surface! So, if you're not a fan of conventional patterns, this one's for you.
14. Floral Henna Art For Trendy Brides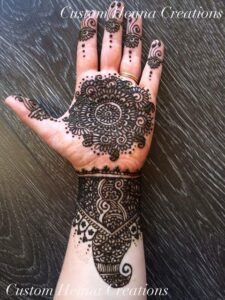 This flowery Arabic mehndi design should absolutely be on your 'bridal henna' mood board if waiting for 3-4 hours for your bridal mehndi isn't your cup of tea.
15. Unique Finger-tip Jewelled Design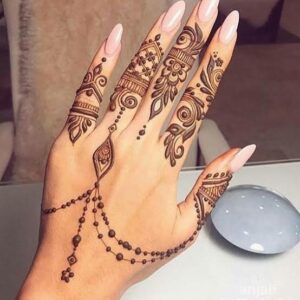 Because not all brides prefer to have their hands completely covered with mehndi, this simple Arabic henna design may be a wonderful alternative for them. This one is basic, but it would look stunning at nuptial rituals such as Roka, engagements, and more! The fingers are intricately sculpted, while the palm has a simple design. Yes, it has a rich appearance.
16. Minuscule Arabic Mehndi for An Intimate Wedding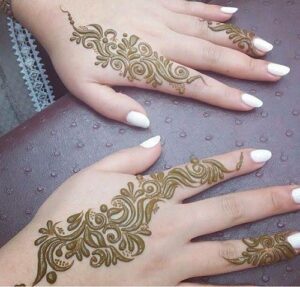 This is one of those Arabic mehndi designs that appear simple at first glance but is made up of unusual patterns! In a nutshell, it's an outlandish design that packs a surprising punch. This is ideal for your bridesmaids!!
17. Hand-harness Mehndi Design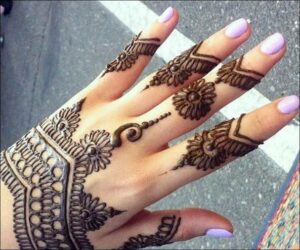 Doesn't this one have a great mood about it? The bracelet pattern on the wrist, which extends all the way to the middle finger, resembles a beautiful haath phool! This Arabian Mehandi design is unlike any other in terms of complexity.
18. Mandala Bridal Mehndi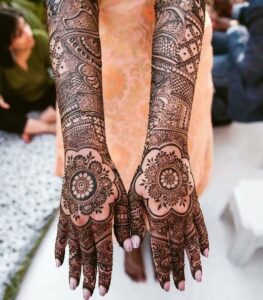 The design is drawn in a unique way here, using a lot of beads! The mandala gives the design a fascinating feeling, and the combination of the two makes it one of our favorites. Modern brides have taken to the age-old simple Mehendi pattern, which consists of only circles drawn in the centre of the palm and at the back of the hand.
19. Ornamental Arabic Mehndi Design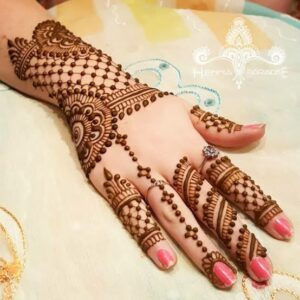 A flowering vine that runs from the wrist to the index finger is embellished with dotted strings, giving it an ornamental appearance. It's simple, yet it's incredibly eye-catching! This Arabic henna design will make your hands a sight to behold, especially when coupled with a delicate haath-phool!
20. Contemporary Back-Hand Mehndi Design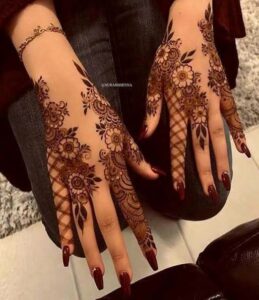 This one is just stunning! It's sophisticated, intricate, and feminine. This sleek design would look great at any event and takes a lot of skill to construct. So, before you continue reading, don't forget to take a screenshot of this stunning Arabic Mehendi design.
21. Arabic Mehndi Design with Spaces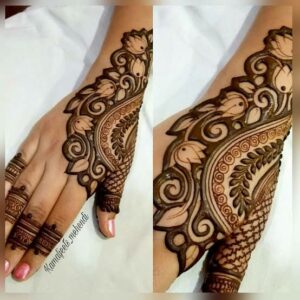 A huge section of the hand is left unfilled in this pattern! The Arabic henna design on your fingers will beautifully complement your manicured nails, leaving everyone in wonder. An idea worth remembering!
22. Exquisitely Detailed Mehndi Design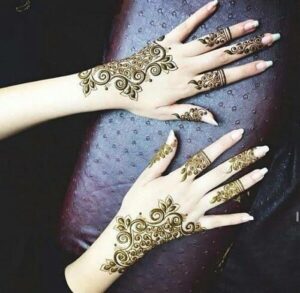 Isn't it true that we all adore intricate, full-hand designs? Despite its wealth, this design does not appear to be cluttered. You won't need any artistic abilities to make this one. This Arabic Mehendi design is a classic that will never go out of style! Ideal for today's brides!
23. Bridal Mehndi with Traditional Elements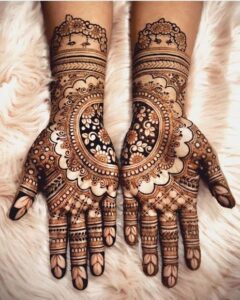 Because the back of your hands is where the camera will focus most of the time, this Arabic Mehendi design is definitely "worth a shot." The combination of an English rose vine and basic mesh is very lovely. It has a mix of traditional and contemporary vibes. This is one you won't be able to resist!
24. Leaf Branch Patterned Mehndi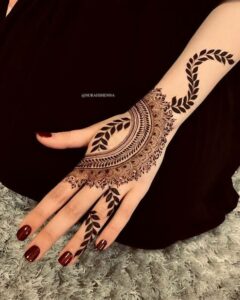 It's all about the flora with this one! The hand and forearm are covered with little leaf branches. Definitely a unique design that is also quite attractive. This simple Arabic mehndi pattern is perfect for the oh-so-simple bride who doesn't like to be extra!
25. Personalised Arabic Henna Art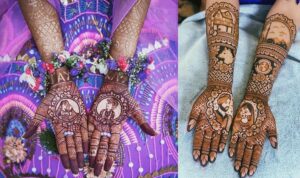 Personalized mehndi is really popular these days among all the coming-of-age Mehendi patterns! While it looks beautiful in traditional mehndi designs, it appears more prominent and neat in Arabic mehndi. The ones listed above are unique and have a contemporary feel to them.
26. Elaborate Bridal Design for full hands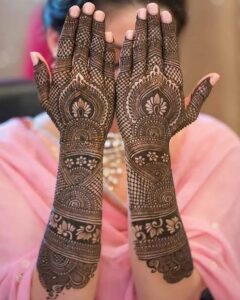 These classic Arabic Mehendi patterns are wonderful for the bride who is oh-so traditional at heart and has always dreamed of her perfect Mehendi for her Big Day. These patterns are made up of multiple layers of mehndi designs! It'll look gorgeous with a dark stain because it's intricately decorated with a variety of motifs including rose, lotus, jaal, and more.
27. Peacock Bridal Mehndi for full hands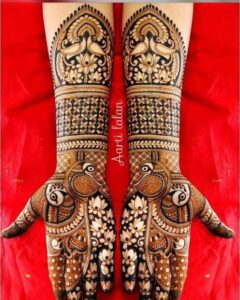 An Arabic henna design that's also embellished with peacock motifs? We think it's a win-win situation! A peacock motif with an Arabic mehndi design goes hand in hand! The designs shown above are excellent examples of this. A peacock design can be made by anyone, even if they are not an expert.
28. Jaali Arabic Mehndi Design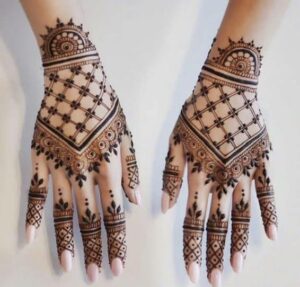 Why go for a plain Arabic henna design when your wardrobe choices are so stunning and out of the box? Your hands, too, require some TLC. This one combines mesh and a floral/leaf motif. It proves to be a fantastic example of unique Arabic mehndi designs. To say the least, it's one-of-a-kind!
29. Contrasting full hand mehndi design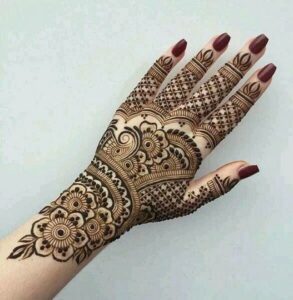 A never-before-seen Arabic Mehendi design combining two completely different designs. This style is popular among modern women because of its simplicity! Isn't it true that they're made for each other?
30. Mehndi Design with Glitter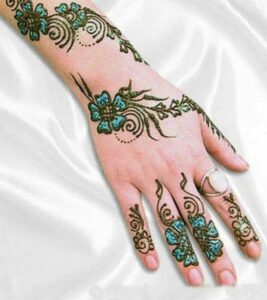 Glitter with mehndi isn't something we've seen a lot of brides do! Though it would only be transitory, it would be visually beautiful. Psst If you've always wanted to try something new, this Arabic mehndi design is perfect for you.