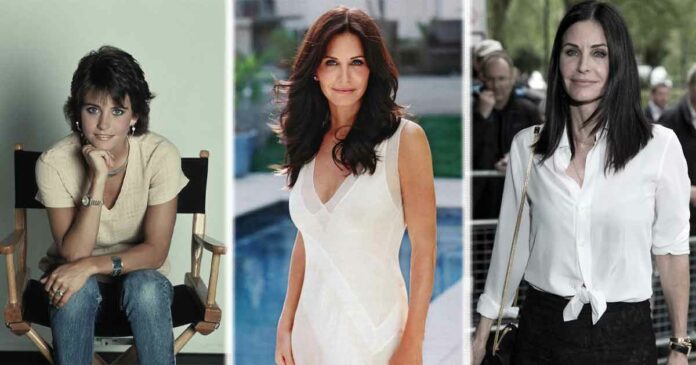 For many years, fans laughed along with the antics of the six characters named Ross Geller (David Schwimmer), Chandler Bing (Matthew Perry), Joey Tribbiani (Matt LeBlanc), Phoebe Buffay (Lisa Kudrow), Rachel Green (Jennifer Aniston), and Monica Geller (Courteney Cox) from one of the most popular and iconic TV shows, FRIENDS.
The show revolves around their career, romantic escapades, adventures, hangouts at Central Perk, and in general their lives in New York City. The characters inspired new catchphrases, like Joey's "How you doin'?", and fashion trends & hairstyles (everyone wanted The Rachel!). However, was any character similar to the roles they played? Or was their real-life totally different from their reel life? Well, as it turns out, Courteney and Monica Geller shared more similarities than you ever realized!
Here is the list of 10 times when Courteney Cox behaved just like Monica Geller. Let's check it out:
1. Cooking Like A Pro
View this post on Instagram
Monica was a cook all through the series, it was a skill and also an interest she possessed. She didn't shy away from turning it into her profession. Monica worked hard as a waitress, food critic, caterer, and chef in the show, and every time she was just amazing at anything she did. But was that passion limited to the show or Courteney too shares the same interest? Well, judging from the video above, it appears like Cox shares the same liking. She is giving out the recipe of her "Baked Halibut with roasted cherry Tomatoes" in the video and we can't stop wondering she is Monica in real life too.
2. Sportive Like Hell
View this post on Instagram
Do you remember the "Geller Cup" or the Tennis match with Mike? Yeah, then you know what we are talking about. Monica was sportive and competitive like hell. The sportiveness in her often came out as a flaw because she took things way too seriously. However, in this video, she is as passionate as Monica but she definitely looks very sportive. Enough to make us believe she has that Monica in her.
3. Learning New Skills
View this post on Instagram
Monica was always eager to add new skills. Be it making hand puppets or Phoebe's granny's recipe to make the perfect cookies for her future children, she wanted to learn everything. So, does Courteney Cox. In this video, she is showing off a new skill that she learned recently. She is trying to complete her make-up within few minutes and with the least products possible. Results are great and it surely makes us realize that Cox is smart like Monica was and always up for anything interesting.
4. Love for Dogs
View this post on Instagram
Do you remember the episode where Chandler was allergic to dogs and Monica does everything to keep the dog that Phoebe bought? That showed how much she loved and cared for dogs. In the end, Monica was able to make peace with Chandler and kept the dog in her house for a while. This video of Courteney with these two dogs shows us the same love and affection towards these cute little creatures that Chandler hated. You might be amazed to know this is how Cox was celebrating Valentine's Day with her dogs. Maybe this is exactly what happens if everyone agreed to Chandler saying, "either the dog stays or I stay!" We know no one would discard the dogs so Chandler would have been out and Monica would have celebrated valentine's day just like Cox did.
5. Turkey On Her Head
View this post on Instagram
The famous episode of Thanksgiving where Monica puts turkey on her head to make Chandler laugh was recreated by Cox during the last Thanksgiving. It was like she took us down memory lane with this video. In the video, she also danced around while having turkey on her head just like she did in the episode. It proves Cox truly is Monica Geller.
6. Haircuts We Didn't Like
View this post on Instagram
Do you remember when she asked Phoebe for a haircut and Phoebe ruins it by confusing the actors? This image will remind you of the quote, "Demi Moore not Dudley Moore!" However, this haircut was for her famous and long-awaited upcoming horror movie "Scream". But we can't put that scene away from our heads after watching the odd haircut she is featuring in here.
7. Dancing To Her Heart
View this post on Instagram
Monica loved dancing. We saw her dancing many a time and she enjoyed it a lot. Remember the time when she was at Ross's college party or the time when she was alone and trying to exercise. Well, Monica never shied away from any opportunity to dance like crazy. In this video, we can see that Cox loves dancing as well and she actually enjoys it a lot. The caption of the video was hilarious and it read, "Could this be why Coco and Johnny are socially distancing themselves from me? #bored #quarentine".
8. Competitiveness To The Extent
View this post on Instagram
Whether Monica is playing a board game or any sport, she got super intense and the only thing knew was winning it no matter what. Sometimes, this trait went beyond fun and games. It appears like she is quite competitive off-camera too. In this video, Courteney and Jennifer are playing at a pool table, and as usual, Monica is the one who wins. In FRIENDS, this attitude of Monica helped her reach her goals and stay focused on whatever she did. Also, she enjoyed the praise and success that would come along with it. And we do hope Courteney enjoys her merits too.
9. Perfectionist As She Always Is
View this post on Instagram
When it comes to Monica being a perfectionist, she could sometimes be insanely controlling as well. She had a very alpha kind of personality who loved order and perfection and would do anything she could to achieve her levels. So even if she did have the best strategies, methods, or ideas, she might sometimes get super bullheaded about it. However, in this video, she is not being lofty but she played the piano amazingly. As Chandler would say it, "Piano playing would be perfection!"
10. Loyal Towards The People Around
View this post on Instagram
In FRIENDS, Monica never gave up on true love just like Courteney Cox. She displayed devotion towards her relationships time and time again. Just like Monica, Courteney is always devoted to her relationships. She still is friends with David Arquette and moving forward in life with 7 years long boyfriend, Johnny McDaid. Things get sour at times but commitment keeps things alive and better.