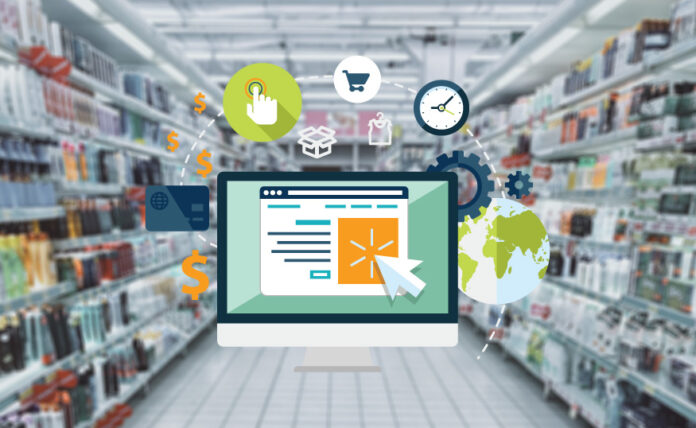 There's no doubt that online grocery stores are thriving in India. All that relentless bargaining with the shopkeepers amidst the heat and sweat and standing in long queues in the overcrowded bazaars really took a toll on us. That's why more and more people are turning towards online grocery shopping for their items to be delivered directly to their homes. Not just that, but the Global Pandemic has also helped the online grocery stores thrive a lot. People have changed their shopping patterns, and more number of people now opt for online shopping. As the business has grown, a good number of competitors have also emerged in the market and makes it challenging to select one. We have listed here a few options that you can find in your Phone's App Store and engage right away to enjoy shopping. Here you go shoppers:
Spencers
Every metro city in India is bound to have a Spencers store. Headquartered in Kolkata, West Bengal, Spencers is known to be the lifeline of many. Well, they also online store at your service. You can order from a wide variety of grocery items, including fruits and vegetables. To make things delightful for you, they have a category called "Spencers Kitchen", here you can learn and try new recipes. They have a history of excellent service and even drop your essential items within an allotted time. So head on to their app and get your needs delivered.
Areas Served: Kolkata, Gurgaon, South Delhi, Dwarka, Noida, Hyderabad, Sikandarabad & Chennai.
Click To Download Spencers App
Grofers
Grofers, although relatively new, is one of the best online grocery shops in India started in 2013. It provides you with a wide range of products to buy starting from vegetables, fruits, delicious baked goods, flowers and whatnot. Bonus Point? You get to select your timing slots for delivery as per your convenience. Life is comfortable with apps like these!
Areas Served: Delhi, Gurgaon, Bengaluru, Mumbai and 21+ cities across India.
Big Basket
Endorsed by none other than superstar Shah Rukh Khan himself, everyone has seen Big Basket's commercial shown frequently on television. This 2013 online grocery shopping app is the leading supermarket in India. From organic fruits and veggies to the finest quality of gourmet items, Big Basket has everything you need. You also have an option to send gifts like chocolates and flowers to your loved ones. And discounts are also something you can expect. 
Areas Served: Ahmedabad-Gandhinagar, Anand, Bengaluru/Bangalore, Bhopal, Chandigarh, Chennai, Coimbatore, Delhi NCR (including Gurgaon/Gurugram and Noida), Hyderabad, Indore, Kanpur, Kolkata, Lucknow, Mohali, Mumbai, Mysuru, Nagpur, Panchkula, Patna, Pune, Surat, Vadodara, Kochi and Vishakapatnam.
Click To Download BigBasket App
Amazon Pantry
Amazon provides its service to almost all parts of India. It is trusted by many because of their product quality, variety and different types of discounts available on selected items. Amazon has also ventured into the grocery section under the brand name Amazon Pantry. Apart from that, they have also started Amazon Fresh: an exclusive service available at selected areas only, where you can get your groceries delivered in just 2 hours. Given the existence of their vast supply chain, it's not a shocking thing. Still, the service is available in select cities only unlike their reach for Amazon Pantry, which is considerably large.
Areas Served: Click here to check the List of Cities.
Flipkart Supermarket 
Yes, you read that correctly. Flipkart is also in the game and offers a substantial amount of grocery products. As this online grocery segment is relatively new, there are a lot of deals, discounts and cashback offer available. If you are lucky, then you might get your hands on ₹1 deal as well! Not sure when and how to grab this, keep on checking until you get lucky! Unlike other online grocery shopping apps, Flipkart Supermarket has a unique offering for selected customers: 'Pay Later'
If you are eligible, then start to enjoy shopping and pay the next month!
Areas Served: Major Cities and Expanding.
Click Here To Visit Flipkart Supermart
Reliance Mart
Reliance mart should be your one-stop destination to sit back and relax while you wait for your products to arrive at your doorstep. With over 6000+ items available, there is nothing that you won't find here, from packaged foods, dairy products, fresh vegetables and fruits to confectionaries, household items, personal care and many more. No wonder, consumers love their service so much. And as always, the trust of reliance Fresh is what you get! Unfortunately, they only have a website for now.
Areas Served: Kolkata, Mumbai, Delhi, Ahmedabad, Bangalore, Hyderabad and more. Actually, almost all regions having Reliance Fresh is covered.
Click Here To Visit Reliance Mart Website
Swiggy
We all know swiggy delivers food! But did you try their groceries yet? Yes, they are into groceries too. They provide you with a wide variety of stores from where you can get your groceries and daily needs. As per their existing business model, they still don't own any stock but get the items sourced from their partner stores. The best part, all things are delivered the same day in a few hours or minutes. And given the fact, how much we got used to this app, getting our groceries in short duration will always be welcomed. So try on the app and enjoy online grocery shopping.
Areas Served: Kolkata, Mumbai, Chennai, Bangalore, Delhi, Hyderabad and more cities to cover which have regular Swiggy Food Delivery.
Click Here To Download Swiggy App
Dunzo
Well, they are into delivering business for a long time, and their model is efficient and effective. Dunzo doesn't have any store, nor they maintain stocks but only help you get your groceries delivered from any of your nearby stores. When you are in a hurry or not in a mood to go out and shop your daily essentials, then this app is the best tool you will have in your phone. Get them delivered in an hour or less and live life easily!
Areas Served: Bangalore, Pune, Gurgaon, Hyderabad, New Delhi, Chennai, Jaipur and Mumbai.
Click Here To Download Dunzo App
DMart Ready
DMart has always been known for unbelievable prices and offers at its stores. If you visit a DMart store, then you are sure to come out with a bag full of items. You can't resist yourself once you notice the prices. And now, they have brought the magic online as well! 'DMart Ready' is what they call it, and you can get almost all the daily needs. They aren't into vegetables and fruits yet, but who knows they may get into this sector as well. Anyways, it's always a delightful experience when you get things at really low prices, who doesn't like it?
Areas Served: Areas with DMart Stores.
Click Here To Download DMart Ready App
StarQuik
They hold an edge with their "Heat To Eat In 60 Sec" Items. These are ready to eat items perfect for the fast-moving youth of the country. Also, you can explore their large inventory of grocery and fresh form farm items. And did you know? It's a TATA Enterprise. In India, hardly anyone needs an introduction to this brand, and the trust factor is eternal. But the only issue now, they are functional in limited cities, but hopefully, they will expand soon enough. If your location is covered, then download the app and enjoy!
Areas Served: Mumbai, Bangalore and more to come.
Click Here To Download StarQuik App
Online grocery shopping in India is gradually becoming a booming business. In case, if your mom or wife keeps bugging you, to step out and get eggs, milk and other stuff then its time to bring in these apps into her life. No need of going into the jostling crowd, just download any one of these online apps and go on a buying spree already.