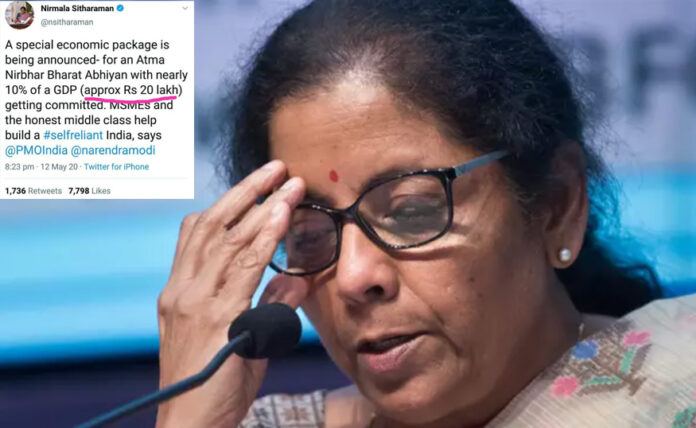 Today Nirmala Sitharam made a mistake while tweeting about the special economic package announced for the 'Atma Nirbhar Bharat- Abhiyan' launched by the Prime Minister. Her Tweet read that the Government will commit 10% of the GDP towards the initiative. However, as per her tweet, 10% of the GDP amounted to approx Rs 20 lakh instead of Rs 20lakh Crore.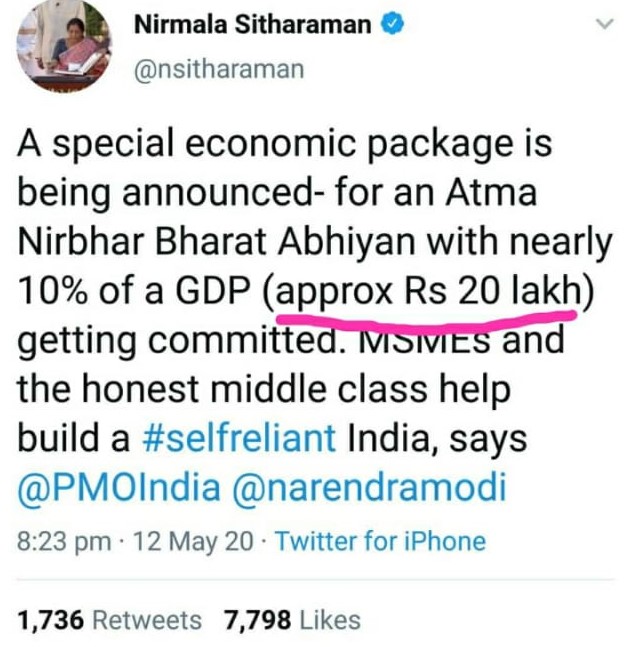 Later, after realising the error, the Finance Minister tweeted again to notify everyone about the Typo and corrected the amount to be 20 Lakh Crore. But, by the time she could fix, the damage was done, and Twitteratis could not help but react to her mistake in hilarious ways!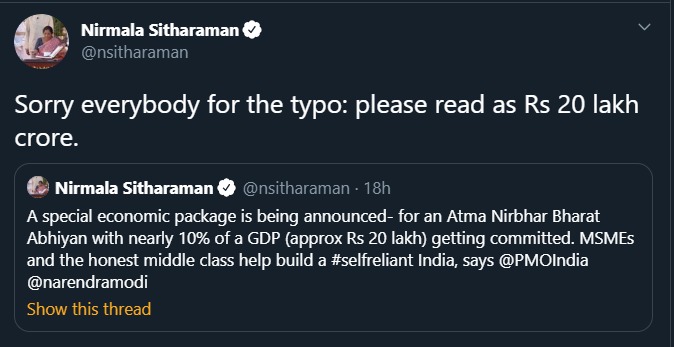 Here are a few tweets we have collected for you to enjoy the sarcasm and fun that people can create on Social Media. Moreover, the lockdown has left very fewer things to do, so can't complain if people engage themselves on such posts for fun!
Social Media is for interaction and fun, after all! So take them lightly and enjoy, nothing offensive in here!
Maybe not a bad idea? During the lockdown, everyone has picked up skills to be great chefs. So, why not utilise all those talents in a brand new Pakoda Stall! The economy can never sink this way?.
Being the Finance Minister isn't easy bro! Maybe she has sleepless nights because of all the economic problems we are going through. So this can be a good excuse, right??
Weed? Really? We don't know yet. But if he is true, then many would pay a fortune to grab good quality stuff like this!?
Sarcasm at its peak! Thank God we haven't sunk so badly yet. And hope we don't face this in future as well. But a tough one she had to face with this though.?
A good point!? Maybe, the PM was wrong… if that's true then we are all doomed man!?
An epic meme wherein Modi is angry after he saw the post and Yogi Adiryanath along with Amit Shah are trying to calm him down. Have some chill, man! Shit happens, you need to deal with it!?
Short and painful!? Hopefully, she doesn't come across this one.
This is how people develop trust issues, I guess.? It's really hard to trust people these days.?
Yes, ma'am, we totally understand. But try that you don't escape 'Idhar Udhar' next time, else people here get even more excited!?
Katega sabka Katega!?? Bach ke rehna…
True feelings from a middle-class man! Even we wonder how much 20 lakh crore would be like! Can never imagine what all things we can do with money like this. So better to stay in limits!??
These tweets show that a single mistake can cost you a lot! But trolls and memes are just for entertainment, never take them to your heart. Keep doing the good work, and we expect to see some excellent results from Atma Nirbhar Bharat- Abhiyan.
We expect mistakes from humans, and Nirmala Sitharam is one too. Noteworthy is the fact that she accepted her fault and corrected it. So better to let it be. People should be careful while posting anything on social media.
And now Nirmala Sitharam needs to be extra careful with her tweets.