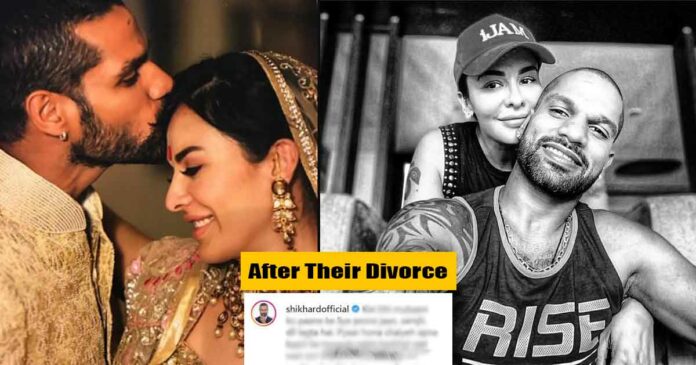 India and Delhi Capitals opener Shikhar Dhawan's wife Ayesha Mukherjee announced on social media that the couple's marriage of eight years was over. Dhawan wasn't too concerned about the storm around his personal life as he is currently in the UAE with the rest of the Delhi Capitals team ahead of the Indian Premier League (IPL) 2021 resumption later this month. Dhawan tried to pat away the issue of his divorce as well, just like his nonchalant batting both for India and DC.
However, he sent a cryptic message through his Instagram post on Wednesday (September 8). Dhawan wrote in his Instagram post, "Kisi bhi mukaam ko paane ke liye poora jaan, samjh, dil lagta hai. Pyaar hona chaiyeh apna kaam ke towards tabhi barkhat aati hain aur enjoyment bhi. Keep on working hard to turn your dreams into reality."
Take a look at Sikhar Dhawan's post on Instagram below:
View this post on Instagram
During their limited-overs series against Sri Lanka in July, the Delhi southpaw led the Indian side. As a result, the Dhawan-led side won the ODI series. However, lost a closely-fought T20 series in Lanka.
Before Dhawan's post, Ayesha made the official announcement of divorce via an Instagram post which started with, "I THOUGHT DIVORCE WAS A DIRTY WORD UNTIL I BECAME A 2 TIME DIVORCEE." Ayesha said in the post, "Funny how words can have such powerful meanings and associations. I experienced this firsthand as a divorcee. The first time I went through a divorce I was soooooooo f**kn scared. I felt like I had failed and I was doing something so wrong at that time."
"So now imagine, I have to go through it a second time. Woooahhhhhh. That is terrifying. Being divorced once before already, felt like I had more at stake the second time around. I had more to prove. So when my second marriage broke down it was really scary. All the feelings I felt when I went through it the first time came flooding in. Fear, failure and disappointment x 100," she went on to write. Later, Ayesha's Instagram post went on to offer help to all those women who were struggling to cope with separation in their marriage.
Take a look at Ayesha Mukherjee's post on Instagram below:
View this post on Instagram
Earlier, the Melbourne-based Ayesha was married to an Australian businessman and has two daughters from her previous marriage. Later, she and Dhawan got married in 2012 after getting engaged in 2009. If you don't know, Ayesha is an amateur kickboxer.
After hearing the divorce of the Indian cricketer, Shikhar Dhawan, and his ex-wife, Ayesha Mukherjee, netizens couldn't help but share this news on social media. Not just that, they also shared their views regarding the separation of the duo.
Let's check out some of the reactions by the netizens:
As per an Instagram post put up by Shikhar Dhawan's wife, Aesha Mukerji, the pair seem to have parted ways after 9 years of marriage.

📸 Shikhar Dhawan#shikhardhawan #aeshamukerji pic.twitter.com/wypyfJUDBH

— Sportskeeda India (@Sportskeeda) September 7, 2021
After Seeing Shikhar Dhawan and Ayesha Mukherjee Divorce news
All india cricket team fans #ShikharDhawan #AyeshaMukherjee #Divorce pic.twitter.com/Scu9xFFx87

— jarvo69 (@jarvo_6_9) September 7, 2021
Shikhar Dhawan's wife Ayesha Mukherjee announces divorce with Team India Cricketer on Instagram pic.twitter.com/UmXAe1kNZn

— Newsroom Post (@NewsroomPostCom) September 7, 2021
Waiting for #Modi to tweet on Shikhar Dhawan's divorce.@narendramodi

— ᗩ𝓶ᵃη ᵏᵘᗰAя (@amankumar_4) September 7, 2021
These cricketers and BULLYWOOD started following USE AND THROW CONCEPT, Once u r are enough divorce and catch a new one and enjoy

— Rajesh Jain (@rAj_Gr888) September 8, 2021
Social media pe natak nahi. Voh tumhara personal matter hai. Ab kyu emotional?

— WILL is WAY (@Sraj2012) September 8, 2021
Shikhar Dhawan Gets Divorced! and Trolling on Twitter. #ShikharDhawan #INDvENG #aeshamukerji pic.twitter.com/lvQBHy43ZH

— 9Gits (@9Gits) September 7, 2021
Everyone has FREEDOM OF CHOICE, & as long as they are doing WHAT THEY WISH, we should be happy for them.

And FOCUS on matters, where wish/consent/choice/freedom/etc. is NEGLECTED or not given#ShikharDhawan #AeshaMukerji https://t.co/2jNjchpoPt

— Her Admirer and His Fan (@FirstEncounter) September 8, 2021
I just hope this doesn't affect his performance.
Although this news was evident long way back#ShikharDhawan #AeshaMukerji

— J.J (@JJ2000A) September 8, 2021
Shikhar Dhawan to his wife with 8 years of marriage. #ShikharDhawan #AeshaMukerji pic.twitter.com/YWu5oz7E2s

— Ashwani Angaria 🇮🇳 (@AngariaAshwani) September 7, 2021
Is it due to shikhar's downfall in recent times. If so its a shame on her part

— Nitesh Bhadoria (@BhadoriaNitesh) September 7, 2021
The 'modern'-day unions have become more prone to divorces than the yesteryears. The concepts of adjustment, compromise and maturity seem to be missing. We are rearing our generation with the wrong set of ideals. #ShikharDhawan

— Achyuta pattnaik (@AchyutaPattnaik) September 7, 2021
Man how's he's going through is we can't imagine though.. still he's smiling in hus recent posts.. he's too strong ♥️

— Abhisekh🇮🇳 (@PaulAbhisekh95) September 7, 2021