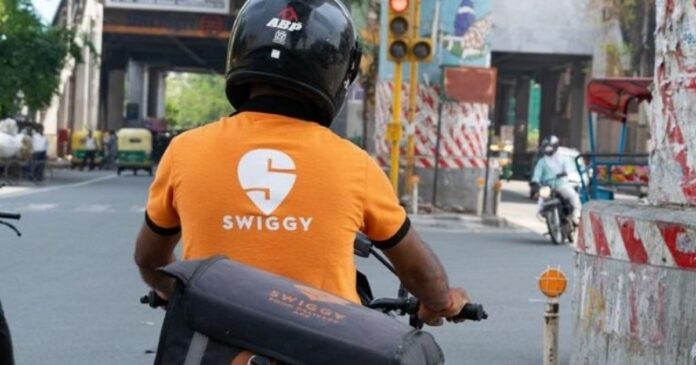 Recently a Swiggy customer Prapthi had to register a complaint with Swiggy's support team after the delivery agent started texting her on WhatsApp. The woman shared screenshots of the "creepy" messages she received from the Swiggy agent who delivered groceries to her house.
Generally, the number masking feature prohibits a delivery agent from gaining access to a customer's phone number and vice versa in delivery services like Swiggy and Zomato. The agent is only allowed to reach the customer over call.
How did the delivery agent get her phone number?
It seems that the woman called him by using her call log instead of the app and that is how the Swiggy agent managed to get Prapthi's phone number. The agent started sending her creepy messages that included "Miss you lot" and "nice your beauty, nice behaviour," among other messages.
After this incident Prapthi shared a screenshot on Twitter stating:
"I'm sure that most women on here can relate to this. I got a grocery delivery from Swiggy Instamart on Tuesday night. The delivery guy sent me creepy messages on WhatsApp today. Not the first time, not the last time something like this is happening,"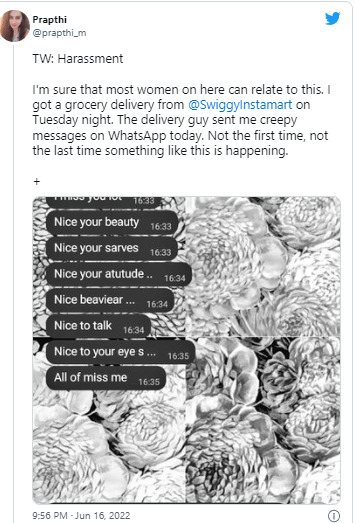 The Twitter user said she did not receive a satisfactory response from Swiggy's customer care team even after escalating the issue.
She pointed out that agents have information about their customer's residence, which is a potentially dangerous situation, and requested Swiggy to take action,
"Please do not take harassment enabled by your app lightly,"
She also added that incidents like this will prevent her from ordering food and groceries from the app late at night, she wrote,
"I've been in a situation where an incident has escalated to being real physical threat because of inaction by LE agencies. So, this was a trigger,"
Later, she updated on Twitter by saying that she was contacted by Swiggy's escalation team and their CEO's office. She wrote,
"They listened to me and assured that they would do take all the necessary measures to stop this and to learn from this so as to prevent it from happening again,"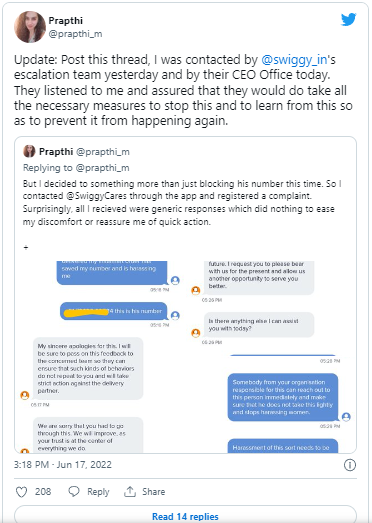 When questioned about how the delivery agent got access to her phone number, Prapthi stated:
"What I've understood is that the number masking function works if we use the app each time we call the delivery partner. If we have used the app once to call them and then use our call log to call them again, they see our number."
In the comments section, people also requested Swiggy to take necessary action to ensure that such incidents are not repeated. Some also suggested Prapthi to file a police complaint about harassment.
Oh, this is quite horrible. Hope you're okay.

— Pankaj Sabnani (@pankajsabnani) June 16, 2022
Oh god! This makes me so so angry. I'm so sorry you had to go through this.

— Sangeeta Prayaga (@MsCompassHands) June 17, 2022
Don't make this kind of incident as one off @swiggyCares ,please take appropriate action and also a detailed section where one can escalate this problems and not have to worry.

— Mridul Baruah (@treymcray1234) June 18, 2022
No no no no no. Make a complaint at your area police station and then tell Swiggy that you have done so. This fellow is a danger to your safety.

— Vidya Heble (@vidya_heble) June 16, 2022