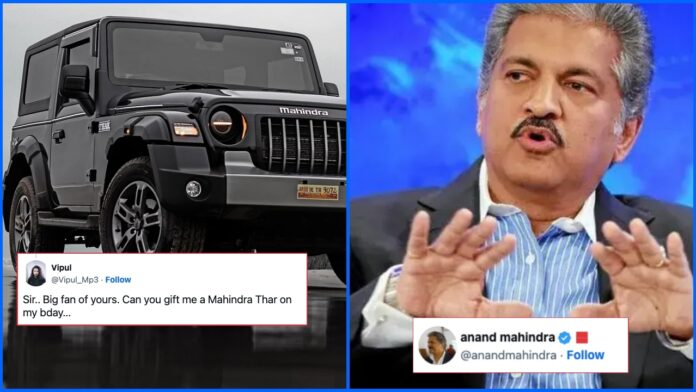 On Twitter, a guy named Vipul boldly approached Anand Mahindra with a direct request. He wasn't shy about it; Vipul explicitly asked for a Thar as a birthday gift. It seems he decided to take a chance and make a memorable birthday wish to the influential business figure.
Sir.. Big fan of yours. Can you gift me a Mahindra Thar on my bday…

😝

— Vipul (@Vipul_Mp3) August 13, 2019
Despite having the means to give away a couple of cars effortlessly, Anand Mahindra opted for a humorous approach to respond to the audacious request. Markedly renowned for his stellar Twitter presence, Mahindra took the opportunity to showcase his wit. In a reply to Vipul, he not only provided the definition of 'chutzpah' but ingeniously incorporated the individual into the example, solidifying his reputation for sharp and entertaining comebacks.
Word lesson of the day:
CHUTZPAH
/ˈxʊtspə,ˈhʊtspə/
noun
extreme self-confidence or audacity (usually used approvingly).
"love him or hate him, you have to admire Vipul's chutzpah"
Full marks for chutzpah, Vipul, but unfortunately I can't say yes. Mera dhandha bund ho jayega! 😊 https://t.co/wzsUsCZBkM

— anand mahindra (@anandmahindra) August 16, 2019
Particularly the reason is simple: 'mera dhanda bund ho jaayega' (my business will shut down). It's perfectly understandable. This humorous response is earning Anand Mahindra a lot of internet praise. Momentarily, even Vipul seems to be enjoying the banter.
Main aapka follower bhi hoon. Aap bhi mazee lelo 😭😂 pic.twitter.com/DF0sn8laZ3

— Vipul (@Vipul_Mp3) August 16, 2019
Few responses for Anand Mahindra
Meanwhile, Anand Mahindra's clever and humorous response has sparked a flurry of positive reactions from the public. Once again, highlighting the company's adeptness at engaging and resonating with its audience.
Sir, if you gift to @Vipul_Mp3 then you have to gift to me also, I am a bigger fan 😌 I put all your tweets on my WhatsApp status.. 😁

— Javachip Frappuccino (@DebuggingDamsel) August 16, 2019
Sir, Please give me Mahindra Thar in exchange of my WagonR.

— Vishal 🇮🇳 (@vsurywanshi87) August 16, 2019
Gajab ka sarcasm hai sir aapka

— Varun Sharma (कौशिक) (@Varunpandit30) August 16, 2019
Sir…if you appreciate his chutzpah so much…at least give him a scale model of Thar on his birthday 😊

— Dr Charuhas (@charuhasmujumd1) August 16, 2019
Sir, I thought you have started giving vocabulary lessons – 'jhakaas' and now 'chutzpah' 😁

— Pragati 🌺 (@live_see_enjoy) August 16, 2019
@vipul_mp3
Yahaan Gyan Milega, Gaadi Nahin.

— Uma (@uskakodker1) August 16, 2019
Read more: Masaba Gupta slams Ramiz for passing racists remarks against her Parents