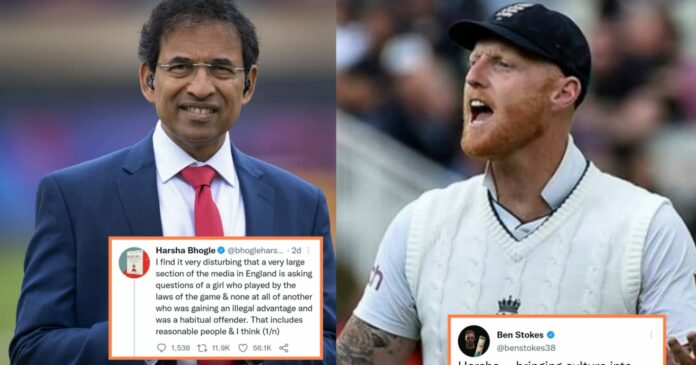 Deepti Sharma's runout at non-striker's end created an avalanche amid Cricket Fraternity and once again revived the never-ending debate of 'Spirit of Cricket' vs 'Laws of Cricket'. The match was close, the series was on the line, and there couldn't have been a crunchier moment to do or even imagine something like that. But it did happen.
Nevertheless, she was completely in her rights and did the right thing. Non-striker shouldn't take the unnecessary advantage of being a couple of steps ahead when the ball is being delivered. However, as you'd expect, English Fans didn't take the loss well and showed strong emotions on Social Media.
They started lecturing about the spirit of cricket and the same repetitive lectures that were delivered to Ravi Ashwin a few years ago. Perhaps, it's one of their character traits to make sporting laws and then forget them altogether.
The 'Voice of Cricket' Harsha Bhogle wasn't pleased with the reaction so he made a tweet thread, explaining how English Culture is such that they feel whatever they're doing should be blindly followed by the rest of the world. He even took shots at their colonial past, saying they need to grow out of that mindset.
I find it very disturbing that a very large section of the media in England is asking questions of a girl who played by the laws of the game & none at all of another who was gaining an illegal advantage and was a habitual offender. That includes reasonable people & I think (1/n)

— Harsha Bhogle (@bhogleharsha) September 30, 2022
There had to be repercussions and the person who decided to come forward to defend England was their Test Captain, Ben Stokes. He called out Harsha for dragging culture in a Sport, and that how he was bashed by Indian Fans for a mistake that he didn't commit in the 2019 World Cup Final.
Harsha … bringing culture into peoples opinion over a Mankad? https://t.co/QNyY8K59kP

— Ben Stokes (@benstokes38) October 1, 2022
Harsha in his reply said that Stokes wasn't at fault during the 2019 World Cup and that he would love to have a chat with him if he has a moment.
Well, you were not at fault on that one so with you there. On the reaction in England to the non-striker backing up, I think it is what you are told when you learn the game and so, part of culture. Very happy to chat about it one day if you have a moment. Cheers

— Harsha Bhogle (@bhogleharsha) October 1, 2022
Twitter users always go bonkers when there is an e-lafda going on and this was no different.
Indian Fans trolled Ben Stokes left, right and centre, with some even saying why'd a Kiwi want to defend the Brits?
Here are some of the quirky tweets you should see :-
loving the tears ben, keep em flowing.

— . (@B4RDAN19) October 1, 2022
Man's comparing criticism and abuse from nameless trolls (which is unfortunate but doesn't carry weight, every professional athlete faces that UNFORTUNATELY) to needless criticism from renowned journalist and professional cricketers. How are both the same, Fred?

— KelvinR (@KachaK3la) October 1, 2022
Ben we love you it's a part of game !! But what deepti did was also a part of game which comes under ICC laws but the way English Cricketers reacted was not a good thing.

— Knight Rider (@iKnightRider19) October 1, 2022
It is simple. When Playing against England, step out of non-strikers crease as far as you want.
Then see whether this 'spirit' thing is preached further by them or not.

— Rishabh (@cricmonster_lub) September 30, 2022
Indians to Stokes everytime pic.twitter.com/7qGzjZlhX0

— Deciever18™5.0👾 (@SuperhitVK) October 1, 2022
No matter what English Fans say, there's no denying the fact that England does have that tendency to declare lawful whatever they feel is right. Similarly, whatever doesn't go their way is either unethical or against the spirit.
This has to change since Britain is neither the Superpower it was some 2 centuries ago, nor a Cricketing powerhouse or world leader in any particular sport.
BCCI holds more authority over the ICC than the ECB or Cricket Australia. About time we make some rules of our own? Or perhaps, introduce the gully Cricket ones. 😛