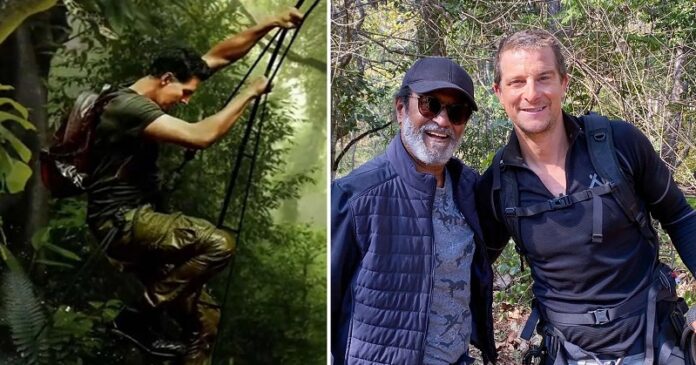 As exciting and thrilling it is to watch Bear Grylls's countless nights in the Arctic and dangerously adventure through the Amazon, his methods of survival are a little questionable. The survivalist and former British special forces trooper has encouraged a legitimately successful reality TV career from wilderness adventures. Grylls can survive in virtually any environment. However, it got more captivating when added a celebrity to it.
Grylls has tested the survival skills of numerous big names where they are pushed to their limits by the former British Special Forces member. It was a perfect recipe: mixing easily recognizable famous people with Grylls's natural effervescence and tossing them into highly absurd nature scenarios. Here is the list of a few celebrities who did some of the most bizarre tasks. It was mostly related to the questionable "delicacies" and their appetite. Let's check it out:
1. Akshay Kumar
Akshay Kumar is the celebrity to join Bear Grylls recently. It was shot at Bandipur Tiger Reserve. He will follow all military-style drills with a survivalist. They both are seen roughing it out in the jungle and trying to navigate crocodile-infested waters. The actor sips on 'elephant poop tea' at a point and Bear Grylls slyly threw his away.
2. PM Narendra Modi
The episode was filmed at the Jim Corbett National Park of Uttarakhand. Bear Grylls taught Modi to make a makeshift spear in case they come near a tiger. From learning how to make a spear to smelling elephant dung, it was quite an adventure for them. It made a total of 3.6 billion Twitter impressions that year.
3. Barack Obama
Former President Barack Obama in December 2015 made a special appearance with Bear Grylls on Running Wild. They went for a special trek through the Alaskan wilderness. They discussed there various things like how Barack Obama maintains time between work and home, climate change, and much more stuff. They also ate a half-eaten salmon that was spat out by a real bear.
4. Courteney Cox
The famous FRIENDS star Courteney Cox also appeared with Bear Grylls. She dived into this survival TV series, but it was not a pleasant experience for her. The horrifying experience was that she had to eat maggots from a sheep's carcass. But, she went all in and completed what she has started.
5. Channing Tatum
Hollywood big-ticket Channing Tatum leads Grylls to up the ante and proved he could definitely hold his own in the wild. Both of them journeyed through the Sierra Wilderness of Yosemite in California. There they backflip out of a helicopter and eat scorpions. Channing Tatum also killed a venomous rattlesnake and ate it for dinner.
6. Michelle Rodriguez
Michelle Rodriguez is one of the most important characters of the Fast & Furious film series. She is primarily associated with action flicks. In a 2015 episode of Running Wild, she was ready to do anything while in the middle of the desert. That includes drinking her own urine. And, also boiling a dead mouse in that urine. Just a piece of advice, don't watch it while eating.
7. Mel B
Bear Grylls went traipsing through Wales with a Spice Girl on the sixth episode of Running Wild's third season. She was the one who was so hardcore that they called her SCARY SPICE. Grylls found a jellyfish washed up on the beach while she was there and "accidentally" gets stung by it on the hand. She had to pee on his hand. Seriously.
Read more: 15 River Rafting Sites In India To Experience Real Adventure