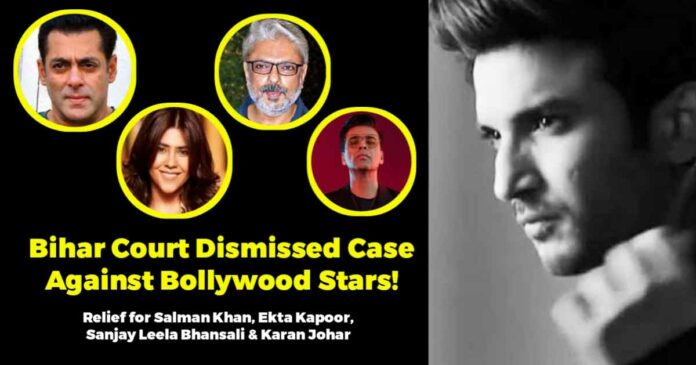 Amidst all the cacophony that kept on burgeoning after the unfortunate demise of Sushant Singh Rajput, a Bihar court dismissed a petition filed to incriminate Salman Khan, Ekta Kapoor, Sanjay Leela Bhansali and Karan Johar for allegedly abetting Sushant. The court quoted jurisdictional limitations as the reason for dismissal.
Chief Judicial Magistrate of Muzaffarpur, Mukesh Kumar dismissed the petition filed by local advocate Sudhir Kumar Ojha, demonstrating that this petition is well beyond the vice of the court's confined jurisdiction.
This claim gained traction after Sushant's demise was backed up by several livid celebrities who were waging an ardent war against nepotism in the industry. The advocate presented Kangana Ranaut's video to cite as a testimony, the video in which she vociferously voiced her opinion against the facts on papers and claims that Sushant was compelled to take away his life.
A serial advocate, who of late has not relented in pointing fingers at renowned celebrities of the industry, citing varied other reasons, however, with very limited success, was the one who brought the hammer down on Salman Khan, Ekta Kapoor and Sanjay Leela Bhansali.
In front of the media, he claimed, "I will challenge the CMJ's decision before the district court. Bihar is in pain over the death of Sushant Singh Rajput. We must act to bring those, who drove a jovial young man like him to take such an extreme step, to justice."
Actors from Bihar and all over the nation hinted at the involvement of foul-play in Sushant's demise. Though Mumbai Police wanted to snub it away, many have even called for a CBI inquiry, claiming that there is more in this case than meets the eye.