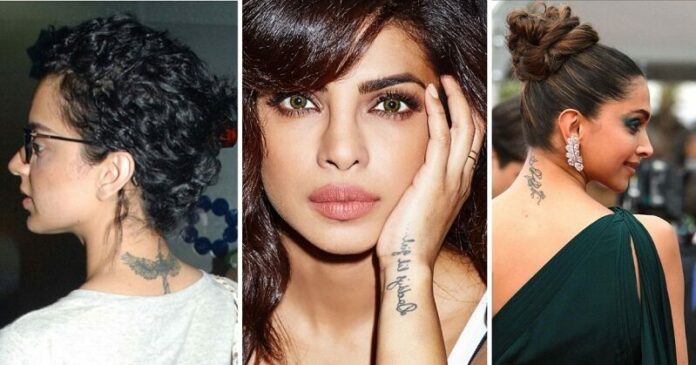 We've seen a variety of Bollywood celebs perform in diverse ways over the years. Their admirers have noticed everything they do, from their clothing to their walking style. However, we've also seen several Bollywood stars with stunning tattoos. Fans are frequently inquisitive about their tattoos and the meanings attached to them. Tattoos are a big commitment, and we're sure our favorite Bollywood stars felt the same way when they opted to get inked. Of course, decisions can lead to regret, but that hasn't stopped our favorite B-town stars from expressing their emotions through body art.
Here we got you 30 celebrities with tattoos & their meaning to get you inspired to get inked:
1. Saif Ali Khan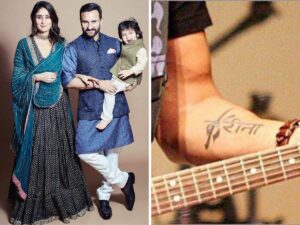 As we all know, while the two were dating and making the film Tashan, Bollywood star Saif Ali Khan got a tattoo on his arm in the name of Kareena Kapoor. The tattoo on arm represents Kareena's love. The couple is one of Bollywood's most popular and hottest couples.
2. Sushmita Sen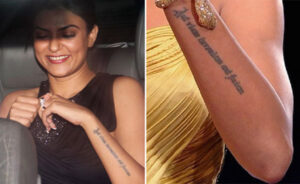 Sushmita Sen, a former Miss Universe, and Bollywood actor has led a life full of inspiration. Her four tattoos, one of which reads 'Aut viam inveniam aut faciam,' which means 'I'll either find a way or make one,' demonstrate her pioneering spirit.
3. Priyanka Chopra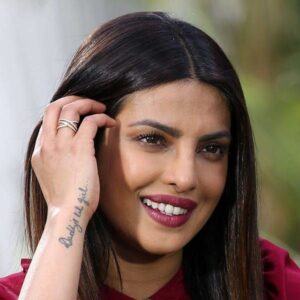 Priyanka Chopra is an Indian actress who has worked in many Bollywood films. Priyanka has "Daddy's Lil girl" tattooed on her right wrist. Her father, Dr. Ashok Chopra, was very close to her. As a memento, PeeCee got a tattoo in her father's handwriting.
4. Imran Khan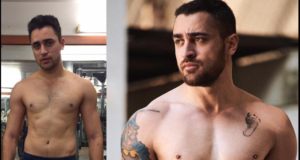 Imran Khan got his daughter's footprints tattooed by a tattoo artist. Imran's mother had adored his footprints etched on a sheet of paper for years, and the idea came from there. This is a cool tattoo idea for individuals to try on.
5. Akshay Kumar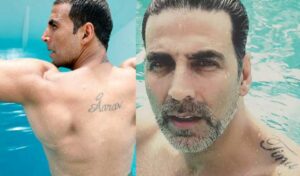 During filming in Australia in 2007, Akshay Kumar got his first tattoo on his back, which includes the name of his son Aarav. Since then, the actor has returned three times to get inked. Kumar got his daughter Nitara Bhatia's name tattooed on his right shoulder when she was six months old, and his wife Twinkle Khanna's nickname, Tina, is now inked on his left shoulder. "He's abroad on extended deployments a lot and he misses the three folks who mean the world to him," a source said when fans first saw Kumar's tattoos. "There's nothing like having it forever tattooed on your body to express 'you mean the world to me."
6. Deepika Padukone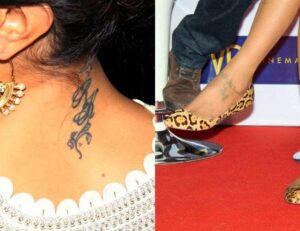 Deepika Padukone's 'RK' tattoo, which honors her ex-lover Ranbir Kapoor, has gotten a lot of attention over the years. What you may not know is that Padukone has more than one tattoo. A lovely vine encircles the actress's left ankle and ends above her foot with her initials, 'DP.' Padukone remarked at a press conference a few years ago, "This is the most painful location to get a tattoo done, and I adore it."
7. Varun Dhawan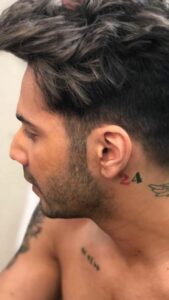 Varun Dhawan's tattoo was first revealed during the promotion of his most recent film, Kalank. The number 24, inscribed behind the star's left ear, the '2' in deep crimson and the '4' in black. Despite the fact that Dhawan has never divulged the meaning of the number, many believe it gets linked to his birthdate, April 24, 1987.
8. Kangana Ranaut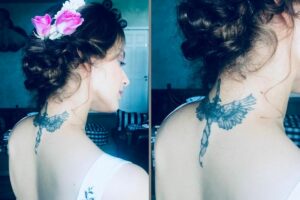 Kangana Ranaut, known for her daring demeanor. To mark this, the actor has a beautiful tattoo on the nape of her neck that she had as a teenager and recently updated. A crown, which represents power, wings, which reflect her dreams of breaking boundaries and attaining her goals, and a sword, which depicts her capacity to battle against all odds. Ranaut also has a small angel tattooed on her left ankle, indicating that she believes passionately in angels guiding her.
9. Sonakshi Sinha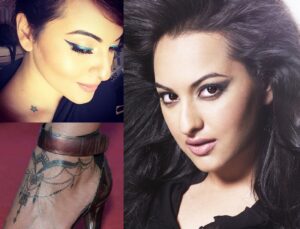 Another Bollywood actress with a tattoo around their left ankle is Sonakshi Sinha, who got inked in Budapest while filming Force 2. (2016). Sinha got inspired to get the tattoo, which resembles a chandelier while sketching on her foot. The actress was so taken with the look that she chose to keep it for the rest of her life.
10. Dia Mirza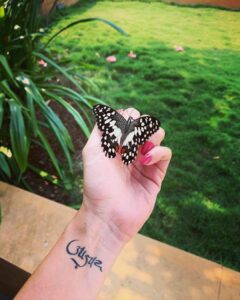 Dia Mirza is one of the newest Bollywood celebs to get tattooed, having done so in June of this year. If you're a fan, you're probably aware that Mirza is now receiving a lot of love and support for her role in Kaafir, a web series about a lady from Pakistan-occupied Kashmir (POK) who enters India by accident and ends up in jail. Mirza's first tattoo is the word 'aazad,' inscribed in Devnagari script, in keeping with the series' theme of freedom. "My tattoo reads – – because we are all Born #free," Mirza wrote on Instagram. This is a great tattoo idea.
11. Arjun Kapoor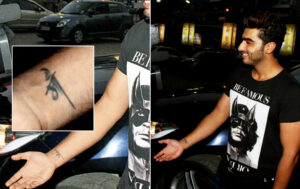 Arjun Kapoor, too, has a one-of-a-kind hand tattoo honoring his mother. On his right wrist, he carved the Hindi word "maa," as well as a small infinity symbol, maybe to represent an eternal bond.
12. Alia Bhatt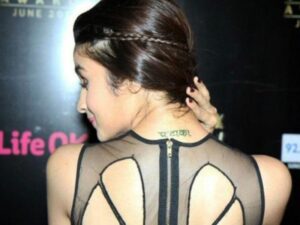 Alia's tattoo reads 'Pataka' in Hindi, which we think reflects her personality. 'Pataka' is a Sanskrit word that means 'firecrackers,' and we believe she possesses that spark.
13. Ranbir Kapoor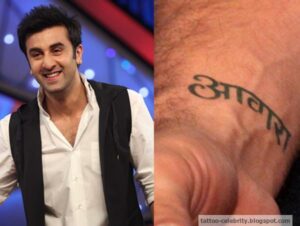 The hand tattoo on Ranbir's right wrist is a reference to his grandfather's 1951 film 'Awara.' The tattoo is in keeping with the young man's reputation for living life his way. This is one of the most done forearm tattoos for men.
14. Ajay Devgn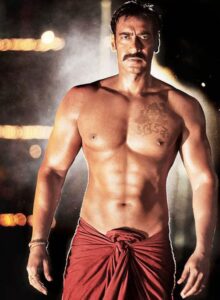 Ajay is a devout follower of Lord Shiva, and the tattoo on his chest represents his dedication and faith in the Hindu god. That is a really beautiful tattoo.
15. Shruti Hassan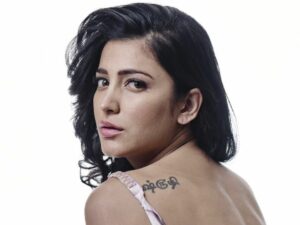 Shruti Haasan, Kamal Haasan's daughter, and a Tollywood star, has her name inscribed in Tamil on her back, and it looks really nice.
16. Bani J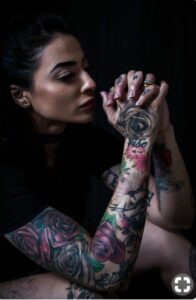 Bani is a true believer in body art, as evidenced by her numerous tattoos. Take a look at her arm tattoo! Isn't that awe-inspiring and epic? The tattoo symbolizes her fearlessness in life and her ability to face any obstacle that comes her way.
17. Sooraj Pancholi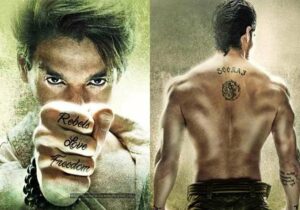 Sooraj has numerous tattoos, the most visible of which is his name on his back, with which he recently expressed his dissatisfaction. Sooraj was 14 when he received the tattoo, and he wants it removed as soon as possible.
18. Malaika Arora Khan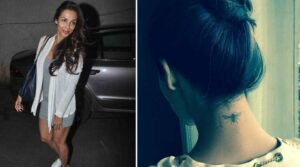 She recently posted a photo on Instagram of a beautiful 'bee' tattoo on the back of her neck with the caption "To bee or not to bee…" Given that the actress is currently as busy as a bee dealing with the never-ending rumors about her break-up with husband Arbaaz Khan, it appears to be symbolic!
19. Sidharth Malhotra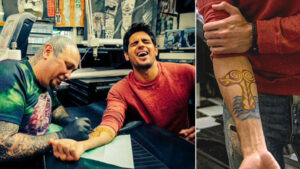 He had a Maori artist tattoo him. "It's a Maori whale story about speed, strength, and triumph!" Sidharth made a remark on Twitter. This isn't a long-term tattoo, unfortunately. This tattoo inspired a lot of individuals to go for forearm tattoos for men.
20. Shilpa Shetty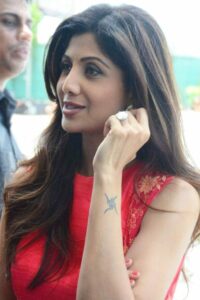 Shilpa Shetty has the sacred swastika emblem tattooed on her left wrist. The 40-year-old star posted an Instagram photo of herself posing for a tattoo while an artist works on her wrist. Shilpa captioned the photo, "Getting my First Tattoo a Swastika."
21. Sanjay Dutt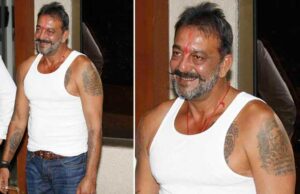 Sanjay Dutt, commonly known as Munna Bhai, has a plethora of tattoos all over his body. To call him Bollywood's tattoo king is not an exaggeration. He has a Tibetan Om, which corresponds to his zodiac sign of Leo. On his right arm, he has two Samurai tattoos. There is another tattoo in Japanese that means 'Honour.' He has another snake tattoo on his right arm.
22. Esha Deol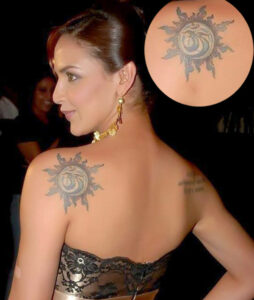 Hema Malini's daughter, Esha Deol, has two beautiful tattoos on her back. On her upper right shoulder, she has lines from the Gayatri mantra tattooed. The other is a beautiful Om tattoo on her left shoulder.
23. Virat Kohli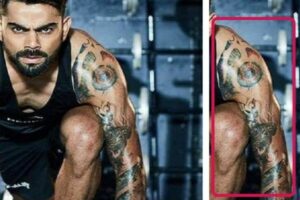 Kohli, an Indian cricketer, has at least eight tattoos on his body, including on his hands, a golden dragon, and a samurai warrior. Power, self-control, and self-discipline are all symbols of these tattoos.
24. Sapna Bhavnani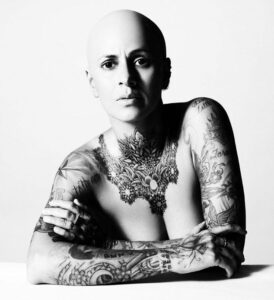 Sapna Bhavnani, a well-known hairstylist, chose tattoos to express her inner feelings as well as to tell her story and establish her individuality with tenacity and bravery.
25. Nushrratt Bharucha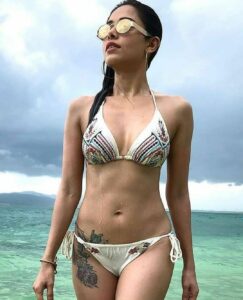 The actress from 'Sonu Ke Titu Ki Sweety,' Nushrratt Bharuccha, has an incomplete tattoo of a phoenix bird with flowers on its wings. In 2018, while filming SKTKS in Georgia, she got this tattoo on the spur of the moment. It's because she couldn't take any more of the pain.
26. Prateik Babbar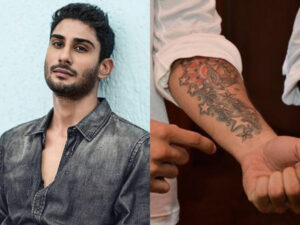 The tattoo "Mera Pyaar Meri Amy", inked on actor Prateek Babbar's left forearm. Amy in question is none other than his ex-girlfriend Amy Jackson. That was probably not the finest decision in retrospect.
27. Shibani Dandekar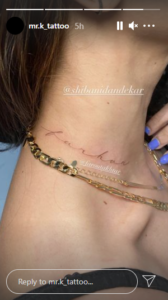 Shibani Dandekar, a prominent singer is the most recent addition to the list. With a tattoo of Farhan Akhtar's name, she immortalized her love for him. Her neck is now adorned with a stylized 'Farhan.'
28. Amy Jackson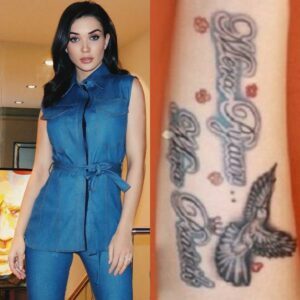 Amy Jackson got the tattoo 'Mera Pyaar Mera Prateik' during her relationship with Prateik Babbar. She claimed to have just erased the unfortunate tattoo in order to move on with her life.
29. Arjun Rampal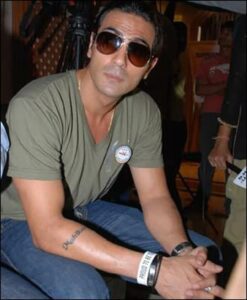 Arjun Rampal has both arms tattooed with the names of his daughters. These tattoos are a representation of his love for his children. In an interview, Rampal expressed his affection for his girls by saying, "My daughters are my life."
30. Janhvi Kapoor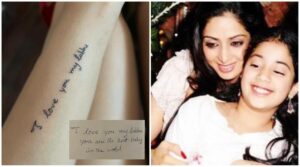 She shared a video of herself wincing in pain while getting an arm tattoo. Her tattoo, 'I love you my labbu,' was visible in a shot. Sridevi, Janhvi's late mother, called her Labbu. On the third anniversary of Sridevi's passing this year, Janhvi shared a statement written by her. It stated: "I love you, labbu. You are the cutest baby on the face of the world."