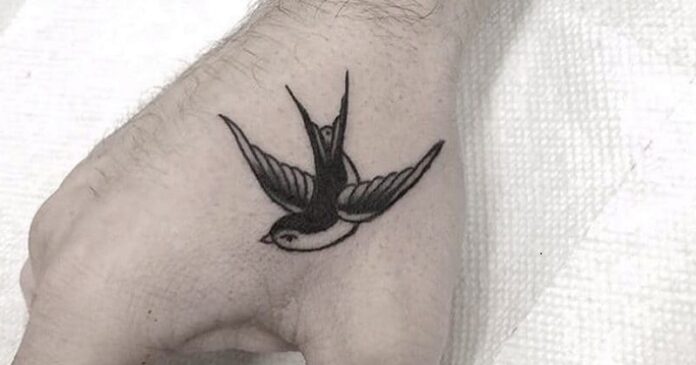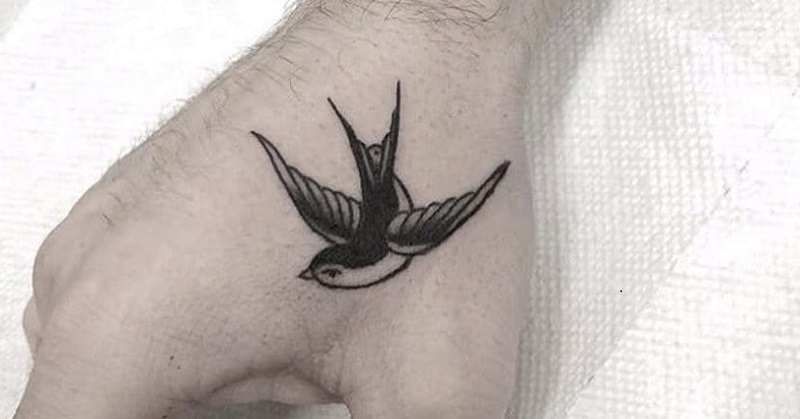 Minimalism is the current trend, and small tattoo ideas are popular because they can carry special meanings while also being simple and clean designs. They can get used on their own or in combination with your existing ink collection. It may be difficult to limit down your options with so many beautiful tattoo ideas to choose from, and some men may seek inspiration.
Beautiful images are typically combined with a powerful message in the best tattoos. Small tattoo ideas for men, after all, can be far more stylish, especially if you work as a professional. The main challenge is choosing from thousands of small, uncomplicated tattoo ideas for men. To help you out, we've put up a selection of the best little tattoos for men, along with instructions on how to customize them to your desire.
Here are 20 small-sized tattoo ideas for men to try as beginners:
1. Wrist Tattoo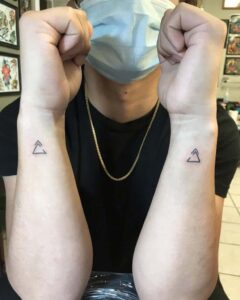 Choose a smaller design if you're thinking of getting a wrist tattoo. Because the wrist is such a wonderful and flat area of skin to work with, many patterns will look fantastic there. It's a nice place to start if this is your first tattoo to see whether you want more.
2. Back Tattoo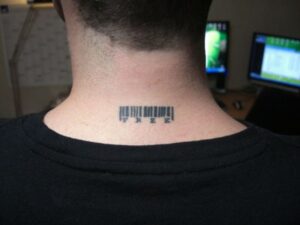 If you're only getting a little back tattoo, stick to the upper back. A fantastic position is on the side or in the center of the back. Keep in mind that whatever alternative you choose, it must be the center of attention. This implies that it should run down your spine or down the center of your shoulder and neck.
3. Shoulder Tattoo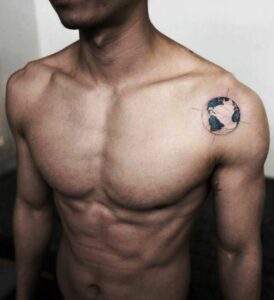 An art or something that climbs up the neck is a nice fit for the top of the shoulder. If you want tattoos for men on the front or back of your shoulder, a simple design is usually the best option, however, a single word can also work.
4. Forearm Tattoo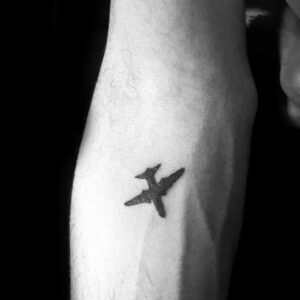 Your forearm is the perfect size for a small tattoo design. Due to its huge surface area, there is also a lot to choose from. It's an ideal location for a tattoo on an arm with a long script that won't fit across your wrist. A cool form or pattern that lies just below where your arm bends could also be a good alternative.
5. Rib Tattoo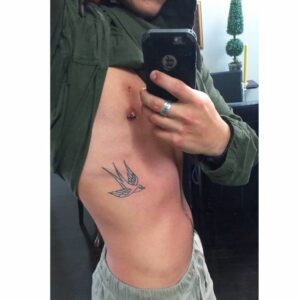 While finishing the rib cage can be time-consuming, it's an excellent location for a small tattoo. It's easy to conceal beneath clothing, and there's plenty of area for a modest tattoo, so you can go straight down the side of your body or slightly to the front or back. Because it looks fantastic with both art and text, it's a versatile place.
6. Neck Tattoo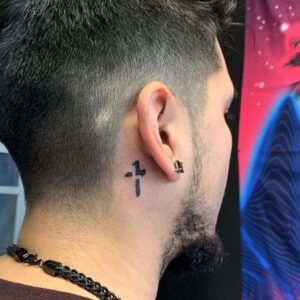 If you're considering a neck tattoo, you're a brave soul. This is usually the area where you get tattooed if you already have a lot of tattoos. There are plenty of possibilities if it's your favorite place and you're searching for something small. Lettering or symbols down the side or back of the neck, or a little piece of art roughly behind the ear, is a wise way to go.
7. Leg Tattoo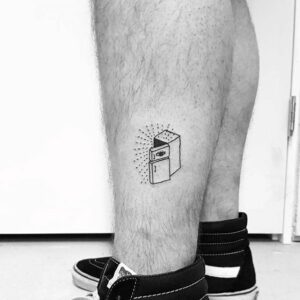 Leg tattoos, worn in a number of ways. You must first decide whether you want it on the back, front, or side of your thigh or lower leg. Consider the design you want to utilize, and then figure out where the best place for it is. Before making a final selection, you have the option of experimenting with your options.
8. Arm Tattoo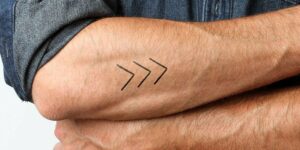 Consider where the arm tattoos will appear best based on their size and length. The arm tattoos are a small thing, consider placing them at the very top of the arm. Otherwise, slightly above your elbow, on the back of your arm, is a nice place to start. When choosing a site for the tattoo on arm, be cautious because you don't want to wind up with anything that doesn't feel right.
9. Chest Tattoo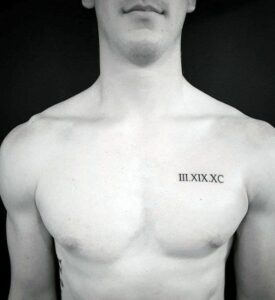 While many men assume that a massive chest tattoo is the best option, a simple and small size tattoo can look just as nice. A large chest piece will tie everything together and look excellent if you're planning to build the tattoo down your arms; if not, go tiny.
10. Hand Tattoo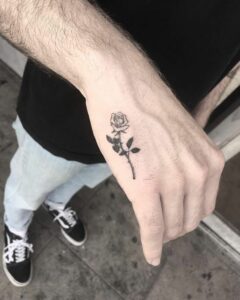 When getting a small size tattoo, the hand is a good choice. They are, however, prone to fading and blowing out quickly, even though they appear great when first applied. As a result of this, the ink will thicken. This usually happens because our hands spend a lot of time in the water, which causes the tattoo to fade.
11. Crown Tattoo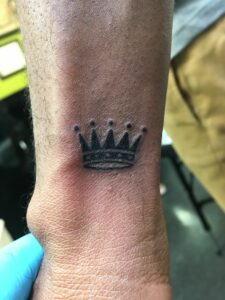 You have two options when it comes to crown tattoos. You can choose between a simple black outline or a more ornate crown. Small tattoos look amazing when they're done well, all you have to do now is find the right artist. In general, you should seek out someone who specializes in fine lines for the best results.
12. Foot Tattoo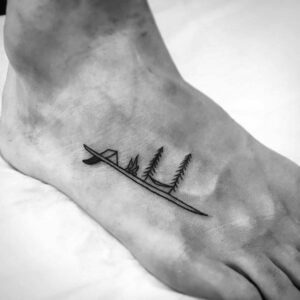 The surface area of your foot only allows for a small pattern. This is an easy choice of location if you don't want your tattoo to stick out among your new skin. If you don't want it to get displayed all of the time, it may also be easily concealed. Consider your pain tolerance if you're thinking of getting a tattoo on your foot, because it'll be a little tattoo, it shouldn't take long to finish.
13. Skull Tattoo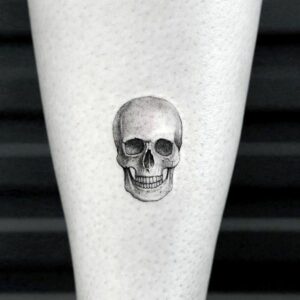 Whether you just want the contour of a skull or want it to look real, a simple design will suffice. This design will clearly convey that you are a man, as skull tattoos might be terrifying.
14. Animal Tattoo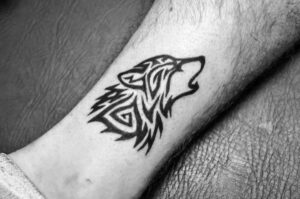 Animal tattoos, whether they're a replica of your favorite pet or a representation of your spirit animal, are a lot of fun. You can play around with your design by using geometric elements or embedding a photograph into the animal's body.
15. Star Tattoo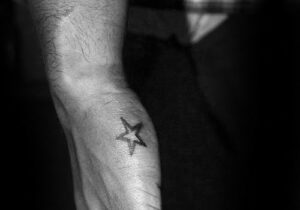 If you're looking for a little tattoo but aren't sure what to get, a star is a great option, especially if this is your first tattoo and you don't want anything too bold. It could be something as basic as a star outline or fully blacked out.
16. Music Tattoo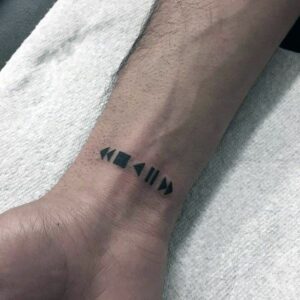 Because the majority of designs are simple, getting a music tattoo is simple. Popular patterns include records, music notes, and the outline of a guitar or other instrument. These patterns are often kept simple, with black ink employed in the majority of cases.
17. Feature Tattoo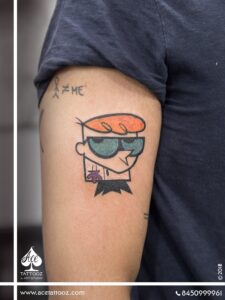 Any design can get used to creating feature tattoos. They usually consist of a form with an image in the center and are small to medium in size. Feature tattoos are frequently done with characters from a comic book or television show, giving your design a unique and amusing twist.
18. Name Tattoo
Name tattoos are a great method to show your affection for the person whose name you've etched. It doesn't have to be a huge painting to express your feelings for them. Similar to lettering tattoos, it's best to hire a fine line artist for the job. You don't want the words to fly out or be so bold that it's impossible to understand the script.
19. Lettering Tattoo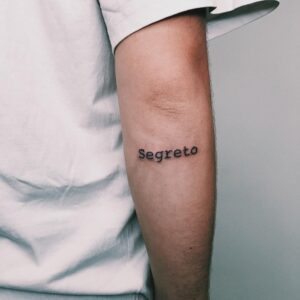 Small, basic script type has a far more appealing appearance than large, bold letters. You don't want the words to explode out or be so bold that the script is difficult to read, especially if the writing is little, so finding a fine lines artist for great lettering is usually a good option.
20. Tribal Tattoo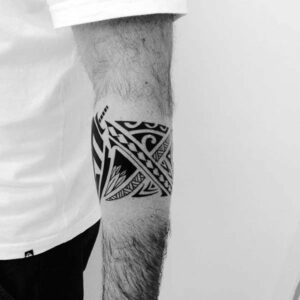 A small tribal tattoo band wrapped around the wrist, upper arm, or ankle is an alternative to a complete tribal sleeve. You can make the design as elaborate or as simple as you desire, even if it's small.