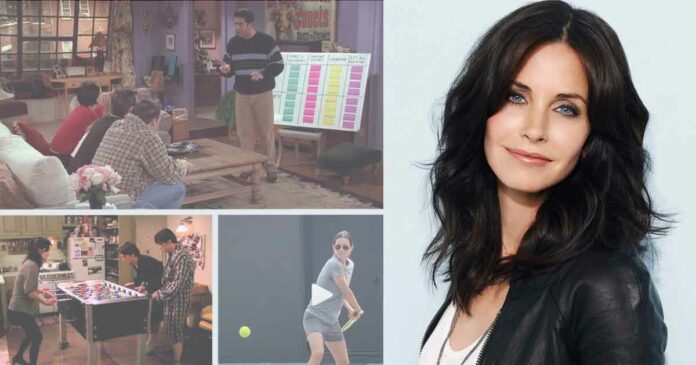 It's been 26 years since the wonderful show from the 90's – 'Friends' came up. The show has aired on multiple platforms after completing its term on TV. With each year passing by, we only notice the viewership increase and the fan clubs expanding. And for fans like us, now we are all well-versed with the likes and dislikes of all the six lead characters. I mean we even know Chandler Bing's job that Monica and Rachel didn't know about. But what was it again? I want to say, it had something to do with numbers, but you already know what it is, so forget it. We also know that Phoebe intrigued with superstitions and stuff. Joey was fascinated by food (particularly pizza)and Ross, of course, he is the dinosaur guy. Our funny guy, Chandler hated thanksgiving and was super insecure about commitments. But things change for him once he fell in love with Monica. And our Little Harmonica, she is too obsessed with cleaning & organising everything around her. There is one more thing about Monica in particular i.e., she doesn't like to lose. I am talking in 'NEVER-EVER' kind of terms here! From the foosball game to football she can bet her life at it! So today, let's talk about the competitive side of Monica and is she really a winner in everything?
In the end, we have a surprise for all Monica fans because in this article you will witness something that doesn't tune in to the Monica we know!
Monica and Pictionary.
Remember episode 18 in season 1 where they all were playing Pictionary? During Monica's turn, she drew and tried to explain a movie. But Chandler made guesses that were not even close to the one she wanted him to say. Well, the movie was 'bye-bye birdie'. Then it was Rachel's turn whose drawing Joey guesses within seconds.
In this scene, we notice how frustrated Monica gets. She almost forgot to have fun but took things more like a challenge. That's how Monica was. She was really competitive. Well, I think your drawing was great Mon.
The Trivia Game that cost Monica and Rachel their apartment.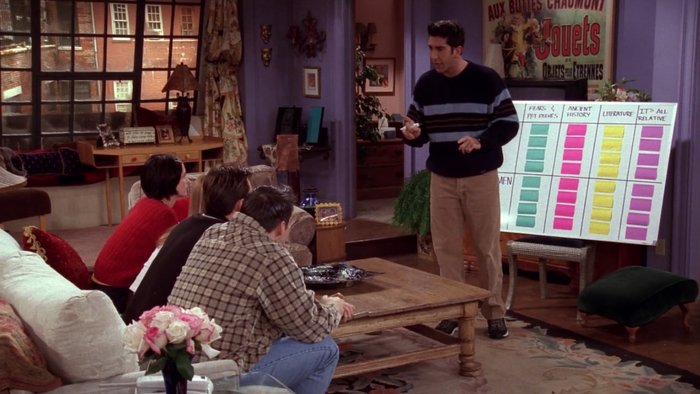 In season four we get to see an amazing trivia game. In this, it is well portrayed how well the friends know each other. We have seen the 'n' number of games played by the characters in the whole series but this one is my favourite. I was shocked after watching the scene where Chandler and Joey literally guessed every item in Rachel's bag correctly! And we all know how this game ended.
This probably would have been the first game Monica had lost in a long time. Even during this game, we could see how energetic Monica had become. She wasn't much afraid to raise the stakes because she trusts herself a lot! She never imagined that she could even lose a game like that. Well, her overconfidence cost her a lot.
The Football Game for the Geller Cup.
Monica's obsession to be the winner was clear again when she jumped into the river and brought the Geller cup back. Even she kept it a secret and never told Ross until that one thanksgiving. Then of course the game itself proved how Monica loves to win. The thing I love the most is how the others accepted these obsessive behaviours of each other.
But have you ever thought if Monica is the best in everything? Or is there any sport where she might give up easily and let go of the winner's trophy? Maybe, we have found something to feed this curiosity. So keep reading to know!
The foosball games.
There was this another time when we all saw how wonderful Monica was at foosball. Do you know anyone who can win a foosball game alone against two? Well, Monica Geller can! Not just once but every single time!
And her determination and energy are uncomparable always. It looks like she is born to be the winner in everything.
The Ping-pong games.
Remember that episode where Monica had that super curly hair look. I enjoyed that episode so much! Especially the scene where Mike and Monica start playing ping-pong and Chandler says "Oh my god! There is two of them".
Monica was not ready to stop until she knew she was the ultimate winner. Though tired as hell, her only desire was to win. So, Chandler won it for her and that was definitely one of the cutest and sweetest moment! But when we look back at Monica, she wasn't cute. Rather she was pathetic and stubborn just as we expect her to be always!
The Pool game with Jennifer Aniston aka Rachel.
A few months ago, Courteney posted a video showcasing her awesome skills in a Pool game. She posted a video on her Instagram to flaunt it loud. And here, I was star struck after watching it. Can someone really be that amazing in every game they play? Well, she is Monica I thought, she can the best in everything!
The Tennis Game
But recently all those high hopes and expectations about Monica got shattered after watching a clip. Cox posted an expectation vs reality sort of video on her Insta a few days back. In this, we see her playing great Tennis. It again makes us wonder how she can be good at everything!
But as the video rolls over, we saw the reality part. And the reality wasn't anything like the Monica we know. The video shows that Courteney is just a beginner when it comes to playing tennis.
Looks like our Monica is not always a winner. She has had her fair shares of loses too. Anyways, we all have our share of flaws and it is amazing how Courteney wasn't embarrassed to show that to us. And we know Courteney is going to come up with a video soon where we will see her like a pro in Tennis as well. Till then, cheer for Team Monica!
Here is a link of the clip where she is seen playing or losing Tennis: