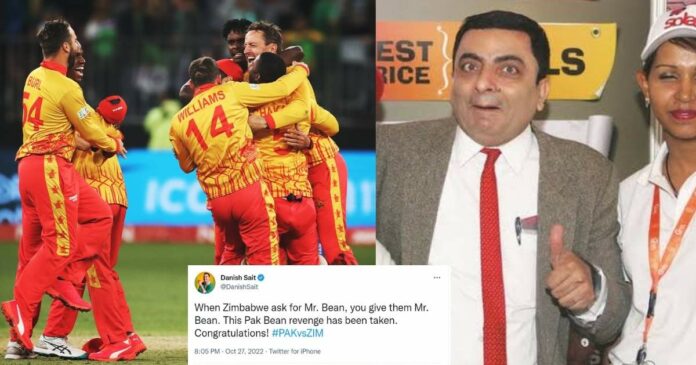 Over the last few years, Zimbabwe has been playing Pakistan a bit too frequently. As a reason, fans usually mock Pakistan for bashing the minnows and stamping their authority over them. Let me tell you what, Zimbabwe isn't a minnow by any means. They're serious underdogs and punch above their weight when they're up against their new arch-rivals.
Their rivalry took a new turn recently when one of the Zimbabwe fans expressed how he was cheated by Pakistan with a fake Mr. Bean called 'Pak Bean' for their show. He wanted revenge and boy his team has delivered! Zimbabwe beat Pakistan by 1-run in an extraordinary display of skill and patience today. Twitter was flooded with Memes and we've picked some of the best ones for you.
What a win for Zimbabwe! Congratulations to the Chevrons.

Next time, send the real Mr Bean…#PakvsZim 🇿🇼

— President of Zimbabwe (@edmnangagwa) October 27, 2022
कोहली जी वर्ल्ड कप से बाहर ले जाते हुए pic.twitter.com/Ud1SrZaEoL

— Professor ngl राजा बाबू 🥳🌈 (@GaurangBhardwa1) October 27, 2022
Pakistan🤣 #PAKvsZIM pic.twitter.com/rrDw7FHXt3

— Nikhil. (@fundoozx) October 27, 2022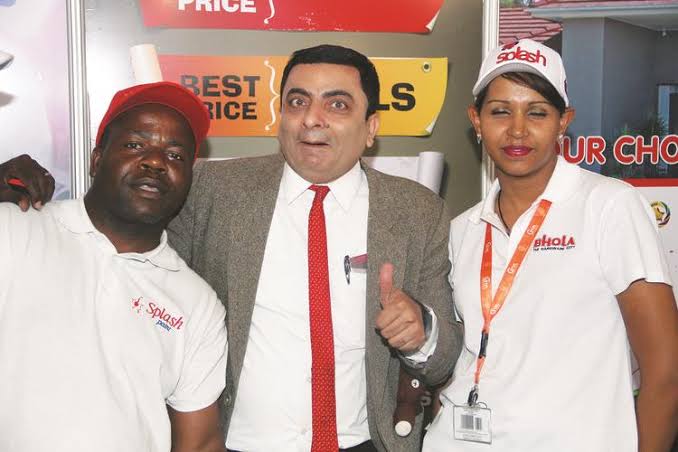 It's not an upset.. It was always Zimbabwe's match. Bad day for neighbours. 😅 #PAKvsZIM pic.twitter.com/inXGErwqpl

— Amit Mishra (@MishiAmit) October 27, 2022
Zimbabwe beat Pakistan 🙌🏽
And do not call this an upset. It'd be disrespectful to @ZimCricketv who've played so well and deserve all the respect and praise. Pic unrelated 😛 #PAKvZIM #T20WorldCup pic.twitter.com/RDxKasz05p

— Wasim Jaffer (@WasimJaffer14) October 27, 2022
When Zimbabwe ask for Mr. Bean, you give them Mr. Bean. This Pak Bean revenge has been taken. Congratulations! #PAKvsZIM

— Danish Sait (@DanishSait) October 27, 2022
Dear Pakistani Fans

This too stay strong pakistan shall pass#PAKvsZIM

— The Engineer Bro (@theengineerbroo) October 27, 2022
Sikandar Raza deserves a statue somewhere in Zimbabwe.

— Abhishek Mukherjee (@ovshake42) October 27, 2022
Commentary on the final ball.
When Zimbabwe beat Pakistan.#PAKvsZIM #PAKvZIM#ZIMvPAK #ZIMvsPAKpic.twitter.com/JAN715h6wx

— Cricket Videos🏏 (@Crickket__Video) October 27, 2022
No way Pakistan lost to Zimbabwe only to show how valuable are Babar Azam's runs against them.

— Silly Point (@FarziCricketer) October 27, 2022
Pakistan Strike Rate v pace in this World Cup

Balls bouncing above stump height: 84
Balls bouncing stump height: 158

These two matches have brutally exposed Pakistan's issues against bounce.#T20WorldCup

— Freddie Wilde (@fwildecricket) October 27, 2022
Aww man, @ZimCricketv celebrating after the game is joyful: pic.twitter.com/mXxQDjllU8

— Ian Raphael Bishop (@irbishi) October 27, 2022
Shaheen shaaf Afridi is World Cup mein pic.twitter.com/4O8mKzhTTW

— Professor ngl राजा बाबू 🥳🌈 (@GaurangBhardwa1) October 27, 2022
When you realise Nawaz ko target kr lena chahiye tha us din#PAKvsZIM #zimbabar #WT20 pic.twitter.com/x5LaEXLCVV

— rahul (@Aapki_Taareef) October 27, 2022
This victory means so much to Zimbabwe Cricket and their fans. They lack resources and at times, don't even have sufficient budget to provide kits to their players. All the potential goes begging. ICC should provide associate and so-called minnow teams more assistance, it'll only do good for the game. Hope the 'World Cup of Upsets' has more thrillers in store for us. Until next time, adieu!