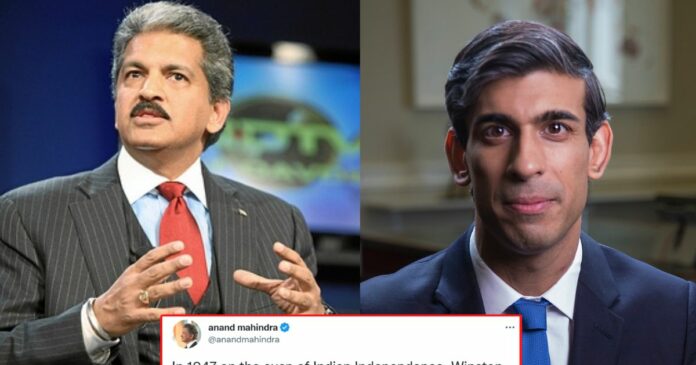 Rishi Sunak hit the headlines yesterday after becoming the first Indian-origin Prime Minister of the UK. As soon as Liz Truss resigned, Rishi was the frontrunner to lead the Britishers. Boris Johnson was in the race too but he pulled out yesterday, clearing the way for the 42-year-old.
Some decades ago, who'd have thought an Asian, a Brown Person, and an Indian will be ruling the UK? Although Rishi is technically a UK Citizen, his Indian roots have surely given us Indians a sense of pride. Britishers ruled us for years but the tables have turned now. It shows how far we have come after independence. Several Twitter users heaped praises on the newly appointed PM and one of them was Business Tycoon Anand Mahindra.
Mahindra's tweet threw light on how the Brits viewed us as a nation when they left us reeling in 1947, and how things have shaped up some 7 decades later. Churchill, in particular, loathed Indians.
This is what Mahindra tweeted:-
In 1947 on the cusp of Indian Independence, Winston Churchill supposedly said "…all Indian leaders will be of low calibre & men of straw." Today, during the 75th year of our Independence, we're poised to see a man of Indian origin anointed as PM of the UK. Life is beautiful…

— anand mahindra (@anandmahindra) October 24, 2022
Winston Churchill is often hailed as the greatest Briton ever. The West views him as a freedom fighter who showed Europe the way in World War 2. But behind all his legacy and for everyone else living outside the West, he was a chauvinist, imperialist and racist. He isn't the Hero everyone claims him to be. For those who believe in Churchill's ideology and are living in denial, an egocentric bubble that India is still a third-world country, Sunak's victory will be hard to digest. Britain's economic and political struggle are there to see for everyone while on the other hand, Indian Economy is the fastest-growing in the world.
Indian-origins were already ruling the American MNCs. They've upped their game now. The new standard is nothing less than the Prime Minister of a former Colonizer. Rishi has raised the bar! This is the Asian Century, bound to be led by India and Indians. NRIs and Indian-origins doing their bit is icing on the cake.