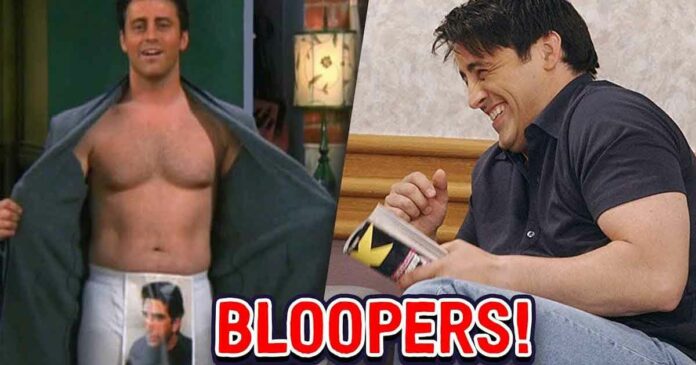 NBC's hit sitcom FRIENDS, which is on the binge-watch list for over a decade now is full of hilarious moments, starring Matthew Perry as Chandler, Courteney Cox as Monica, Jennifer Aniston as Rachel, David Schwimmer as Ross, Matt LeBlanc as Joey, and Lisa Kudrow as Phoebe. FRIENDS is one of those rare shows that still tickles the funny bone of the viewers. Some of the obsessed fans just can't stop watching it over and over again. The show has many moments which made us laugh and leaves minds befuddled. From Joey's not sharing food to Chandler making Joey's eyebrows, all scenes are engraved in our minds. And the best thing about the show is, how many times we have watched it, it still manages to steal a peal of laughter.
So, now you can imagine that if the original show can make your eyes teary with laughter, then what the bloopers could do. So, here is the list of funniest FRIENDS bloopers that are hilarious than the original episodes. You might have seen some of them, but true FRIENDS fans can watch it over and over again. So, let's check it out:
1. Ross Playing The Bagpipe Blooper
Ross wanted to play bagpipe at Chandler and Monica's wedding. So, in this episode, he showing to his friends what he has learned till that time. Well, the sound was funny itself but when Phoebe started to sing along, Rachel could help but started laughing. Even in the actual scene also, she has to cover her mouth to not laugh.
2. Phoebe Giving Birth Blooper
Phoebe gives birth to the triplets on the 100th episode of FRIENDS. Well, in the episode, she blurts out at Ross when he tries to comfort her and said, "That's easy for you to say, I don't see three babies coming out of your va***a". But Marta did not want to use that word and was looking for another word. In the meantime, Joey suggested saying "d**k-ditch" and everybody burst out laughing. So, Chandler gave Phoebe the dare to actually say it and they will give her money for that. And, when she really said it, the whole audience was laughing.
3. When Phoebe Becomes Nurse
In season 9 episode 11, Phoebe played an extra in "Days Of Our Lives" and she played the role of a nurse. In the actual scene, Phoebe was shaking while taking the tray to the doctor. Then Joey comes in and encouraged her to forget everything and do the acting, but in a little loud voice. Whenever Joey shouted, they laughed so hard that it will definitely crack you up too.
4. Amanda Came To Meet Monica And Phoebe
In season 10 episode 3, Amanda visits Monica and Phoebe. While talking she reveals that Phoebe was dodging Monica's call and was trying to cut her off in 1992, when they both lived together. Later, she realized that Monica didn't know about that and said, "I feel like a perfect arse". However, Phoebe's character keeps on breaking when hearing the word "arse". Her laughter was rather cute.
5. Stripper At Phoebe's Bachelorette Party
Phoebe was expecting a stripper at her bachelorette party but Monica and Rachel forgot to call one. In haste, an old stripper comes to the party and asks for $300. Then Jennifer mistakenly said that she will give her paycheck to Danny DeVito, who was the stripper at the party. Jennifer's face after saying that is hilarious.
6. When Joey's Fire Beats Everything
In a Thanksgiving episode, all the friends, Ross, Rachel, Phoebe, and Joey were late for dinner at Monica and Chandler's place. So, they all were trying to decide who will go first to apologize to Monica by playing "Rock, scissor, paper game". But every time, Joey does fire instead of any three of those. And says, fire beats everything. But, Phoebe made him lose by playing water. It was hilarious to see Ross's reaction to all of that.
7. The Famous Joey's Fall
In season 2 episode 18, Joey wants to show reviews to Phoebe in a magazine, Soap Opera Digest. But while reaching to her on the famous orange sofa, he keeps tripping and falling. And at last, when he finally reached Phoebe, Chandler comes in between and steals the show yet again. The whole cast, creators, and the audience were rolling on the floor with laughter. It is one of the best bloopers from the show.
8. When Monica Plays Table-Tennis With Mike
Monica plays table tennis with Mike in Barbados. As Monica being so obsessive to win, she played till her hand got hurt. And, then Chandler took over and won the game on behalf of Monica. But its behind-the-scene is not like that. She tried to play again and again but got hurt and lost every time. Although, it was funny to watch Chandler making fun of Monica and Phoebe's contagious laugh.
9. When Monica Made Bouillabaisse For The Revenge
In season 8 episode 21 "The One With The Cooking Class", Monica got bad reviews for her cooking from a food critic. So, as revenge, she made Bouillabaisse and goes to his cooking class to confront him and make him taste it again. But, it was hilarious to watch frazzled Monica and her outburst while cooking Bouillabaisse. And, it was even cuter to see Joey making fun of Monica with Chandler and irritating her even more.
10. Monica Sent Hooker For Chandler
In season 8 episode 8 "The One With The Stripper", Chandler finds out that Monica had a stripper at her bachelorette party. So, she in return organizes a bachelor party for Chandler including a stripper but turns out to be a hooker. It was hilarious to see them messing up the scene over and over again. Ross also comes in front of the camera and says "action".
FRIENDS show is a power-packed show of laughter and funny moments. Even its behind-the-scenes is also hilarious. And, these are some of the bloopers from the FRIENDS series that crack us up as many times as we watch them. If you also know some bloopers that are more hilarious than the original scene, then do share with us in the comment section below.