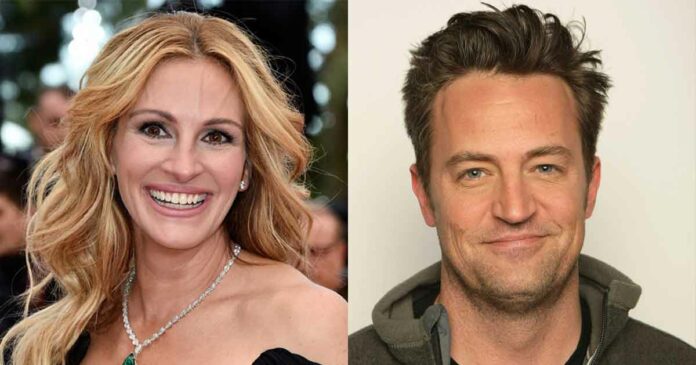 FRIENDS lasted for a decade on NBC and became one of the most popular shows of all time. The cast of the show packed some serious star power. However, the show had a quite impressive list of guest appearances who are A-lister celebrities such as George Clooney, Winona Ryder, and many more. Throughout the show's 10 seasons, bigger names stopped by Central Perk but you totally forgot about them. So, here is the list of 15 FRIENDS cast appearances outside the show that surprised fans. Take a look at them:
1. Susan Sarandon
Susan Sarandon played the part of Cecilia Monroe in season seven. In the show, she was an actress on "The Days Of Our Lives" with the character of Jessica Lockhart who dies off the soap opera. Joey as Dr. Drake Ramoray takes up Jessica's character as her brain was set to get implanted in Ramoray's brain. Her short appearance in the show was quite remarkable and her unexpected chemistry with Joey made her a hit in the show.
2. Billy Crystal and Robin Williams
Robin Williams and Billy Crystal made an unforgettable impression in season three. In this episode, they loudly burst into Central Perk. They ask the group to move over the couch and interrupt their conversation. Well, then the gang couldn't help but overhear their conversation because it surely was quite intriguing. While talking with his friend, Williams character suspects his wife is sleeping with someone else and it is none other than Crystal's character with whom she is sleeping with. They made a strange but hilarious appearance which was loved by everyone.
You might be shocked to know that their appearance was not even in the scripts but was totally impromptu. It happened to be that the duo was in the same building or somewhere nearby shooting for some other film. The writers of FRIENDS asked them for a guest appearance which they didn't deny and the result is with us.
3. Charlie Sheen
"Two and a Half Men" star, Charlie Sheen appeared as one of Phoebe's former flames in season two. He is a sailor who only sees Phoebe every few years when he returns back from his submarine. When she came to know that he's coming, Phoebe starts arranging romantic activities for the two of them. However, it all came down with chickenpox at the last minute. Despite that, the sailor manages to have a romantic-itchy visit.
4. George Clooney and Noah Wyle
Clooney was a megastar at that time because of the mega-hit "E.R". He was playing the character of Dr. Doug Ross with Noah Wyle, who played Dr. John Carter in the show. It appeared that they couldn't leave their characters behind while coming into FRIENDS show as they appeared as doctors Mitchell and Rosen. Rachel somehow twisted her ankle and switched names with Monica to use her insurance. The episode became even more intense when the guys came in to meet them at the girl's apartment. We all know how things ended up after that.
5. Hugh Laurie
Rachel was on her way on the flight in season four to try and stop Ross and Emily's wedding. She was a chatty and nervous wreck at that time and was sitting next to Hugh Laurie. He was a man on a flight from New York to London. Rachel was narrating her version of the breakup with Ross and after hearing all her blabber he puts forward his views that they were clearly on a break. From a passenger's point of view, Laurie had a horrible flight while sitting next to Rachel but all this unpleasantness was worth for us because we couldn't help stop our laugh.
6. Alec Baldwin
Over the course of two episodes, Alec Baldwin plays Parker in the eighth season of the series who was an overly enthusiastic guest at the Gellars' 35th wedding anniversary party. He, by the way, came with Phoebe. Parker, being over-enthusiastic goes around complimenting everything he sees and every person he meets. But eventually, his over-the-top antics become irritating to all of the other partygoers.
7. Jennifer Coolidge
Jennifer Coolidge donned a terrible fake British accent to play Amanda in season ten. She played the character of an old friend of Phoebe and Monica. After growing tired of her attitude, they try to phase her out. Well, it doesn't go smoothly and Amanda ends up causing a fight between the two. Her character is so nasty that you just can't help but love to hate her.
8. Julia Roberts
Chandler's past comes back to haunt him in season two in the form of Julia Roberts as Susie "Underpants" Moss. They attended the same school as a child and she still remembers the time when he pulled down her pants in front of the whole school. She pretends to forgive Chandler for that and agrees to go on a date with him. Later, she tricked him in a restaurant and makes things embarrassing for him. And finally, that is how she takes her long-awaited revenge.
9. Danny DeVito
Danny DeVito appeared as a 50-year-old performer who Monica and Rachel hire last minute for Phoebe's party. Later, the three of them question his abilities and he ends up dissolving into tears. Later, Phoebe insists he finish his eccentric dance because of the guilty feeling.
10. Winona Ryder
Winona Ryder is "The Stranger Things" star. She appeared in the season seven episode "The One with Rachel's Big Kiss". She played the character of Rachel's college friend, Melissa Warburton who accidentally bumped into Rachel in Central Perk. In college days, Rachel kissed Melissa after getting drunk but Rachel was disappointed to hear Melissa forgot about it. So, Rachel kissed her again to prove her point to Phoebe. Later, Melissa revealed that she remembers everything and is in love with Rachel.
11. Reese Witherspoon
Reese Witherspoon is an Oscar winner celebrity who appeared in two consecutive seasons in six episodes. She played the character of Rachel's (Jennifer Aniston) sister, Jill Green. She set her eyes on Rachel's soulmate Ross Geller (David Schwimmer). Maybe that is why her character was not for long in the show.
12. Paul Rudd
Paul Rudd played the character of Phoebe's love interest, Mike Hannigan. She finally gets her happily ever after with him. During an 18-episode stint on Season 9 and 10, Mike meets Phoebe, and the two kick off a serious relationship. Later. they break up due to different views on marriage but ended up getting back together. And, they get married after several failed proposals.
13. Christina Applegate
Christina Applegate played Rachel's sister Amy in seasons nine and ten. She's just as self-involved and absurdly shallow as Jill. She constantly calls her niece Emma the wrong name and also mocks Joey's eating habits. Amy ends up getting the baby's ears pierced without anyone's permission when Rachel allows her to babysit Emma.
14. Bruce Willis
For his work on Season 6 of FRIENDS, Bruce Willis won an Emmy for Outstanding Guest Actor in a Comedy Series. He played the role of the father of Ross' student girlfriend Elizabeth, Paul Stevens, who does not approve of the match. He interrupts their escape by showing up with Rachel to his cabin. Paul starts dancing and singing in front of the mirror to get ready for a night with Rachel. Ross catches him doing that and uses it to his benefit.
15. Brad Pitt
Brad Pitt made the most memorable guest star appearance in season eight in the series. Pitt played Ross's best friend, Will Colbert from high school. He counted Rachel as his biggest enemy and his hatred was so deep that he started a rumor in high school that she was a hermaphrodite. If you don't know, Brad Pitt and Jennifer Aniston were actually married at the time of his appearance on the show.