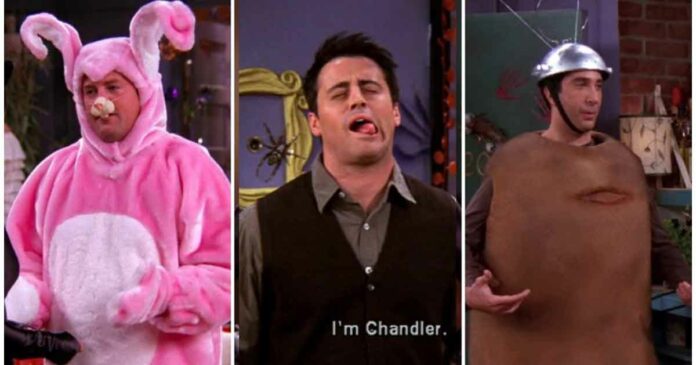 Friends TV Show is iconic! Filmed in the '90s the show has a completely different fashion sense from what we know today. Yet, their fashion is cool enough for us to try them out even now. Well, I mean, Rachel looked gorgeous in every outfit she had. Even the funny guy Chandler had his own style, and we loved it always. And let's be frank, it's no secret that many of us have tried a few styles already (well, I did.) and may have loved the results.
If you have noticed closely, some of the iconic outfits are stuck in our head, and a glimpse of it is enough to trigger the character. So why not feature these iconic people on Halloween? Yes, you can try being Chandler or Phoebe or Ross if you like. It's not always necessary to wear something spooky, rather be funny and be unique. No one expects to see a funny Chandler standing right at their door on Halloween. So be unexpected!
We have narrowed down a list of outfits from the FRIENDS TV Show that you can try out on Halloween. Benefits? Trust me there are many!
First, you get to cry-out loud that you are a die-hard fan of Friends!
Second, you have a chance of spotting all the true fans around you. Maybe you can be Monica and host everyone for a FRIENDS Themed party, once you know everyone who has watched FRIENDS.
Third, You will stand out from the crowd! Be simple but say a lot.
So if you are intrigued by these benefits and ready to show how great a fan you are then here's the list for you. Rock the Halloween!
If You Are Heading Alone
If you are trying to be a unique soul and want everyone to talk about you, then here's what you can try on. Rock the party with these outfits and trigger a series of emotions and excitement in the people around you.
Ross In His Leather Pants
Just grab a pair of leather pants and be Ross. Don't forget to copy that hairstyle while you put on those loose shirts from the 90s. And remember, don't try to cool them off in the middle of a party else you know it already what's waiting for you!
And here's another crazy idea, if you want to level things up, then carry the pants in your hands! And apply a lot of moisturizers, oil, powder, and anything you like on your legs! This can't go unnoticed for sure!
Joey Wearing The Opposite Of Hiding Underwear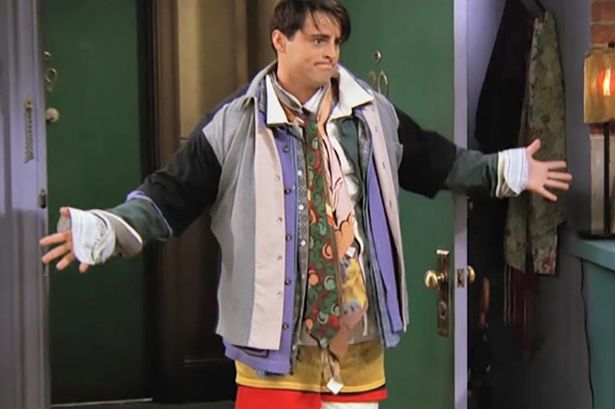 The episode where Joey and Chandler got into a fight over a seat is hilarious. One of the most iconic scenes is no doubt the one where Joey walks in wearing everything Chandler owns. And this can be one of the best Halloween dress ever.
Monica From Barbados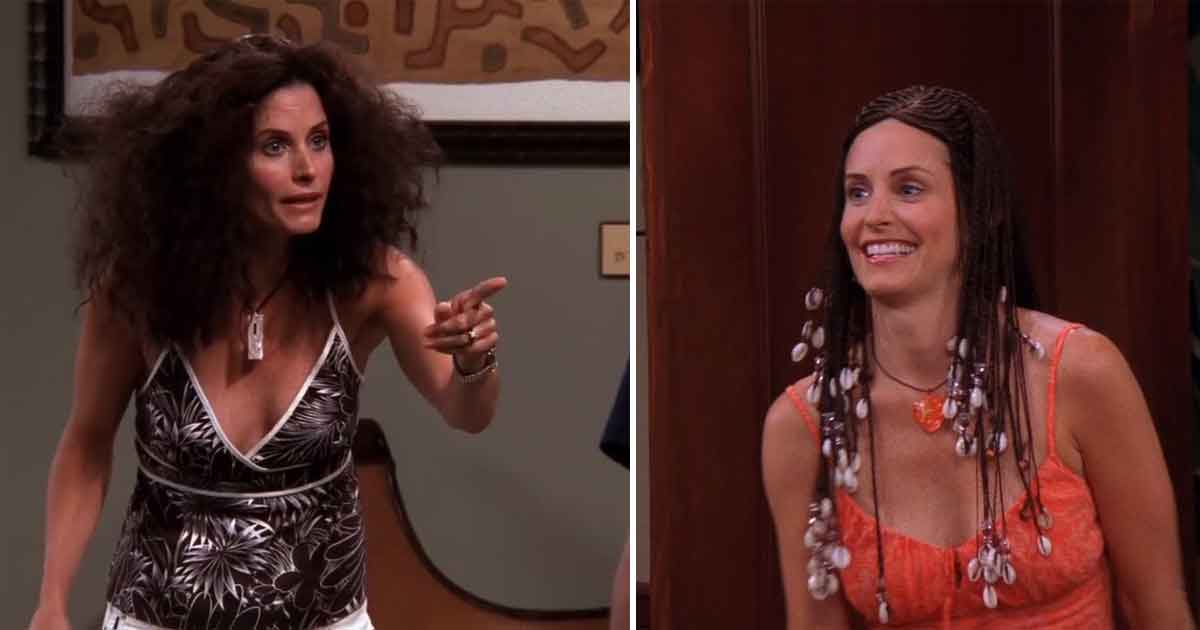 We all admit the fact that Monica was a mess in Barbados! She was not at all a treat to our eyes nor our ears! But that look became iconic in itself. Actually, there were two variants of Monica we witnessed during those episodes. Anyways, we enjoyed the episode but didn't like Monica's look at all.
However, if you want to scare people and entertain them at the same time then go ahead and sport this look. You can either spoil your hairs to get that huge head like Monica. Or else be a shell head and enjoy the tune.
The Gunther Swag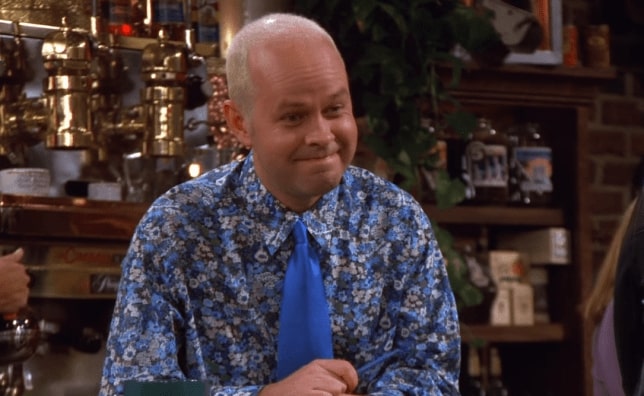 Gunther was a poor soul in the whole series but his character was unique and quite funny. At first, Gunther was not a prominent character in the show. But the directors liked him and gave him lines to make his character bolder and more enjoyable.
Well, the Rachel lover had distinct looks which you can easily copy on this Halloween. Just dye your hairs and wear some funky clothes to bring up the character alive. To make things more prominent and noticeable, you might want to carry Rachel's upside-down cat (fake one) with you! Or to simplify things, just put on a tag of "I Love Rachel" on yourself and everyone knows you already.
Trio Costume Ideas
The Spudnik, Bunny & Chandler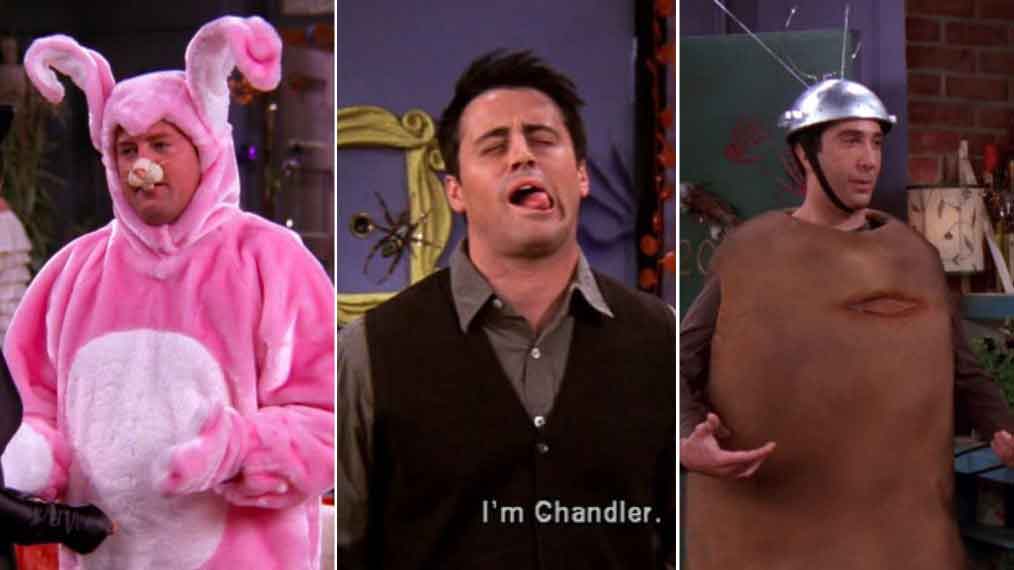 Oh, the episode where FRIENDS celebrated Halloween gave us enough costumes to choose from. If you have an all-guy group of 3 then nothing can be better than this trio costume!
Be a spudnik and ask your friends to be the bunny and Chandler and then you are ready to rock the floor! You might look funny but will noticeable in every room you are in.
Monica, Phoebe & Rachel During Halloween
In the same Halloween episode, the girls too made iconic appearances. Especially, Phoebe and Monica, they showed us how cute the Superheroes can be. And for Rachel, she just levelled up her hotness.
So be the perfect trio and make your girl gang look special. If you are sporting this look, then one thing for sure, all the FRIENDS fans would surely like to strike a conversation with you.
Boy's Outfit During The Christmas
Who imagined Santa and the Holiday Armadillo can come together under one roof for a celebration. But in FRIENDS everything's possible. We enjoyed it when Santa came in and Ross panicked! The conversation between them was hilarious.
And the unexpected entry of Superman in the scene was out of nowhere! But only Joey afford to do it.
Girl's Chilling In Wedding Dresses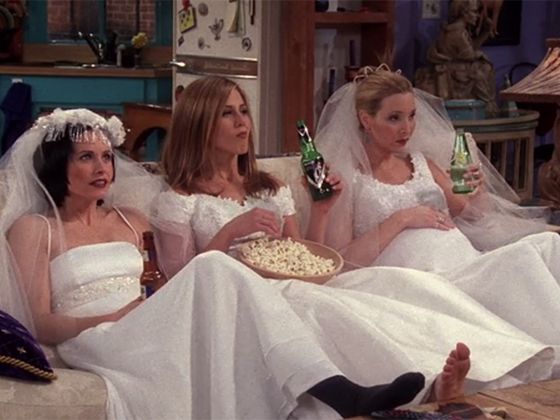 Wedding dresses are beautiful and almost every girl fantasises herself in it. The three girls lived their fantasy in their own unique way! And you too can enjoy wearing the wedding dress and relive the moments of Phoebe, Rachel and Monica.
Duo Ideas
Rachel & Ross In Las Vegas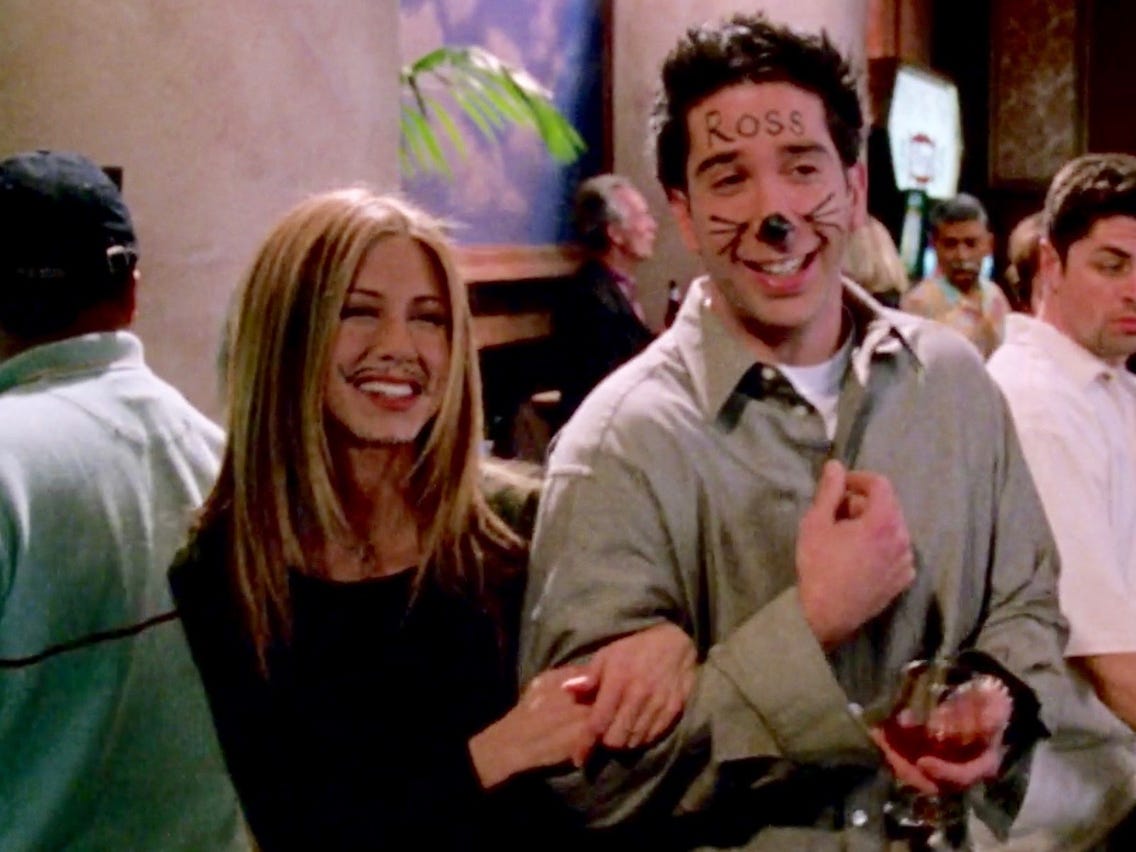 Are you a couple? Then what else can be better than imitating the evergreen couple from FRIENDS? Their mistake can be your fun. Draw on your face and act weird because you have all freedom tonight! Maybe to spice up things in the party, go for marriage as well.
And yes you get the freedom to go a little high to make things perfect! But not too much buddy else you might end up reliving the same fate as them.
Chandler & Joey With The Baby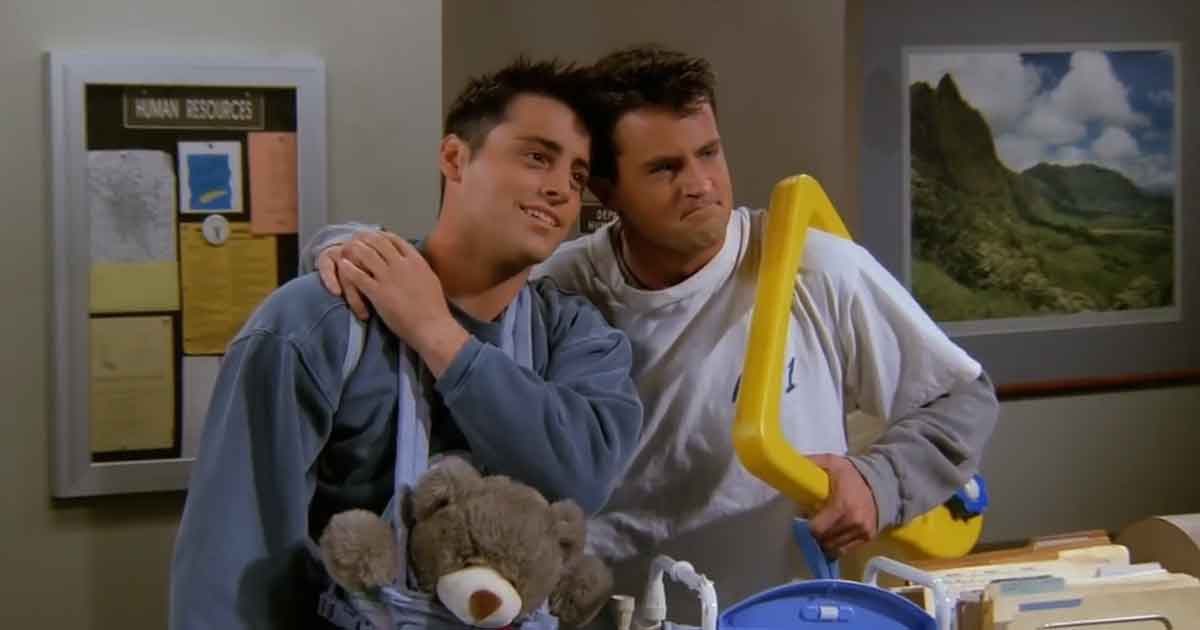 Chandler and Joey are the best examples of bromance and the two looks great together. If you have a true friend then dress up like Joey and Chandler and try hitting some hot girls.
Ross & Chandler Duo From The Flashback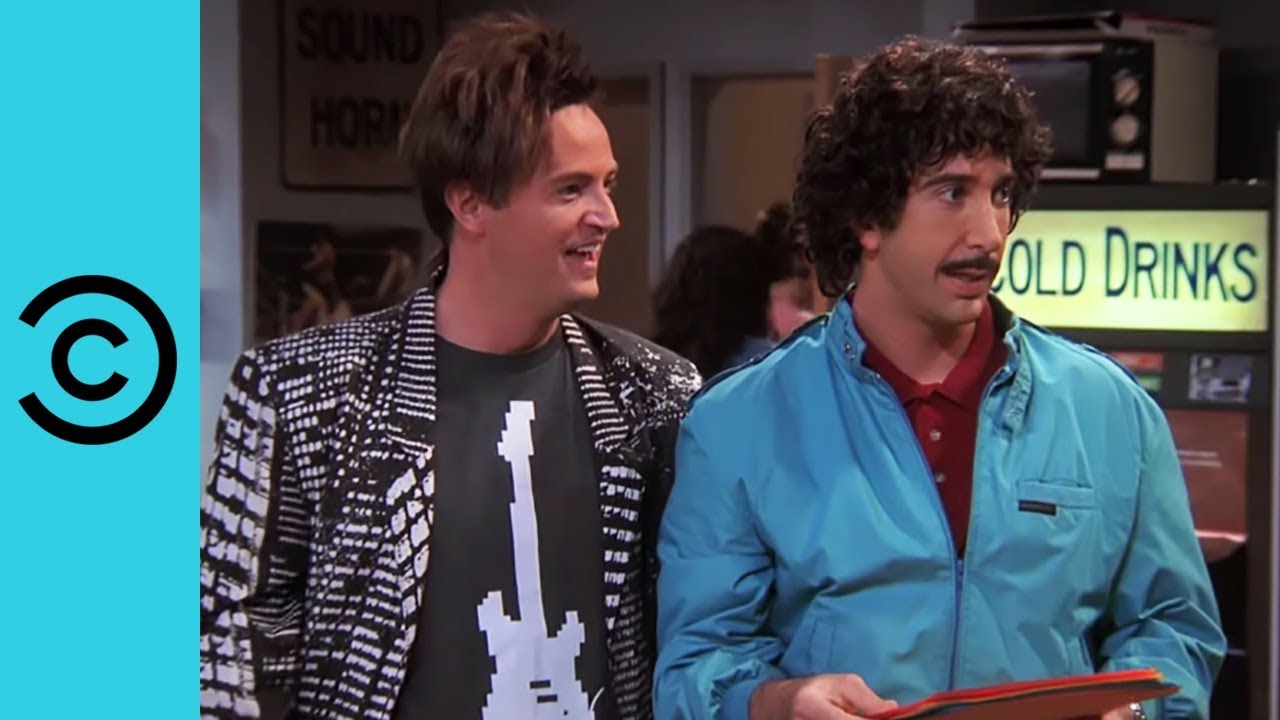 Ross and Chandler in the flashback episode looked funny! Their attempts to be the cool dude was not so fruitful but gathered some great laughs. So to make everyone laugh around you dress up like Ross and Chandler. Act cool and enjoy your time.