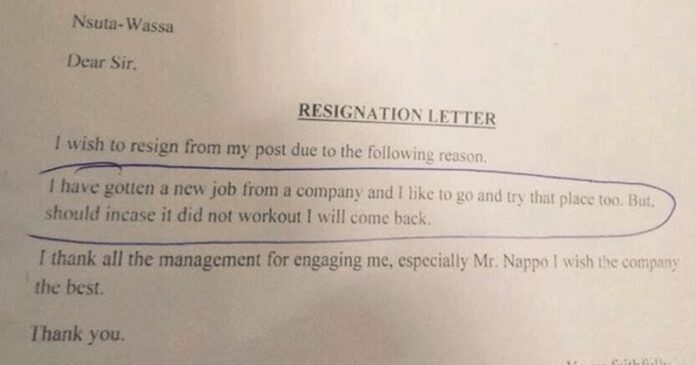 Have you ever been frustrated at your workplace and secretly wished to share everything that was on your mind? We bet you did!
Here we bring to you some brutally honest resignation letters where people have poured their hearts out. The letters are funny, creative, and honest.
So, let's have a look at some of these masterpieces:
1. Bang on!
"My husband's letter of resignation" #funny #banter #jokes #meme pic.twitter.com/2deLjbaTVj

— Viral Lobster (@ViralLobster) February 26, 2017
2. They are basically soulmates.
Honest resignation letter 🙂 pic.twitter.com/r4Z5gU9lBx

— sagar (@sagariyoo1) September 11, 2021
3. Give it a good read.
Reposting a friend's post from Only in Malaysia page. Funny resignation letter pic.twitter.com/G2guhtzu

— L.A. 👑 (@elle_eigh) January 9, 2013
4. Perfect resignation of a MEME writer.
Honest resignation letter. pic.twitter.com/uOfIggZ1o3

— Rii. (@Riyaa_16) April 8, 2022
5. Honest indeed.
When u have to make your resignation letter and you are honest af 😂 pic.twitter.com/02zcJ5JyeF

— Jesus A. Tapia (@jesstapiaa) May 21, 2017
6. Goodbye Boss.
Amisha is soooo funny I'm DEAD. Perfect letter of resignation 😂😂😂😂 pic.twitter.com/LT1jlZ3gG0

— lexi (@_LexForeverXXI) September 25, 2014
7. One happy moment.
Congrats to my stepdad for writing the most honest resignation letter I've ever seen. Oh and the new job. pic.twitter.com/DdaaEe0yrJ

— Jess Braddock (@jessrosebrad) February 25, 2021
8. Welcome Back.
Honest Resignation letter 👏👏👏 Please give this guy a medal pic.twitter.com/rVteRRgRGM

— Olawale (@waleCloud) June 26, 2017
9. Enough is enough.
"@iamfatdon: @Gidi_Traffic Check Out This Funny Resignation Letter #GIDITRAFFIC pic.twitter.com/M2QcbSgUlV

— GIDI (@Gidi_Traffic) August 9, 2015
10. When a MEME writer resigns.
Honest resignation letter be like : pic.twitter.com/JmS4IJSJZf

— Memeswalibandi (@Memeswalibandii) March 7, 2022
11. Simply honest.
Now that's an honest resignation letter https://t.co/17txoSKgQX 😆~@TheAshleyGreco pic.twitter.com/rRPIjqH1E9

— CHUM 104.5 (@Chum1045) May 11, 2017
12. You are the boss.
My letter of resignation😂 pic.twitter.com/WcrIdjS6m5

— liza (@Liaza098) June 15, 2021
13. It is better to keep it short.
When you go out, go out with a bang.
An honest Resignation letter.#BetheBoss pic.twitter.com/cECZSmY16K

— Maria Anjum (@MariaAnjum11) March 26, 2022
14. Memefied.
Don't be surprised if one day I just.. pic.twitter.com/IIKnWrA4lQ

— Chitra (@shuddupsharma) June 17, 2021
15. We are a family.
I must say my resignation letter for my job is quite funny pic.twitter.com/1fsLfuvpKU

— Cole (@_LumpOfCole) April 11, 2019
16. Well, that's creative.
Yesterday I turned in my letter of resignation… my boss didn't think this card was funny 😅😬 pic.twitter.com/TI7Lpqm8wo

— Laura 🎀 (@laurag2332) September 7, 2018
17. Thanks!
World's shortest resignation letter –#funny #best #Job #jobs #HR pic.twitter.com/xBLlAPPHom

— Hammad Siddiqui (@hammads) April 17, 2015
18. The resignation cake.
How #funny is this? My former Director gave his letter of resignation on a cake! #TastyTermination pic.twitter.com/30LVHCxPxs

— Scott Kilbury (@SKilburyFOX21) May 2, 2015
19. So chill!
so my friend wants to quit his job and asked me what I think about his resignation letter….. I mean… WHAT DO YOU GUYS THINK? 😂🤣😭 #memelover #resignationletter #opinion #funny pic.twitter.com/NnBRjHgB8W

— b nakayama (@trishakaguyutan) March 18, 2020
20. Savage.
Savage mass resignation letter from r/funny https://t.co/Yp7gi6covL pic.twitter.com/PA4goMCcMW

— Meme Bot (@goodmemebot) February 23, 2019
21. The mockery.
There's a way to write a resignation letter – and a way NOT to. Most of these are examples of how NOT to – but they sure are funny to go through! Enjoy!#Resignation #LaughterTherapyhttps://t.co/ug4gpCLQPr pic.twitter.com/I3tGQXhY5e

— Corner Office Consultants (@corneroffice) April 9, 2021
22. Thrilled to see this.
Funny and little Rude Resignation Letter https://t.co/Ts9Xj13wq3 pic.twitter.com/vXLqR6MXm0

— AllBusinessTemplates (@AB_Templates) June 14, 2019
23. As blank as the paycheck
My ex-manager wouldn't give me my last paycheck without a resignation letter… https://t.co/3XG3sWufuY #funny pic.twitter.com/eMZs7WkzhS

— TheWokeMillennial (@woke_millennial) January 7, 2018