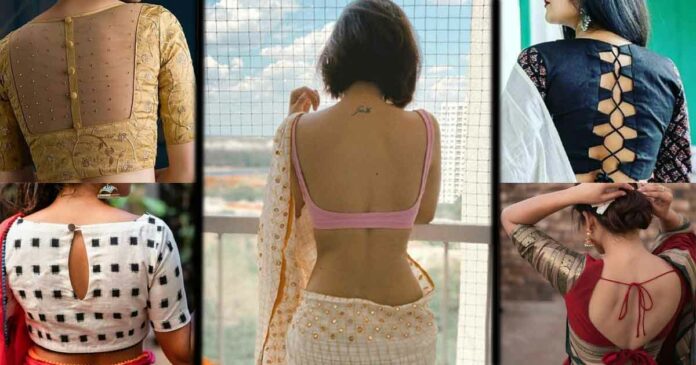 The purpose of the blouse is more than just to cover the upper body. It acts as a symbol of one's personality and taste. Design and comfort are the two things that matter while picking a blouse for oneself. Modern ladies love to wear blouses with creative designs which they can wear with casual as well as traditional sarees. Blouses' designs differ in style on the basis of the neck design, back design, fabric, embroidery, etc. We have picked some unique and latest blouse designs for you that will cater to your fashion needs.
Some Of The Latest And Modern Blouse Designs That Are In Trend:
1. Modern Braided Back Blouse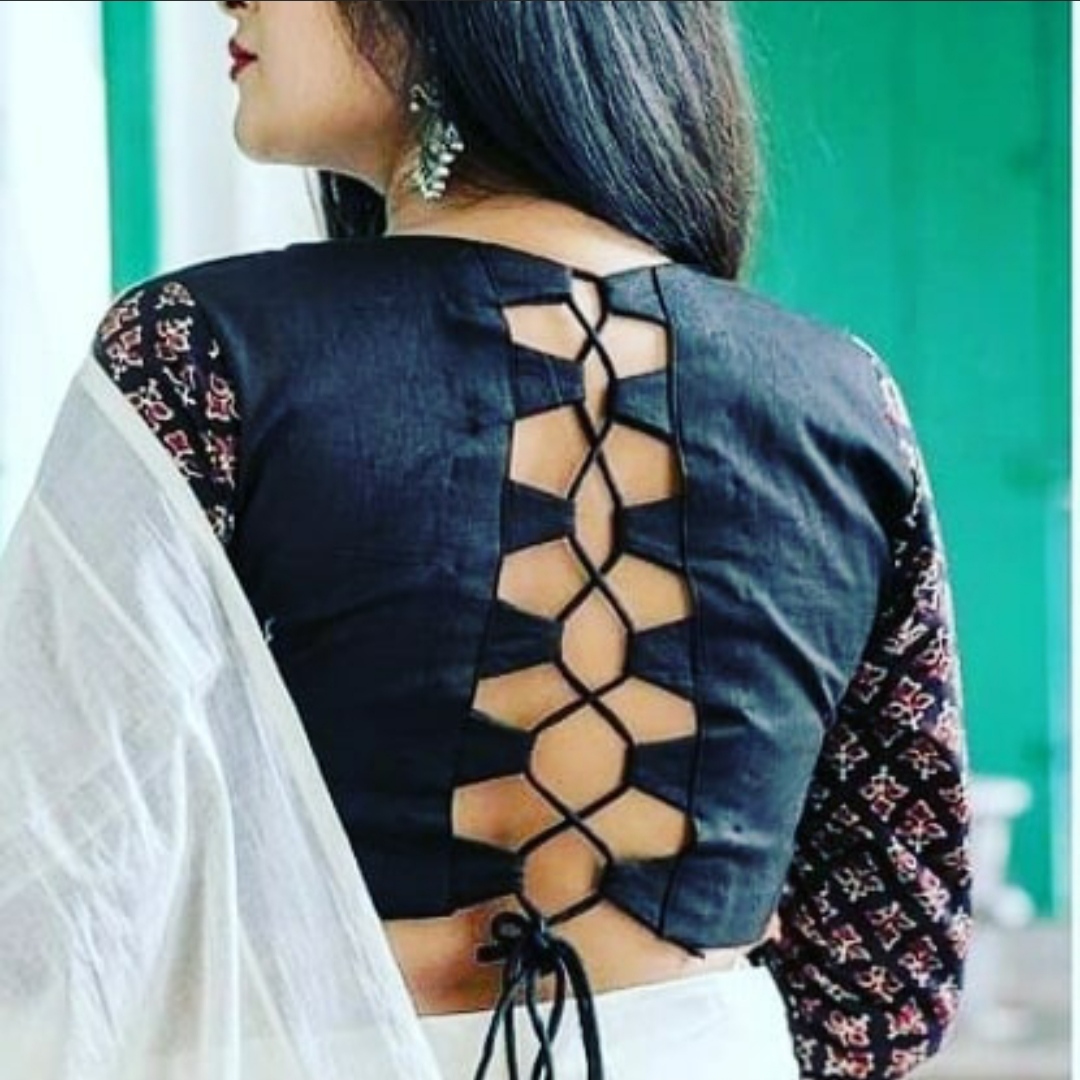 The braided back blouse design looks very chic that can be worn anywhere from casual hangouts to wedding parties. You can also pair it with a simple monochrome saree as shown in the picture above.
2. Latest Sheer Back Blouse Designs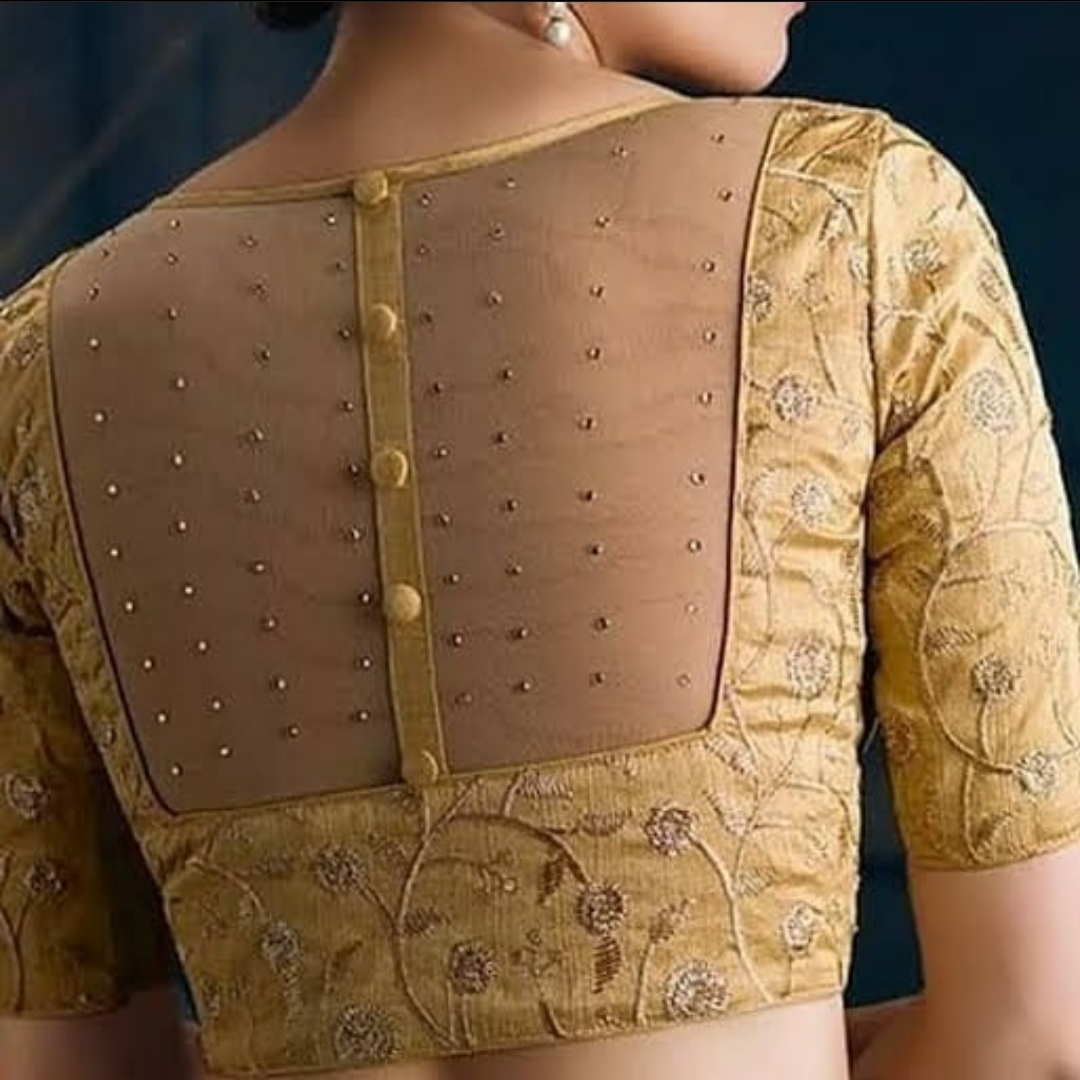 If you don't want a bare-back blouse design, you can try this netted back design which can give you a stylish and contemporary look.
3. Chic Front Knot Design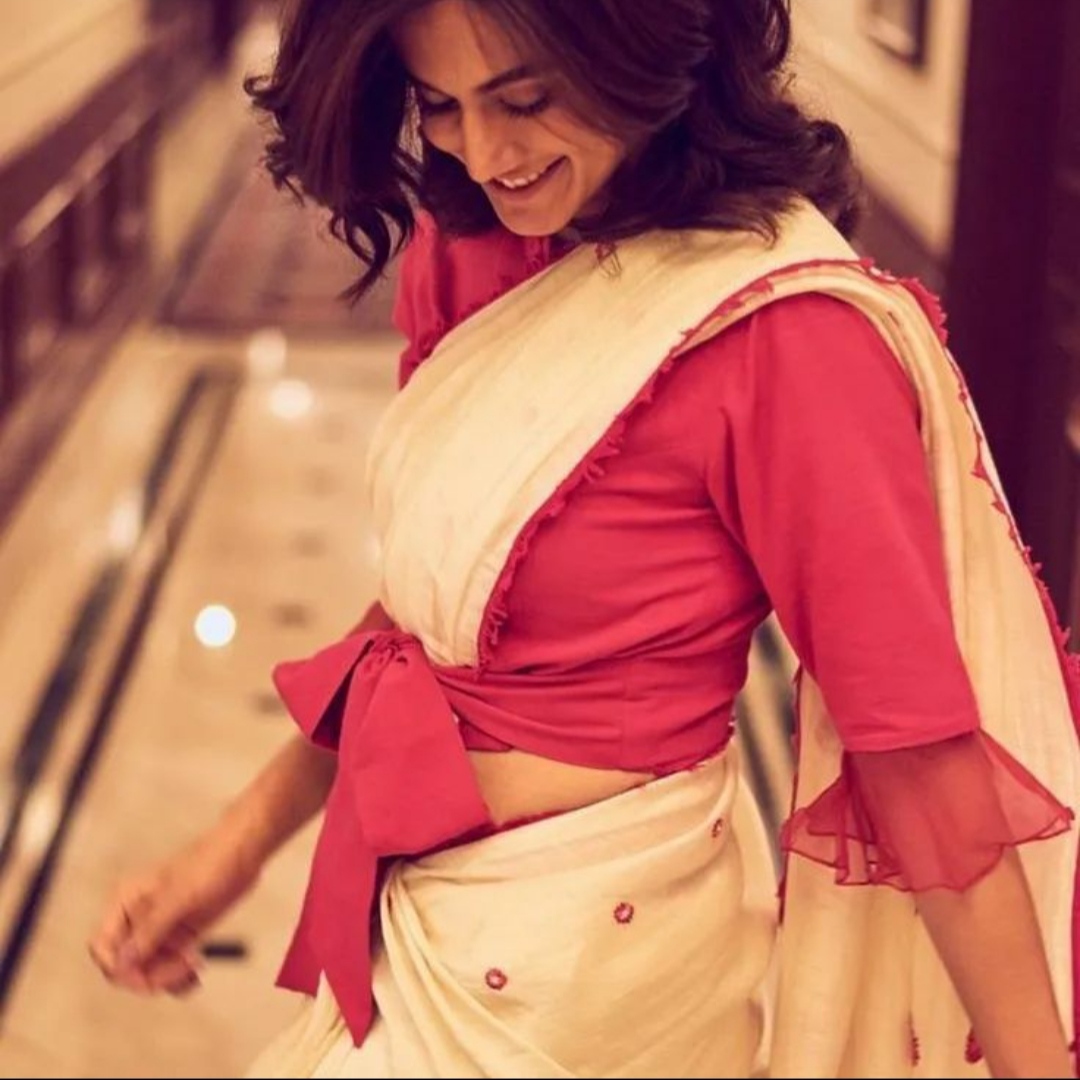 The front knot and beautiful ruffle sleeve design looks are very cool and pretty. Make sure you pair it with a light saree, like cotton which will help you flaunt a slim look even after tying the knot in front.
4. Latest Deep V neck design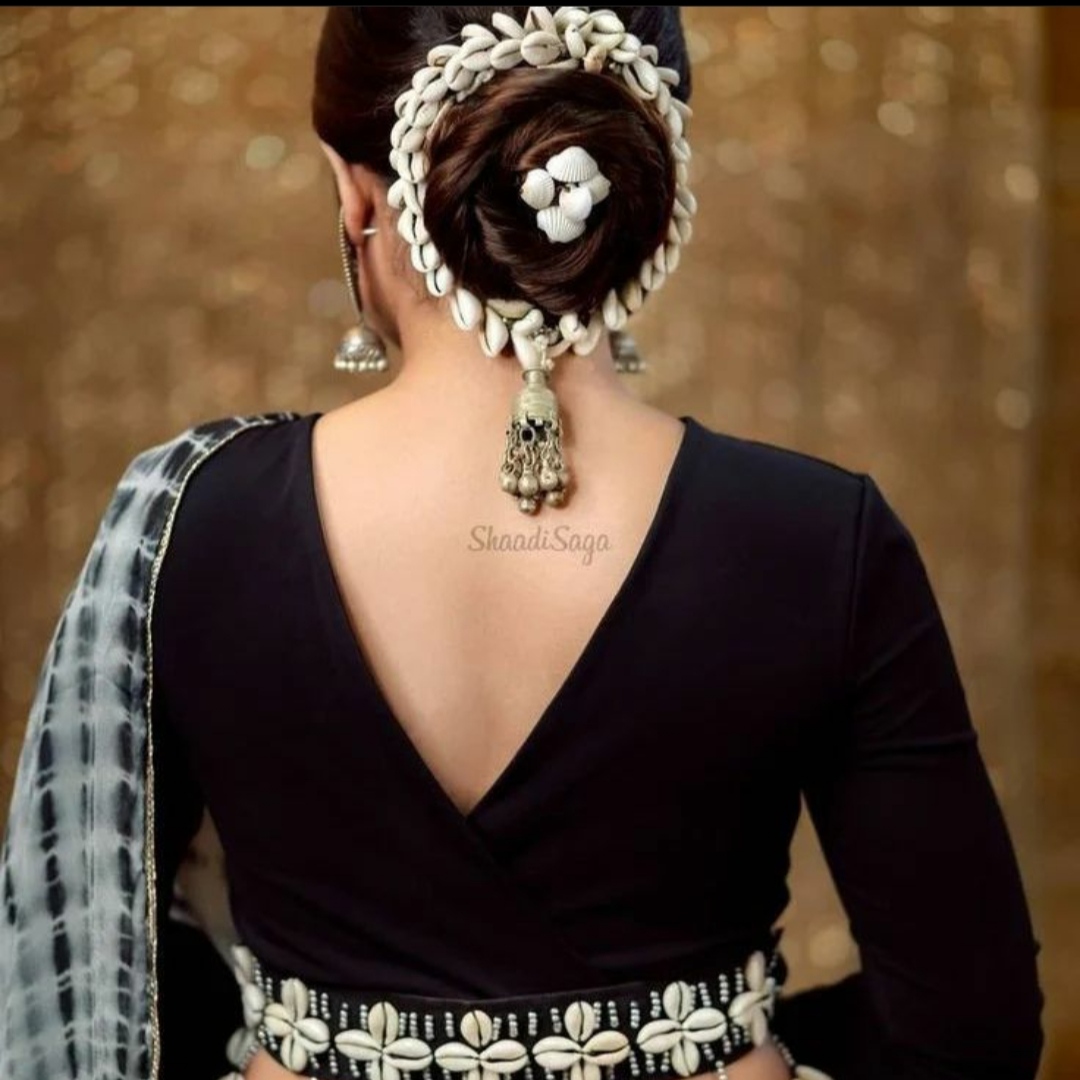 We are in love with this simple yet gorgeous black V-neck design. You can pair it with any casual saree and you will get a classy look.
5. Traditional Puffed Sleeves Design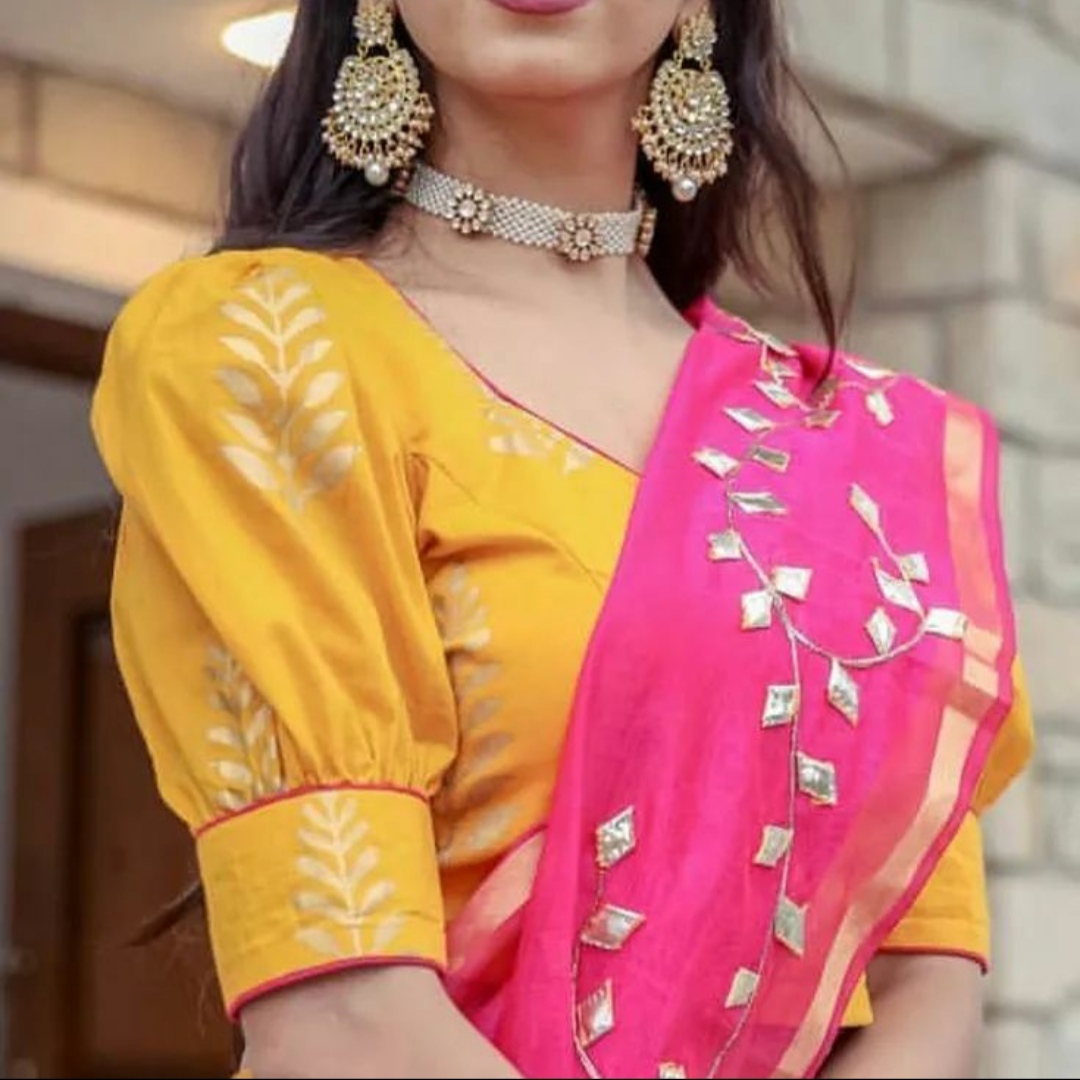 This Ikkat puffed sleeve blouse design is a must-have. It is the latest blouse design that can be paired with an ethnic saree.
6. String Style Back Blouse Design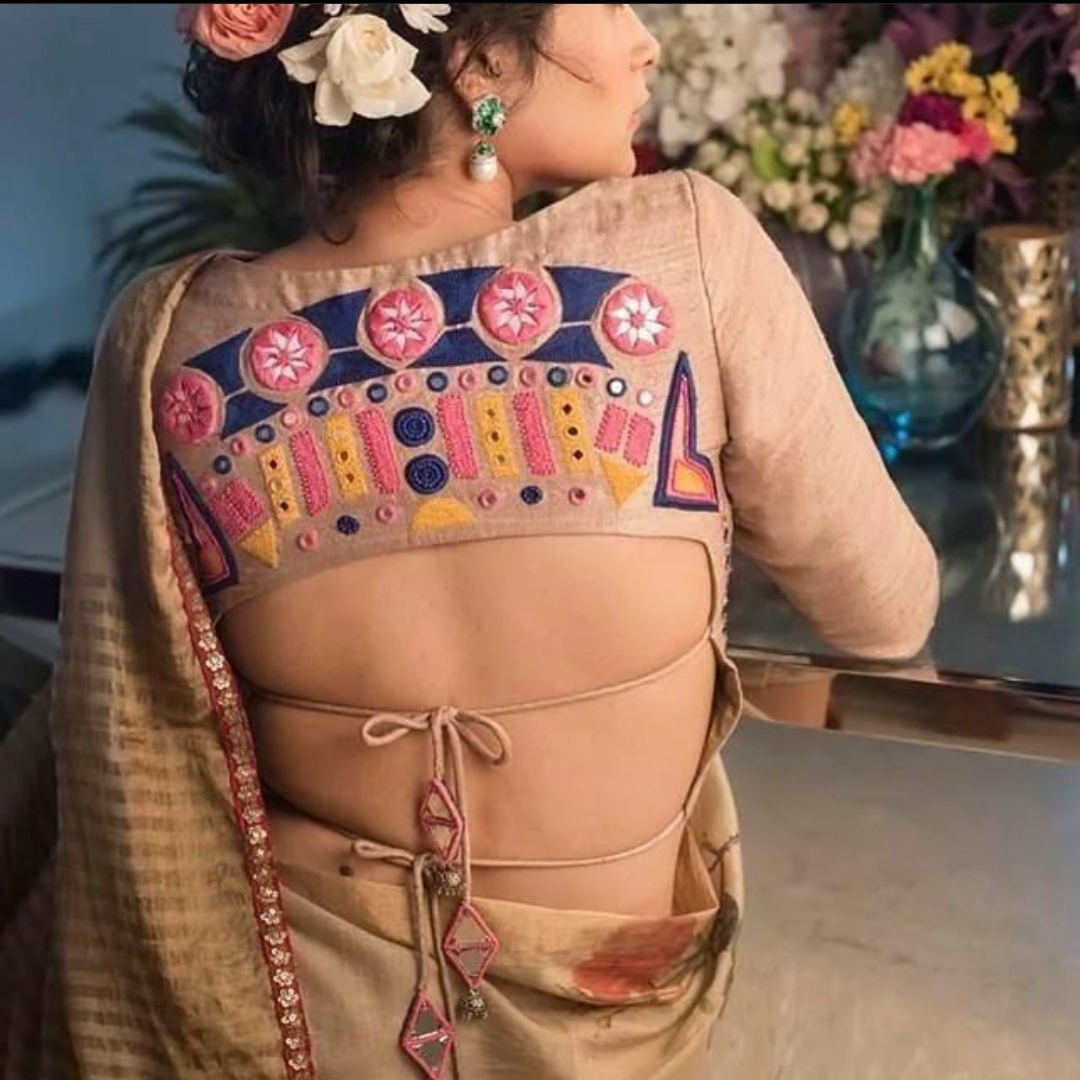 This open-back string-style blouse is very bold and beautiful. If you like to flaunt your back you should definitely try this one. This is perfect for evening and night parties.
7. Sheer Blouse with Emperor Sleeves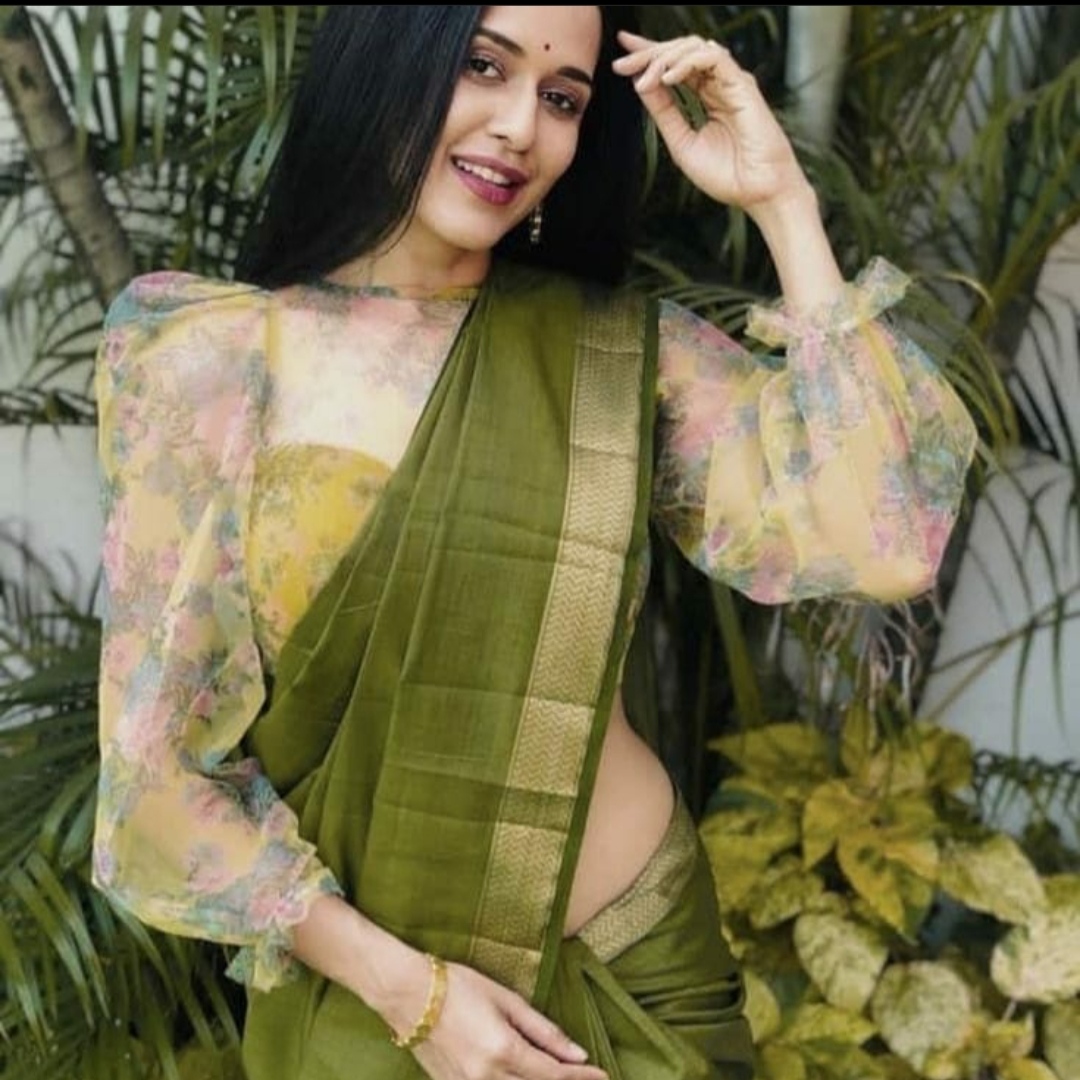 In this design, you will get a sheer printed blouse with emperor-style sleeves. It will look beautiful if you pair it with georgette and chiffon sarees.
8. Trendy Blouse with Collar Design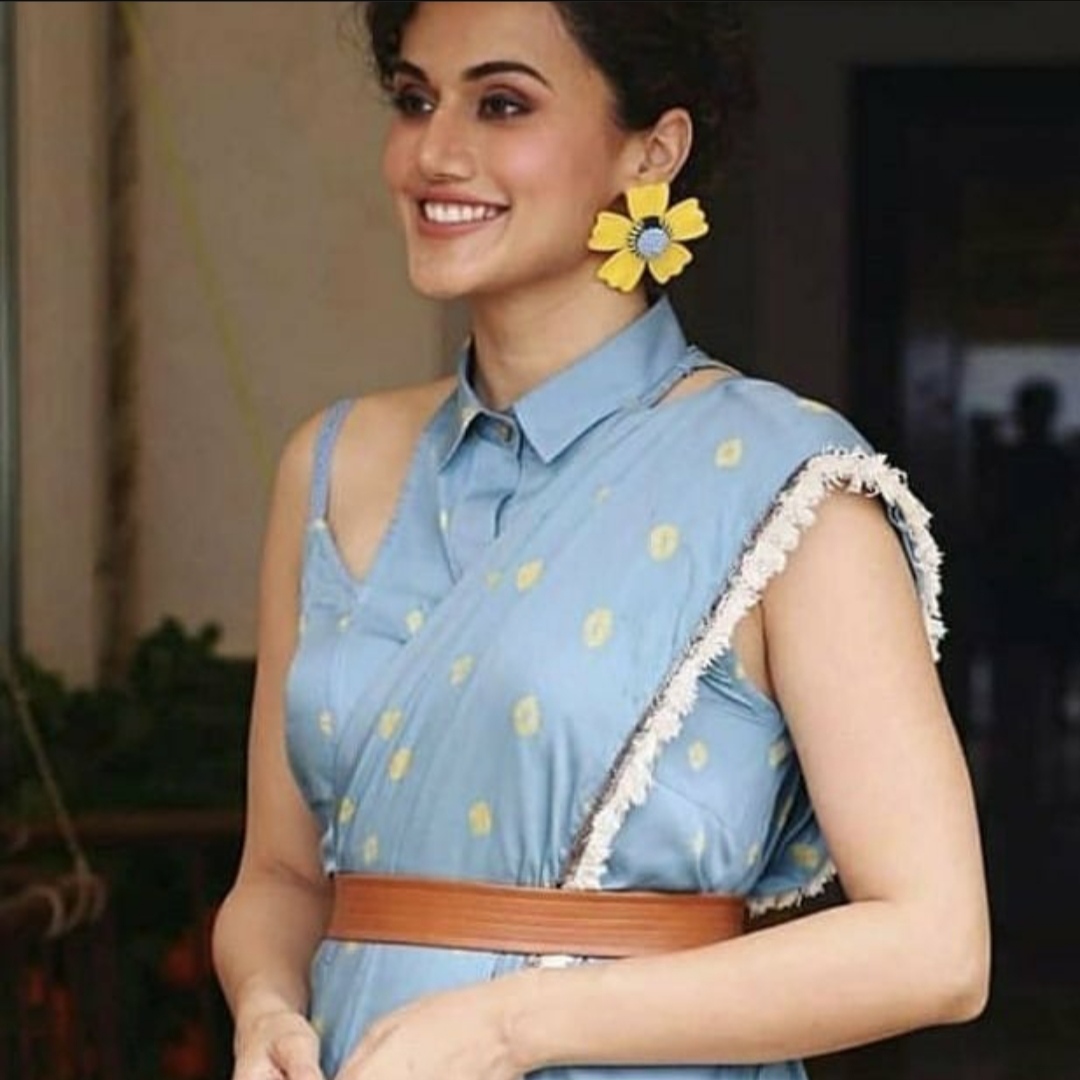 This design is very trendy and has a neck collar design. This saree blouse design will look good with formal sarees and you can also wear it for a party occasion.
9. The Chic Back Knot Design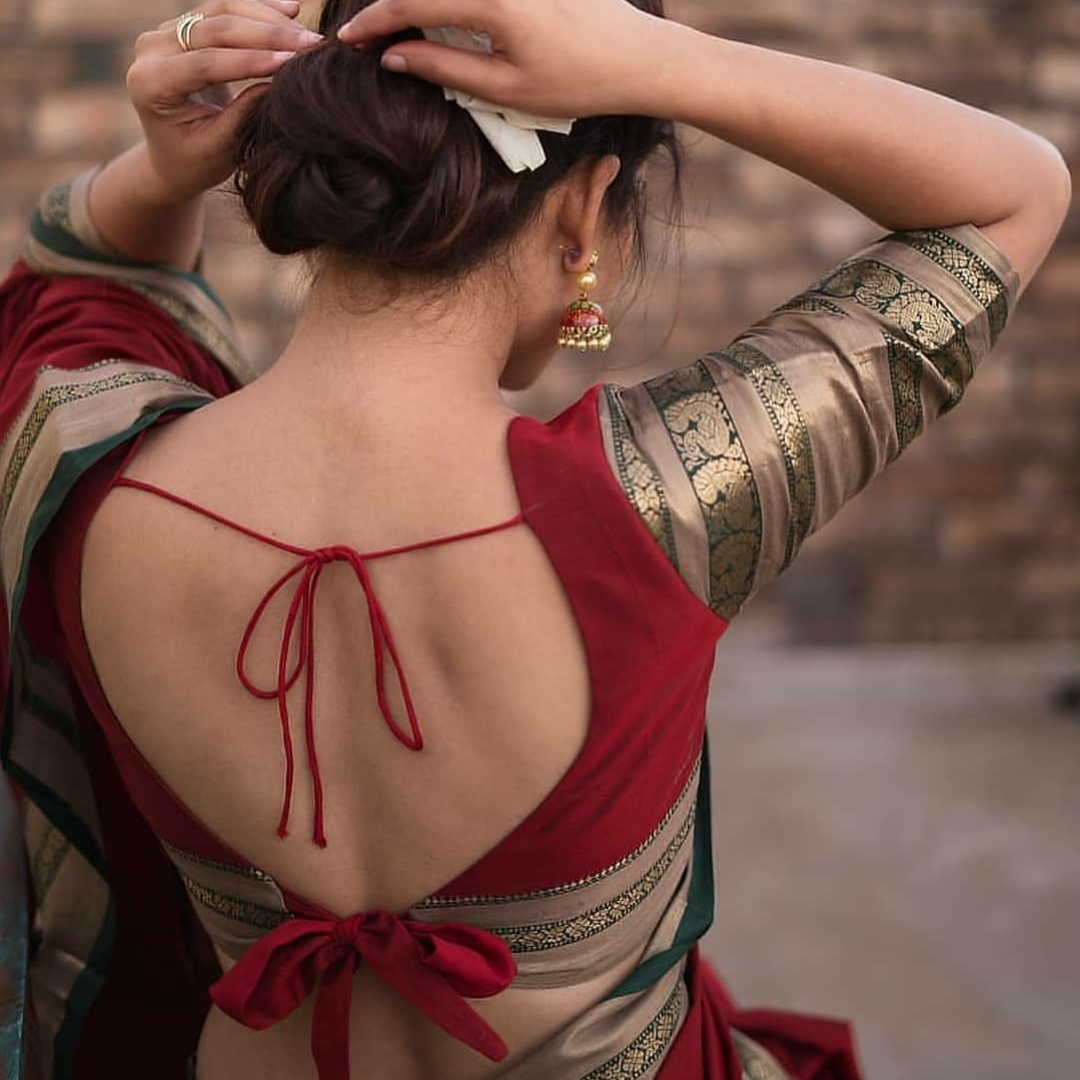 You can try this bold and beautiful knotted back blouse design if you have the confidence to pull it off. This design will increase your style statement on every occasion. This style is perfect for your girls night out and date nights.
10. Cold Shoulder Blouses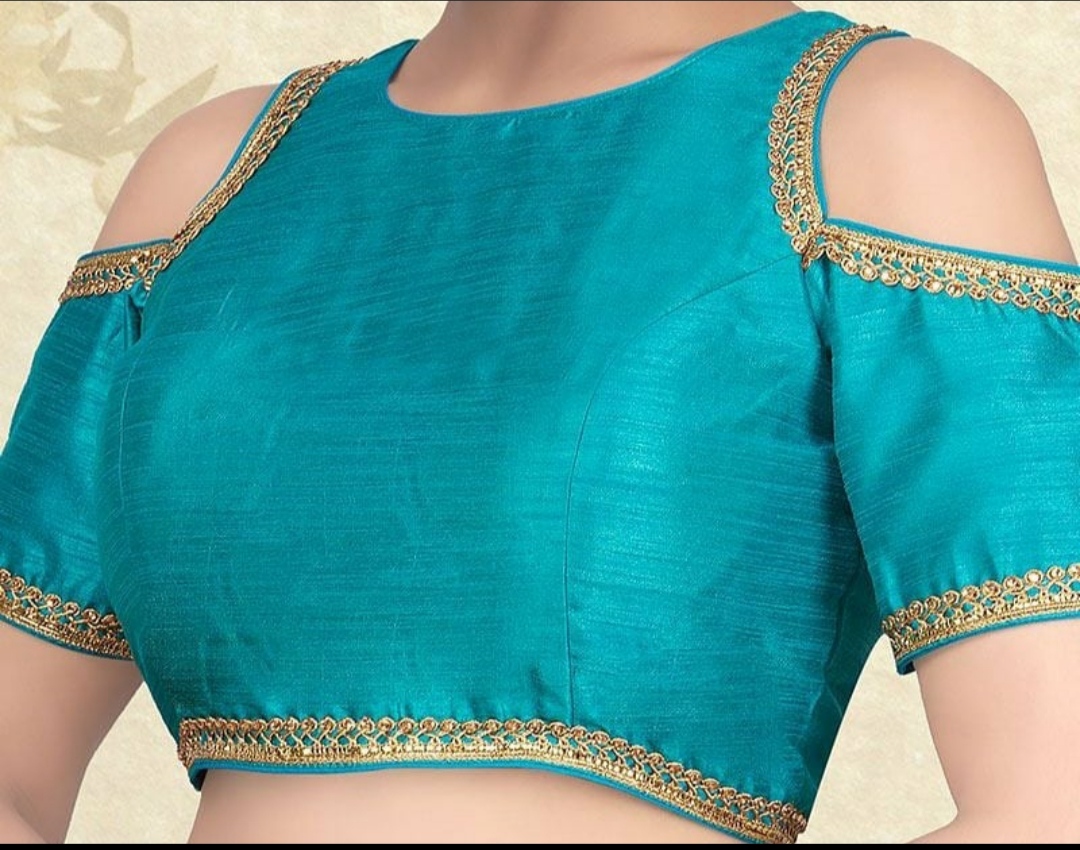 This cold shoulder blouse is a must-have in your wardrobe. You can pair it with a casual saree as well as a traditional one.
11. Polka Dots Halter Neck Bra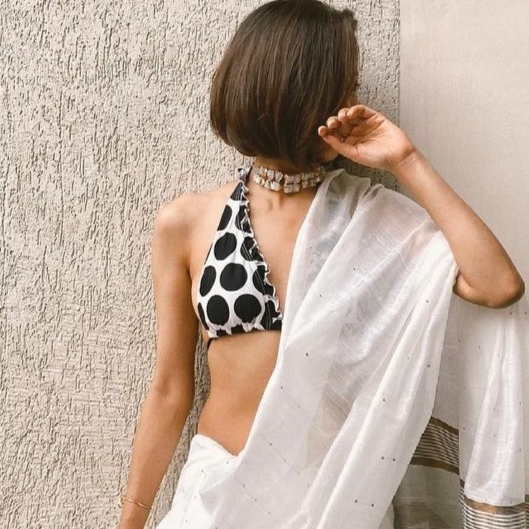 If you want to go for a bold and sensuous look, you should get this one. This halter neck blouse design is perfect to pair up with light breezy sarees.
12. Printed Balloon Sleeve Blouse Design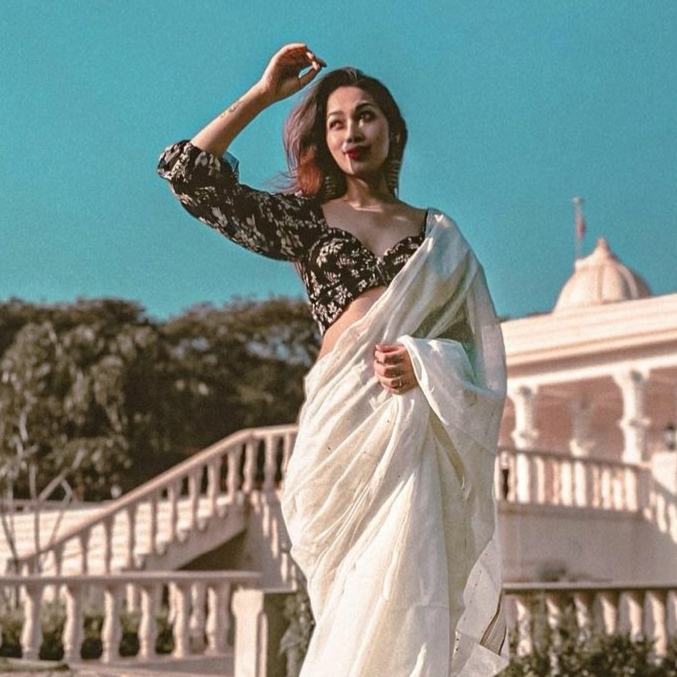 This new and fresh design looks good with both traditional and casual sarees. You can flaunt this look in a casual hangout and parties.
13. Deep Back Blouse Designs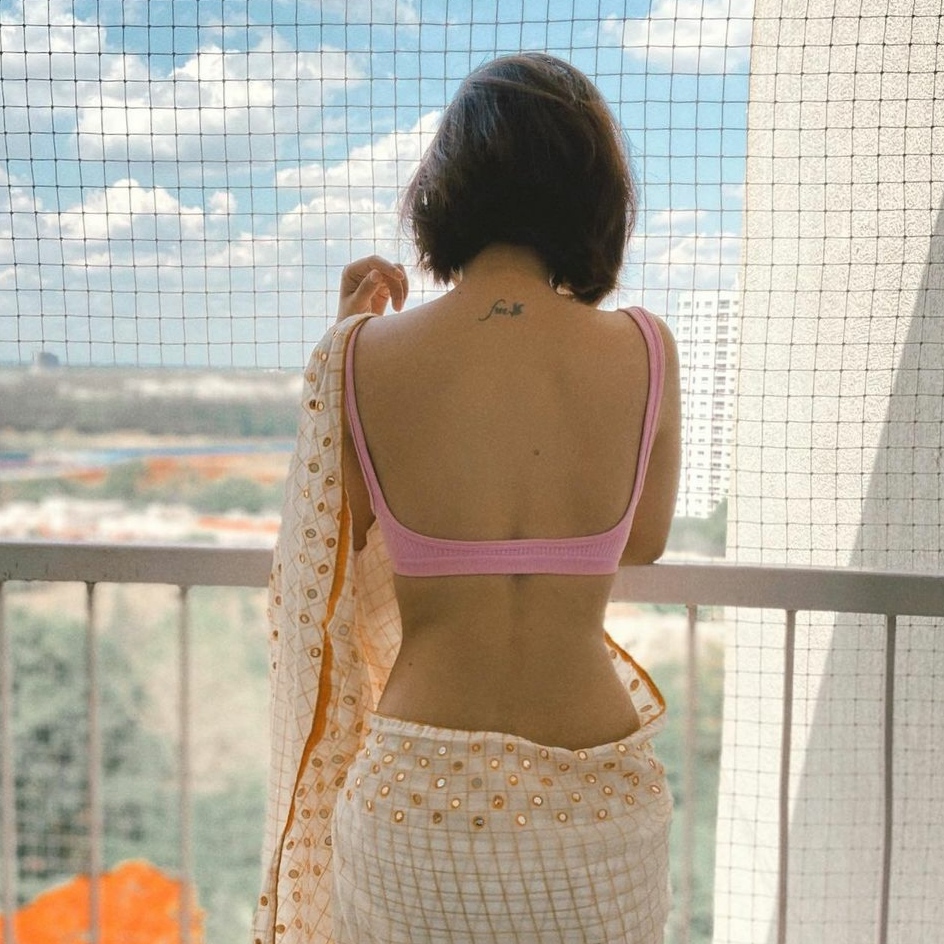 If you want to try something bold, try this deep-back neck blouse design. Pair this blouse with a light saree and you will look like a goddess.
14. Black Sleeveless Blouse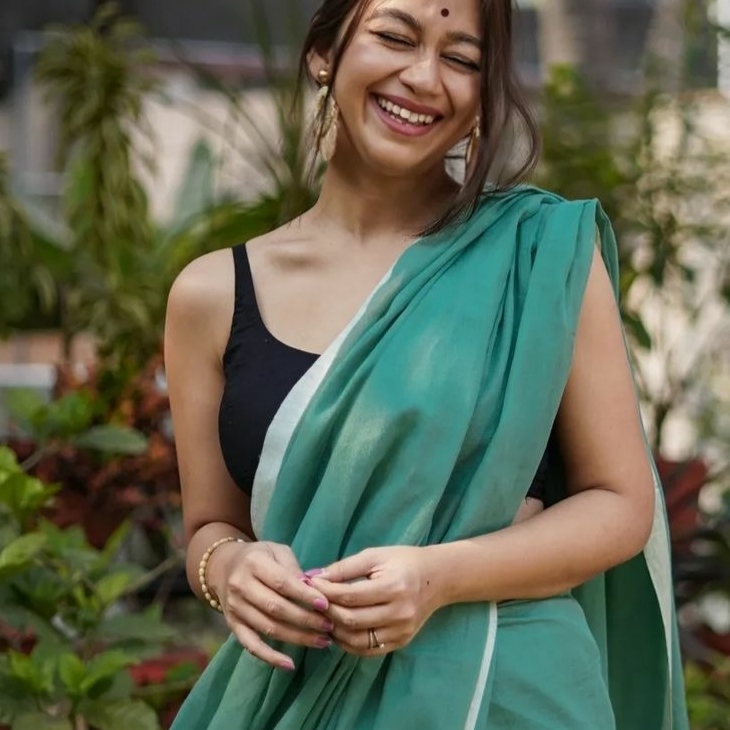 This simple and trendy black sleeveless blouse is a must-have for every modern lady. The narrow shoulder strap is going to give you a sleek look.
15. Latest Ethnic Blouse Designs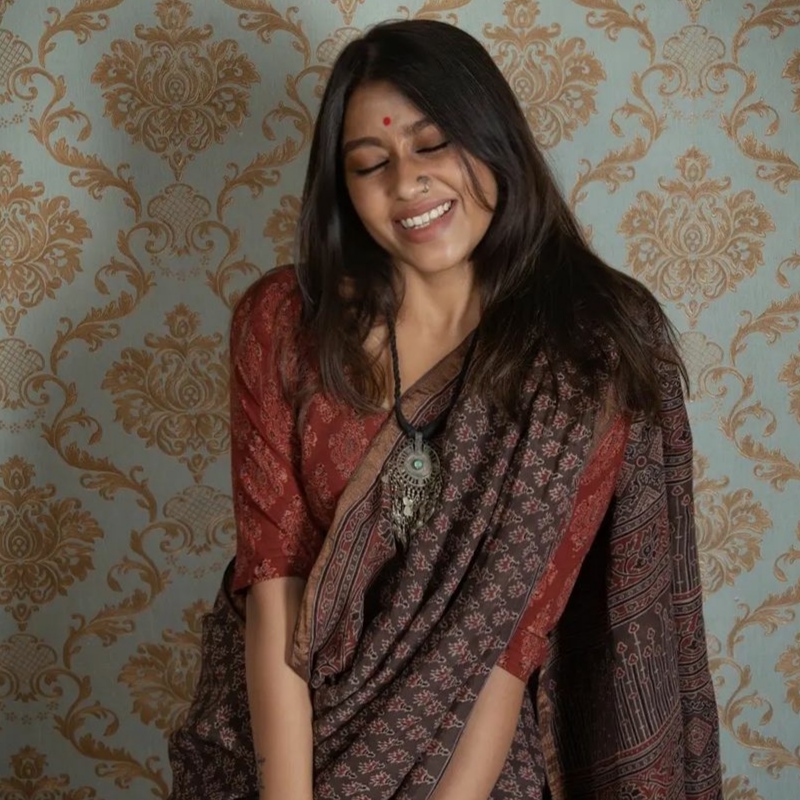 This ethnic blouse design with a round neck and quarter sleeves with a slit looks very classy. You can pair it with light cotton and georgette sarees.
16. Halter Neck Blouses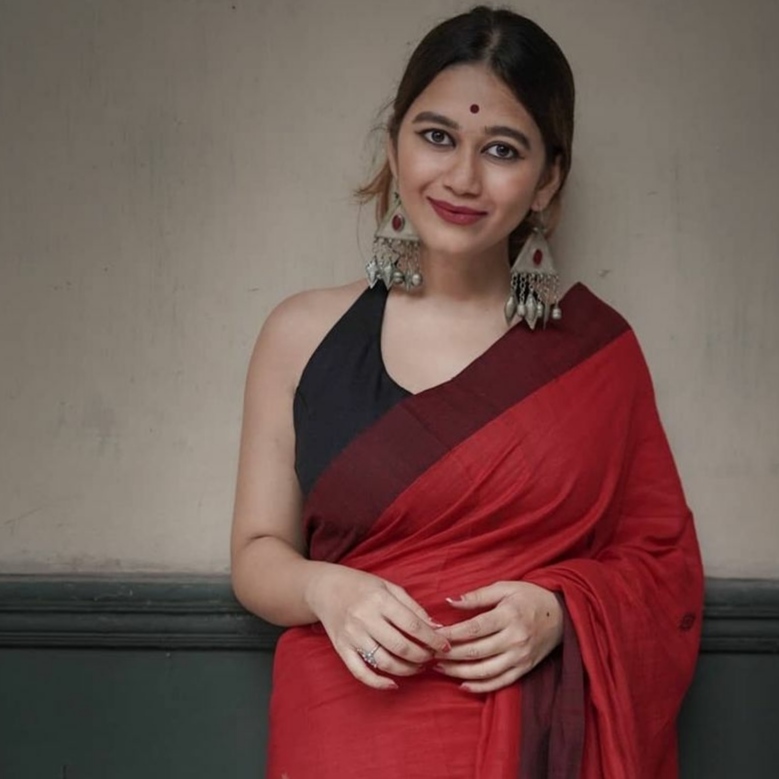 Halter blouses are high on comfort and they also give a chic look. You can pair this simple black halter neck blouse with a light handloom saree as in the picture above.
17. Ethnic Deep Neck Puffed Sleeves Blouse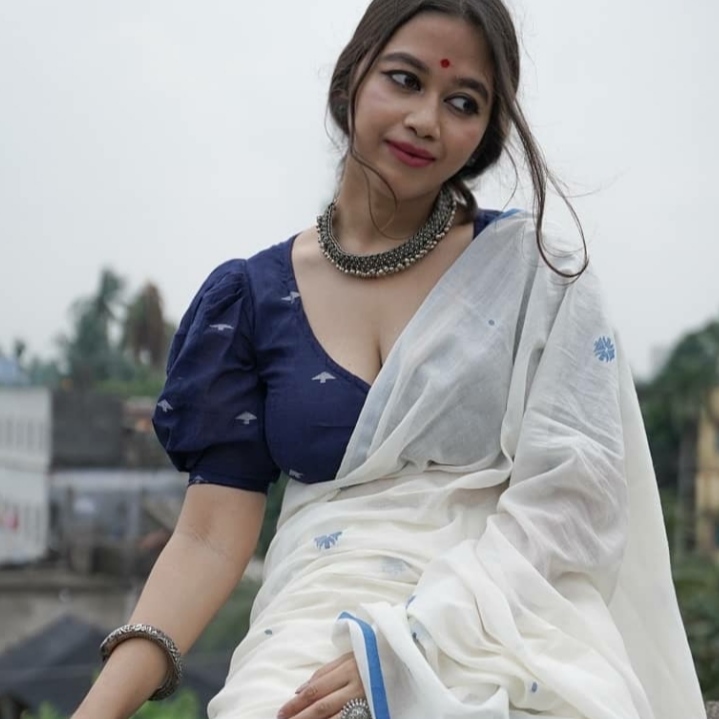 The short puffed sleeve deep neck cotton blouse design looks ethnic and classy. This blouse can be paired with a simple cotton saree as well as a heavily embroidered saree.
18. Ethnic Printed High Neck Blouse Design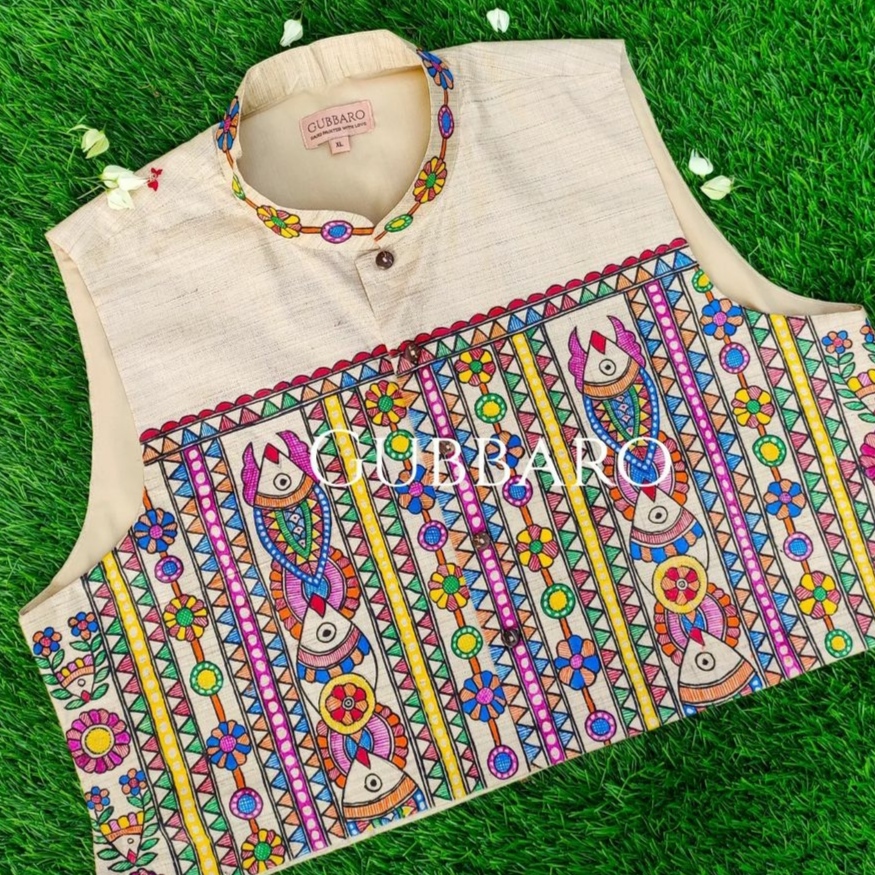 This vibrant printed high neck blouse design is trendy and beautiful. High-neck sleeveless blouses are classy, stylish, and fashionable.
19. Ethnic Front Buttoned Wrap Blouse Design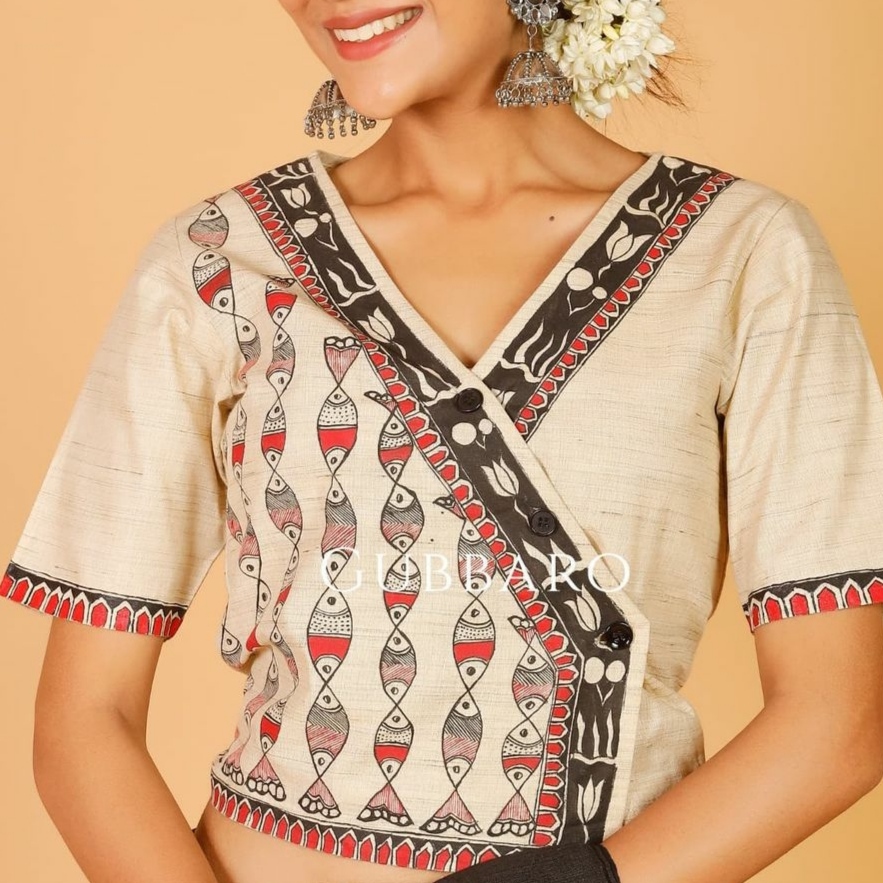 This unique blouse design can be paired with a saree as well as ethnic trousers and skirts. The blouse is very light and comfortable and perfect for everyday wear.
20. New Blouse Designs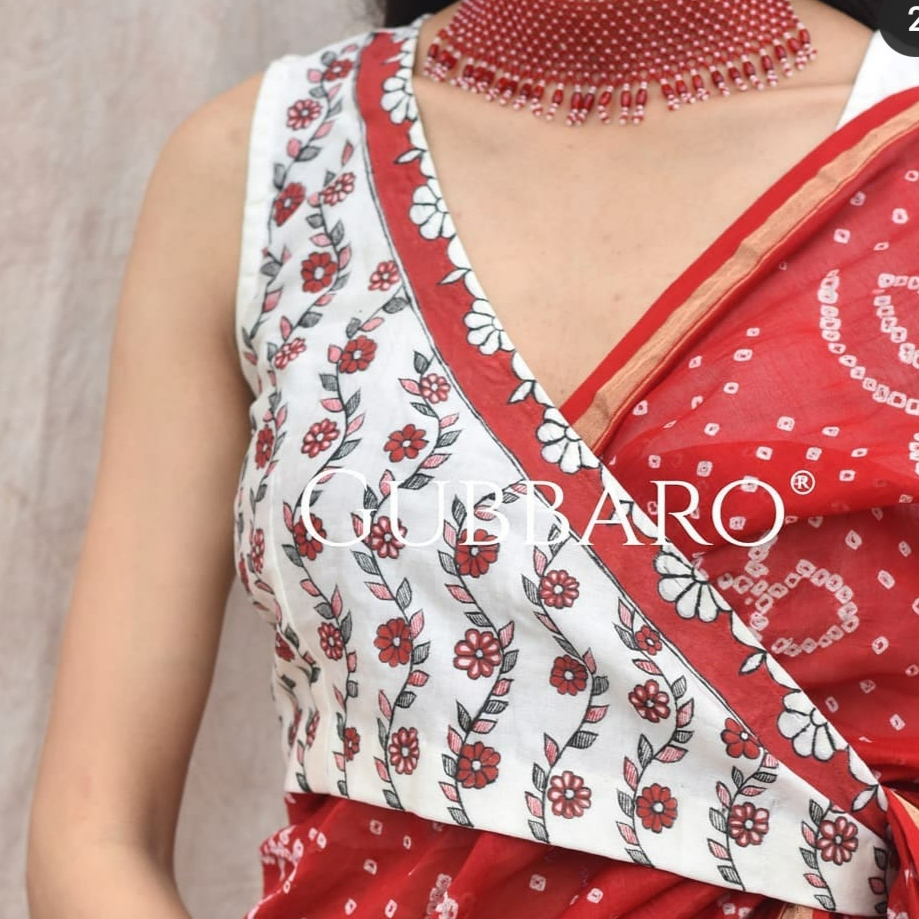 If you are not a fan of glitter and love simple and elegant blouse designs, this one will be perfect for you.
21. Boat Neck Shoulder Slit Design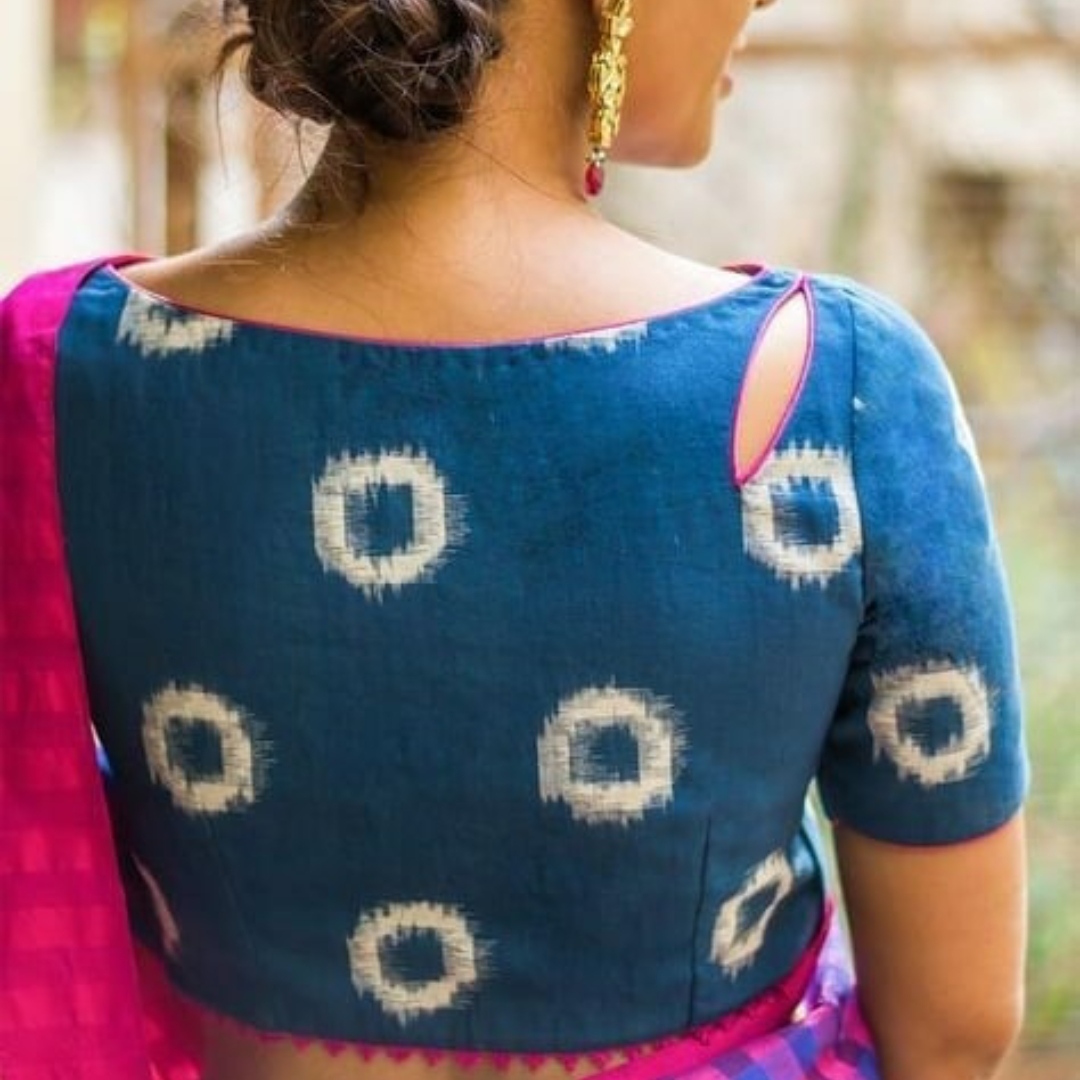 The design of this light ikkat blouse with a boat-shaped neck and a slit on one shoulder at the back is unique and new. This can be paired with any simple cotton, georgette, ikkat sarees, and handloom sarees.
22. Back buttoned Keyhole Blouse Design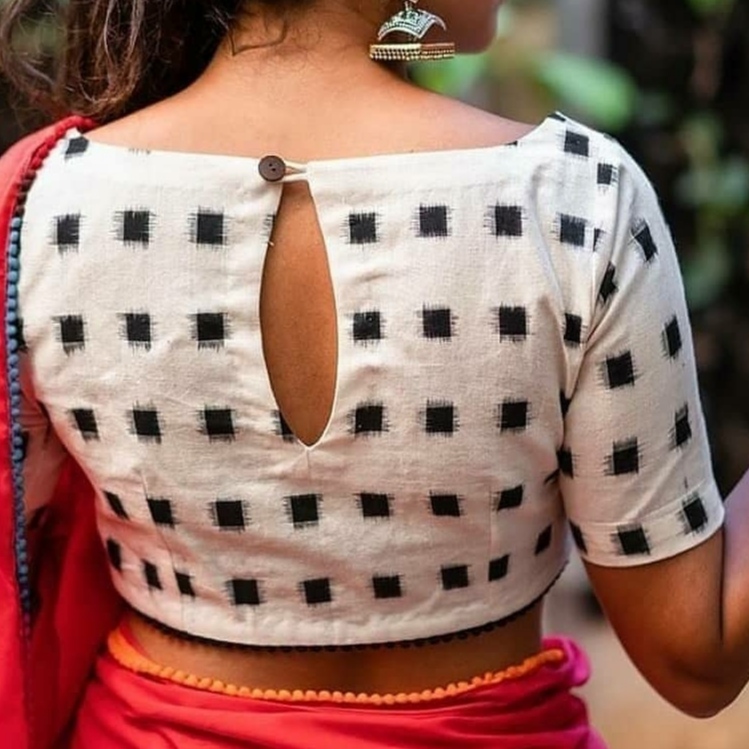 This printed back buttoned cotton blouse design is simple and beautiful. It is one of the latest blouse designs and can be paired with a casual saree. You can also wear it at your office on an ethnic day.
23. New Lace Blouse Design With Deep V Neck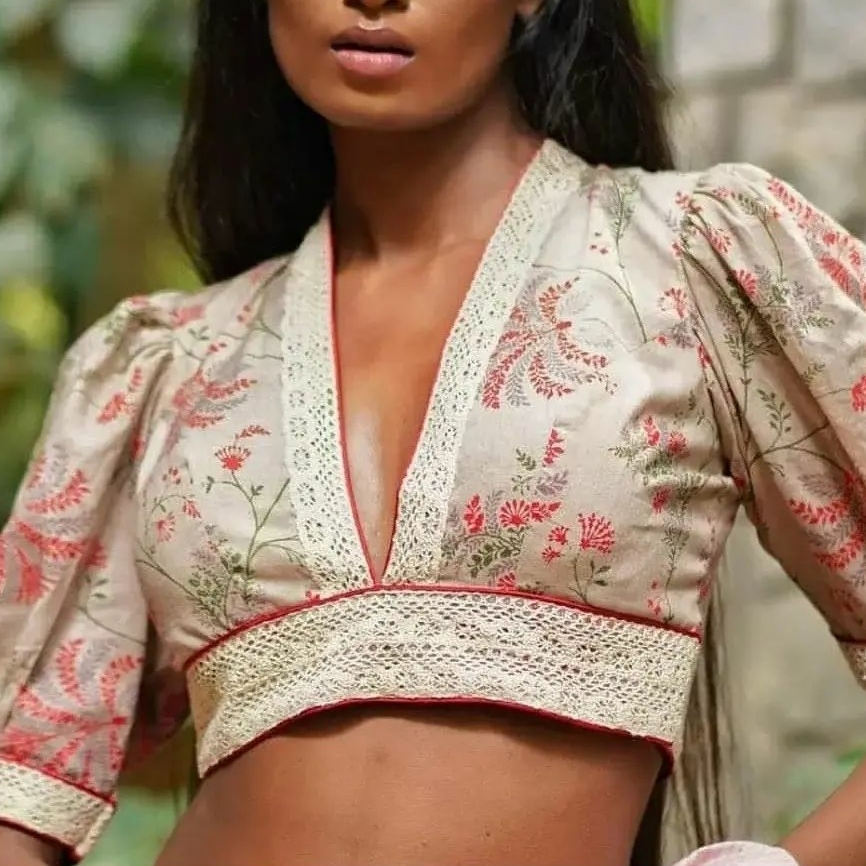 This design is one of our favorites, the lace design is stunning and the deep V neck adds to the style statement. Flaunt your charismatic personality by adding one of these to your wardrobe.
24. Round Slit Designer Blouse Design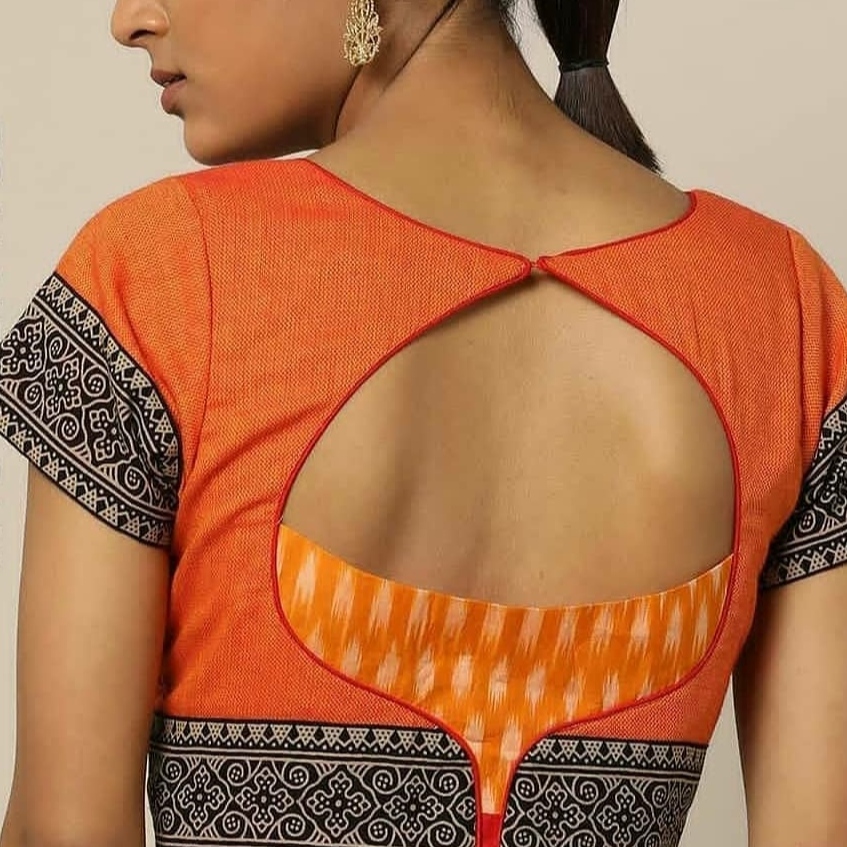 The round slit design of the blouse draws attention to the back. You can pair it with a plain saree and flaunt this elegant ethnic blouse.
25. Designer Blouse Design with Frill Sleeves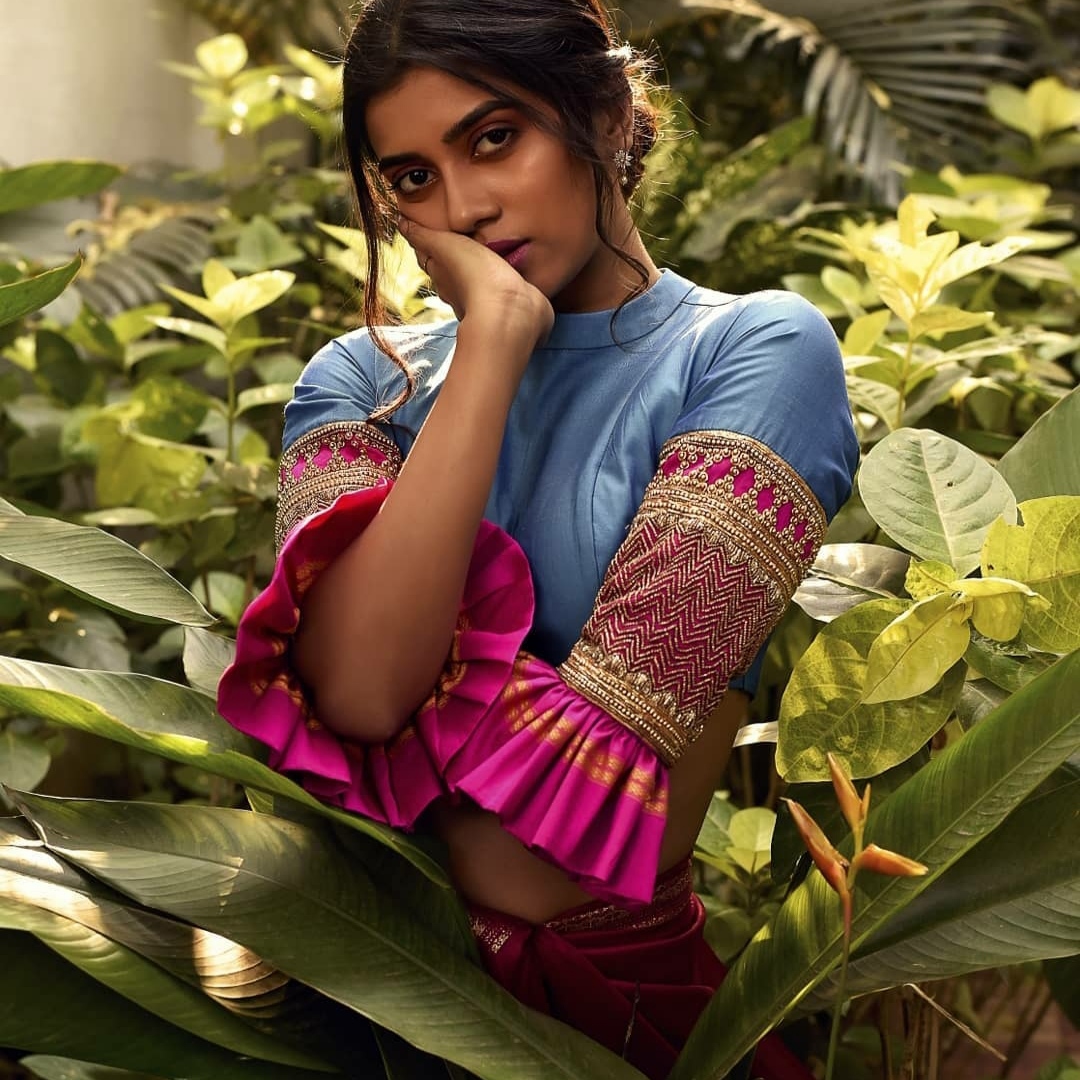 Stunning designer blouse with zari worked frill sleeves. This blouse design is perfect for a modern bride. The design looks elegant and stunning. Wear it with a gorgeous saree and you will look like a queen.
26. Sheer Designer Blouse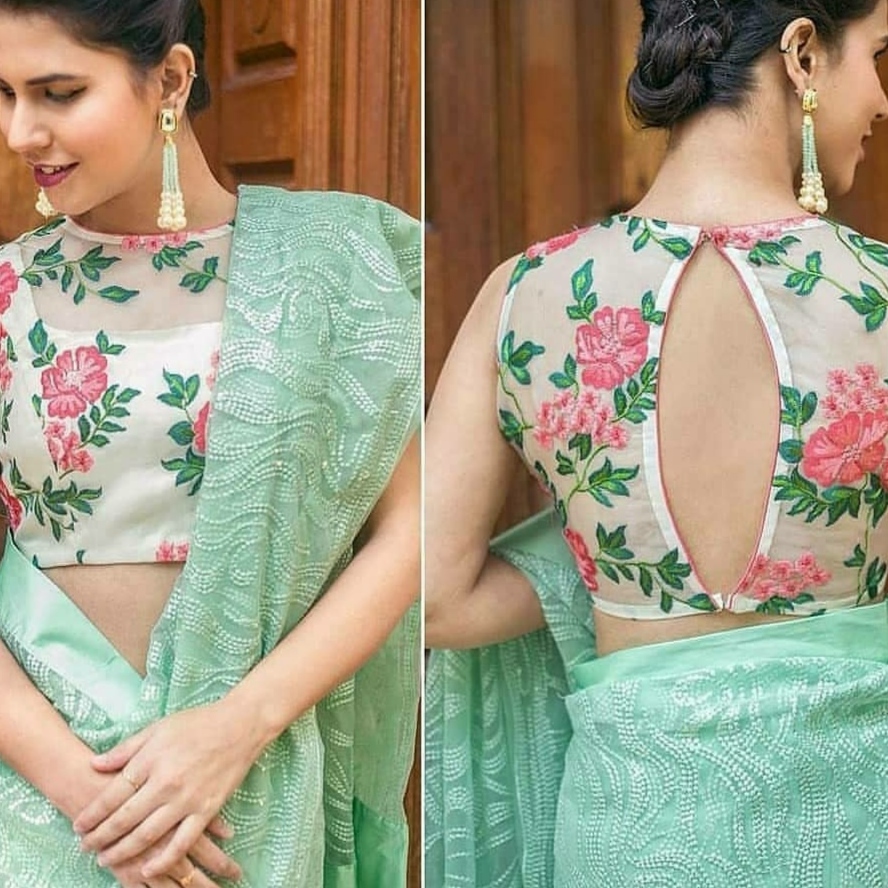 This floral printed sheer designer blouse has a back slit which adds to the style statement. You can pair it with a light chiffon saree and wear it at wedding invitations and evening parties. Your look will surely grab eyeballs.
27. New Knotted Back Blouse Design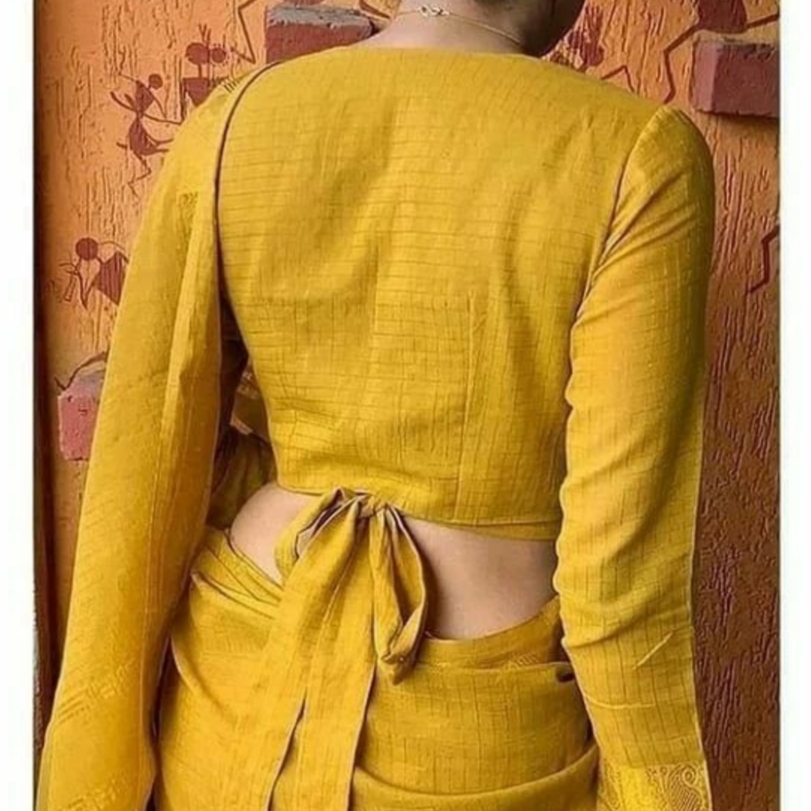 The knotted back blouse design is quite chic, you can wear it with cotton and linen sarees. You can wear it to ethnic events as well as cocktail parties.
28. Ethnic Back String Stylish Blouse Design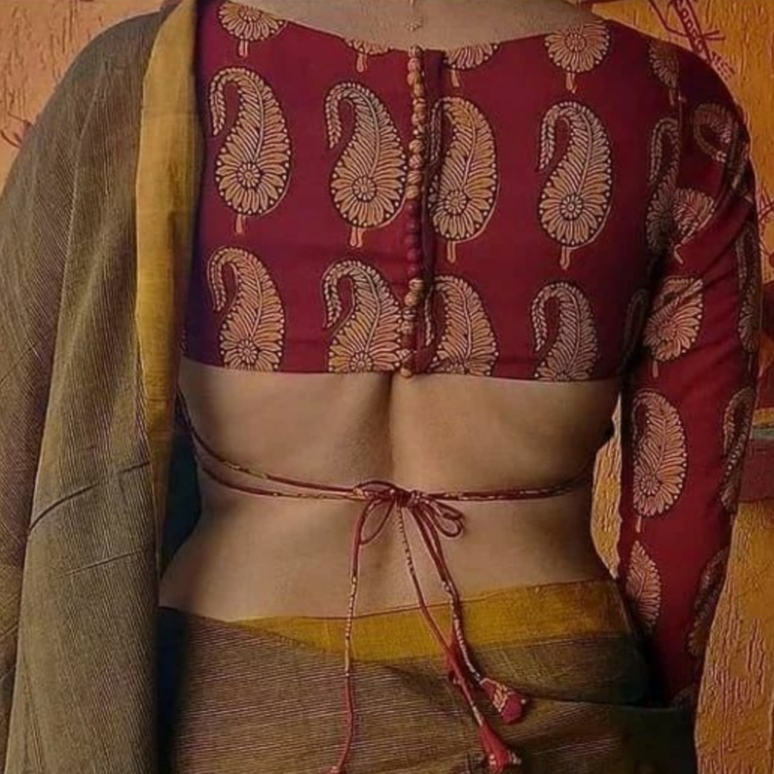 This simple yet stylish blouse design is perfect for small gatherings and high-end parties. You can pair it with a simple saree and some ethnic jewelry.
29. Round Back Slit Full Sleeve Designer Blouse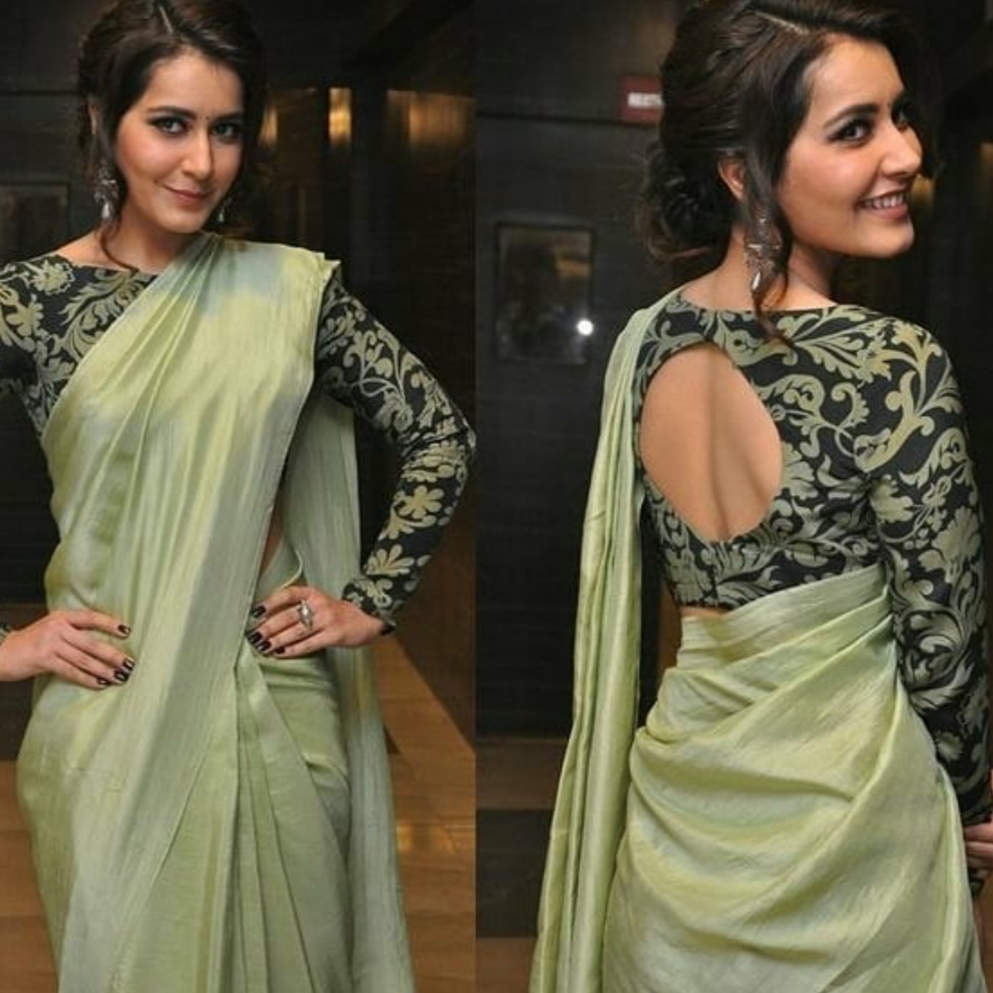 This bottle green full sleeve designer blouse is classy and gorgeous. You can pair this ethnic motif printed blouse with a monochrome chiffon saree.
30. Full Sleeve V Neck Blouse Design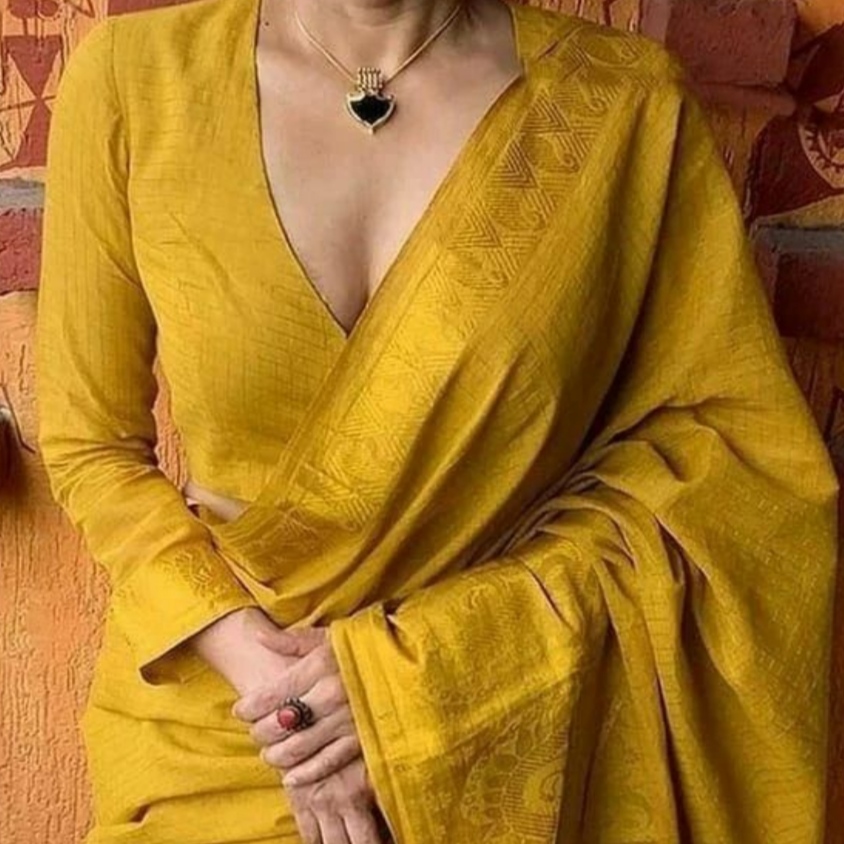 This beautiful yellow V-neck full-sleeve blouse can be worn with any light saree. The design is elegant and classy, the design draws attention to the deep neck. You can wear this blouse to cocktail parties, ethnic invitations, and many other occasions.