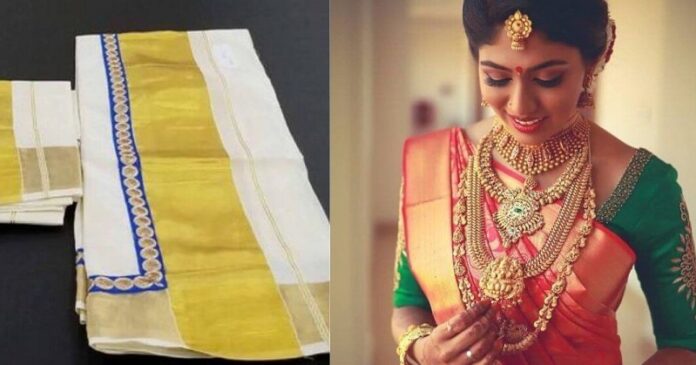 Kerala is an Indian state of rich cultural and historical traditions. Besides the culture of Kerala, the traditional dresses of Kerala are quite famous as well. Their attire shows the simple way of life that is followed by the people of this state. Whether we talk about men or women, each one of them has its own Kerala dresses and ornaments. Even though these costumes are worn on occasions these days, it is worth knowing about them. People from all over the country visit this state to witness its mesmerizing beauty, rich culture, and not to forget Kerala dressing style.
Traditional Dresses Of Kerala For Men
1) Mundu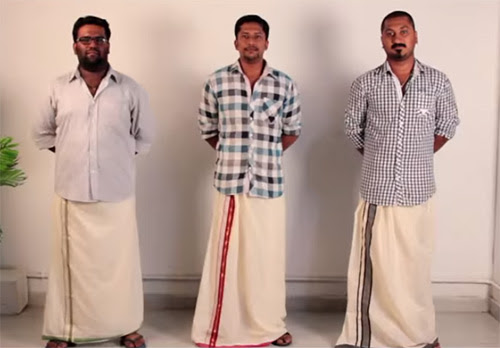 One of the most famous Kerala dresses is "Mundu". It is a unisex costume that is usually white in color and worn by both men and women. It is worn on the lower part of the body that covers the waist and foot of the body. Interestingly, this Kerala dressing style looks very similar to a dhoti or a long skirt.
While wearing this, you simply have to tie the knot on your waist, and then it will just fall to your feet. During festivals or any special occasion, this attire is almost compulsory to wear. Also, it is very important to remember that it is considered disrespectful to talk to women or elders while wearing Mundu as it reveals the legs below the knees.
1) Melmundu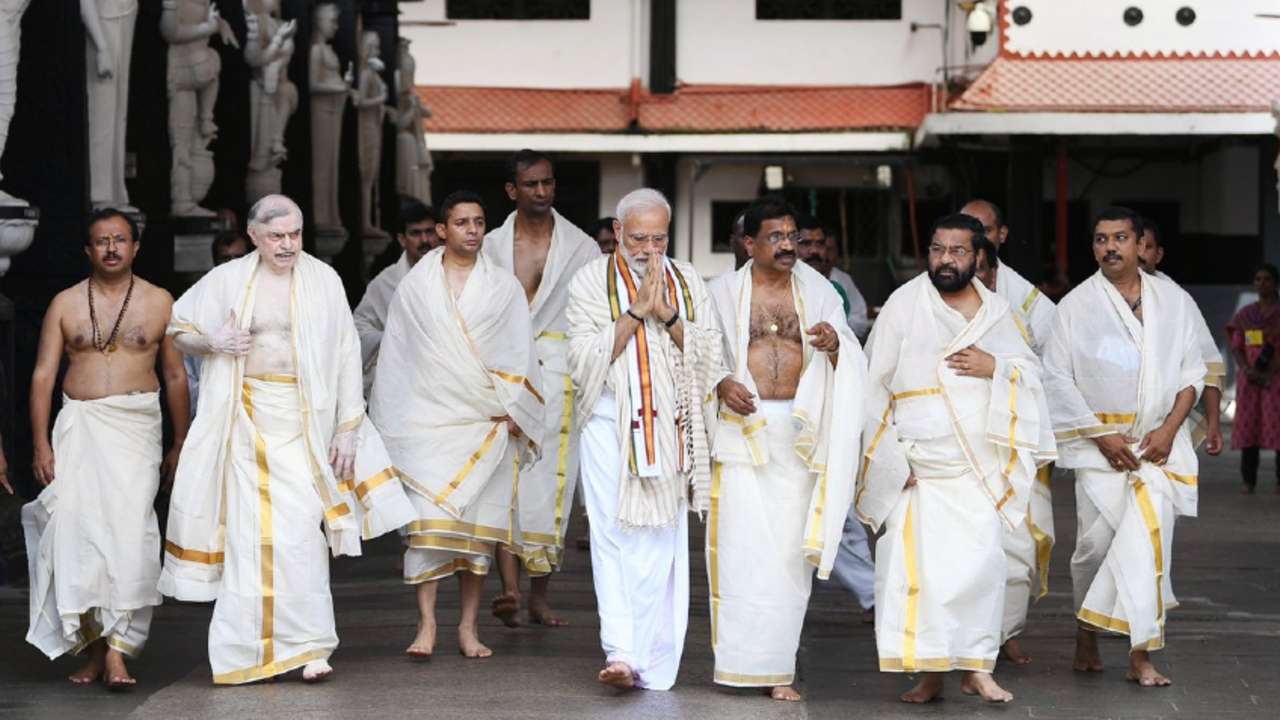 Now, if we talk about the garment for the upper body, men of Kerala wear "Melmundu". It is just a white cloth that is wrapped around the shoulders to cover the upper part of the body. However, due to the comfort and influence of western culture, "Melmundu" has been replaced with a white shirt. Be it Kerala engagement dress or be it Kerala wedding dress, men on every occasion wear this attire.
Traditional Dresses Of Kerala For Women
1) Mundum-Neriyathum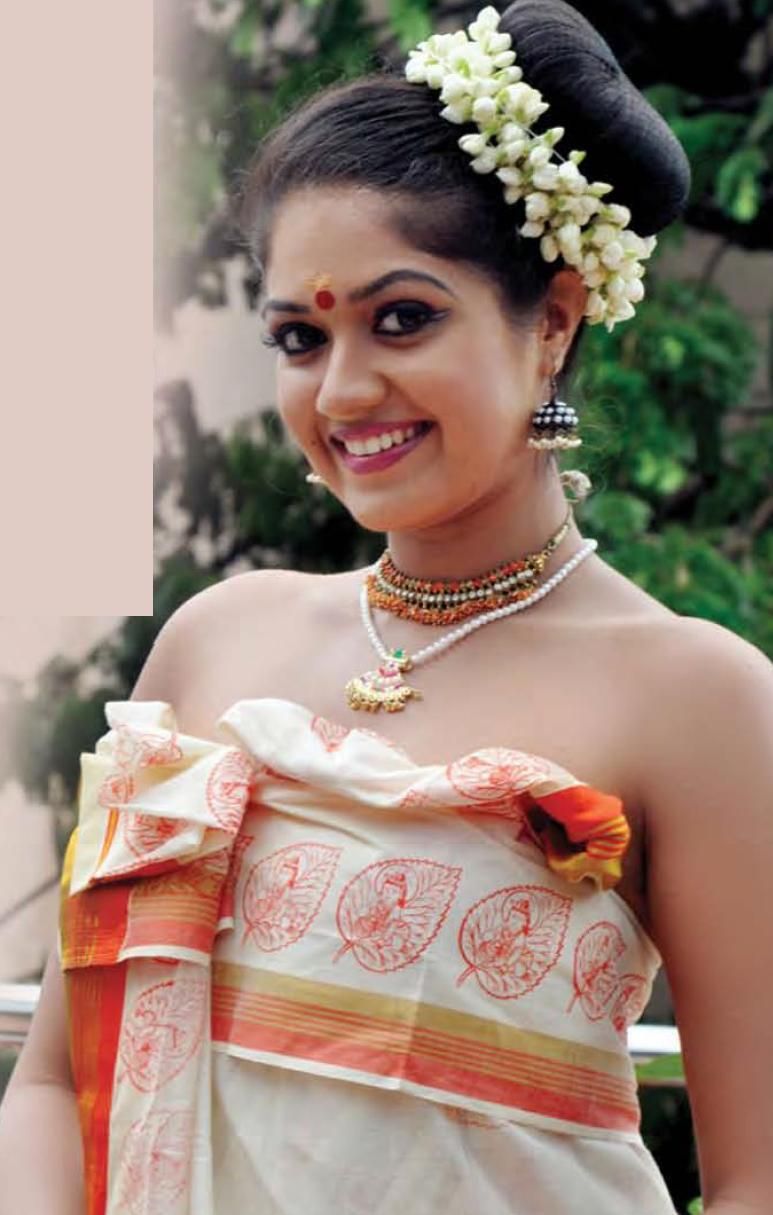 It is a Kerala traditional dress for girls as well as women that consist of a pair of Mundus. One is worn on the upper portion of the body and another one is worn around the hip. The upper mundu is also known as "Neriyathum or Neriyathu" as well and it is worn with a blouse. In this, one end of the mundu is draped over the shoulder and another end is tucked in the lower mundu. Traditionally, this Kerala traditional dress for girls and women is white or cream in color with red, maroon, or green borders in it.
For regular wear, the Mundus are made of cotton or linen material while for weddings and different occasions, a fancier version of Mundus is worn. These Mundus are made of silk or some fancier fabric with a lot of embroidery in it. Be it Kerala engagement dress or be it Kerala wedding dress, women on every occasion wear this attire. Also, red and maroon borders are adorned by married women and the green border is adorned by Kerala girls.
Traditional Kerala Wedding Dress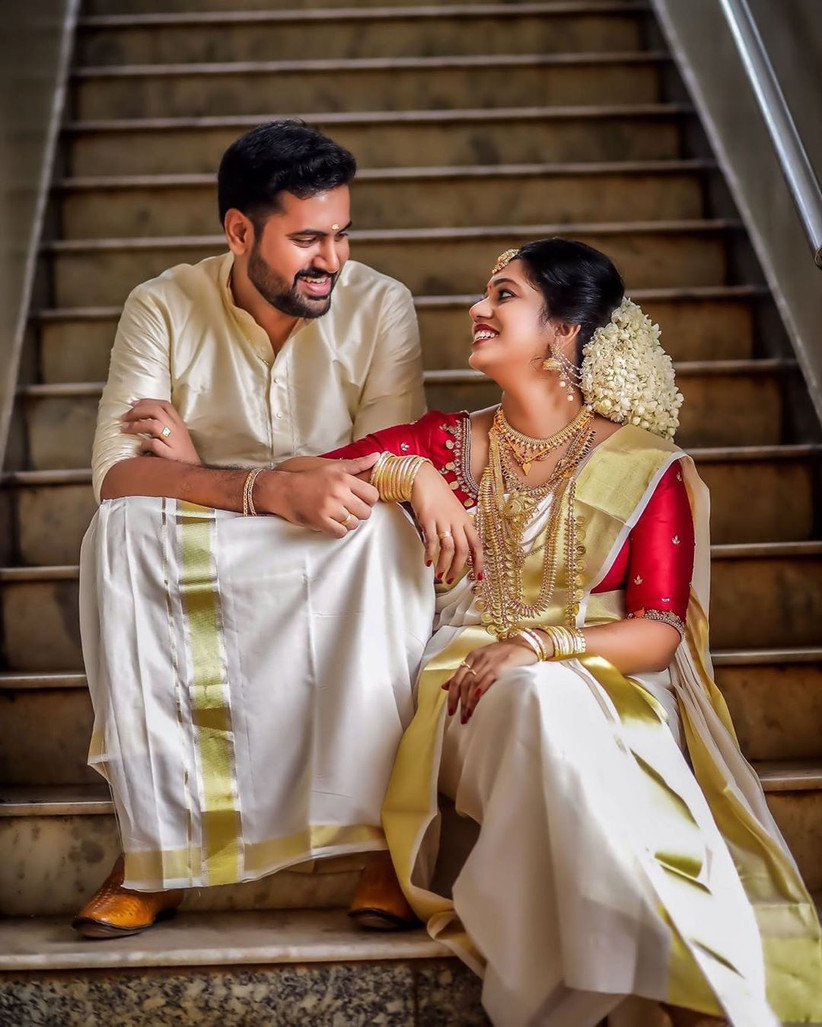 A discussion upon wedding dresses becomes an absolute must when discussing a state's fashion and clothing. After all, it is not just a regular dress but a dress you will remember forever. The traditional wedding dress of Kerala is all about purity and grace. With pastel colors and gold jewelry, they look heavenly. Earlier, the tradition was to wear a lot of gaudy gold pieces of jewelry. However, the inclinations these days seem to be more towards understated pieces made from diamond, platinum, rubies, and gold as well.
In Kerala, brides wear Kanchipuram sarees that are crafted in vibrant colors and decorated borders. The entire look of the bride is completed with gold ornaments, flowers, and heavy makeup. If you don't know, gold is the prestigious symbol for Kerala because Europeans used to exchange gold with Kerala to get the best spices from them. So, even now, you will see a lot of gold at Kerala's wedding.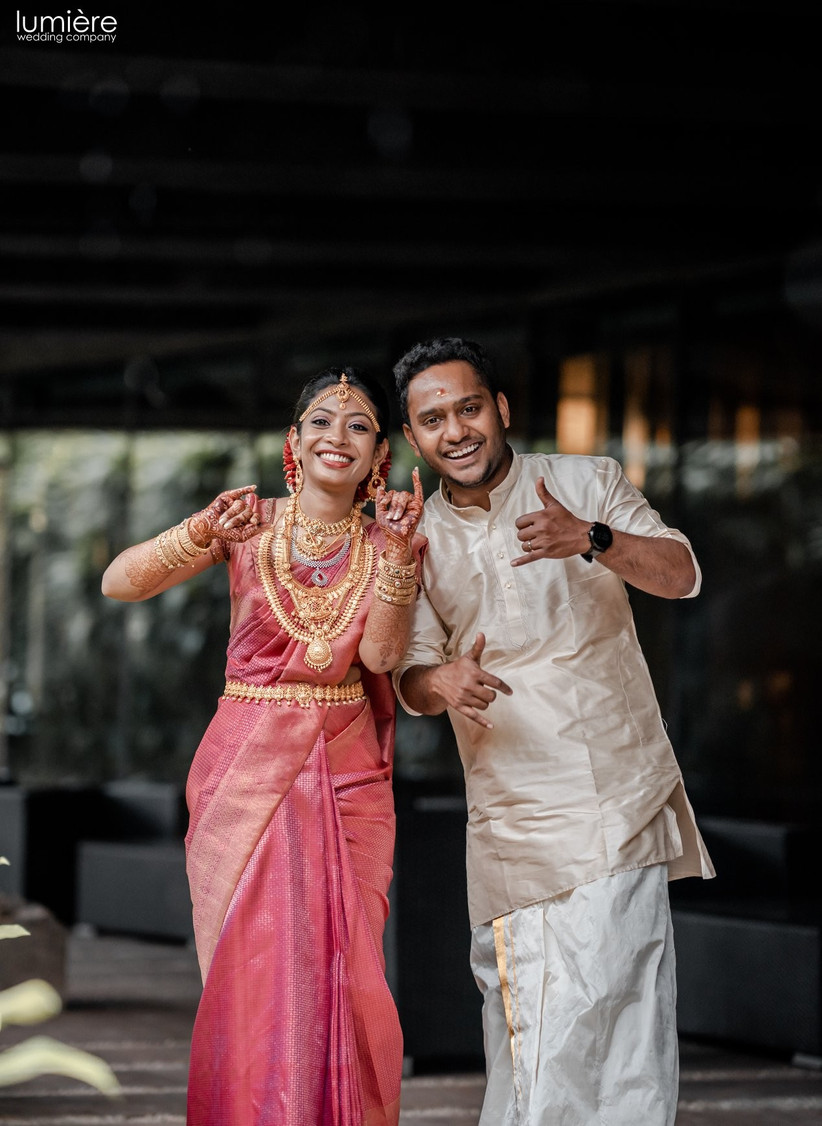 However, the bridal dresses of Kerala women change from religion to religion. On one hand, Hindu brides tend to appear extraordinary dressed in bright colors while on the other hand, Christian brides appear in a classic white gown and the veil with the bouquet. And, when it comes to Muslim brides, they chose to go the ethnic route where they wear embroidered silk sarees, with heavy makeup as well as a dupatta. Despite the religion, every bride looks beautiful in their own way.
Traditional Jewelry Of Kerala
When we talk about dresses, then the discussion would be incomplete without talking about jewelry. And, Kerala is all about gold jewelry. Let's know some of the famous traditional jewelry of Kerala:
1) Manga Mala Necklace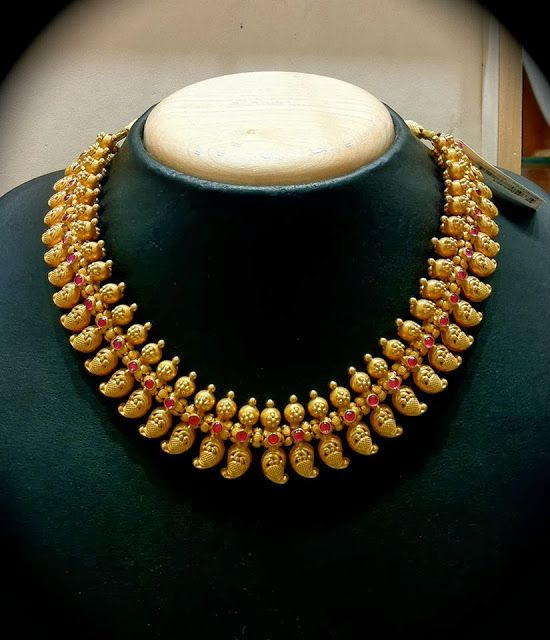 Manga Mala Necklace is a famous type of traditional necklace of Kerala that consists of tiny mango-shaped pendants. From weddings to any other special occasion, this necklace is quite popular among women of Kerala.
2) Mulla Motu Necklace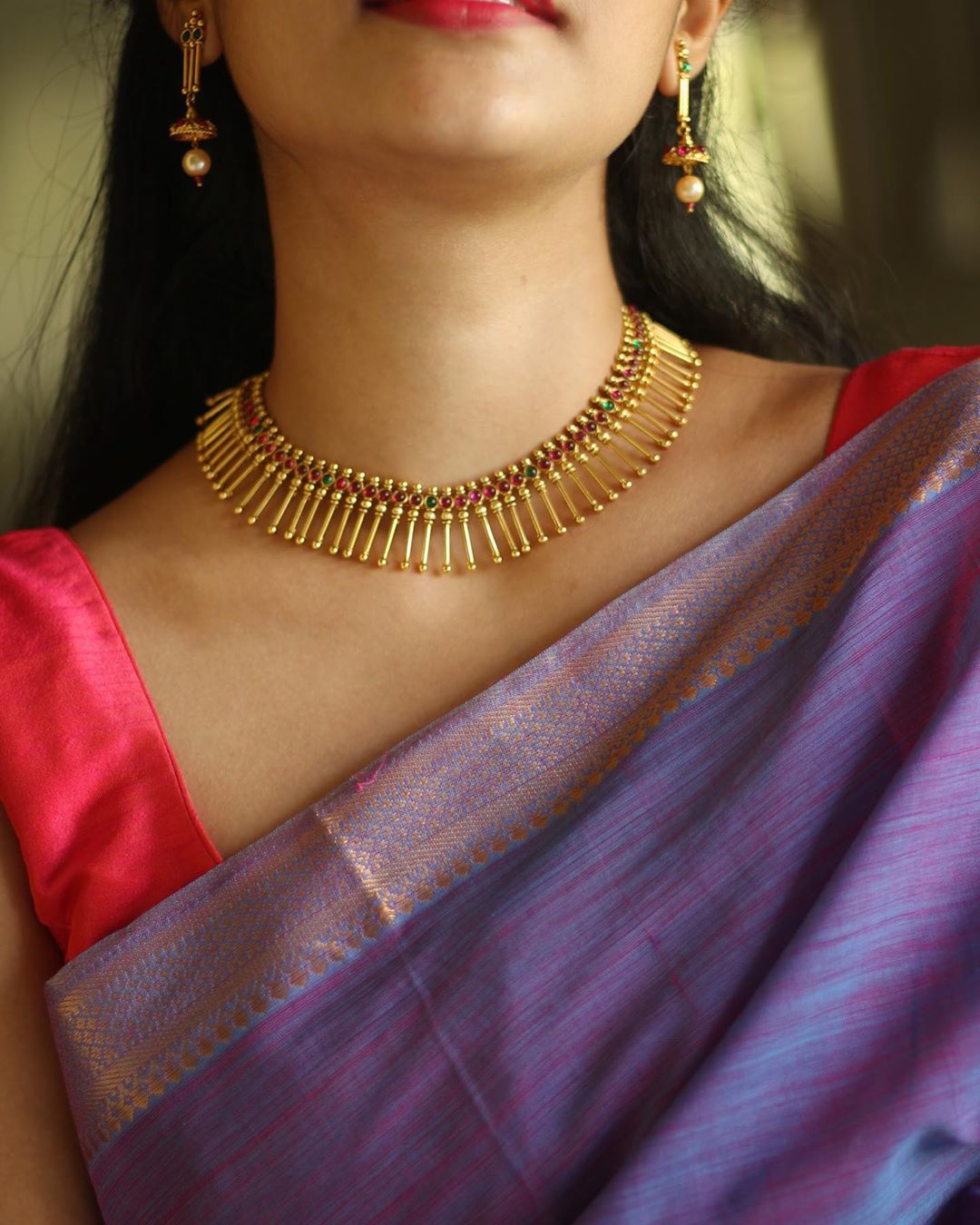 Mulla Motu necklace is another type of necklace that is quite renowned in Kerala. It is made from a sequence of jasmine petals. If you don't know, it is a must-have necklace for any bride in Kerala.
3) Kolusu (An Anklet)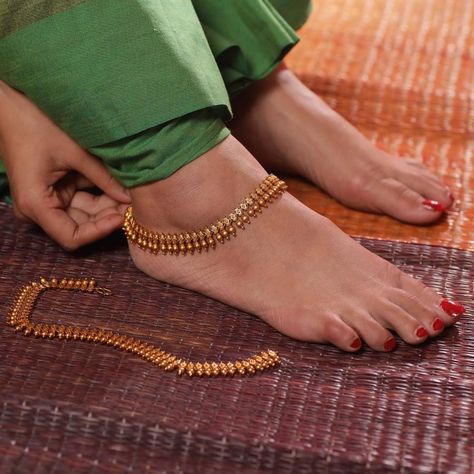 Kolusu is the anklet that is worn by Kerala women in their legs. It is a beautiful piece of jewelry that has tiny pendants in it and looks quite delicate. It can be made of anything from gold to silver.
Kerala is the perfect example of how ethnicity and modern can go hand in hand. With women selecting a minimalistic outlook towards clothing and men wearing shirts with Mundus, is a perfect representation of the kind and warm-hearted people of Kerala.