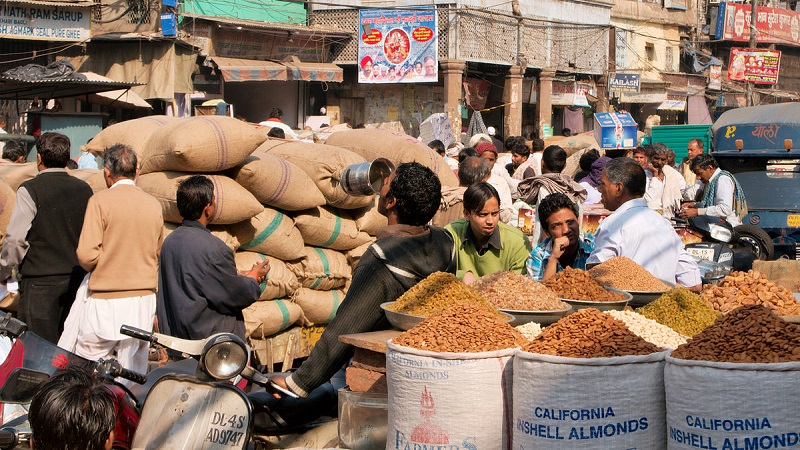 Besides the historical milestones, Delhi attracts tourists for the plethora of glamorous malls and unforgettable shopping experience it offers. But, sometimes they might dent your wallet if you don't know the right place to go for shopping. So, we have curated a list of wholesale markets in Delhi that will offer you an unforgettable shopping experience while still going easy on your budget.
Chandni Chowk
One of India's biggest wholesale market offers you a vast array of items you would want to lay your hands on. From jewellery to kitchen appliances, from furnishing items to clothes, Chandni Chowk, has everything you ever wanted to buy. Its main attraction though is a never-ending line of shops that will help you stack your wardrobe to its full capacity. You'll feel spoiled for choice in the ocean of shops. And the best part about shopping in Chandni Chowk is that your wallet won't be empty quite as much as your arms will be full of shopping bags.
Shankar Market
Located in Connaught Place area, Shankar Market is a two-storeyed heaven of fabrics. Be it a wedding party or a dinner date or a prom; you will find a wide variety of materials to stitch your outfit from scratch.
Chawri Bazaar
Erected back in 1940, Chawri Bazaar happens to be Old Delhi's first-ever market. If you have a wedding or a big event coming up with an equally big list of guests, Chawri Bazaar is the place to be. You will get all your invitation printing requirements at wholesale rates here. You will also get an ocean of pots, vases, jewellery boxes to choose from.
Sadar Bazaar
Find everything and anything at dirt price in Sadar Bazaar- kitchen and bathroom appliances, clothes, imitation jewellery, accessories, toys, decorative items. The list goes on and on and on.
Ghazipur Phul Mandi
If you are someone who adores flowers, this place should be first in your list if you intend to explore the markets of Delhi. You'll find flowers for all occasions at this place. You might want to consider visiting the place early in the morning if you're in the pursuit of fresh finds.
Jhandewala
On a journey towards fitness? Or need something more exciting than just toys for your kids? Head to Jhandewala, where you will find yourself overwhelmed by a tsunami of bicycles. They won't cost a fortune either.
Bhagirath Palace
Not just India's, but also Asia's largest wholesale market for electrical appliances. It's an utter delight to see the thousands of twinkling light from chandeliers and pendant lights scattered in the sea of shops at this market. And you can be sure to find everything and anything that has to do with electrical appliances.
Kirti Nagar
Are you moving to a new house? Need to revamp the looks of your home sweet home? Kirti Nagar has your back. Here you can expect to see a wide variety of furniture pieces at really affordable prices.
Nehru Place
Nehru Place houses more than 500 shops that will look after everything IT related. Be it laptops, computers, printers, video games, hardware and software items; you will find everything here! And you will hear prices that will blow your mind because they are unimaginably cheap. Also, be mindful about what you lay your hands on to.
Karol Bagh
Karol Bagh is a shopping paradise. Also, It gives you the best of both worlds. Starting from Glitzy clothing pieces by expensive brands to clothes that cost as low as a hundred bucks. And, if you find yourself getting exhausted after a day of rigorous shopping, you can take a break and feast on the mouth-watering food stalled along its streets.
Daryaganj
This place is a paradise for bibliophiles. This place is open only on Sundays and flocked by scores of students who rush to get their hands on the choicest copies of their favourite books. The cheap pricing of the books is an utterly heavenly feeling.
Nai Sadak
This place is a wholesale paradise for all your academic requirements. You'll find a wide variety of books and stationery items at extremely reasonable prices.
Khari Baoli
This place has an enticing aroma that will get your gastric juices churning. It's the biggest market for spices in Asia. This place also has a rich heritage to explore.
Palika Bazaar
Originally famous for selling Chinese counterfeits of expensive gaming gadgets, Palika Bazaar offers you a plethora of, well, everything counterfeit. If you intend to rock some expensive brands but are low on cash then head to Palika Bazaar.
Tank Road
Head to Tank Road to fulfil all your denim wish list. Your needs may surpass your list but the budget won't.
Sarojini Nagar
This place probably doesn't need any introduction. Women love to shop from Sarojini Nagar. If you have excellent shopping skills, then you will be walking home with bags and bags of great bargains, be it clothes, jewellery or cute accessories.
Manju ka Tilla
In need of a great looking pair of shoes that wouldn't burn a hole through your pocket? Well, Manju ka Tilla has you covered. Until and unless somebody observes you for an insanely extended period, they'll never be able to guess that those pair of Nikes or Adidas aren't the real deal.
Naiwala
Need to upgrade your ride, but just not in the mood to spend a fortune to look cool while hitting the roads? Then Naiwala is the place to find great deals. You can even find accessories that will give your ride a total makeover.
Okhla Mandi
Get all your greens at wholesale rates from Okhla Mandi, located in Okhla Industrial Estate.
Azadpur Sabji Mandir
Probably, the best place to be if you intend to stock up on greens and fruits. You will also get to choose from a wide variety of exotic fruits. Just like the other markets, this place is gigantic, so make sure you wear your most comfortable pair of shoes while slithering past the lanes of fruits and veggies.
So, there you go, a list of must-visit wholesale markets while in Delhi. Don't waste your time and money but straight away hit these places to get an experience you will boast off your entire life.