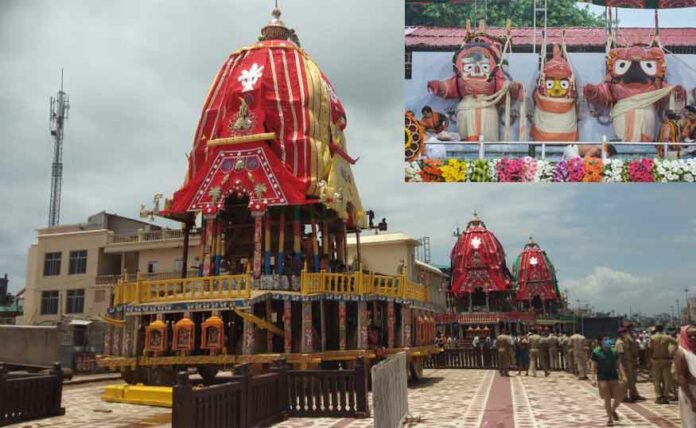 The Supreme Court has allowed Lord Jagannath's Rath Yatra to commence in Puri from June 23, 2020. Though authorised, it will be conducted in a restricted manner as directed by the Supreme Court and agreed by the Centre and State Government citing the rise of Corona Virus.
On June 18, 2020, CJI SA Bobde cancelled the Rath Yatra saying "Lord Jagannath will not forgive us if we allow this to continue." The decision was taken after a PIL was filed on June 15 by Bhubaneswar-based NGO' Odisha Vikas Parishad' through advocate Ranjeeta Rohatgi citing the threat of getting lakhs of devotees exposed to Covid-19.
Considering the fact that Odisha recorded 5160 Covid-19 patients and 15 deaths in the state by June 21, the filed petition looked justified. But on the other hand, a tradition running uninterrupted for 285 years can be ruled out overnight because it will affect the devotion of many.
Finally, after several petitions were filed to revoke the order and to allow the historic Rath Yatra to be conducted, Supreme Court CJI SA Bobde considered the petitions and left it upon the judgement of the Jagannath Temple Management Trust and Odisha government to conduct the Yatra smoothly but without the presence of devotees.
Also, the Supreme Court has allowed the Rath Yatra to be conducted only at the main Jagannath Temple in Puri, but not at the other Jagannath Temples in the state.
After the Court's decision, Odisha minister Arun Kr Sahoo told reporters, "On behalf of devotees of Lord Jagannath, the government of Odisha welcomes this decision of Supreme Court".
"All guidelines will be followed strictly. It's our duty to look after how Rath Yatra can be conducted peacefully and safely. The state government will take all measures," news agency ANI quoted him as saying.
Though the Supreme Court has approved the Rath Yatra, devotees are to be kept away citing the pandemic. Interestingly, every year Lakhs of devotees gather to mark the celebration and seek Lord Jagannath's grace. But this year the streets would look empty, and the pics surfacing will be one of a kind.
It is to remind the devotees that the decision is taken considering the safety of the state, and everyone's cooperation would be helpful. However, to seek Lord's blessings, the devotees can tune into the Live Telecast of the entire event on their TV.
Click Here to get more Rath Yatra 2020 Quotes to share on WhatsApp and Instagram.
Whatever be the situation, Lord Jagannath's blessings are upon us forever.
Wish you all Happy Rath Yatra 2020!