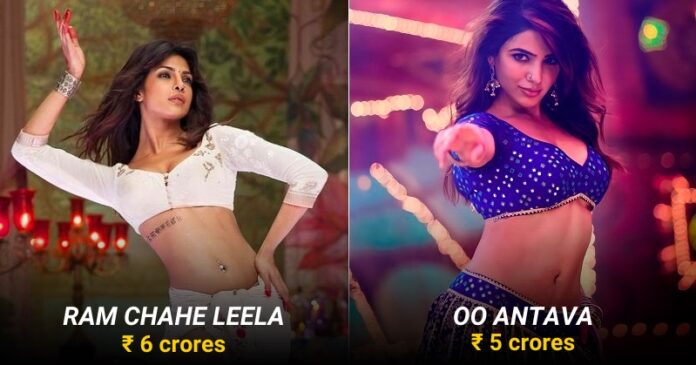 We all know how much importance does Bollywood gives to their songs. No matter if you are watching a romantic movie or a horror movie, the Indian film industry never fails to add songs. Movies without songs would surely feel like a body without a soul. Even if you criticize the actors for running on snow-clad mountains and dancing around trees in these songs, they are definitely pleasing to look at. Also, there are many movies that failed to perform at the box office, but their album happened to be a major hit.
However, have you ever wondered how much these songs actually cost? From having the best Bollywood stars to breathtaking locations, these expensive songs have it all. So, from 'Oo Antava' To 'Chammak Chalo', continue reading to know about some of the most expensive songs that are ever made in the Bollywood industry.
1) Oo Antava – Pushpa – 5 Crores
From the Allu Arjun starrer film "Pushpa," the song "Oo Antava" is the latest addition to the most expensive songs list. Nowadays everybody is crazy about this song and everyone is grooving on Instagram reels on the beats of this song. However, most of us don't know that Samantha Ruth Prabhu charged a whopping Rs 5 crores just for this song.
2) Ram Chahe Leela – Ram Leela – 6 Crores
The talented actor Priyanka Chopra Jonas floored us with her moves in the item number "Ram Chahe Leela." This remarkable song was featured in Sanjay Leela Bhansali's magnificent movie "Ram Leela." With her moves and expressions, Priyanka surely took this song to another level. However, little did we know that the makers had to spend Rs 6 crore to just get the actor on board.
3) Kilimanjaro – Robot – 4 Crores
"Kilimanjaro" is a famous song of the movie "Robot" that featured Rajnikanth and Aishwarya Rai Bachchan. If you don't know, it is the first song to be filmed at the Inca site, Machu Picchu. With a huge set as well as featuring lead actors, this song cost whopping 4 crores.
4) Chammak Challo – Ra-One – 3 Crores
We can never forget the famous song "Chammak Challo" from the movie "Ra-One." Featuring Shah Rukh Khan and Kareena Kapoor Khan in the song, this song was filmed on the sets of Yash Raj Studios. This is one of the most expensive songs of Bollywood that only gave a signature move, but also introduced Grammy-winner Akon to Bollywood.
5) Malang – Dhoom 3 – 5 Crores
Starring Aamir Khan and Katrina Kaif, to film this majestic track of the movie "Dhoom 3", Yash Raj Films spent a total of 5 crores. YRF made sure that the dancers were flown to Mumbai from the USA. Apart from that, a training camp was also set up for 20 days. Interestingly, special dresses were for all the 200 gymnasts who were part of the song.
6) Party All Night – Boss – 6 Crores
From Honey Singh to Sonakshi Sinha's moves to Akshay Kumar's swag, this song has everything to be a blockbuster. The song "Party All Night" defined the perfect party song. If you don't know, the location of the song was a pub in Bangkok with around 600 foreigners dancing. It took whooping 6 crores to make this particular song.
7) Yantahara Lokapu Sundarive – 2.0 – 20 Crores
We can never imagine a song of Rs 20 crores. But, it actually happened in the Bollywood film industry. The "Yantahara Lokapu Sundarive" song from the movie "2.0" broke all the records of the amount spent on any Bollywood song ever. It was reportedly shot on a whopping budget of Rs 20 crores.
Bollywood's obsession with music and mega-budget songs is not new. Nowadays, producers don't think twice to spend a hefty amount of money just to create a superhit and memorable album. And why not, because their success indicates the success of the movie at the box office.