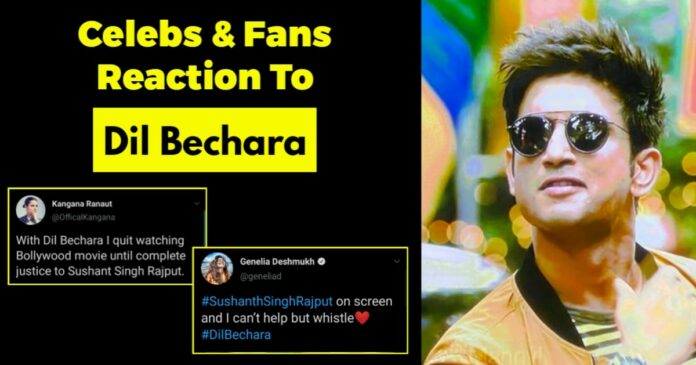 Dil Bechara, the last movie of Sushant Singh Rajput is out and people are loving it. It's an exciting and emotional experience people are going through, most of us can't yet gulp the fact that Sushant is not among us anymore.
The movie is available to watch for free on Hotstar and that's a really impressive gesture! We are thankful to the people behind the movie who made the movie free for everyone.
It's great to see that people are watching the movie in huge numbers and praising the late actor and the rest team for such a wonderful piece. The reactions are evidence of how much people loved Sushant and are moved by his unfortunate demise. For all of them, it's like meeting Sushant for one last time!
Let's see how people on the internet reacted to the movie. Celebrities and fans have all poured in love for Dil Bechara and the words are something you surely need to note. This is a moment of sorrow and joy for all of us, so let's dive in and explore what people felt while watching Dil Bechara on Hotstar. We have divided the reactions into 2 parts, first the fan reactions and then Celebrity reactions.
Fan Reactions to Dil Bechara
#DilBechara Review 👇👇First half is very fresh with good comedy, second half is too emotional and dialogues of this film is connected to his real life😥😥.

You Will be Missed man💔💔💔, Everyone after watching the film go to #IMDB and rate it 10/10🙏🙏🙏#SushantSinghRajput pic.twitter.com/YKVxIVsNqC

— Mohan jagali (@mohanjagali) July 25, 2020
His first tv seriel: kis desh mein hai meraa dil, Character – Preet (In the end he dies)

His first movie: kai po che- Character- Ishaan (In the end he dies)

last movie: #DilBechara
Character- Manny ( In the end he dies)#DilBecharaReview#SushanthSinghRajput#DilBecharaReview pic.twitter.com/lXXTtczUk7

— Aman (@amankumar_2) July 25, 2020
This Dialogue made all of us emotional.. 💔🥺#DilBechara #DilBecharaDay pic.twitter.com/7T4JNY0axC

— V I P E R™ (@Offl_TheViper) July 25, 2020
Manav to Manny! I'll remember you the way you are, bright, buoyant, compassionate and soo full of life. Can't put into words my emotion after watching #DilBechara.
.#SushantSinghRajput
.@CastingChhabra pic.twitter.com/6vJ0w0UAoL

— Arpita Prasoon (@ArpitaPrasoon) July 25, 2020
After watching #DilBechara, we realized that his character in the movie is similar to himself.

The film beautifully portrayed his emotions & feelings. We realized
how Talented he was❣️

His Lived The Character.#SushanthSinghRajput #DilBechara
We love you 3000❣️ pic.twitter.com/57qVn5jkuq

— Iron Heart💕 (@dontBeA_d3sdt3) July 25, 2020
#DilBechara
This was my last Bollywood movie
End to Bollywood now .
There's no reason to watch other actor's who are rutheless,and mean N plz don't tell me about outsiders now if they are so good, they should stand for SSR instead of acting on social media.
Do you agree?? pic.twitter.com/wPF5QivEcf

— YASHI (@Yashii88) July 24, 2020
What a beautiful movie.. can't control the tears after watching it.. the sole theme of the movie is penned in a simple bt yet in the most touching way.. #DilBechara ♥️♥️ #DilBecharaReview pic.twitter.com/rA2tpIsDp4

— 𝓢𝓪𝓷𝓰𝓮𝓮𝓽𝓪__𝓒𝓱𝓴𝓻𝓫𝓻𝓽𝔂𝓝𝓷𝓭𝓲 (@chkrbrtynndi) July 25, 2020
Celebrity Reaction To Dil Bechara Movie
Felt so heavy while watching him.. his energetic soul and that that smile.. Couldn't stop my tears.. so many memories.. felt sooo real while seeing him in the reel..
Beautiful message and on that note #Seri my friend.. #LoveYou 💝#DilBechara #SushantSinghRajput pic.twitter.com/tn6vqzmq97

— Rashami Desai (@TheRashamiDesai) July 24, 2020
Just finished #DilBechara and it's left me so numb. Hug your loved ones tell them you love them. Speak to them laugh with them cry with them. You just don't know when you will get that time with them again. Make those moments count.

— ADY (@ArmaanMalik22) July 24, 2020
Watched #DilBechara in intervals as it was hard to watch in one go.
I had met Sushant once during IIFA Awards, NY
He was so human and yet so much God-like.
He is left all of us alone somewhere.
So much left in pain-incomplete#RIP
Thank you @CastingChhabra team for this legacy pic.twitter.com/5uTjaCj2Hv

— Vikas Khanna (@TheVikasKhanna) July 25, 2020
As promised -I am ready with my popcorn 🍿.. watching #DilBechara Time to celebrate #SushantSinghRajput May you be the brightest star in the sky. pic.twitter.com/KmEUPwqBmf

— Riteish Deshmukh (@Riteishd) July 24, 2020
#SushanthSinghRajput on screen and I can't help but whistle❤️#DilBechara pic.twitter.com/PrGGaBB7Oe

— Genelia Deshmukh (@geneliad) July 24, 2020
Could only think of Sushant's family & loved ones as I watched #DilBechara . Some of those scenes & conversations were difficult to watch. Felt too close to reality. Hope u feel all the love Sushant. It's like you've become a million stars and entered all our hearts . 😔

— Kangana Ranaut (@KanganaOffical) July 24, 2020
With Dil Bechara I quit watching Bollywood movie until complete justice to Sushant Singh Rajput.#DilBechara

— Kangana Ranaut (@OfficalKangana) July 24, 2020