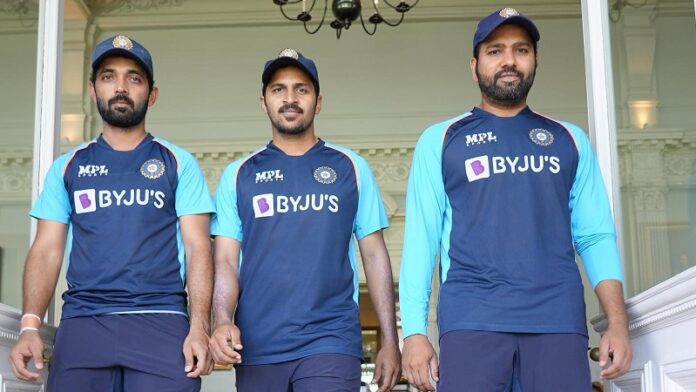 Shardul Thakur, India's star all-rounder took a hilarious dig at his Indian teammates and Mumbai seniors Rohit Sharma and Ajinkya Rahane. All three come from Mumbai, and Shardul shares a very friendly relationship with Rohit and Rahane.
Shardul Thakur is an Indian international cricketer, who is a lower-order right-handed batsman and a medium-fast bowler. Shardul plays first-class cricket for Mumbai.
Recently, he shared a throwback picture of himself with Rohit Sharma and Ajinkya Rahane on social media. In the picture, the pacer can be seen standing in the middle, and the other two players stood to his right and left respectively. The picture is from India's England tour from last year. Sharing the picture, Shardul captioned it as, "Having bodyguards is just a part of being famous I think."
Check out Shardul's Instagram post:
View this post on Instagram
The image was flooded with reactions from several cricketers and netizens on Instagram and it went viral in no time.
Just when Thakur was winning the caption game, the Indian bowler Yuzvendra Chahal, who is known for his hilarious sense of humor, once again stole the limelight. He also trolled Rahane and Rohit with a hilarious comment. He wrote:
"Bodyguards ki body kahan hai thakur sahib 😂😂"
Yuzvendra Singh Chahal is an Indian cricketer who plays for Haryana in Indian domestic cricket. Chahal is currently a player of the Rajasthan Royals franchise in the IPL.
Ajinkya Rahane, the Indian Test specialist also took to the comment section and replied back to Shardul. He wrote: "Just walking you out of the dressing room. 🤣"
Rohit's wife also commented on the picture. She wrote: "You know what's coming".
Check out the comments: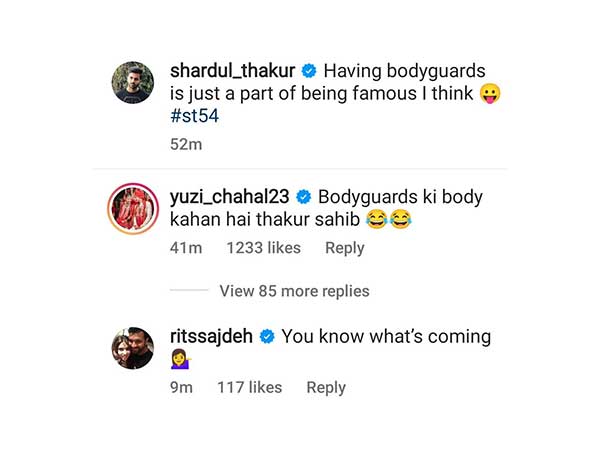 Recently, an image of the leg spinner, Chahal posing with Chris Gayle, where both were seen posing shirtless, went viral as well. The spinner is never shy of getting into the limelight and also commented something hilarious on the same.
Chahal poses for a photo with his (body) fan Chris Gayle 😐 pic.twitter.com/fp8nFGU6p9

— رشتہ دار (@Rishta_dar) May 1, 2021
As Chahal now will get to share the dressing room with Jimmy Neesham at Rajasthan Royals, fans are expecting a lot more entertainment during IPL 2022.
Meanwhile, IPL 2022 will kickstart from March 26. Shardul Thakur will play for Delhi Capitals, Yuzvendra Chahal will be seen with Rajasthan Royals.
So, stay tuned for more updates.