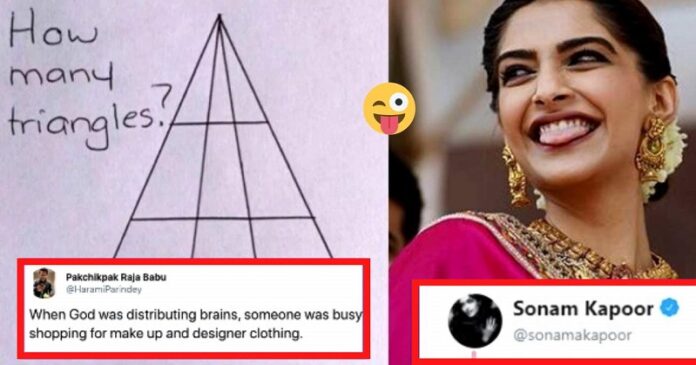 Everybody loves a good puzzle and if it's Maths, then it gets quite interesting, isn't it? But as a matter of fact, a lot of people are likely to be bad at it. And that is the reason why it is a universally hated topic. It is understandable about the frustrations of everyone about it.
On Twitter, people tried to find out the answer to the simple Maths aptitude puzzle. They just have to answer how many triangles are in a picture. That sounds simple, but so many people, including some of our favorite celebrities, are failing spectacularly. It has been shown recently that even though the performers suck at it, they enjoy a complex puzzle.
However, the triangle puzzle in question is an old one, but when the editor of Filmfare magazine, Jitesh Pillai, tweeted it, it became viral.
Say? pic.twitter.com/lrhXrWw5EP

— J (@jiteshpillaai) April 9, 2018
Many celebrities jumped in to take a shot at solving it. Unfortunately, most of them struggled. Sonam shared quickly what she felt was the right answer. But she didn't suspect that the mathematicians of Twitter had already solved the puzzle. The star replied with 7, which is even less than half of the actual response.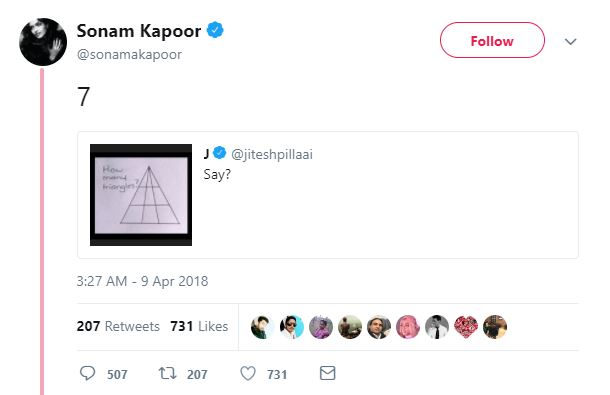 And later the trolling began:
Agar baaki ke 11 dekh liye hote to aap Infosys me baith ke coding kar rahi hoti. Great choice of profession

— Gabbbar (@GabbbarSingh) April 9, 2018
Iss baar tum bhi @arjunk26 ke saath 12th ka exam de dena😭😂

— Rishabh (@jokebazz) April 9, 2018
Nominated for #OSMAwards for best mathematician 2018. 👏🏻👏🏻 https://t.co/xyXhhpRSbt

— Maithun Chakraborty (@Being_Humor) April 9, 2018
When God was distributing brains, someone was busy shopping for make up and designer clothing. https://t.co/tNe4JhNo9J

— Pakchikpak Raja Babu (@HaramiParindey) April 9, 2018
aapka to dimag bhi chota hai https://t.co/SaNKmTT9qQ

— उत्कर्ष शर्मा (@ya_jhakaas) April 9, 2018
Well, Sonam Kapoor did not take trolling to the heart but got self-conscious.
— Sonam K Ahuja (@sonamakapoor) April 9, 2018
So, how many triangles are you capable of counting?