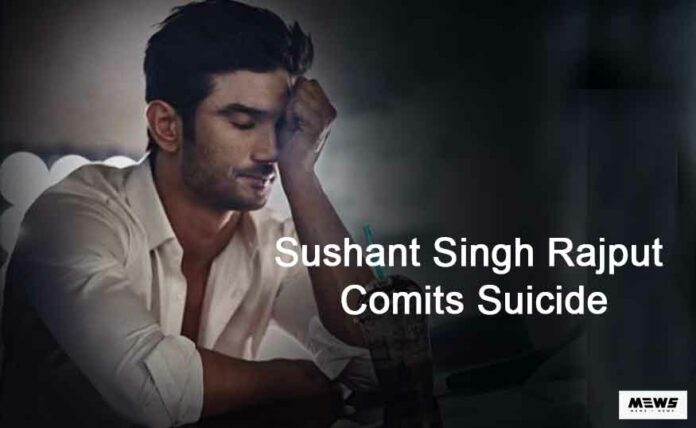 Sushant Singh Rajput found hanging in his Bandra Apartment by the police. There's no confirmation yet as to what led the actor take this drastic step.
The nation loved this actor and many regret the loss. The reason behind his action is still not confirmed and the police are continuing the investigation. Reportedly, Sushant was found hanging in his Bandra flat by the domestic help, who informed the police to take action.
On June 9th, his ex-manager, Disha Salian, committed suicide by jumping off a high rise building in Mumbai's Malad. The reason for her suicide is still not known. Questions arise if there's any link between both these suicides but the answers seem to be far off.
Social Media has started talking about the need to take care of ourselves and our mental health. Lockdown has been a tough time for all of us. We always go through different phases in life but the most difficult is when we cannot share it with the people we love. When no one is around to listen and take care of us, things become more difficult.
The world of Internet is already shocked and here are some of the tweets to show how shocking the news was for everyone.
Please stay safe everyone. Just take care of yourself and your mental health at this time. Speak to your loved ones, speak to anyone. Take help. It's the most difficult year of our lifetimes, don't try to fight it alone.

What a loss this is. RIP #SushantSinghRajput

— Nikhil Taneja (@tanejamainhoon) June 14, 2020
Stunned!!
Don't have words to express.
Why??!? #SushantSinghRajput

— Ashutosh Gowariker (@AshGowariker) June 14, 2020
BREAKING : ACTOR SUSHANT SINGH RAJPUT DIES. FOUND HANGING IN HIS BANDRA HOME. POLICE CONFIRMS. #SushantSinghRajput

— Megha Prasad (@MeghaSPrasad) June 14, 2020
I am really sad and shocked on hearing this piece of news, I deeply pray that may his soul rest in peace.

RIP #SushantSinghRajput ! pic.twitter.com/5OYZtzgFSr

— Srinivas B V (@srinivasiyc) June 14, 2020
Shocked. This is so sad. So young and talented, will pray that u rest in peace brother #SushantSinghRajput pic.twitter.com/bWIKrJZAeO

— Rannvijay Singha (@rannvijaysingha) June 14, 2020
What is even happening in 2020?
Yet another shocking news!#SushantSinghRajput no more. It's a huge loss to the entertainment industry. Deepest condolences to his loved ones. @itsSSR pic.twitter.com/cqb3WlC7u3

— Pulkit Juneja (@Pulkit_Juneja) June 14, 2020
His social handles were actively followed by people and he liked to talk about a variety of topics. Judging from his Instagram handle, he was deeply interested in science and space and a profound follower of Shiva.
His last post on Instagram was about his Maa, which reads as follows:
We really feel sorry for him, we don't know the reason yet but whatever be it, there could have been a way out. Suicide is never an option. We wish to see him back! The year has already proven to be a disaster and this shocking news is too much for everyone.
Ironic is the fact that in one of his recent movies 'Chichorre', his role was to convince his son that suicide is never an option. However, he himself couldn't stop himself from falling into the trap.
For now, we can just await the reason for this drastic step. And bless the departed soul, a beautiful soul.
RIP Shushant. We Love You Always!