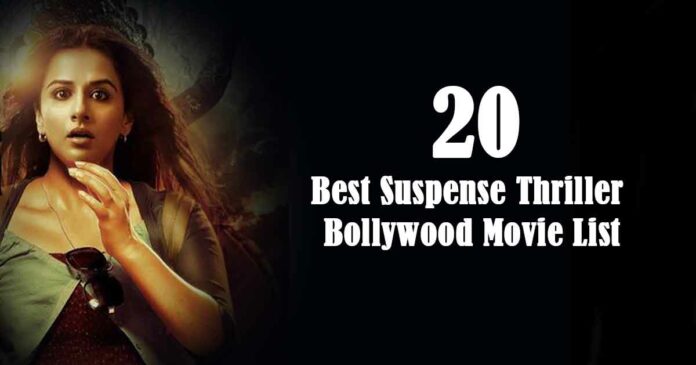 Good Thriller Suspense Bollywood Movies are few, but the ones that exist are worth watching. For movie freaks, the thriller suspense genre holds a special place because it keeps you on toes and pumps your adrenaline in a significant way.
Here we have made a list of 20 best thriller movies from Bollywood. If you haven't seen any of these movies, then get ready for some exciting experiences.
Badla
A must watch revenge drama movie. You won't guess the story till the end and legendary actor Amitabh Bachchan nailed his part. The storyline is gripping, unpredictable and engaging. This movie shows that you can be glued to your seat just watching powerful performances.
Andhadhund
Some wines hit your taste palette wonderfully right from the first sip. Andhadhund is just like that, an edge of the seat – intense – dark – subtle – true to the fact movie. A "MUST WATCH" definitely, Andhadhun gives you everything needed.
Kahaani
The movie was well written and presented beautifully. In the end, whatever we expect, considering it to be a Bollywood movie, all go in vain because the Film is something out of the box. It would be best if you watch this movie soon.
Talaash
One of the most beautiful movies and an absolute gem to watch. Actors in this Film have given beyond their best. Amir would take you to his intense, dark and sad world. Kareena would take you to her mysterious yet flawless world with her acting. Rani's portrayal as a helpless wife controlling her emotions is impressive. An absolute Psychological thriller.
Kahaani 2
Kahaani 2 is better than most of the movies, but unfortunately, it fails to make up a good sequel story to its first part 'Kahaani'. Though not as good as the first part, it's still an excellent watch than many other Bollywood movies. The suspense in it will keep you routed till the very end.
Talvar
Talwar is one of those refreshers who never fails to give its audience a reality check on the weak and fragile system of this country. The Film did an excellent job by emphasizing on the real plague of the system. And yes, you guessed it right it's based on 2008 Noida double murder case involving a teenage girl and her family's servant.
Drishyam
The movie shows the love of a father and mother, who sacrifice and fight for their children. It also shows the extent to which a man can go when things come to destroy his family. You won't be able to judge the movie or get a conclusion until the end.
Jazbaa
Jazbaa is one of the best crime thrillers that holds the audience at the edge of the seat with excellent performances by Aishwarya Rai, Irfan Khan. A twist to the plot makes this a riveting movie.
Ittefaq
A marvellous cinematic experience! Ittefaq is a fresh break from all the stereotypical stories of Bollywood. With no 'item numbers' and no stupid love drama, it truly deserves all the credit and praise. You must watch it if you haven't.
Special 26
This Film was the best thriller in 2013 and a hit which crossed 100 crore mark. A great mix of thrill, comedy, action on top of Akshay and Anupam Kher's top performers in the movie.
A Wednesday
Every common man will feel proud after watching this great movie. It shows us that we can do a lot more than we think of. If we make it, then we can break it. You may not understand the previous sentence now, but watch the movie to crack it. It's a real thriller movie you can watch more than once.
Ankur Arora Murder Case
This movie shows that Bollywood can produce some brilliant films. It's a shame that a gem like this one gets overlooked in the bigger scheme of things. It may not be a blockbuster in Box Office, but a real movie seeker will love watching it.
Baby
An outstanding Spy-Action-Thrillers that is nicely written and directed by Neeraj Pandey with marvellous star cast Akshay Kumar, Anupam Kher& Tapsee Pannu. A movie worth watching!
Kaun
It is one of the best movies in the suspense thriller genre with a superb screenplay and fantastic acting by Urmila Matondkar. This movie shall always remain a cult classic with a great storyline and suspense.
Missing
A very thrilling movie with great twists every now and then to keep the viewers guessing throughout. Excellent story and excellent acting by Manoj Bajpai, Annu Kapoor, and Tabu. You can watch this movie on Amazon Prime.
Phobia
A brilliant movie and even more excellent was the stellar performance from Radhika Apte who carries the whole film on her shoulder. A twisted plot which will keep you glued till the end. The film will be best remembered for Radhika's acting and an unconventional plot.
Raid
A Movie dedicated to the neglected, brave and honest IT officers who act as wheels to India's economy. The movie is crisp and ensures you stay tangled and engaged in the screenplay from the start to its end. Packed with punching dialogues, powerful sequences, humour, emotions, realistic plot make it a fantastic experience overall. The direction and performances add more value to all of it like icing on a cake. It's a worth watch.
Don
Hardly anyone's left to watch this movie, but if you are the one then do it soon because you are devoid of a lot of fun in your life! The movie plot was well moulded to create an amazing storyline. You would find two movies by the same name; the original Don movie came out in 1978 which stars Amitabh Bachchan, and the remake of the same movie came out in 2006 with Shahrukh Khan as the lead actor. Now it depends on you, which one would you prefer? Classic or Modern?
Trapped
One of the best survival movies seen and quite surprising to see it in Bollywood, from acting to direction to editing to location everything is superb, you feel as if you're there and it is happening with you. Has a bit of Castaway influence but on a different level, has local ambience. And Rajkumar, as usual, nailed it!
Madras Cafe
A brilliant and beautifully executed movie! It might simply be John Abraham and Nargis Fakri's best work. Excellent direction by Shoojit Sirkar along with the screenplay, acting, direction, music, and the plot which were all amazing. It is a must-watch for cinephiles. So not the typical Bollywood masala movie but a no-nonsense, intense thriller.
These are 20 Bollywood Thriller Suspense Movies you can watch and enjoy!