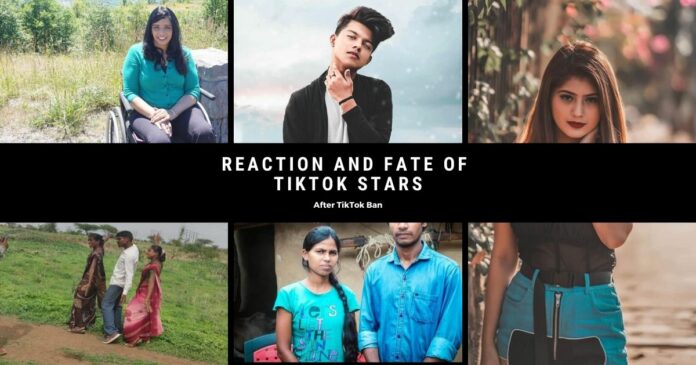 TikTok Ban has affected the Chinese Government in some way, but it has affected nearly 120 million TikTok Users in India as well. Banning 59 Chinese Apps was a necessary step for the security and integrity of India, and we are thrilled with the decision like all Indians.
But, let's not forget that TikTok became an integral part of our society in recent times, and many are going to face adversities because of the ban imposed on the Short Video App. TikTok Stars with a huge follower count cracked many sponsorship videos from brands; this helped them monetise their TikTok Accounts. Believe it or not, many TikTokers earned a huge sum of money, and some even got influenced to make it their primary source of income.
The App had a good hold in Tier II and Tier III areas giving them a platform to showcase their talent and prove their worth. The common man with no Media connect, or PR connect, got a stage to stand equally with their famous and well-known counterparts. The common man who could never have felt like a celebrity otherwise got a chance to taste stardom because of TikTok.
And now, with TikTok gone from India, these TikTok Stars are already facing a tough time. We have collected the statements of a few TikTok users who recently lost a significant involvement in their life.
Dinesh Pawar & 2 Wives
Dinesh Pawar is a resident of the tribal village of Jamde in Maharashtra's Dhule district. Notably, he has 2 wives, and the trio made TikTok videos on 90's Bollywood Songs, which garnered them a following of 30 Lakhs. He was also posting videos on VMate and claims to have earned nearly 1 Lakh in two months from his videos.
They didn't make money out of their following from TikTok, but it surely gave them some star-like feeling. After the ban was imposed, Dinesh said to The Print "We were devastated, but we realised that it's not only us. Both my wives saw the news and cried like anything. This ban hurts millions of people like us. We have decided to move on to YouTube."
A Partially Blinded TikTok Star Prakash Chavan
Prakash Chavan is a partially blind Jamde resident who gained a decent following on TikTok. He is one of the 4-5 people from his village to have completed Graduation. Interestingly, he too earned a sum of Rs.35,000/- by shooting 700 videos on VMate.
"TikTok was easy and a home for marginalised sections like us. We felt like home on TikTok. Other apps like Instagram are complicated. Nobody cheers us on other apps like the users on TikTok appreciated us. We can't imagine big people writing about us if it was not for TikTok," said Chavan.
Geet, TikTok Star Who Teaches English
Geet, who is born in India but raised in Seattle, studied engineering and worked in a law firm before moving to Delhi, with her parents to do social work. She worked with slum children and high-risk youth until opening a TikTok account in February 2019. "TikTok is an extension of what I used to do. Now with a single video message I can reach out to many more people and try to help them," she said.
On one of her channels with more than six million followers where most of the followers are very young and aspirational want to learn "American English". So she helps them with it using Hindi language instructions.
During an interview with BBC after the TikTok Ban, Geet said "I was completely taken off guard when the news arrived. I mean, this is my life now. It's my full-time job."
Apporva Tripathi, A TikTok Star With An Income From TikTok
A 22-year-old, Apporva Tripathi was a professional TikTok Star who had a following of 5 Lakhs and used to earn from her videos. She is already in search of new platforms, including Mitron and Chingari, to gain back her status on the Internet.
NDTV quoted her saying "The emotions I used to share on TikTok was a big thing for me. Whether I am happy or sad or worried, I used to be on TikTok. I was very attached to the App, but I live in India, and I love my country."
Viral Sanatan Kumar And His Sister From Jharkhand
Sanatan Kumar Mahto and his elder sister Savitri Kumari recently went viral in a video where they showed their dance steps, and they boasted 2.7 million followers and 57.7 million likes on TikTok. Sanatan is a postgraduate while Savitri is a teacher in a private school in Kushmantand village near Dhanbad, Jharkhand.
Sanatan said to The Wire, "This is a platform of the marginalised, people from rural India and those who don't come from rich families. I hope there can be some settlement between the company and our Government."
Savitri, too devastated by the decision added by saying, "You know what it is like for a woman, that too a teacher, to choose such a hobby in our small village? People gossip about me, say bad things about me. I risked so much for TikTok. This move is really disheartening. But if this is for the nation, we are together with the Government. "
Mahi, A Viewer On TikTok
13-year-old schoolgirl, Mahi Talwar from Lucknow, used to watch educational videos on TikTok. With the ban imposed, she is missing the Short Video App already. She was quoted by The Wire saying "It's up to us what we watch on TikTok or any such app. My mother guides me on what is good and what is not."
Top TikTok Stars And The Loss
TikTok was for entertainment, and as expected, it brought immense fame for the Stars of TikTok. Apart from fame, it also brought good income for the Stars. As per an article by manofmany, top Influencers on TikTok in 2020 may charge nearly as the figures mentioned in the table below:
Riyaz Afreen: $35,000/Post
Arishfa Khan: $24,000/Post
Awez Darbar: $23,500/Post
Nisha Guragain: $23,500/Post
With the end of TikTok in India, these Stars have lost a significant source of their income, and the numbers indicate a huge loss. We are sure they will again succeed in new Apps as well, owing to their face value, but it will take some time and extra efforts from their end.
The Ban on Chinese Apps is a really good move after the rising tension on the borders with China. In the digital age, giving a sharp blow using digital means is a great move. As per a Chinese State Media, TikTok parent company might lose up to $6 billion after India Banned the App.
Nevertheless, every coin has two faces, and in our case, the other side of the coin is quite devastating for many Indians. The bridge that connected people through Social Media has shaken, and many will find it difficult to reach the same levels again. But, on a positive note, it's good to see TikTokers leaving behind their personal benefit and coming forward to join the Government in the fight against China. It again proves that we Indians know and always believe that our Country is above all and we can do wonders to preserve its integrity!