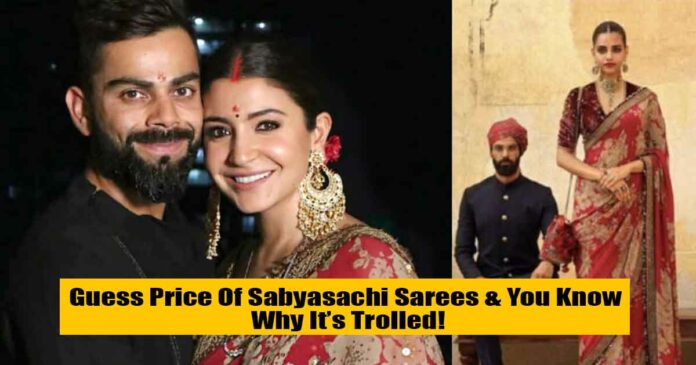 Designer Sabyasachi is known for his expensive attires and eloquent designs. Famous celebrities love to endorse this designer's brand. Most of the common cannot afford his attires. And if a regular person gets to wear his attires, then it surely means that the person has finally arrived at some status. The designer gets a lot of attention on social media for his unique designs.
However, this time, it's for all the wrong reasons. If you don't know, he has launched several attires after joining hands with H&M such as printed fishing jackets, wide-legged pants, and flowy floral dresses. Without fail, he also launched some jewelry options as well. Recently, the designer has launched his new collection of sarees.
Check out the first post of new Sabyasachi X H&M collection:
View this post on Instagram
Well, it did not go well with the audience and now he's getting a lot of criticism for it. He gave us all a sneak peek of it on Instagram and viewers couldn't stop bashing. It looks like the Sabyasachi X H&M collection's first saree came straight out of an average Indian woman's closet. The brand that always aimed for uniqueness and best designs has ticked off a lot of people with its new collection.
According to Times Of India reports, an Indian-American content creator calls out Sabya's move on her Instagram story. She wrote, "I'm disappointed in Sabyasachi for collaborating with H&M while his karigars ( who I thought he valued greatly) sit by and watch as their designs are cheaply mass-produced. I hope they're getting a cut. I hope he knows who is actually being employed in the H&M supply chain for this line."
Take a look at the screenshot of her full story on Instagram: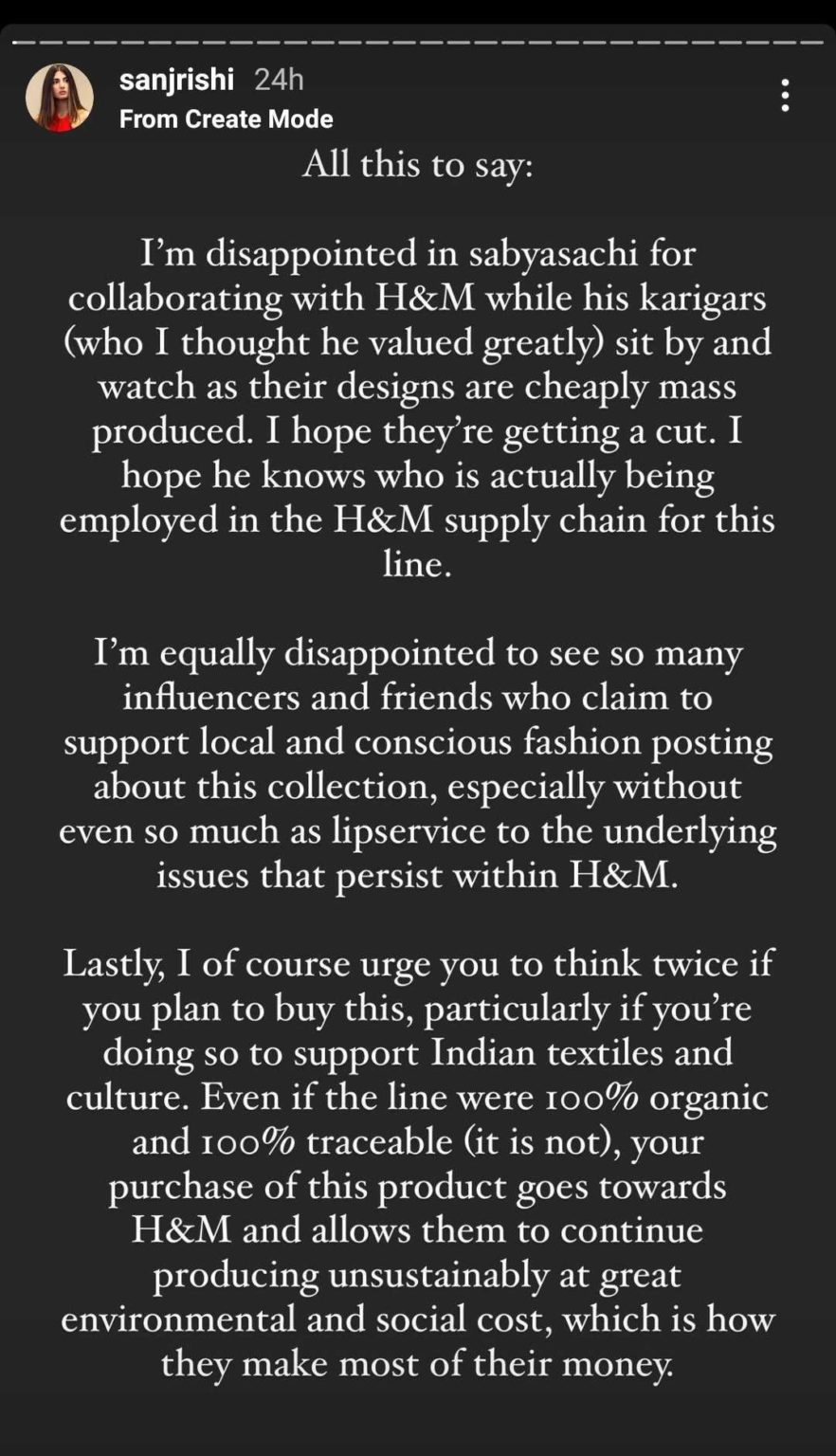 Apart from her, many people thought that the saree looks exactly like their grandmother's saree. Someone said that it feels like it came out straight from his grandma's cupboard. However, what bugged people more was that this very plain saree costs a whopping ₹9999. After getting to know the price of this saree, people are shocked and are calling him out for ripping off the design from literally every saree shop.
Check out the views of Twitter users in their own words about this grandma's saree collection:
That's a cotton printed saree and almost every Bengali woman used to have at least half a dozen. They turn wonderfully soft with every wash, and later used to be stitched in kanthas or used as kitchen wipes.

— Urmi (@urmisgr8) August 10, 2021
Bought 20 years back from Pune. Sanganeri print , it is pic.twitter.com/1JxyEHesfL

— HPatil (@himani27) August 11, 2021
I'm pretty sure my grandmother had a very similar saree in 1970s which didn't cost her a kidney pic.twitter.com/RWphJoNHGw

— agila ulaga powerstar (@currdfriedrice) August 10, 2021
This is the knock-off. My grannies wore this stuff all their lives and it was never expensive and the fabric was so good that we made quilts out of them later and we still have those.

— Deepti Sharma (@cowbai) August 10, 2021
I've same saree in slightly different colour and at very reasonable rate. Now indian shopkeepers will sell the same stuff after raising the price and saying it's Sabyasachi dupe 😐.. though what's the contribution of designer here …?? https://t.co/nHGoE4j3Mn

— ell (@honeyviscous) August 10, 2021
Its giving me Sridevi from English Vinglish vibes pic.twitter.com/vLsT4lGX5B

— Emi.ly (@Emi6289) August 11, 2021
That Sabyasachi is coming up with H&M collection saree at Rs.9999 adai that looks like Vaayil Cotton pudavai from Ambika Textiles da

— kaapiccino (@kaapiccino) August 10, 2021
Not nly ur grandmother m sure all our grandmother had this print..😊

M sure this whole look cn b created under 1k..

— Dr.Asma Parekh🇮🇳 (@AsmaParekh) August 11, 2021
a whole collab with mf sabyasachi and they put a t-shirt with an ugly saree?? h&m will pay for their crimes https://t.co/XC930NK1lf

— bepo (@sameehahaha) August 11, 2021
Someone at sabyasachi apparently. Even my laziest saree look would be so much better. Like my aunt literally wears such saris every damn day at home.

— Pri_C. (@SilentSilver05) August 11, 2021
This outfit SCREAMS cheap 😭 who tf thought this was a good idea-

— Tanu🧚‍♀️ SHANG-CHI ERA (@eternalsxtanu) August 11, 2021
Then there was the men's design. A basic kurta that we may have often seen at local stores selling with cotton-soft kurta material.
Take a look at the official post on Sabyasachi's Instagram handle:
View this post on Instagram
However, on the 12th of August 2021, the collection is launched on the H&M app as well as the Myntra website. At 12 physical stores across India, the pieces would also be available which include the brand's outlets at Phoenix Palassio (Lucknow), V R Punjab Mall (Mohali), and Select City Walk (New Delhi).
So, is it sticking to the roots or just lazy designing? Share your thoughts in the comment section below.