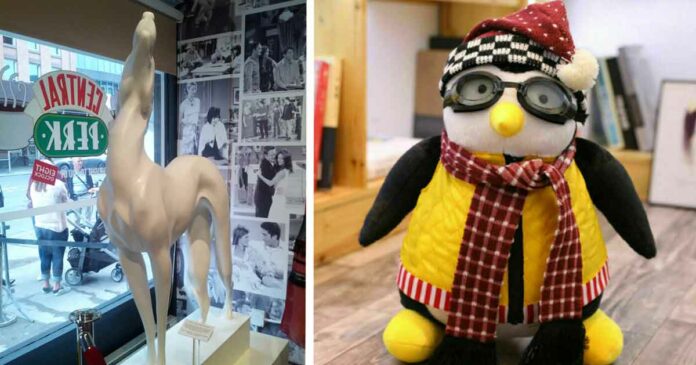 Look, this article is for the die-hard ("DIE HARRRRDDDDD!") fans of FRIENDS. And, if you're not one of them, then you should probably leave now. But if you are like us, then just go ahead.
It's been more than two decades since the last episode of the iconic sitcom FRIENDS aired. But the obsession among the fans for the series is still high. They don't just love the six main characters of the show, but everything in it. Even the props used in the show hold a special place in our hearts and that is why to mark the celebration of the 25th anniversary of the show, Warner Bros. announced the auction of a few famous props for charity.
Not all the props could hit the charity table but definitely hits our hearts, whenever we notice them. Many of us might already have some similar arrangement in our homes. And I must say, owning something close to FRIENDS is really a thing to be proud of. Today we have tried to go down memory lane and extracted a few props from the show. And we haven't just mentioned the name but the props mentioned here have a story associated with them. The story in itself might be hilarious at times. So let's dive into the list of some famous props used in FRIENDS which helped to make the episodes hilariously memorable. Let's check out:
1. The Jouets Poster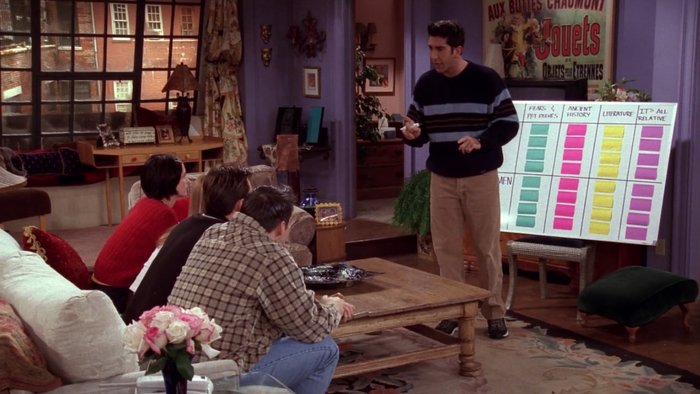 Rachel Green and Monica Geller's shared apartment was painted in purple, and the living-room walls were usually broken up with artworks. It was done to make sure that the apartment's purple paint wouldn't overwhelm TV viewers. You might have noticed that a poster was used to fill up space between the television and 1930s buffet. In an interview, Mr. Grande said, "I was scrambling, so I picked out this image of a French vintage carnival poster from one of my research books and had it blown up. It fit the apartment's feminine, eclectic style, and it was believable for Monica(who is a chef) because it was a good design on a budget."
2. The Boys' Recliners
Joey Tribbiani and Chandler Bing favored an unapologetically bachelor-pad vibe with their hulking leather recliners. Mr. Grande admitted, "I looked for the most obnoxious ones I could find." And, Mr. Shaffner said, "Those chairs were about one thing: comfort and where to put your beer."
3. Central Perk's Sofa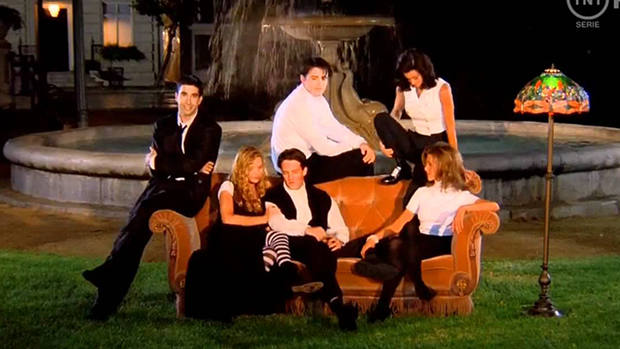 This early-1900s tufted-mohair sofa with burnt-orange color salvaged from a collection of Burbank's Warner Bros. Studios. Mr. Shaffner noted that the sofa's design encouraged a comfortable and home-away-from-home posture. Mr. Grande said. "We went with repurposed, old-school pieces and a palette of rich earth tones." It was the go-to haunt that had to be cozy for the gang but different from the apartment sets.
4. The Peephole Frame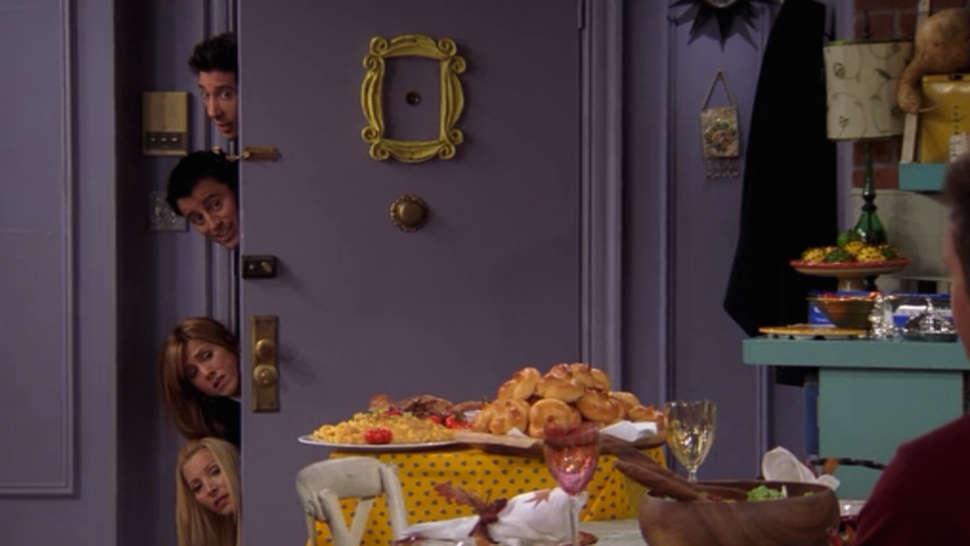 Rachel Green and Monica Geller's front door was an unadorned slab issue for NYC rentals. Mr. Grande recalled, "I'd bought this yellowish-gold papier-mâché picture frame at a craft fair intending to use it on a side table, but the glass broke. I took the backing off and tried it over the peephole." Mr. Shaffner added, "I took one look and said, 'Glue it on!"
5. The Apothecary Table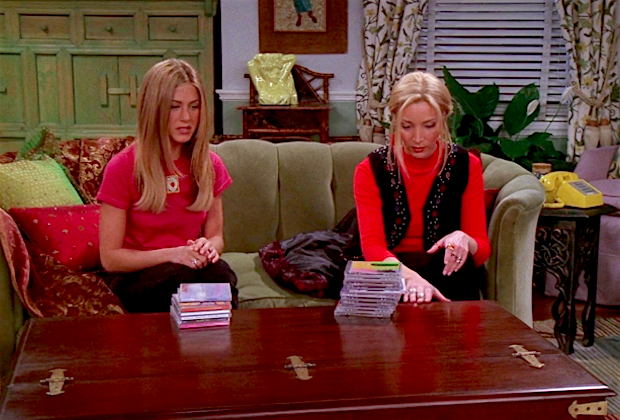 Rachel moved in with Phoebe Buffay in Season 6. She was trying to pass off a Pottery Barn table to her counterculture roomie as an antique. The fib flew and thanks to the item's apothecary drawers, brass hardware, and mahogany finish until Phoebe discovered Ross Geller owned the very same one. The not-so-subtle product placement had an amazing effect. The table was purchased by the fans in droves that Pottery Barn reissued.
6. Pat the Dog
For Joey, success looks like this molded-plastic greyhound statue. After getting his first big break of a recurring role on "Days of Our Lives", he walked out on a flashy new apartment. Referencing the character's heritage, Mr. Grande said, "The only note I got was 'Give it a little Italian flair.' I went to a store called Italy 2000 and saw this dog. It had a seventies flavor and was too funny." Rearing its canine head in numerous episodes, the piece took on a life of its own. Mr. Grande can be spotted playing a mover wheeling it out on the series finale.
7. The Boys' Laurel and Hardy Poster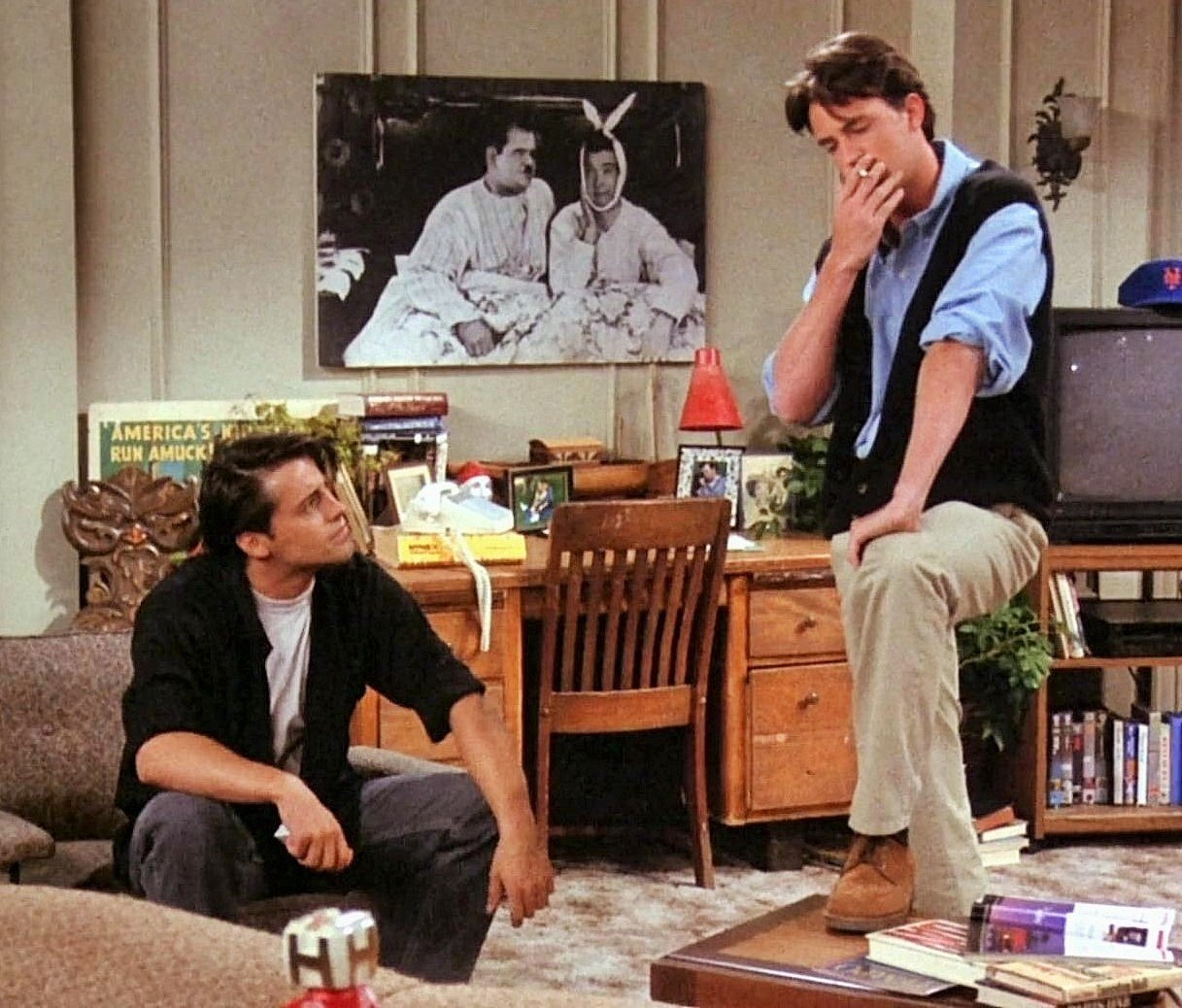 Isn't it bromantic? Chandler Bing and Joey Tribbianni's brown-and-beige lair was intentionally left under-decorated. Mr. Grande said. "We wanted it to look a little barren and like they didn't really care. Still, we had to fill the walls with something." This black-and-white poster of Stan Laurel and Oliver Hardy, entertainers of early-20th-century unframed and haphazardly taped up that fit the set perfectly. Moreover, the late comedians' popularly in a codependent relationship that cleverly echoed the boys' own buddy dynamic. Mr. Shaffner said, "Part of Joey and Chandler's charm was that, in their own way, they were a couple."
8. Phoebe's Gladys portrait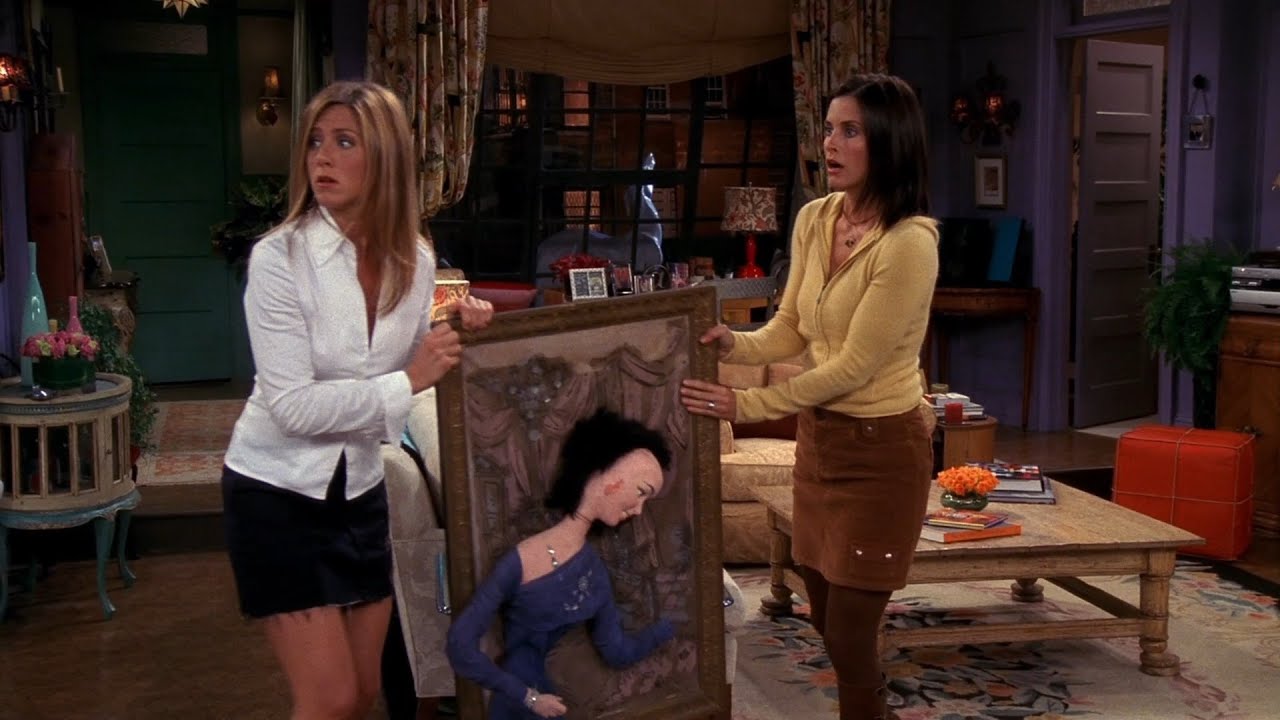 Phoebe is quite the artist. She created her own three-dimensional Gladys herself. Gladys is a short-haired woman whose half head tilted out of the frame. She doesn't have a left hand and is dressed in blue. However, Phoebe had to clear out a bunch of her stuff when Mike moved in to make space for him including Gladys. It was a piece so hideous that Rachel and Monica actually fought over who has to take possession of it. Finally, it landed at Monica's place. It was just included in the show for fun but it became so successful that Pottery Barn recreated it.
9. Rachel's Dirty Book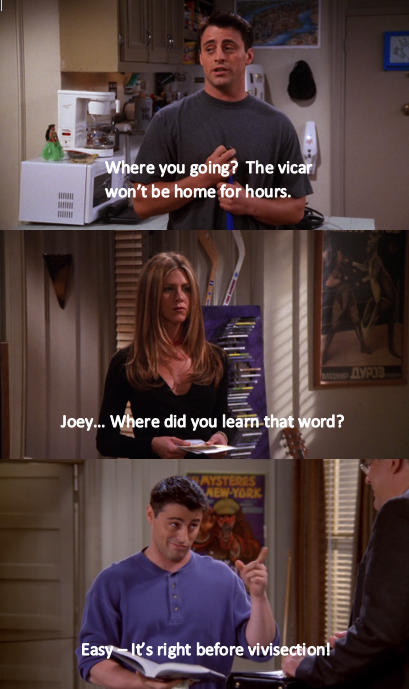 The 'dirty book' Joey finds in Rachel's bedroom seems to be a prop rather than a genuine book in FREINDS. And, Rachel's love for adult literature was previously referenced in "The One With Mrs. Bing". So, to spice that up Rachel's dirty books were added to the show. Rachel comes in for a lot of clowning from Joey when he discovers that she had an erotic book. We can't be the only ones thinking about its narrative arc, can we?
10. The Hugsy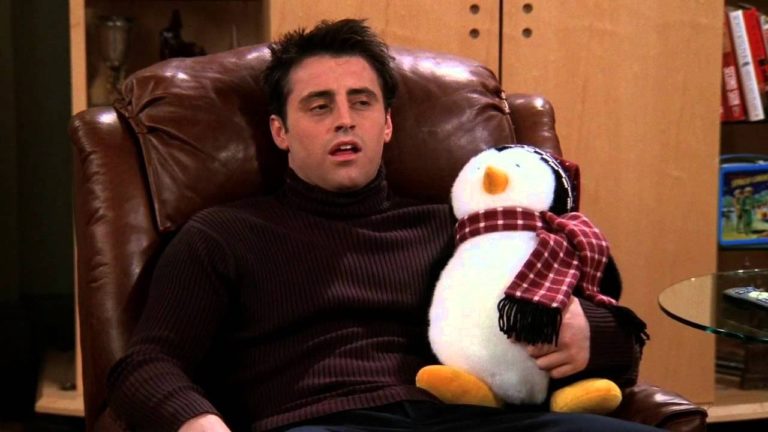 Hugsy was originally mentioned accidentally by Joey in the episode "The One Where Everybody Finds Out" as his "bedtime penguin pal". It is at that moment that he tells Rachel how he stole Hugsy from a child, and also swallowed his button years back. Later, Hugsy is on the chair beneath the dartboard in the episode "The One With Ross's Teeth" when Chandler and Joey talk at the beginning of the episode. Not just that, we noticed it in several other episodes as well. It was a fun addition done by Mr. Grande.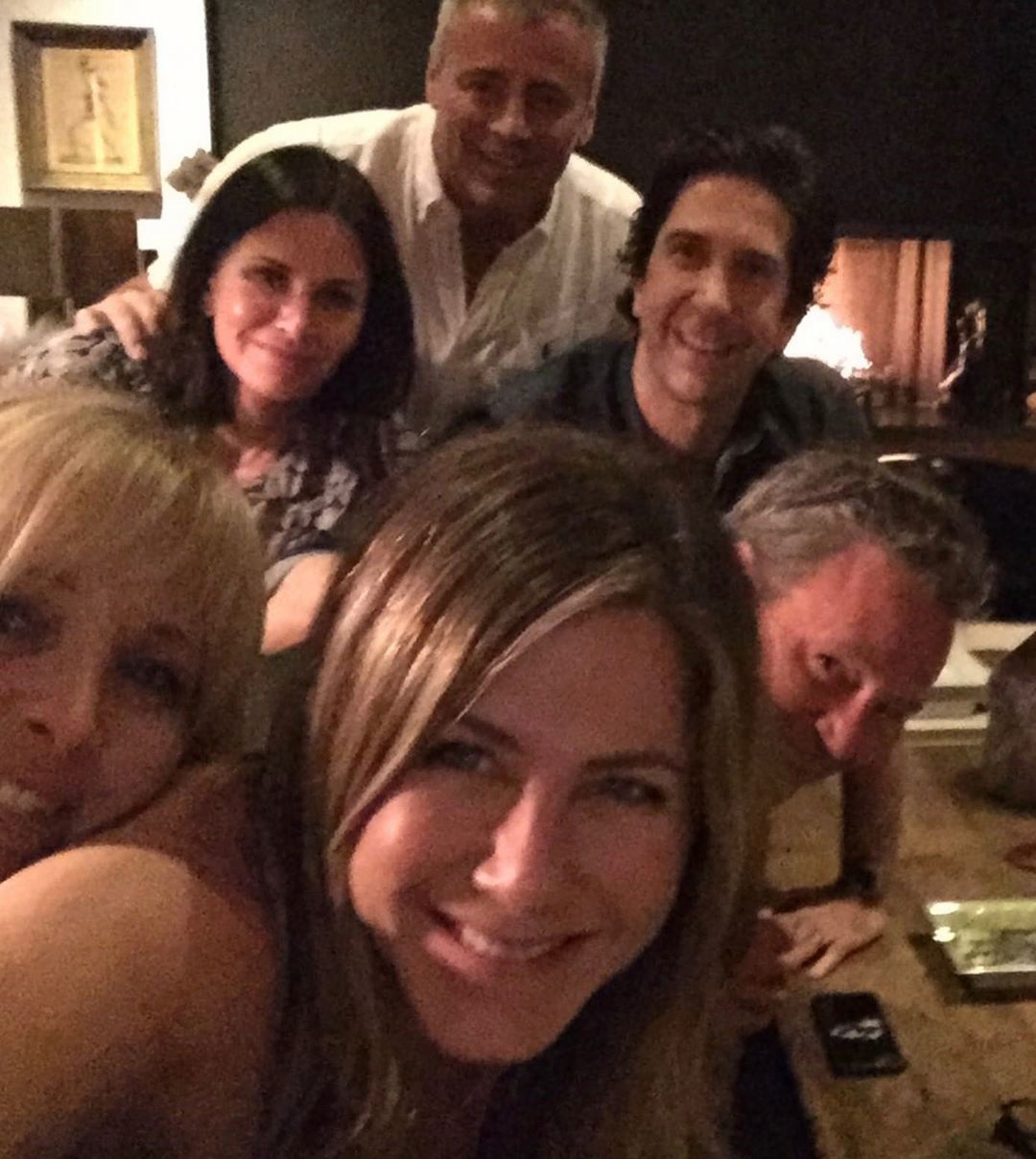 Meanwhile, all the six main characters of the FRIENDS are set for the reunion special. It will finally bring them back together on the NBC comedy's original soundstage. Lisa Kudrow aka our favorite Phoebe Buffay recently confirmed the long-awaited FRIENDS reunion show has now started shooting. This extra-special program was due to air last year. But due to the coronavirus pandemic, it had to be pushed back. However, Matthew also told fans on Twitter that the reunion is scheduled to be premiered at the beginning of March.