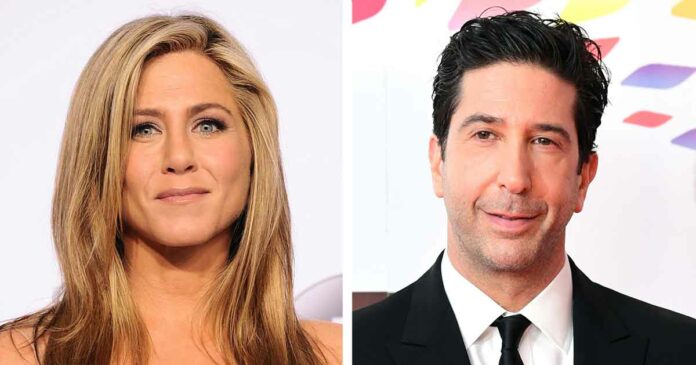 You clicked to read the favourite scenes is enough to prove that you are a true fan!
Everyone who watches FRIENDS is bound to fall in love with the series. Even after 26 years, it is continuing to add more and more fans. The number of fans is never going to stop because the show is a masterpiece in itself! So we are feature a few scenes from the show in this piece that every fan loves. See if you agree to the list or you have your own favourite.
The One Where They Don't Know They Know
FRIENDS was about six people hanging out together, and we enjoyed it always. Be it the central perk or Monica's apartment; we always enjoyed it when everyone was hanging out together. But at times they would split and have their own little adventures. One such adventure was when Monica and Chandler were dating. They had their own secret life, and it was funny when they tried to hide things from others. Initially, Joey wasn't aware of their little secret, but later when they looped in Joey, things got even funnier. The time when he had to lie about his underwear or the time when everyone declared him a pervert for looking at Monica's naked pic., it was all hilarious.
When Phoebe learned about Monica and Chandler dating then instead of confronting them, she thought of a naughty plan. The way she used to tease Chandler all those while and the way everyone was acting against each other couldn't be more comic. And the final part where "they knew that they knew but they didn't know that they knew" was like a cherry on top! During all those know-know dialogues, Joey was the one whose face you couldn't miss watching. Poor Joey!
The One With The Europe Story
The Europe Story thing was great. We know Rachel's pregnancy was a shock to every one of us and not just Ross. But Phoebe's wacky efforts to cover up the pregnancy and the way Ross reacted after learning about the baby was all good. But then things got even more interesting when Ross revealed that he accidentally filmed his conversation with Rachel before they got into the act of love.
You remember the story Joey gave to Ross and advised him to use the same when he wants to get someone in his bed. Well, in the recorded conversation we found out that Rachel was really the one who started to entice Ross and then we know how things changed for them forever. But yes we enjoyed the episodes a lot and the Europe Story became memorable.
Phoebe's Evolution Story
Phoebe is a secret genius indeed! Else how can someone manage to be so cunning and shatter someone's whole belief system so easily? First, it was Phoebe who said she did not believe the theory of evolution and we know Ross how badly he loved his science. So as expected he put on his PhD Cap and collected all pieces of evidence he could to prove to Phoebe that evolution is real.
But Phoebe managed to just put Ross in a loop of confusion and forced him to accept his defeat. And just when he accepted his defeat the dialogues that came out of Phoebe were humiliating for Ross but hilarious for us. The way she manages to defend and prove herself is exceptional and everyone enjoyed who laughed at those jokes. But I felt sorry for all science geeks though! Maybe it was the moment when they started hating Phoebe. *laughs*
The One With Chandler's Toe
The flashback episodes in FRIENDS had their own charm. They were unique in a way and never failed to entertain. In fact, some of the moments were the most hilarious ones ever. The one episode during the Season 5 thanksgiving is one you can never forget. That's the episode where we get to learn that Chandler did have more than one physical deformity. The nipple was weird but losing a toe was another sad story for him, he was even named Sir Limps A Lot for his toe.
The back story of the severed toe made us all laugh and was beautifully show. In the same episode, we also learn why Monica decided to be slim and how badly she was hurt because of Chandler's one silly comment. But her revenge though not intentional went on too far! Getting a severed toe in return of a silly comment is too much! But we can't blame Monica either as it was not intentional.
Anyways, the flashback episode where Chandler lost his toe was enjoyable and loved by fans a lot.
Ross And Rachel Finally Kissing
Ross and Rachel were always the most sought out couple, and the world stopped for a moment when they finally kissed after going through so much. The kiss is probably one of the most liked scenes in the show for fans and might also be one of the most iconic scenes on television. In the second season, the chemistry between the two was gradually building up, and later Ross finds out that Rachel has been harbouring feeling for him so it became a catalyst to their relationship. Ross set the torch for her for years, but when they could be together, they messed up.
The two had a passionate argument and eventually parted ways. But then their bond was too magnetic to keep them away for long. And finally, after all the fights, problems, sorrow and more they come back to each other, and the kiss was so divine.
These are just a few scenes that we found to be the most liked scenes from FRIENDS. I am sure you have your own favourite. The show is huge because 10 seasons is not a joke. And out of those 10 seasons, selecting just 5 is impossible. But we had to. And I am sure you too can do it. So start sharing with us your favourite moments. The show is so addictive that fans fall in love every time they watch it, and every episode is love. But still, it's time you pick your favourite now!