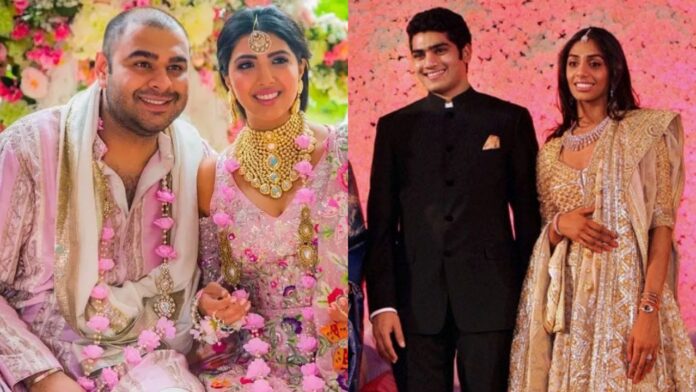 Indian weddings are renowned for their extravagant customs, extensive feasts and lavish gifts creating a grand and joyous affair. The typical Indian wedding costs an average of 10 to 20 lakhs, with couples often saving for years in anticipation of their special day. However, have you ever pondered the expenditure of the wealthiest individuals when it comes to their weddings? Billionaires are celebrated for their grandiose gatherings and luxurious lifestyles, but have you ever wondered about the price tag attached to their nuptials?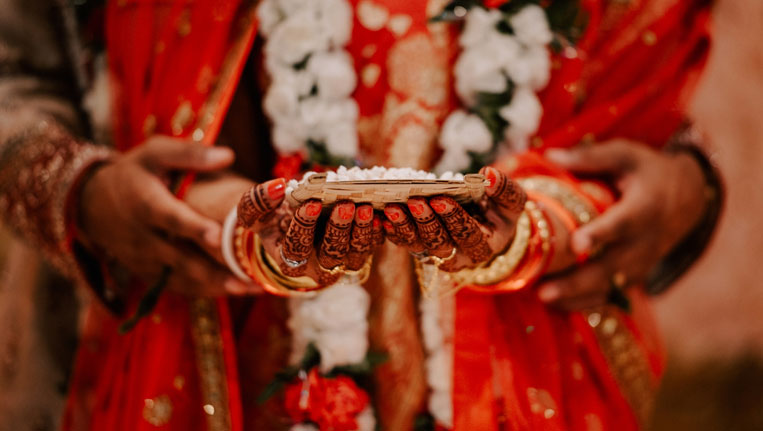 Here's a compilation of the most extravagant weddings and the astonishing sums spent by the richest individuals to celebrate them.
Vanisha Mittal and Amit Bhatia 
When Vanisha, the daughter of Lakshmi Mittal, tied the knot with British businessman Amit Bhatia in 2004, it captured the attention of the media. This wedding was not only a significant event but also earned recognition from the Guinness World Records as the most expensive wedding.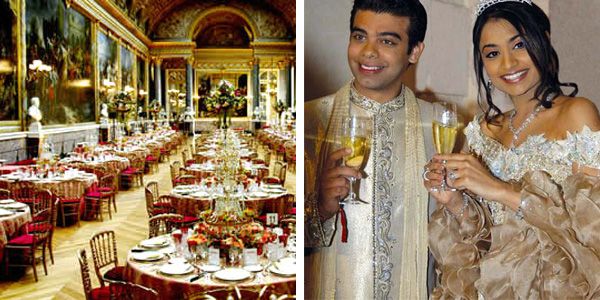 The couple's marriage ceremony took place in an extravagant setting at the Palace of Versailles, followed by a dinner prepared by specially invited Indian chefs in the renowned Jardin des Tuileries. The actual wedding occurred a short distance away at the 17th-century Chateau Vaux le Vicomte. The guest list included celebrities such as Aishwarya Rai, Kylie Minogue, Shah Rukh Khan, and others who participated in the six-day celebration, serving both as guests and performers, as acknowledged by Guinness World Records.
This extraordinarily costly wedding, estimated by Forbes to have cost $60 million, has been acclaimed as the epitome of opulence. It's worth noting that Kylie Minogue purportedly received $330,000 for her half-hour performance at this extravagant event.
Isha Ambani and Anand Piramal 
Isha Ambani, the daughter of billionaire tycoon Mukesh Ambani, exchanged vows with Anand Piramal in a grandiose event that drew guests from across the globe.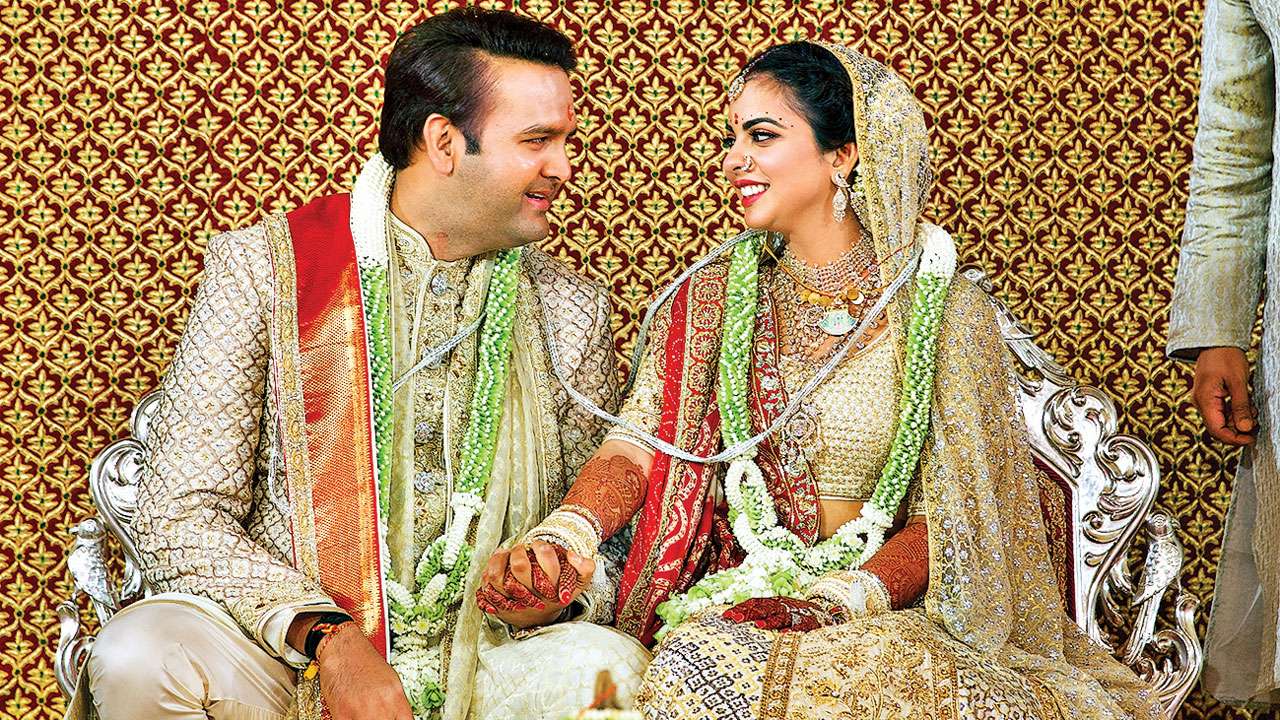 The wedding festivities unfolded in Udaipur, Lake Como in Italy, and culminated at their residence in Mumbai. Notably, the guests were presented with wedding invitations enclosed in Dolce & Gabbana boxes. Beyonce reportedly commanded a fee of $15 million for her 45-minute performance, which featured multiple outfit changes. These are just a few examples of the extravagant elements that graced this magnificent wedding celebration.
View this post on Instagram
It's worth mentioning that even Hillary Clinton was in attendance at one of the pre-wedding ceremonies. As per Lifestyle Asia, the Ambani family expended a staggering sum of Rs 700 crores on this exceedingly opulent event.
Brahmani Reddy and Rajeev Reddy
Gali Janardhana Reddy, a former politician and mining tycoon, faced substantial criticism for his daughter's wedding. Amid a nationwide financial crisis, he reportedly expended a staggering Rs 500 crores for the event. This five-day celebration at the Bangalore Palace drew 50,000 attendees, including numerous Bollywood celebrities and politicians. The groom, Rajeev Reddy, is the son of Hyderabad business magnate Vikram Dev Reddy.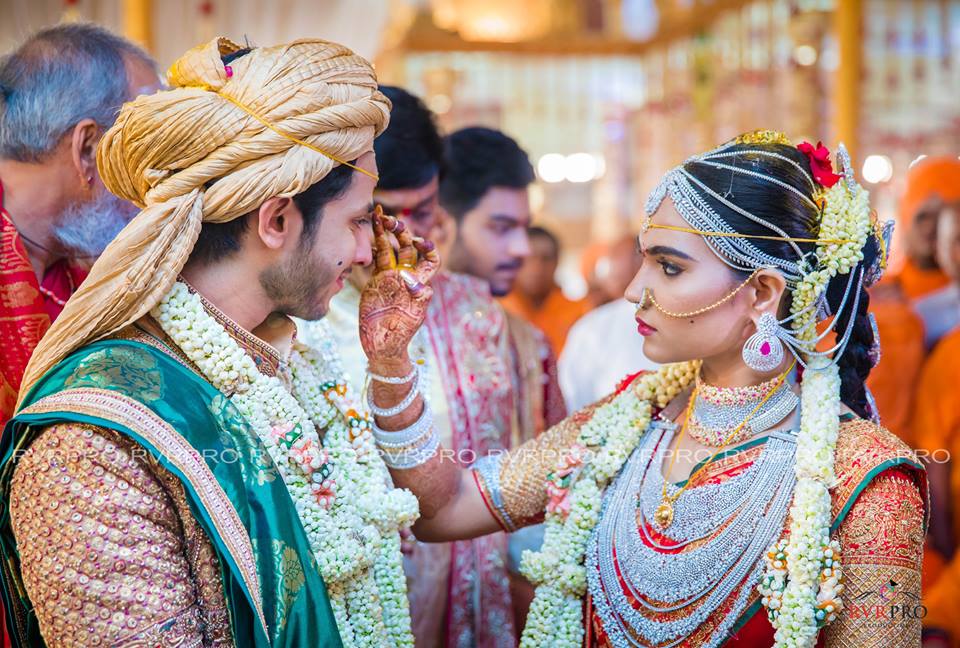 The wedding's exorbitance was exemplified by the bride's bridal saree, which was valued at an astounding Rs 170 million, making it one of the most expensive Indian weddings in history. The extravagant wedding invitations, priced at Rs 5 crores, featured a gold-plated LCD screen with a video of the couple and the politician lip-syncing to an Indian song, as per various reports.
Sushanto Roy and Seemanto Roy's Double Wedding
Subrata Roy, the former head of Sahara Group, who later faced a catastrophic collapse of his business, was renowned for his extravagant lifestyle and extravagant gatherings. In 2004, he orchestrated a lavish double wedding for his sons, Sushanto and Seemanto, leaving no expenses spared. The wedding festivities unfolded at Lucknow's Sahara Stadium, extending over an entire week.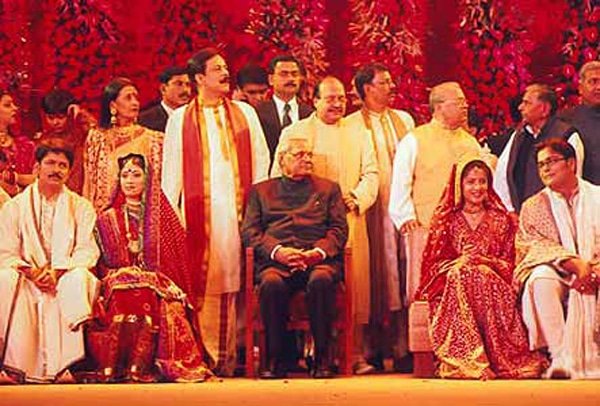 The guest list comprised not only the crème de la crème of Bollywood and the sports industry but also more than 11,000 attendees. Subrata Roy ensured that the double wedding was a grand affair, with guests being flown in on private aircraft, the solemnisation of 101 marriages for underprivileged girls, and the offering of over 100 diverse cuisines to his 11,000 guests, as reported by Scoopwhoop.
Sonam Vaswani and Naveen Fabiani
Sunil Vaswani, the founder of Stallion Group and one of the wealthiest business magnates in the United Arab Emirates (UAE), is the father of Sonam Vaswani. She celebrated her nuptials with Navin, the son of Kamal Fabiana, in a lavish wedding held at a regal venue in Vienna, Austria.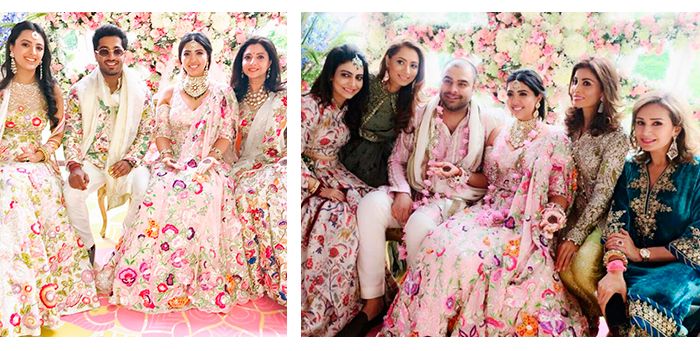 The Belvedere Palace served as the setting for the main wedding ceremony, while the mehendi ceremony took place at Vienna's Palais Liechtenstein Park, featuring a performance by Sukhbir. This event was hailed as the most extravagant wedding of the year, with expenses reportedly reaching Rs 210 crores, as per reports by Scoopwhoop.
Mallika Reddy and Siddharth Reddy
The marriage between Siddharth Reddy, heir of the Indu Group, and Mallika Reddy, the granddaughter of industrialist GVK Reddy, set a new benchmark for opulence.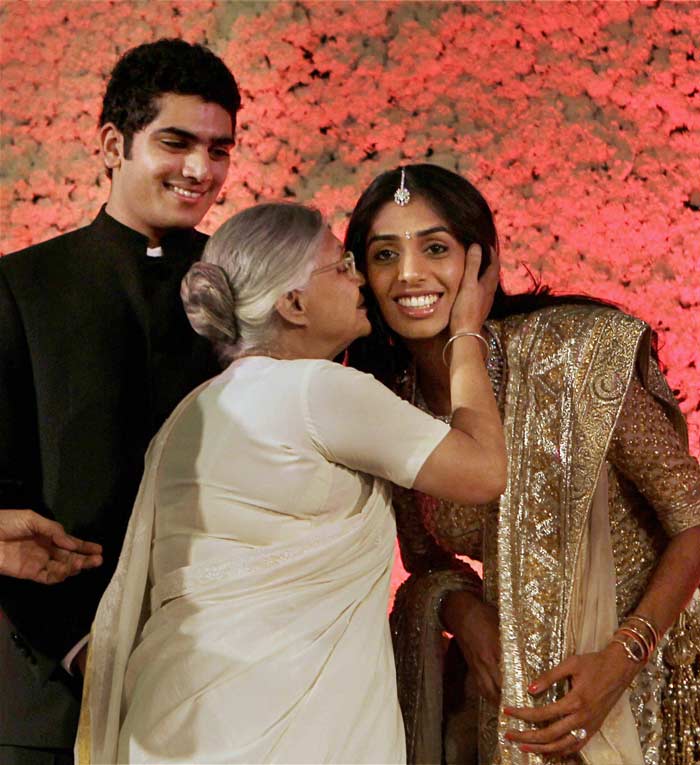 Reportedly, nearly 6,000 individuals attended the wedding, where no expenses were spared. The Reddy family went to great lengths, chartering planes for out-of-town guests and providing meals to all attendees in silver plates.
Adel Sajan and Sana Khan
Adel Sajan, the prominent figure behind Danube Home, opted for a unique cruise wedding. Aboard the Concordia-class Costa Fascinosa cruise ship, which journeyed from Barcelona, Spain, to Marseilles and Cannes, France, concluding in Savona, Italy, Adel Sajan and Sana Khan orchestrated their wedding.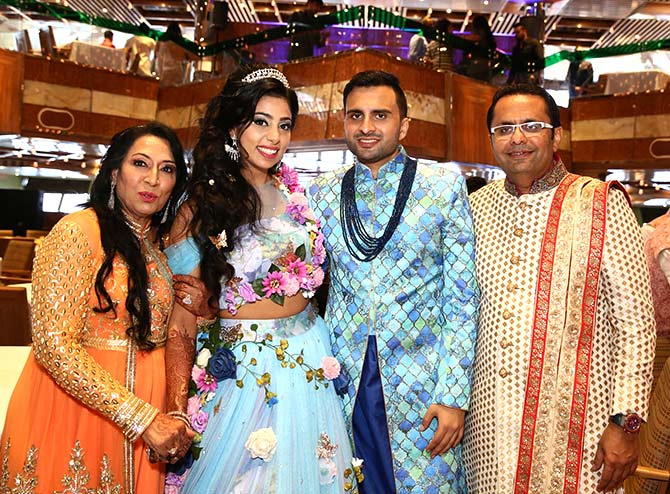 This extraordinary event featured personalized hampers from Harrods for guests, a sangeet performance by Badshah and Vishal and Shekhar, speeches delivered by Gauhar Khan and Sushmita Sen, and the newlyweds cutting a 10-layer cake during the reception. The total expenses for this extravagant celebration exceeded Rs 100 crores.
Read more: Passport turned into Telephone Directory by Wife leaves Netizens Giggling