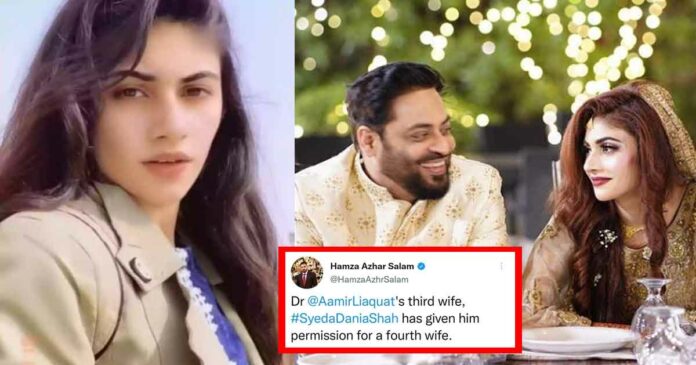 The internet recently flooded with images when a Pakistani politician and a member of Pakistan's national assembly, Aamir Liaquat, married an 18-year-old girl named Saeda Dania Shah. It's interesting to know Danya is his third wife, and there's an age gap of 31 years between them. Breaking the stereotypes, the couple has got quite the limelight but they hit the spotlight yet again but this time with something even spicier than a third wedding.
Dr Aamir Liquat's Instagram Caption
Here's a glimpse of Aamir Liaquat, Prime Minister Imran Khan's PTI member, and his Instagram post that announced his wedding. On 10th February 2022, he announced his third marriage which looks like quite a grand event.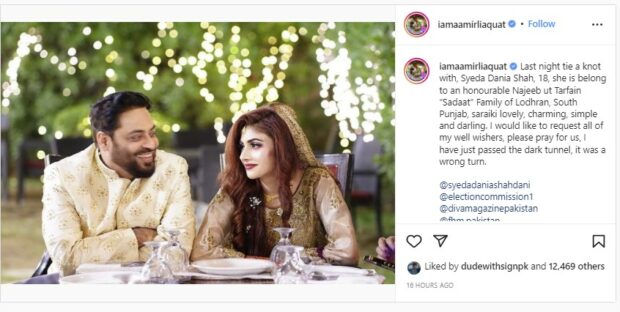 The Instagram post's caption grabbed quite an attention as it read that last night, he tied the knot with Syeda Dania Shah, 18, who belongs to the prestigious Family of Najeeb ut Tarfain "Sadaat" in Lodhrān, South Punjab. His love and affection for the newly connected family were quite evident with his use of quite flattery adjectives like Saraiki, lovely, charming, simple and darling.
Dr Aamir concluded his post by saying, "I would like to request all of my well-wishers, please pray for us; I have just passed the dark tunnel; it was a wrong turn." The couple really looks good together even after the age gap and they surely deserve the demanded wishes and love. Talking about the dark tunnel, mentioned in the post, he referred to his recent divorce from his second wife which came on the same day as his third wedding.
Scenes From The Second Divorce
You read it right that Aamir Liaquat's third marriage happened on the same day that his second wife announced their divorce. It might look strange to a few people but the ex-couple had their own arguments as discussed further.
If you haven't noticed already, Dr Aamir tied the knot with Dania on 9th Feb as confirmed by his post. Earlier on the same day, his second wife, Tuba Aamir, confirmed the divorce between the two. Tuba is a Pakistani actor and a well-known face in her country.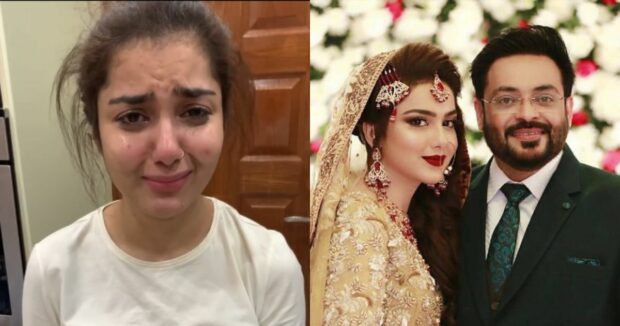 Tuba revealed that the relations between her and Dr Aamir were not going good while they stayed separated for almost 14 months before confirming the divorce. Considering the fact that there was no scope of reconciliation in their marriage, Tuba finally went on to take Khula from the court. Khula is a term from Islam that indicates the process of a woman taking a divorce from her husband in Islam.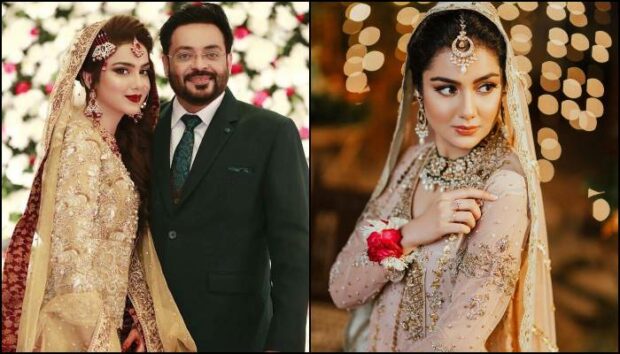 After a confirmed divorce, the new couple was established the same day and they were found to be exceptionally social about their relationship. Aamir Liaqat posted a video on his Instagram with his current wife. While Dania posted photos of the two which later flooded the social media.
From Childhood Idol To Husband – The Story
In a post-wedding interview, Aamir's new wife confessed to having married her "childhood idol". When the interviewer asked Dania about the moment when she fell in love with Liaquat for the very first time, she replied that it swiped in right from her childhood. She used to watch Aamir on TV since her childhood days and there she fell in love with him. Given the 31 years of the age gap, it doesn't seem quite surprising but indeed sounds cute. Every time she cried, her parents used to show her pictures of Aamir on TV. So looks like someone got lucky and got to marry the childhood crush.
#AamirLiaquat new interview after marriage with #SyedaDaniaShah at #NadirAli podcast 🥲🤣#amirliaquat pic.twitter.com/vk9HvE6zUH

— Malik Shoujaat 🇵🇰 (@Malok_Shoujaat) February 11, 2022
In the above video, you will hear the interviewer asking Dania if she ever imagined she would marry the man she had seen on TV. To this, Dania replied she still can't believe they are married and Aamir is all hers!
Fuss About The Fourth Marriage!
Many singles all over the world are striving hard to gulp the fact that a man can get married three times but they are going to get even more jealous with a new interview of this new couple which surfaced online.
In this new interview, you can hear Dania, the new bride, allowing Dr Aamir to have a fourth marriage if he wishes to. Her love seemed so pure and unconditional that she conquered the most fearful moment in any women's life.
In a recent interview, Aamir Liaquat's new wife spoke about how she faces criticism after marriage and that she allows her husband to remarry as well if he wills. #AamirLiaquat #SyedaDaniaAamir pic.twitter.com/FwCdvctdgP

— Galaxy Lollywood (@galaxylollywood) February 11, 2022
The video above again hit the internet hard bringing the couple into the limelight. There are numerous reactions and varied opinions flooding in but the fact that the couple managed to crack all stereotypes and live life on their own terms is commendable.
Recently, another story that has resurfaced includes Model Haniya Khan from Karachi who claims to be Aamir's third wife. If this ought to be true, then his marriage to Syeda Dania Shah would be the fourth marriage in itself which sounds quite surprising. Haniya has been claiming about their marriage for quite a time now and with the newly married couple on the shelf, Haniya too is trying to put her story back for justice.
More details about Model Haniya Khan and her claims to be covered soon. Till then we can get back to the newly wedded couple and see how the world reacted to this wedding.
Meme on Twitter
Twitter has had a big day ever since their wedding was announced. Pakistanis started sharing memes and making fun of the couple's age differences.
Here are some memes shared on Twitter on Aamir Liaquat's marriage:
Singles & Introvert Guy's are having a really hard time!
Single & introvert guy's yelling at #AamirLiaquat #SyedaDaniaShah pic.twitter.com/K2y66CyBj2

— Shafique | शफीक (@shafique_soomro) February 11, 2022
Every single guy crying like this won't be a surprising act!
Me watching #AamirLiaquat 3rd Marriage pics be like:- pic.twitter.com/bQenROC5Ck

— Malik Shoujaat 🇵🇰 (@Malok_Shoujaat) February 10, 2022
A picture in which Aamir was holding a baby has turned into a meme, where they mention that Aamir was holding his wife, Danya, 18 years ago.
#amirliaquat holding his wife just 18 years back.#SyedaDaniaShah #dania pic.twitter.com/koInhfUvfd

— FEBRUARY 🌏 (@TitturHoja) February 10, 2022
Another meme where Aamir was trolled regarding his marriage for the third time, compared with the unmarried people.
#amirliaquat has married for the 3rd time!!

Le Singles:🤣 pic.twitter.com/9Nv8YoK2Gt

— Ali Gilgiti 🇵🇰 (@RaeesAliBaigal) February 11, 2022
Nailed it#amirliaquat #SyedaDaniaShah pic.twitter.com/7ETyGllEgE

— Ishtiaq Ellahi (@IshtiaqEllahi8) February 10, 2022
Another meme where Aamir was trolled for being married for the third time also stated that other people in Pakistan are still unmarried.
Pakistani guys to #AmirLiaquat rn! 🙊 pic.twitter.com/FCoRwgEZcy

— Golgappa (@Hashbrown_nie) February 10, 2022
A video trolling Aamir Liaquat and his wife. 
Who did this😆#SyedaDaniaShah #amirliaquat pic.twitter.com/ZHydKLnkTW

— Shining Star (@Xhining_) February 10, 2022
Aamir's Daughter Response To Memes
The attention of social media for her father's wedding upset Aamir Liaquat's daughter Dua Aamir. It's sad but people tagged her on comments and memes on Instagram which seems quite unnecessary and insensitive.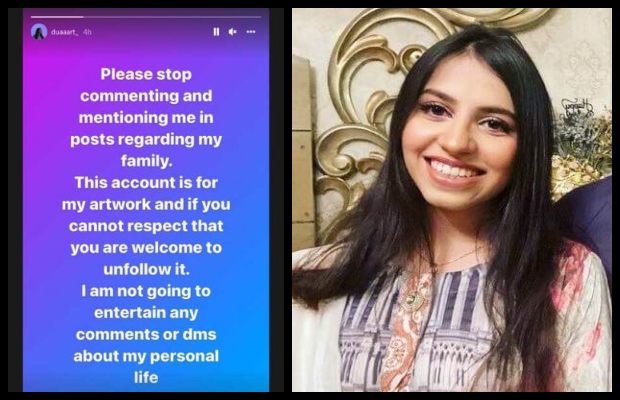 To end this, Dua urged the people of Instagram not to tag anyone related to her family. She also requested not to comment or mention her in posts related to her family. She also mentioned that her account is for artwork and if they can't respect it, then unfollow her. She will not leave any comments or DM about her private life. Request people to have opinions but not make the internet a toxic world.