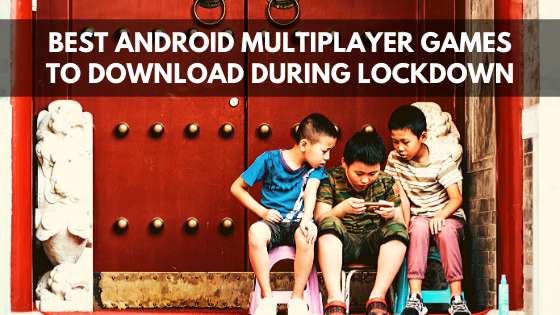 Lockdown is not at all joyful. But they are necessary to make sure there are no social interactions until the corona pandemic situation gets under control. During these days you're not allowed to step out of your house, you can't go to work, can't meet your friends. Huh, that sucks right? But hello, we live in the 21st century. The internet has made a lot of things possible out of which better social interaction is one of the most beneficial outputs ever made possible. All you need is your android mobile, sound internet, bunch of friends and you're good to go!
Recently, many android games are available on the internet to give people an extraordinary experience. And in these testing times what better than multiplayer games which you can play along with your gang. Believe me; nothing's crazier than a bunch of friends playing together.
So here's the list to kill all your time along with your buddies.
CHECK IT OUT!
ARCADE GAMES
PUBG MOBILE
PlayerUnknowns Battlegrounds or PUBG Mobile is undoubtedly one of the best online multiplayer Android games right now. If you've been living under a rock, here's what PUBG Mobile is all about: it's a battle royale game where 100 players drop down on an island where they have to gather weapons and fight to become the last man (or squad) standing. The game has a solo mode, a duos mode, and a squad mode so you can team up with your friends and fight for a Chicken Dinner.
Lately, PUBG Mobile has also added an Arcade mode, multiple new maps, and even a night mode. There's also a war mode which is complete madness in itself. You can unlock weapon skins and costumes, hand grenade bags, vehicles, and I bet you can't stop playing it all day long.
Play Store Link: https://bit.ly/2QUbPZJ
FORTNITE
Fortnite is a massively multiplayer online video game released in July 2017, developed by Epic Games. The set includes two different game modes released as early access: Save the World and Battle Royale. Fortnite Battle Royale is the free 100-player PvP mode. Fortnite is considerably different from PUBG, though; it uses cartoonish graphics and a lot of fun elements to make the game lighthearted. Plus there's a whole building mechanism involved here that no other online Android multiplayer Game offers.
Play Store Link: https://bit.ly/2Jt9Ibr
MORTAL KOMBAT
The fight between the characters of Earthrealm, Netherrealm, and Outworld combined with superpowers, and X-Ray moves are something players have enjoyed for decades on consoles. Now, the game is finally available for Android devices, with controls specially optimised for touchscreen devices. It has a bunch of characters to choose from and experience a fight like never before!
Play Store Link: https://bit.ly/3byjQeM
CALL OF DUTY MOBILE
Activision announced Call of Duty for Android and other mobile platforms and since then, it has gained immense popularity. A good chunk of mobile gamers even prefers CoD Mobile over PUBG, which is quite an amazing feat for the company. So how can we miss out on including Call of Duty Mobile in our list of the best online multiplayer Android games? Like other battle royale games (PUBG, FORTNITE etc.) you can play the iconic multiplayer maps from Black Ops and Modern Warfare and all these without any charges. You can also play the multiplayer game in a 100-person battle royale survival map or team up with your friends locally to have a personal squad. If you want to have some fun, you just can't miss this one!
Play Store Link: https://bit.ly/39wCL8x
LAST DAY ON EARTH
Do you want an extraordinary simulation of what's going around but with a touch of horror and added thrill to it? Then this could be the perfect game for you. It is a free MMORPG zombie shooter and survival strategy game. The storyline is set in the year 2027; an unknown plague virus infection wiped out most of the world's population. All the survivors have only one target: stay alive and survive as long as you can in this post-apocalypse game and shoot walking dead zombies. Your objective is to survive against zombies while creating new weapons and vehicles and scavenging for supplies. Interesting right?
Play Store Link: https://bit.ly/33XnaO5
MODERN COMBAT 5
This gem comes from the Gameloft studios and its one of their best productions for mobile gaming. It is undoubtedly the best first-person shooter game with its great graphics, high-powered guns and intense online multiplayer action. Plus, there's also a solo campaign mode for the lone warrior within you. All in all, Modern Combat 5 is the all in one game for FPS lovers.
Play Store Link: https://bit.ly/2yma4OL
STRATEGY GAMES
Chess by AI Factory
How about a game of chess with your friends? Time to brush up your strategic skills and move the pawns, bishops, knights and queen. AI Factory Limited allows two users to play the hot-seat game on the same device. Do not worry, if you are new to chess, then the app has a few first-class tutorials so that you can develop your skills and improve your Chess strategy. What I like about this app is that it's pretty modern, does not bombard with ads and performs pretty well.
Play Store Link: https://bit.ly/2Uslyc7
Glow Hockey 2
The good old classic air hockey is now customised only for your smartphones, and guess what it glows as well. Glow Hockey 2 is the perfect local multiplayer game for you. The concept is simple – you control a striker, and the objective is to hit the puck into the opponent's hole. Give this game a spin if you fancy air hockey. I'm sure you'd love it.
Play Store Link: https://bit.ly/2JswHn2
LUDO KING
The classic board game is here! This time its on android and no more fighting for dices or turns. The concept is the same as the Ludo board of making your coloured token move with the throw of a dice. Thanks to Ludo King, you and your friends can easily play this game on the same device. So, what are you waiting for? Get rolling!
Play Store Link: https://bit.ly/39tMbBC
Doodle Army 2: Mini Militia
This one is an all-time classic with an old school touch. If I have to explain to you about this game, you've been living under a rock. Mini militia rose to fame almost instantly, being played by mobile gamers all over the world. You can connect to other players via WiFi and team up to form an army, or go head to head in a deathmatch combat mode. Players also get to choose from a variety of weapons as well as jetpacks and more.
Play Store Link: https://bit.ly/3dzEBIW
CLASH OF CLANS
Clash of Clans is one of the best Android games to play with your Facebook friends in multiplayer mode. This game goes beyond the competition against friends and brings co-op gaming where you have to cooperate with your friends and build a village and protect it from barbarians. As they say, it's an epic war between your town and fire wielding wizards. You and your friends have to raise a clan of Army, build walls, raid villages and collect a multitude of cannons, bombs, and mortars. At any cost, you will have to defend your town from other troops and intruders in the world of Clash.
The game becomes even better as it's deeply integrated with Facebook and your friends can ping you any time to defend the village. I would say, if you are looking for the best multiplayer game on android then you can't miss Clash of Clans.
Play Store Link: https://bit.ly/3bDMk7c
UNO!
Want to play your all-time favourite game UNO but your friends are at home and can't crash into your place? Simply get it on your phone, connect your friends to it and just start playing it's all the same but this time on your phone. The Classic Game at Your Fingertips. Play instantly anytime!
You can connect it to your Facebook and add more friends to your group and enjoy the game to it's best.
Play Store Link: https://bit.ly/2wPDXX9
TEEN PATTI
When it comes to having fun with friends, what better than a card game? Octro Teen Patti allows you to play 3 Card Indian Flash or Indian Poker with your Facebook friends in public and private rooms on android and iOS.Create your own private Teen Patti room and invite your friends to join. Buy Chips and Collect extra Daily Bonus online. Free App Download from Google Play Store and App Store.
Play Store Link: https://bit.ly/3bDEtGB
These are just a few suggestions. You must be knowing some even better names to keep us engaged all day. Don't shy away, enlighten us all by mentioning the names in the comment section below!