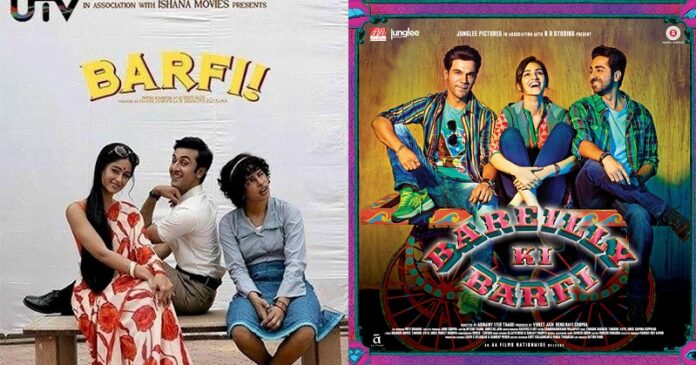 Love and Romance are key emotions since the start of the Indian film industry. Around these emotions, the Indian film producers have plotted many Romantic Bollywood movie scripts. From "Dil Dilwale Dulhaniya Le Jayenge" to the legendary "Mughal-e-Azam", Bollywood movies have shown us the typical old-school romance. It is a kind of fairytale to our Generation. These movies usually revolve around the typical boy meets girl, a family drama, fight with a villain or kidnapping, and ultimately, happy ending. Fortunately, the young producers have changed the kind of love of our generation.
Here is the list of best romantic Bollywood movies that have redefined the love for this new generation. So, grab your popcorn and start watching one-by-one:
1. Jab We Met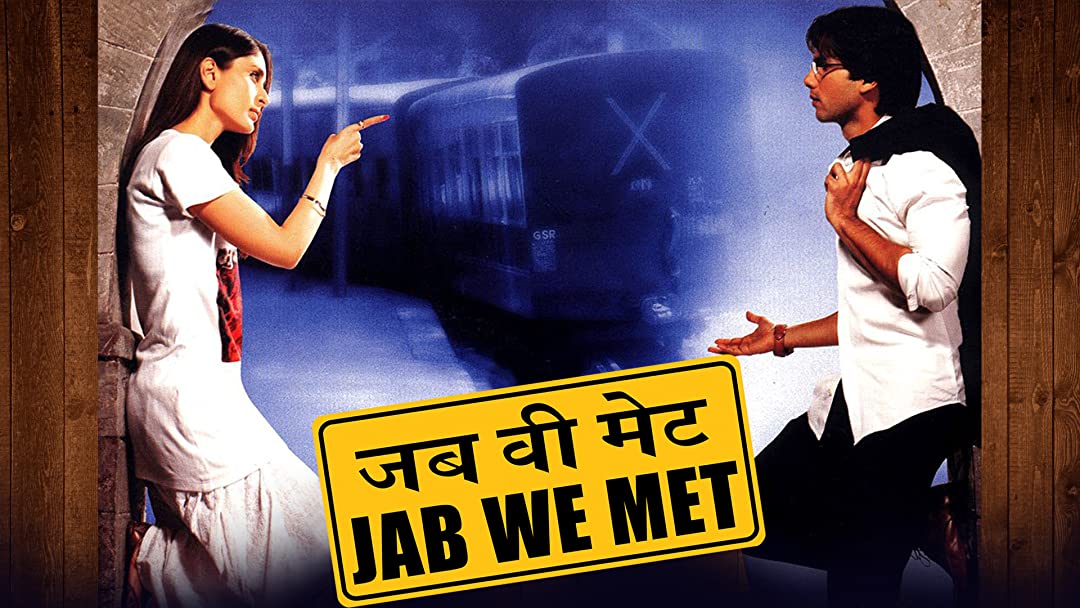 The lively Geet (Kareena Kapoor) meets the heartbroken-depressed businessman Aditya (Shahid Kapoor). They met at Bathinda station, and love started between them. This is Imtiaz Ali's movie which taught us to love, laugh, and live. The lively character of Geet everyone expects in their life. She becomes a crying shoulder for him, and Aditya turns things upside down to find the missing Geet. Slowly, they shared a special space in their heart that both were unknown.
• IMDb Rating: 7.9/10
• Watch On: Amazon Prime Video
2. Yeh Jawaani Hai Deewani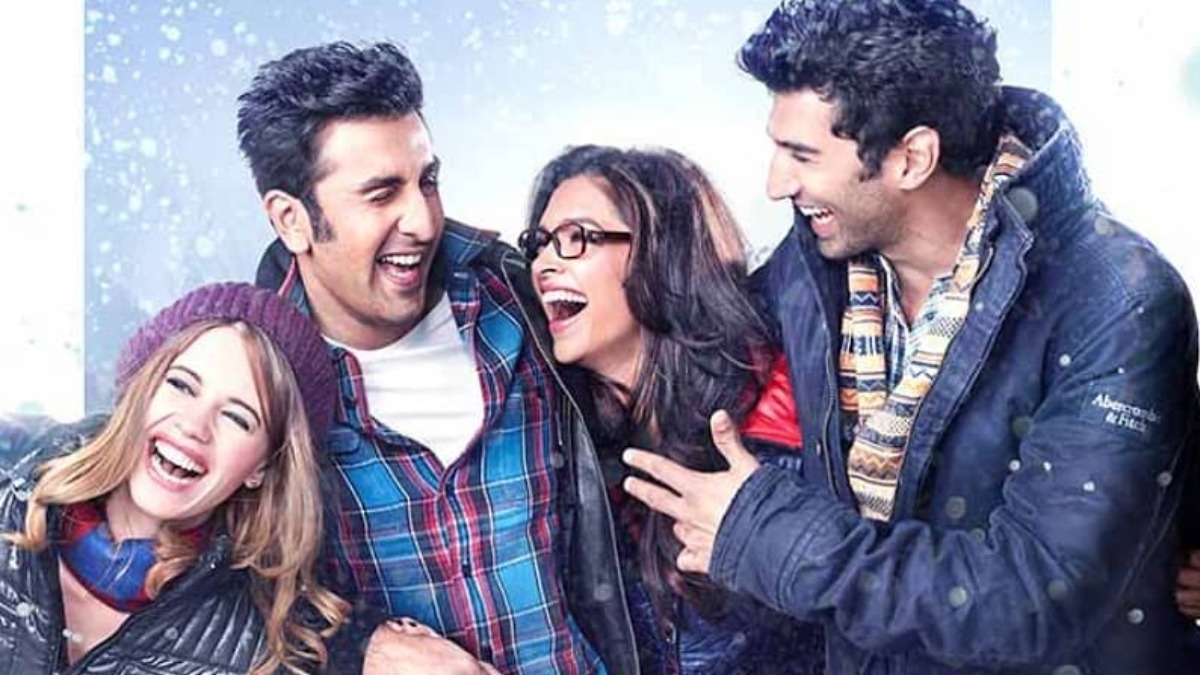 This movie has everything from love to friendship and from romance to life. This movie is not less than a DDLJ for this generation. It is far away from the old babu Shona kind of love and shows what actually it is to be in love. But, not at the cost of compromising with one's passion.
• IMDb Rating: 7.2/10
• Watch On: Amazon Prime Video
3. Kabir Singh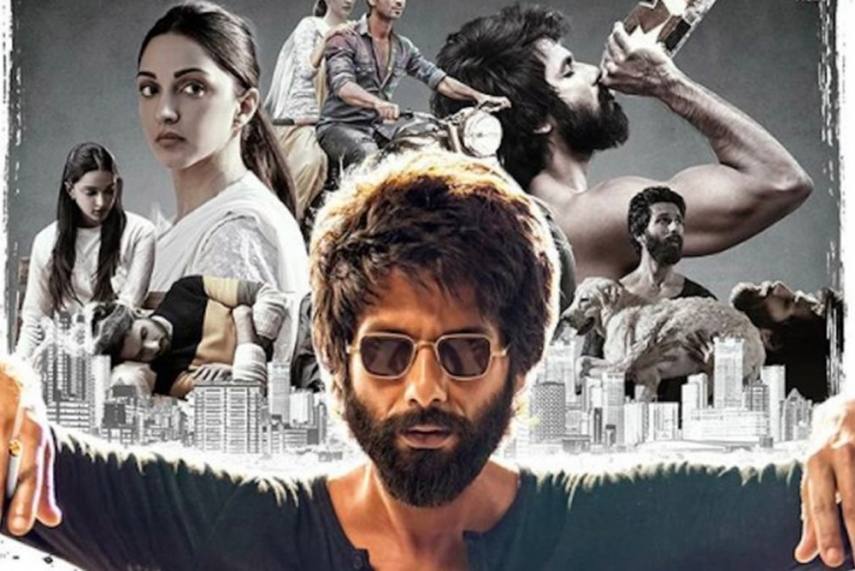 Even though the film caused controversies for portraying toxic masculinity, "Kabir Singh" was one of the biggest hits of 2019. In the medical college, an obsessive Guy Kabir (Shahid Kapoor) falls in love with his college junior, Preeti (Kiara Advani). After losing his love, he chose the path of self-destruction. This movie is a big change from stereotypical love stories of Bollywood along with good music and Shahid Kapoor's brilliant performance.
• IMDb Rating: 7.1/10
• Watch On: Netflix
4. Rab Ne Bana Di Jodi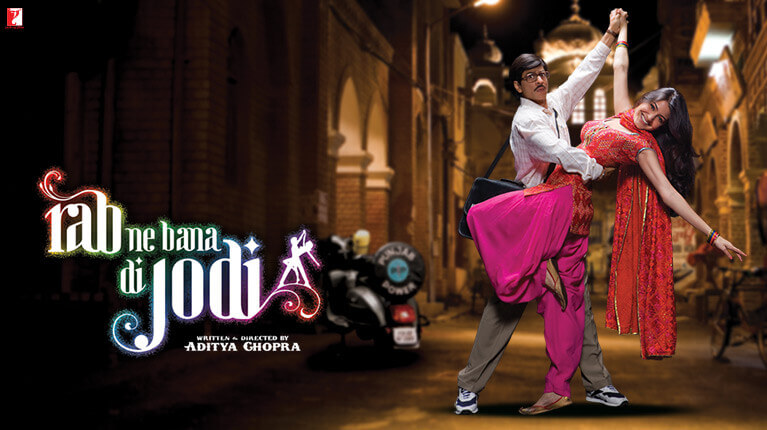 This movie of Anushka Sharma and Shah Rukh Khan has an extraordinary screenplay and powerful acting. An ordinary guy Surinder falls for a vivacious Tani. They get married under inappropriate circumstances. But, he undergoes a complete makeover to impress Tani and becomes Raj. The twist comes in their married life when Tani would not able to recognize him.
• IMDb Rating: 7.2/10
• Watch On: Amazon Prime Video
5. Tanu Weds Manu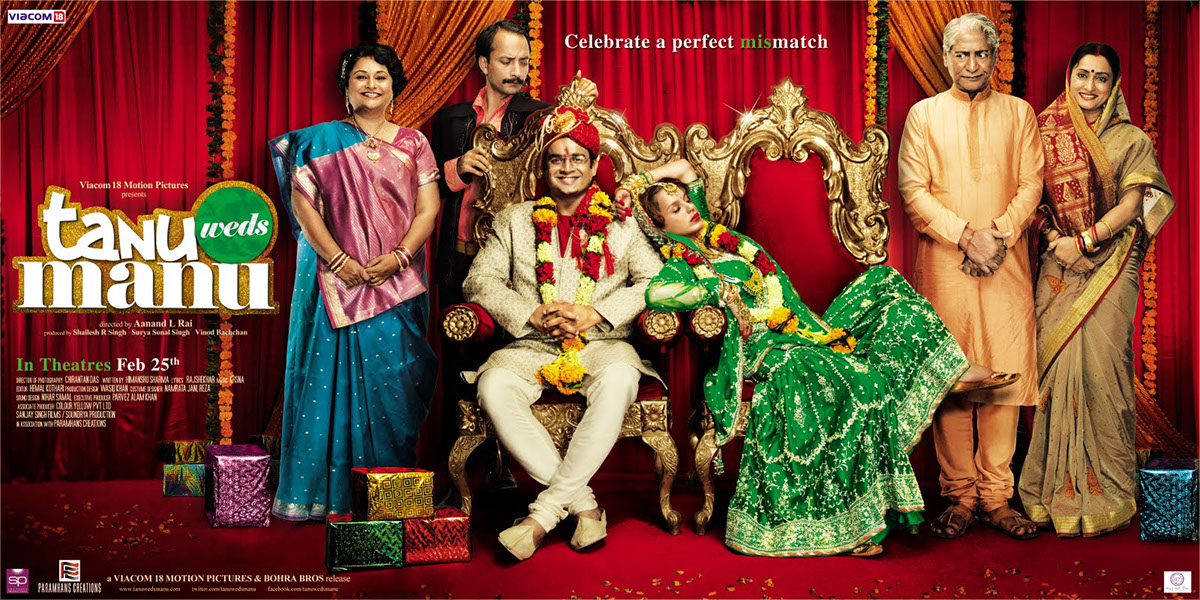 Although Kangana always justifies her role in any kind of movie, the act she played in Tanu weds Manu was of an extinct level. When it comes to R Madhavan's character Manu, he is all about Tanu's happiness. He even agreed to help her to meet with her boyfriend. He kept loving her silently until Tanu realizes herself.
• IMDb Rating: 6.8/10
• Watch On: Netflix
6. Rockstar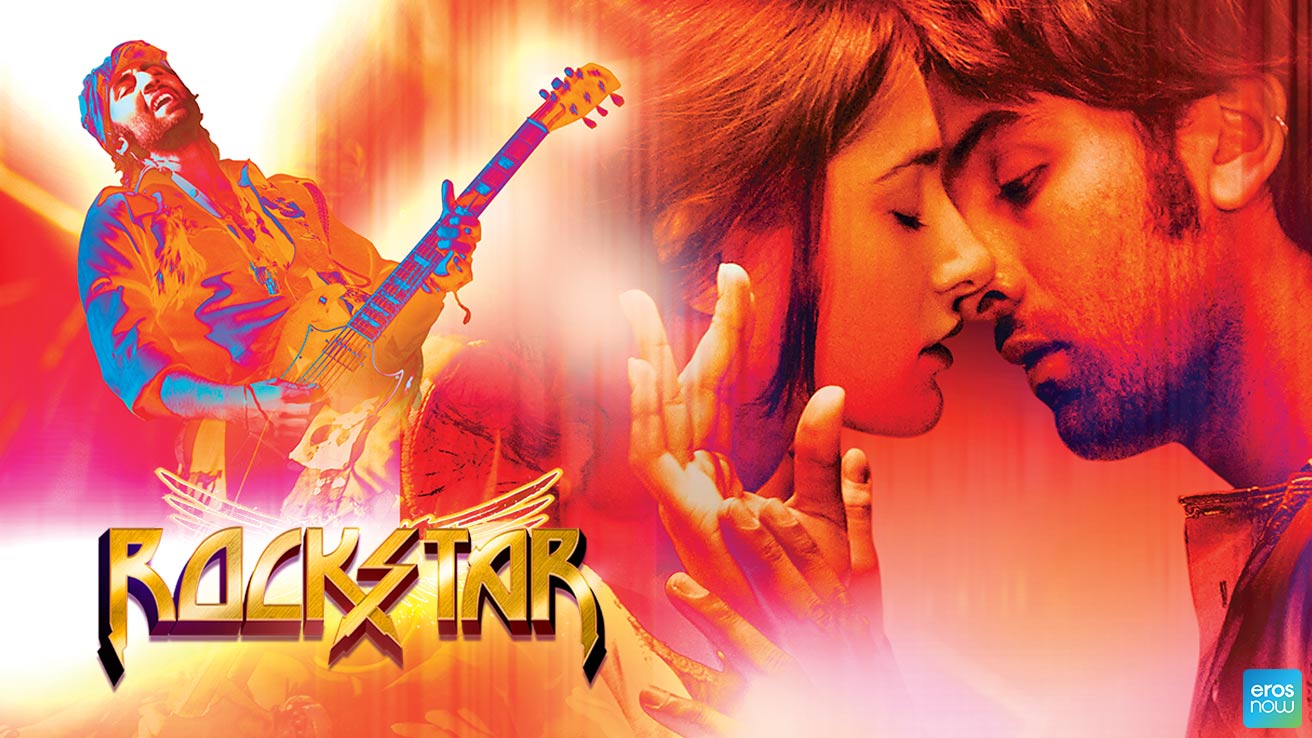 Love has all the power to give a new life to someone. And you feel safe and happy if the person you love lives around you. Jordan and Heer share the same kind of story. Heer was ill but she starts recovering when he meets Jordan and this again was a sign of eternal love. Her blood count improves drastically and she stands on her feet again. Everything is possible with the power of true love.
• IMDb Rating: 7.7/10
• Watch On: Eros Now
7. Jaane Tu… Ya Jaane Na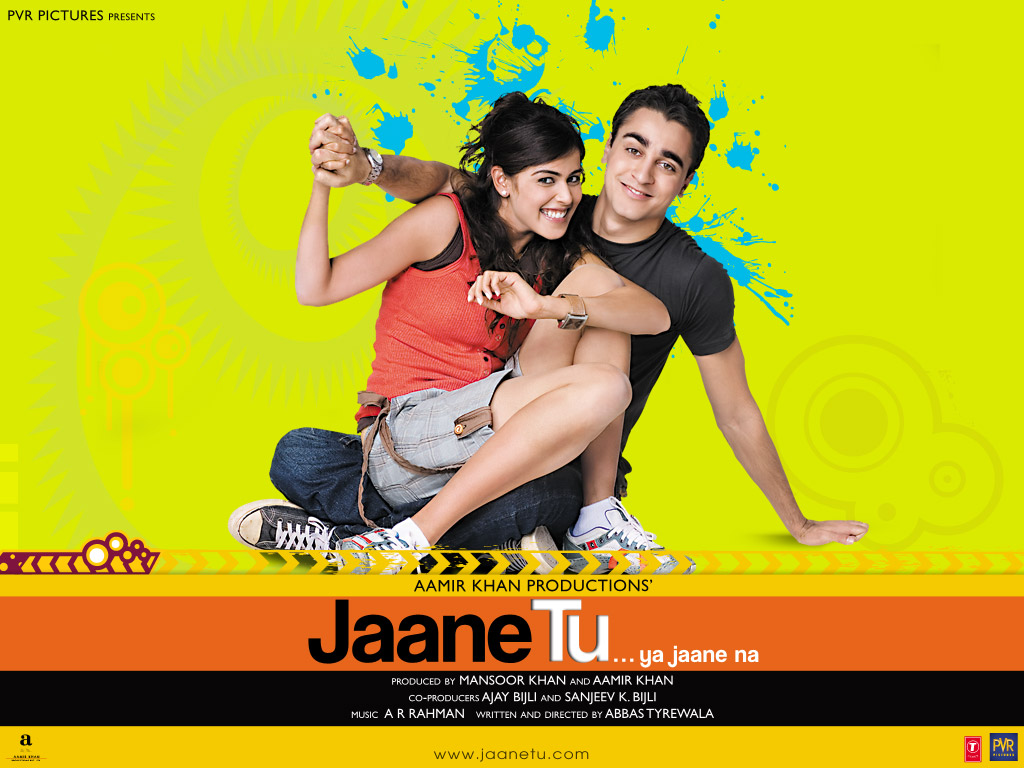 This movie is about the two college besties, Jai and Aditi. While Aditi is a highly aggressive and impulsive girl, Jai is the simplest Rajput guy ever. They want to settle down in life after college. Little did they know that they love each other. Aditi starts missing him and his company when Jai finds a girl, and the same happened with Jai.
• IMDb Rating: 7.5/10
• Watch On: Netflix
8. Vivah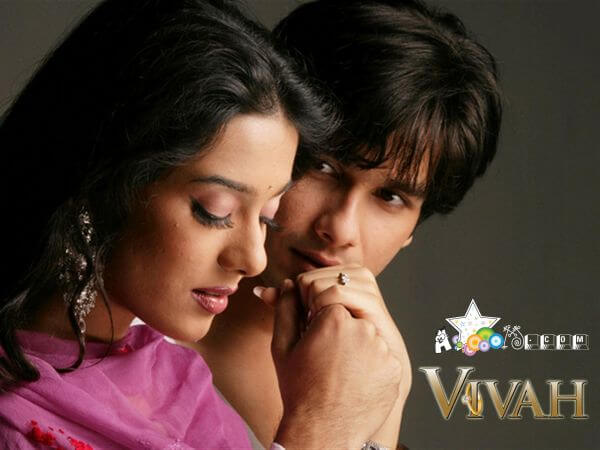 It is an old Hindi romantic movie that gives an extraordinary message. Prem, who is from a wealthy family is engaged to Poonam, an orphan. Unfortunately, she suffers from first-degree burns two days before their wedding. Prem accepts her condition and married her in the hospital.
• IMDb Rating: 6.6/10
• Watch On: Amazon Prime Video
9. Wake Up Sid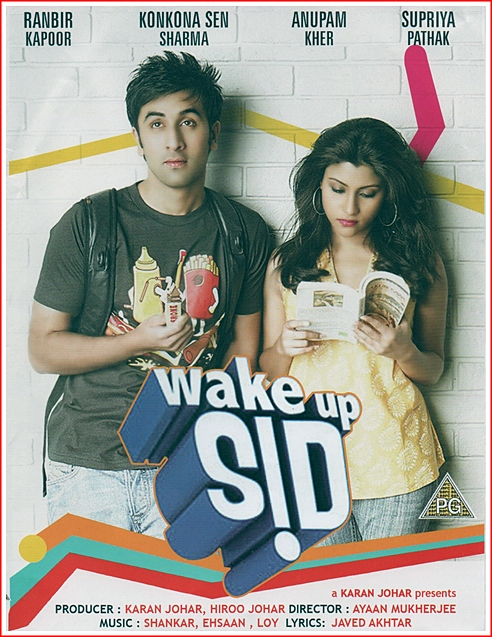 "Wake Up Sid" was possibly one of the most relatable films of our generation. His character is confused almost throughout the movie like us. This movie perfectly explored the nuances of an urban relationship.
• IMDb Rating: 7.9/10
• Watch On: Netflix
10. Barfi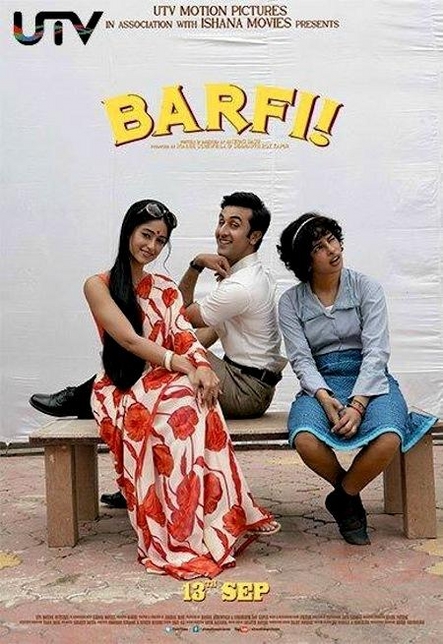 "Barfi" won 7 Filmfare awards including the Best Film and was nominated for the Oscar awards. A story of a deaf-mute boy Barfi (Ranbir Kapoor) and his affair with Jhilmil (Priyanka Chopra) who suffers from Autism and Shruti (Ileana D'Cruz) an educated young girl. The movie set a milestone in the Hindi love stories. Barfi celebrates love, life, and laughter where disability meant a life of contempt and distress.
• IMDb Rating: 8.1/10
• Watch On: Netflix
11. Shubh Mangal Zyada Saavdhan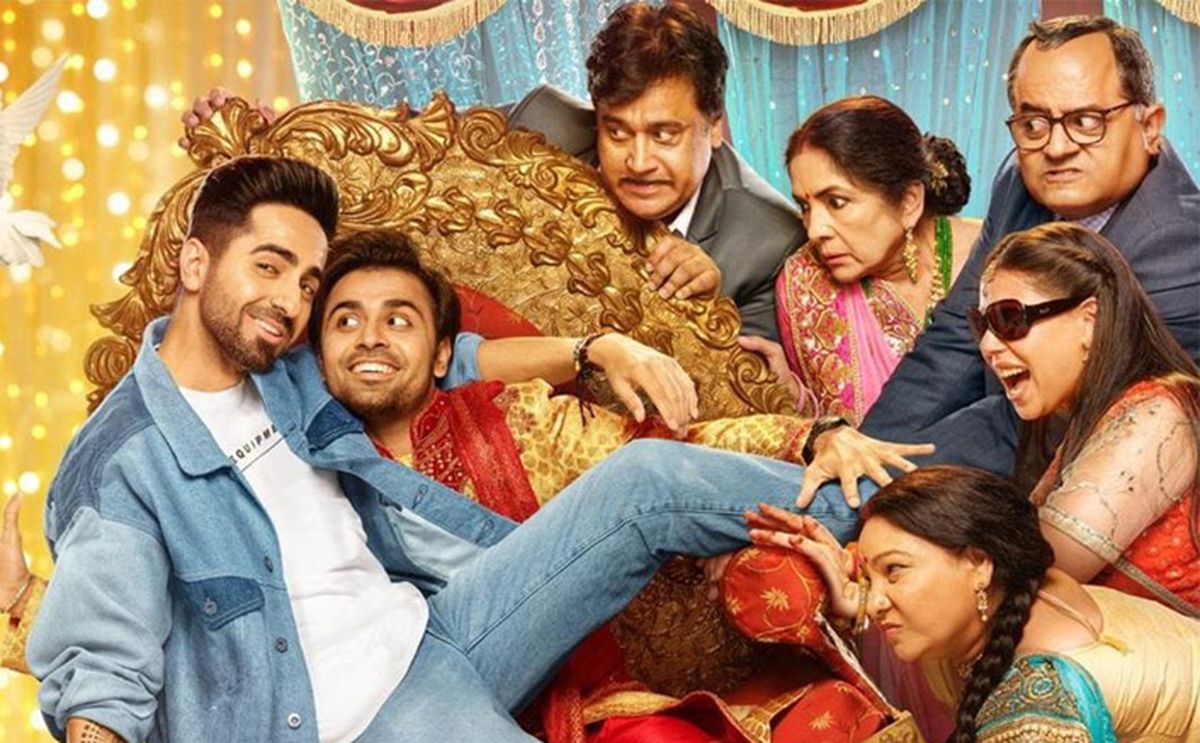 Ayushmann Khurrana always comes up with a movie that breaks some narrative mindsets and stereotypes of Indian society. This love story is of the two gay couples Kartik and Aman. As they fight with Aman's old-fashioned family, the two face a long and difficult path to happiness. However, Kartik isn't going to step down until he marries Aman.
• IMDb Rating: 5.8/10
• Watch On: Amazon Prime Video
12. Band Baaja Baaraat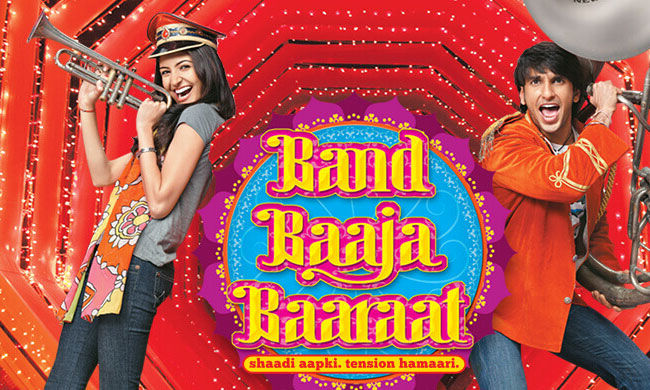 This is a tale of two business partners falling in love. You often shy away from confessing your love to the person until you are not sure that another person also has feelings for you or you are in one-sided love. This confusion can lead to so much distraction that it affects your work sometimes. This is what happened with Anushka Sharma's character Shruti Kakkar who faces the same dilemma.
• IMDb Rating: 7.2/10
• Watch On: Amazon Prime Video
13. Tamasha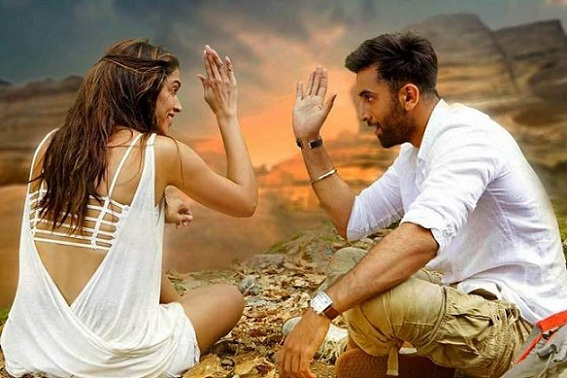 Sometimes a person has two characters, one for himself and another one for others. Tara (Deepika Padukone) meets Ved (Ranbir Kapoor) on a holiday in Corsica and falls in love with his character. But later when she meets him in Delhi, she finds out that he's a completely different person. He is not the one she fell in love with.
• IMDb Rating: 7.3/10
• Watch On: Netflix
14. Cocktail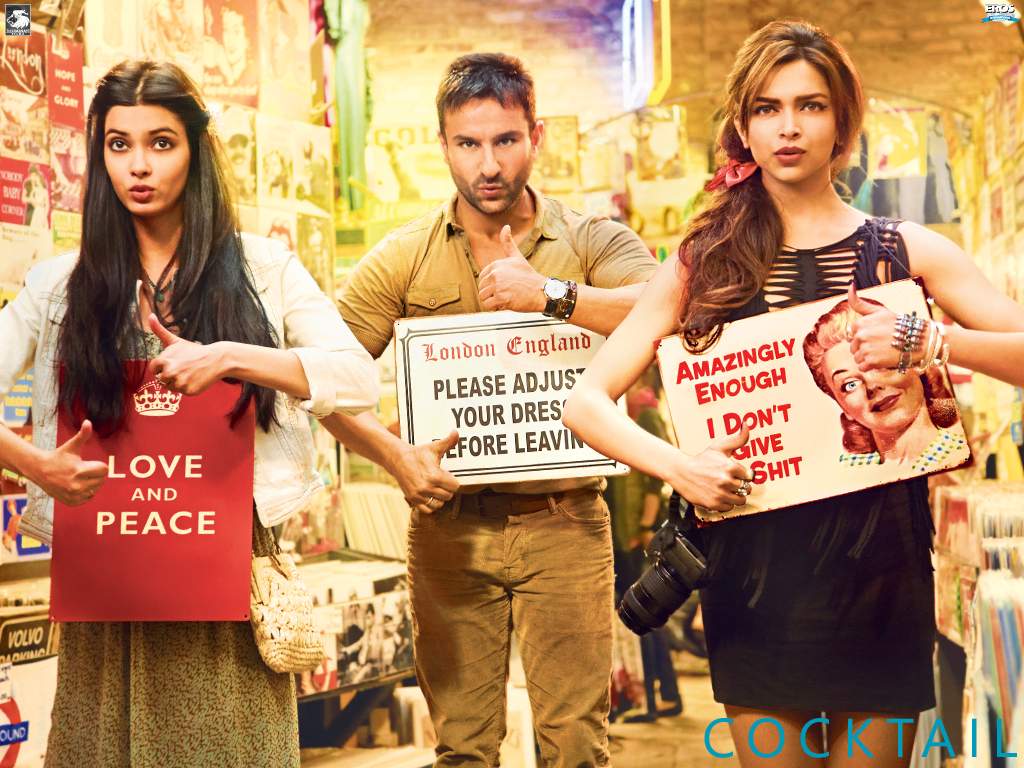 There are times when the person you love, loves someone else. A love triangle that we can relate to. The same happened with Gautam, Meera, and Veronica. Veronica loves Gautam but Gautam loves Meera. When Veronica finds out the truth, she was left heartbroken. She expresses her feeling after getting drunk but nothing works. Ultimately, she helps Gautam to get Meera back in his life.
• IMDb Rating: 6.3/10
• Watch On: Eros Now
15. Masaan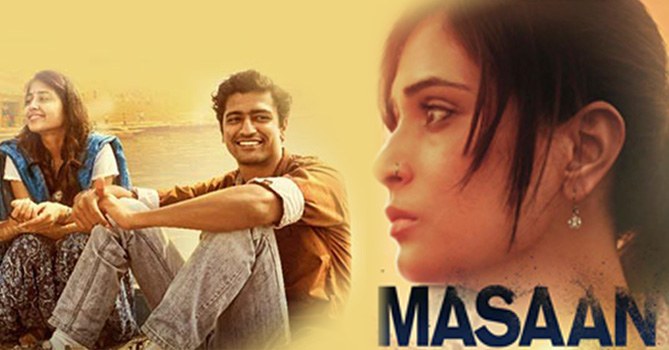 "Masaan" was is one of the best romantic Bollywood movies that is based on the life of B town lovers. It is not a film with a happy ending but it teaches us to move on despite our struggles.
• IMDb Rating: 8.2/10
• Watch On: Disney+Hotstar
16. Ishaqzaade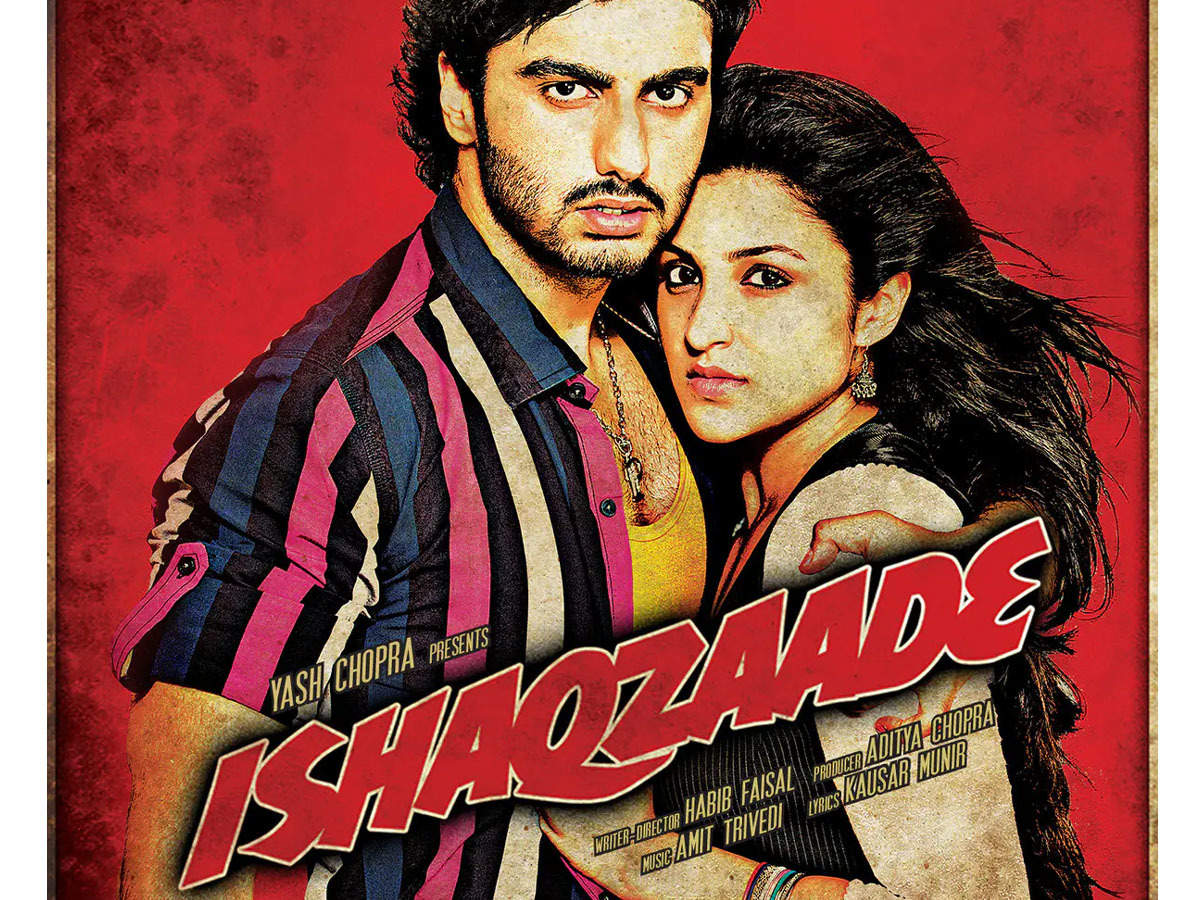 Ishaqzaade is an Indian Romeo-Juliet movie where Zoya Qureshi and Parma Chauhan are two rebellious individuals and belong to two rival political families. Their families set out to kill them when they fall in love. The two shoot each other in the stomach willingly in the end and die in each other's arms, smiling.
• IMDb Rating: 6.5/10
• Watch On: Amazon Prime Video
17. Dum Laga Ke Haisha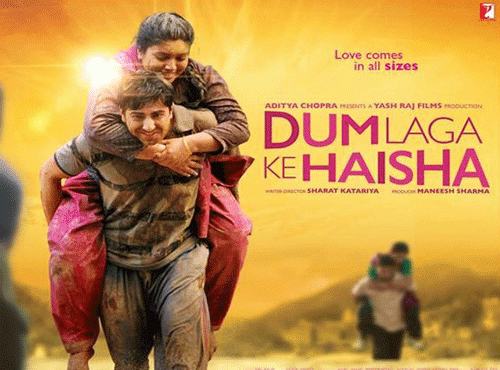 This film shows us how two people can fall in love even after being forced into an arranged marriage. Prem Prakash Tiwari (Ayushmann Khurrana) marries an overweight educated girl, Sandhya (Bhumi Pednekar). He was not ready to accept Sandhya as his wife because he was forced into the marriage. After filing for divorce, they start understanding each other suddenly when the court orders them to stick around for six months.
• IMDb Rating: 7.5/10
• Watch On: Netflix
18. Shuddh Desi Romance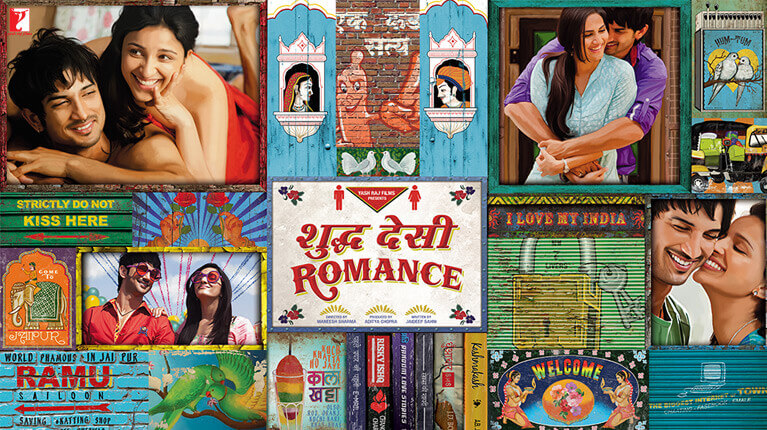 This movie stars the talented actor who is not between us, Sushant Singh Rajput. A commitment-phobic guy named Raghu (Sushant Singh Rajput) absconds from his wedding and meets Gayatri (Parineeti Chopra). They started living in a live-in relationship. But, Raghu bumps into the girl he left at the altar, Tara (Vaani Kapoor) who slowly falls for him.
• IMDb Rating: 6.5/10
• Watch On: Amazon Prime Video
19. Bareilly Ki Barfi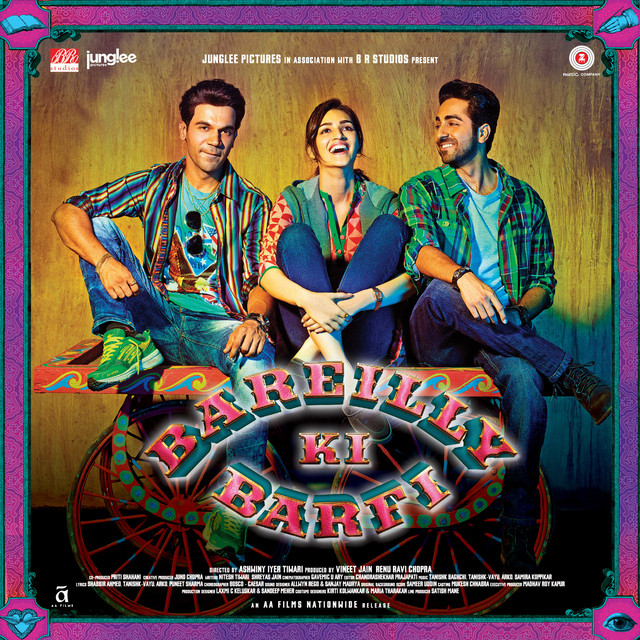 This is an Indian romantic comedy film starring Kriti Sanon, Ayushmann Khurrana, and Rajkumar Rao. This movie revolves around a love triangle between Bitti Mishra, Chirag Dubey, and Pritam Vidrohi. It has one of the best music as well.
• IMDb Rating: 7.9/10
• Watch On: Amazon Prime Video
20. Salaam Namaste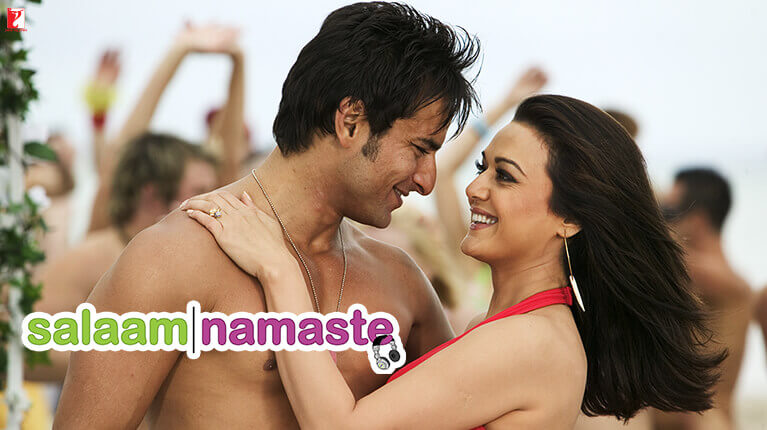 Nikhil and Ambar fall in love and to know each other better, they decide to live together. Later, Ambar gets pregnant and they parted their ways. However, their tenancy agreement forces them to live together, and then the dynamics changes between them afterward.
• IMDb Rating: 6.2/10
• Watch On: Amazon Prime Video
Please let us know your favorite movie.