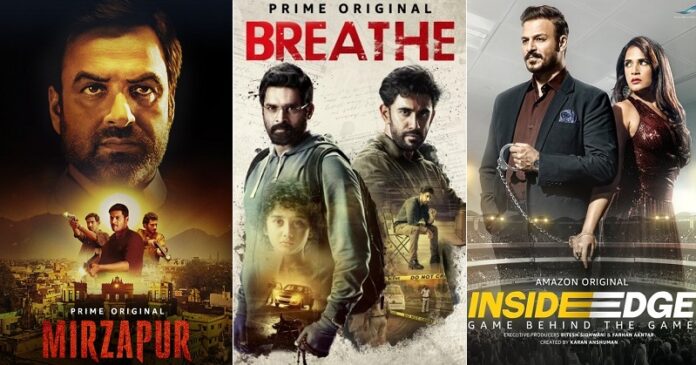 Nowadays, Amazon Prime has become a hub for a brilliant collection of Hindi web series and movies. Their Hindi web series list has recently earned huge appreciations among the Indian audience. And with the covid-19 pandemic lockdown, people got inclined more and more to spend their days watching those shows which are highly popular on Prime.
So, to save some of your search time, we have made a list of the 10 best web series which you can binge-watch. Let's check it out:
1. Mirzapur
This is one of the trending Hindi series on Amazon Prime. The series belongs to the crime genre and directed by Karan Anshuman. This web series has two seasons which are full of different colors. In this, Pankaj Tripathi is the don of Mirzapur.
2. Breathe
This brilliant web series is directed by Mayank Sharma. It revolves around a father trying to save his son by adopting unusual methods. In the series, R. Madhavan is the father and the son is Atharva Vishwakarma. Season 1 got an amazing response from the audience.
3. Breathe: Into The Shadows
This web series is also directed by Mayank Sharma. The story revolves around a doctor who has multiple personality disorders who himself kidnaps his own daughter. Then, he demands ransom from himself. It is currently one of the best series in Hindi, with Abhishek Bachchan in the lead role.
4. The Family Man
The Family Man web series got so popular that Amazon officials increase it to two more seasons. This action thriller stars Manoj Bajpai and is directed by Raj and D.K.
5. Inside Edge
Inside Edge is the perfect show for cricket lovers. It revolves around the reality and controversies of the Indian IPL league. At the 46th International Emmy Awards, it also earned an award under the best Drama Series category. This web series stars Vivek Oberoi and is directed by Karan Anshuman.
6. Made In Heaven
Made In Heaven is directed by Reema Kagti and Zoya Akhtar. It revolves around two wedding planners and their different experiences while executing marriages. The series is full of drama and different colors. It earned great appreciation from the audience.
7. Laakon Mein EK
This web series has two seasons and is created by Biswa Kalyan Rath. While the first season revolves around a teenager who is forced to stay at a coaching center for the preparation of the IIT entrance examination, its second season focuses on a lady doctor and her struggle to increase the health care facilities in a village.
8. Four More Shots Please
It's an all-women web series. Also, it one of the highly ranked web series on Amazon Prime. The first two seasons were so hit that they have already announced its season three. The story revolves around the amazing friendship of four women, their struggles, and their lives.
9. Hostel Daze
Hostel Daze is a brilliant replica of hostel life inside an engineering hostel. It is filled with study anxieties, bullies from seniors, fun, and laughter. It revolves around 4 friends and their adventures.
10. Mind The Malhotras
This web series is full of drama and laughter. The series stars Cyrus Sahukar and Mini Mathur and is directed by Ajay Bhuyan and Sahil Sangha. It is a perfect entertainment show to binge-watch.