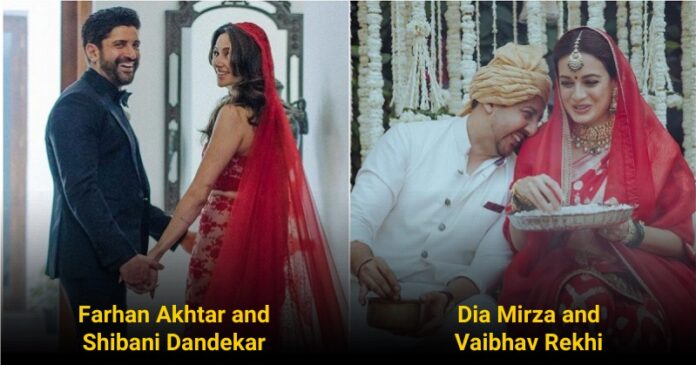 In the town of Bollywood, hook-ups and break-ups are commonplace. Second marriages are, as well. Marriages, too, have their expiration dates. However, this does not rule out the possibility of a second opportunity at happiness. These well-known actors have remarried and given love another shot.
1. Saif Ali Khan-Kareena Kapoor
View this post on Instagram
Saif Ali Khan had fallen in love with Amrita Singh, who was 12 years his senior; they married immediately but divorced after 13 years of marriage. Saif married Kareena Kapoor in 2012, after divorcing Amrita. Taimur Ali Khan and Jeh Ali Khan are the couple's two sons.
2. Karan Singh Grover-Bipasha Basu
View this post on Instagram
Karan Grover married Shraddha Nigam in 2008. However, their marriage did not last long, and they divorced in 2009. After divorcing Shraddha, Karan married Jennifer in 2012, but the pair divorced in 2014. Karan is currently married to Bipasha Basu, an actor.
3. Dia Mirza-Vaibhav Rekhi
View this post on Instagram
Dia Mirza's first husband was Sahil Sangha. She divorced her ex-husband in 2019. Dia eventually agrees to marry Vaibhav Rekhi, and the two have a happy marriage. Both are now fathers to a young son.
4. Farhan Akhtar-Shibani Dandekar
View this post on Instagram
Farhan was previously married to hairstylist Adhuna Bhabani before marrying Shibani Dandekar. After dating for three years, he married Adhuna Bhawani in 2000. They have two daughters together, however they split in 2017 after 16 years of marriage. Farhan and Shibani met on the set of the reality TV show I Can Do That in 2015 and married in a beautiful ceremony recently.
5. Javed Akhtar-Shabana Azmi
View this post on Instagram
Javed Akhtar's first wife was Honey Irani, a prominent cinema writer and the most well-known child artist of the 1950s. After his divorce from Honey, Javed married Shabana Azmi. Honey Irani and Javed Akhtar's children are Farhan Akhtar and Zoya Akhtar.
6. Renuka Shahane-Ashutosh Rana
View this post on Instagram
Renuka Shahane got married to Vijay Kenkare, a Marathi theatre writer and director, before meeting Ashutosh Rana. The marriage was short-lived. The pair have now been together for more than two decades.
7. Sanjay Dutt-Manyata
View this post on Instagram
Sanjay Dutt's first wife, Richa Sharma, died in 1987 after a long illness. He married Riya Pillai for the second time in 1997, but they divorced in 2005. Sanjay got married to Manyata Dutt for the third time and has two children with her.
8. Samir Soni-Neelam Kothari
View this post on Instagram
Before marrying Neelam Kothari, television actor Samir Soni, married model Rajlaxmi Khanvilkar in the late 1990s. However, after six months of marriage, Samir and Rajlaxmi found trouble in paradise and divorced. Neelam and Samir met in 2007 through TV producer Ekta Kapoor, a mutual friend. Finally, on January 24, 2011, the pair got united in holy matrimony, taking vows and holding hands to spend the rest of their lives together.
9. Raj Kundra-Shilpa Shetty
View this post on Instagram
Raj Kundra walked out of his first wedding after falling in love with Shilpa. Kundra, a successful and affluent businessman in London, was previously married to Kavita, and Shilpa encouraged Raj to leave his wife and marry her, according to his ex-wife. Raj, on the other hand, claims to have divorced Kavita 12 months prior to meeting Shilpa. Despite the rumors, Raj and Shilpa married on November 22, 2009.
10. Dharmendra-Hema Malini
View this post on Instagram
Dharmendra married Parkash Kaur for the first time in 1954. The original He-Man of Bollywood, on the other hand, was smitten by Hema Malini, the Dream Girl of Bollywood. Cupid eventually struck Hema ji, who first refused to reciprocate his love since she did not want to get engaged to a married man. When Dharmendra's first wife, Parkash, refused to divorce him, he turned to Islam to marry Hema ji. After a five-year courtship, Dharmendra and Hema Malini married in 1979.
11. Archana Puran Singh-Parmeet Sethi
View this post on Instagram
Archana and Parmeet eloped and married in 1992 after being in a live-in relationship for four years. It had been ten years since the former had divorced her first husband.