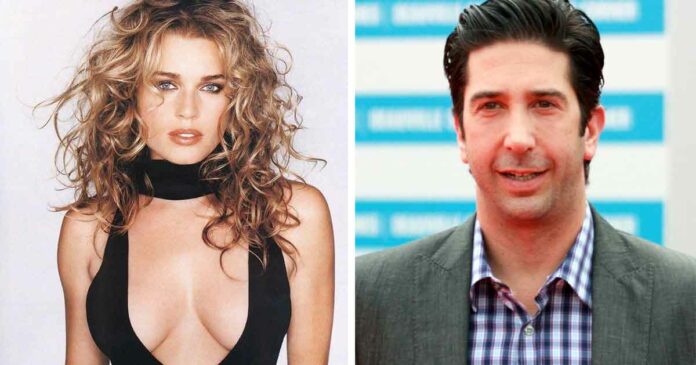 As we all know that FRIENDS was a multi-starrer show. Throughout the 10 years of the show, numerous actors appeared as different characters and many of them were not so familiar faces back then. But they blew up in a big way post-FRIENDS. Die-hard fans might already have a mental click of most characters but still, there are chances most of us have missed a few actors who made it big after the show.
We are sure you can never forget some of the famous actors like Brad Pitt who gave guest appearances on the show. But some characters were young and the show can be credited to have found those talents. Emily Osment is one such name and we are going to list her too.
Now if you consider yourself a fan then let's get in and see if you remember all of them! Take it as a challenge and see if you can recognize all the side characters who became famous in their career post friends.
Dan Bucatinsky
The impatient waiter from Phoebe's birthday party.
You may remember him from Scandal or Marry me, but he was once seen in an episode of FRIENDS where he was the impatient waiter at Phoebe's birthday party who wanted Joey and Phoebe to move to a smaller table while they wait for their friends. Soon after the show, his career hit it off and he became an Emmy-winning actor, successful writer, and producer.
Scott Adsit
Director auditioning Joey to make sure he wasn't circumcised.
Before becoming famous and doing high-budget shows, Scott Adsit was seen in FRIENDS at the start of his career. Here he was playing the role of a director who came in to inspect Joey for a part and his job was to make sure Joey wasn't circumcised. It was a small role but an absolutely hilarious one. After that, there was no turning back and he was in shows like 30 Rock and Hero 6.
Emily Osment
Trick or Treat kid whom Rachel gave a cheque as a Halloween gift.
Who would have known that the famous actor from 'Hana Montana' and 'Young and Hungry' was once in FRIENDS? There she was a little girl of 9 years, who came in as a trick or treater at the Halloween party. She was the lucky one who got a cheque from Rachel after she ran out of candies and cash. After appearing in the show, she soon became the talk of the daily household.
Craig Robinson
The clerk who helped Phoebe change her name to "Princess Consuela Banana-hammock".
In the show, he played the part of the clerk who helped Phoebe change her name to "Princess Consuela Banana-hammock" after getting married. He neither had the time nor the required patience to deal with Phoebe's hilarious name change. After FRIENDS, he was part of many famous series like 'The Office', 'Brooklyn Nine-Nine' and many more.
Leah Remini
The pregnant lady whom Joey helped deliver a baby.
The famous actor from 'Kevin can Wait' and 'The king of Queens', initially auditioned for the role of Monica Geller. She didn't get that part of Monica but managed to come back with a small but amazing part in FRIENDS. If you don't remember, she was the pregnant lady whom Joey helped deliver a baby. Recently, she was best known for high-profile activism against Scientology.
Rebecca Romijn
The one with the dirty girl Ross dated.
A top model Rebecca Romijn was earlier known more for her career in modeling rather than her acting. But it soon changed after she did the episode on FRIENDS. Here she was the dirty girl. Not the naughty kind of dirty but the dirty girl whom Ross dated for a short period. She looked hot but their love fell apart when Ross saw how messy her apartment was. After FRIENDS, she was seen in 'X-Men original' as 'Mystique', 'The Librarians' and many more.
Jim Rash
The nervous passenger with Rachel in the last episode.
He was not a familiar face and definitely not an Oscar winner when he appeared in FRIENDS. Back then, he was just a nervous passenger sitting next to Rachel Green who freaked out when he overheard the conversation between Rachel and Phoebe. The reason for him to freak out was lame. He believed the plane didn't have a left-phalange! Later in life, he became a famous writer and won the Oscar for the film 'The Descendents'.
Melora Hardin
The one where she was attacked by Ross's pet monkey, Marcel.
Melora Hardin did a couple of shows before showing up in FRIENDS but she got her fame after the show, The Office. In this list, this might be the funniest cameo where we saw her as one of Ross' date. In between their date, Marcel – Ross's pet monkey, attacked her. Also later she tried to get Ross talking dirty to her which was a funny disaster. After FRIENDS, she was seen in shows like The Bold Type.
Paget Brewster
The woman caught between Chandler and Joey.
She played the character of Kathy, Joey's girlfriend. Eventually, Chandler and Kathy fell in love and she broke up with Joey. But even with Chandler, the thing didn't last long because of Chandler's insecurity, which eventually led to her disloyalty. After doing this short episode on FRIENDS, she did some really big shows like 'Criminal Minds' or 'Modern family'.
Ellen Pompeo
The woman who knew Ross and Chandler from college.
Not long before her big break in Grey's Anatomy, she was part of FRIENDS. She was the college crush of Ross and Chandler. And here we come to know that Chandler was the one who scored with this beautiful lady despite a pact with Ross. After starring in FRIENDS, she became a famous name in Grey's Anatomy.