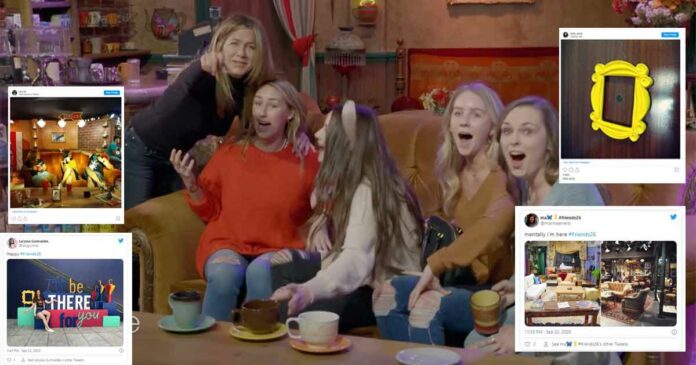 It's hard to believe that it's been 26 years since the first episode of Friends got aired on TV. We can barely forget how Rachel left Barry at the Altar and met the real world that sucks. In our memories, we watched it just yesterday! Actually, it was just yesterday that we met them and laughed hard with them. The six Friends made us laugh when we were crying, they made us smile when we were sad, they made us realize that life is unfair but, your Friends make it better.
Today i.e. 22nd September 2020 it's the 26th anniversary of Friends and fans all across the globe can't keep calm! The pandemic has made it hard for us to celebrate but our spirits can never go down. Earlier we were expecting to see the Friends Reunion on this date. But because of the pandemic, the shoots are delayed and the dates have been postponed.
However, Warner Bros has compensated the delay in Reunion with the launch of a special "Friends: The Official Cookbook". To know the details about this brand new Friends cookbook released today, click here.
It's a day that can't go in vain because it's a huge day for all Friends fans, so they have shown their love and support for the show on social media. Love for Friends has been flowing in from all over the globe and here we have brought to you a collection of really cool things that the fans want to share with the world.
Love From Instagram
Surely the best way to celebrate Friends Anniversary! When the start of the day is so wonderful with a Friends Theme donut and coffee in your favorite mug. Then the rest of the day is surely going into binge-watching some episodes.
"themed breakfast because today is a party day. ✨"
The POP Collection looks so wonderful! Remember we saw one POP collection at Phoebe's house while she was on a video call. And now this one posted by a fan really looks cool too. They look so cute and adorable that you can surely brag them on your social media wall. If you too want to own these babies, then Click here to get your own POP collection from Amazon.
Have you ever visited this place in London? Well, this Friends fan has surely made a great picture out of the location. For a second, it confuses your mind whether it's a pic or they are real!
"Act of appearance by # friends26.
Skip the two people who prevented my photo from being instagrammable 🤭"
Yes, we can surely excuse the two people in the pic and it's really fortunate that she made it to this wonderful place. It's almost like reliving the best show you have ever watched!
"26 years of the premiere of the best series ever made ✨❤️
Remembering that wonderful day I met Central Perk ☕️
Envious will say it is a montage 😪😝
# friends26"
"☕ 🍕🐤🦆🛋️ 26 years of one of the best series of life: F.R.I.E.N.D.S !!!"
Can you be any more right?? Friends is the best!
"RACHEL?"
"OH GOD, MONICA, HI THANK GOD"
twenty-six years ago today #friends, the rest is history
# Friends26 #friendstvshow
The first episode so wonderful, it just forces us to start over the series once again because we can never leave them behind even though it's been 26 years.
"On September 22, 1994, the series #FRIENDS premiered, my favorite series which brings me very good memories and has accompanied me throughout the years since then ☕️☕️"
Twitter Too Is Flooded With Love For Friends
mentally i'm here #Friends26 pic.twitter.com/41R0hPLr5U

— ma🦋🎗#friends26 (@marinaamero) September 22, 2020
Happy 26 to th first episode of @FriendsTV !!!! 💕✨ #Friends26
•@andreaaga97 @Patiibenavides pic.twitter.com/MLBWkah0AO

— the destroyer of light 🌸 (@mar_aylin13) September 22, 2020
Don't skip this dark video, it's a beautiful cover of the theme song the fan has recorded. Raise your volume and enjoy the best theme song ever to have existed! It's a ukulele cover which is unique and sweet.
Happy Anniversary #Friends26 ❤️ I'll be there for you – The Rembrandts (ukulele cover 😄) pic.twitter.com/cFtDLVsZCq

— 'Lo ♠️ (@_CarloAngeles) September 22, 2020
A Crazy Fan is so scared of the pandemic that he is worried about saving them from the virus! He is ready to put some mask on them and spray some sanitiser on them. A naive and childish idea but surely shows how badly we love those six Friends.
PROTECT THE BEST CAST#friends26 pic.twitter.com/O9MQfKfC3b

— 𝙟𝙪𝙡𝙞𝙤 🦆 team arquette (@middleageactors) September 22, 2020
Happy #Friends26 pic.twitter.com/qGBXmh8A71

— Laryssa Guimarães (@laryguimas) September 22, 2020