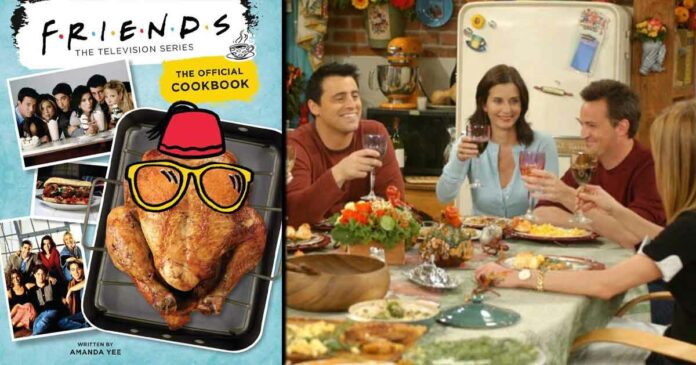 It's the 26th FRIENDS Anniversary and we still can't get over the fact that 26 years have passed since Friends came on TV. To celebrate the day, Warner Bros has a gift for all the fans. They have finally made public the best recipes from Friends TV Series. While watching the sitcom we have always wondered what was all the fuss around Ross' sandwich and why Joey loved his pizza so much, what special did he add to it? So finally we have our answers! Warner Bros has brought us some wonderful recipes that we can try on our own and have a wonderful dinner with our Friends. Btw, the cookbook is written by Amanda Yee and has the backing of Warner Bros thereby making it an official cookbook!
If you are planning to get a copy of the cookbook for yourself then you should acknowledge the fact that in the book you get 70 recipes to make your dinner party a hit. And the 70 dishes are based upon the food we have heard and seen in the TV Series or sometimes they are based upon the situations too. Take the example of "Rachel's Lobster with a Side of Lobster Roll." This recipe is based upon one of the most famous dialogues from Friends where Phoebe says Ross that Rachel is her Lobster! Phoebe also explains to us how the old lobsters hold claws while walking around their tank. So be prepared to be a Lobster to the dish once you try it, and yes we have a glimpse of the recipe from the cookbook for you here:
Moving ahead, do you remember the episode where Monica was so stressed out because she couldn't copy the recipe of the chocolate cookies made by Phoebe's grandmother? Monica surely is a nerd when it comes to competition, she cannot digest defeat easily but sadly for her, she was wasting time on a recipe that was lying in her cupboard all the time! Now, while watching all these did it ever occur to you that what was so special about the cookies that even Monica couldn't copy the taste! no need to wonder much as Warner Bros has revealed the secret and you can now bake them at your home. Just have a look at the recipe from the cookbook and set yourself for a treat.
In Friends, we all love Ross but there was a time when he became totally paranoid and could shout the hell out of anyone just because they ate his sandwich. I bet, the sandwich was too tasty but was it really so great that he couldn't control his anger upon losing it? To find out why Ross was so angry we can now try making the sandwich at home. The cookbook has the recipe for Ross' special sandwich which they have named "The Moist Maker".
Here's a quick question, did you like Janice from the show? Well, her voice was a bit irritating and she seamed a bit nosy but still, she seemed to be a mature and nice person. We can't forget the episode where Chandler got back with Janice and she made pancakes for breakfast the next morning after they made out. Well, the book has the recipe covered under the name "Janice's Oh. My. Gawd. Pancakes."
Did you ever wish to try Joey's special Pizza? He was a real foodie and always liked his food to be served in his own special way. He once mentioned that there's something called Joey's Special and we can't stop imagining how wonderful it might taste. And it's no surprise that the cookbook here has covered the recipe of "The Joey Special. Two Pizzas". Well, they have tried their best to give you a true Friends Experience through the book.
Where Can You Get This Cookbook?
Now, the final question, where can you get this book from? If this cookbook is fascinating for you and you can't wait to host a Friends Theme Party at your place while you brag about the dishes you have prepared. Then you might want to head towards Amazon as they are ready to ship you a copy of "Friends: The Official Cookbook".
Click here to find "Friends: The Official Cookbook" on Amazon.
And once you have the book with you, don't forget to prepare some really delicious dishes and share the pics with us. It's always better to enjoy everything with Friends.
We are grateful to Warner Bros as they have made the 26th FRIENDS Anniversary really special for fans like us. Now we can binge-watch the series while enjoying some dishes right from the show!