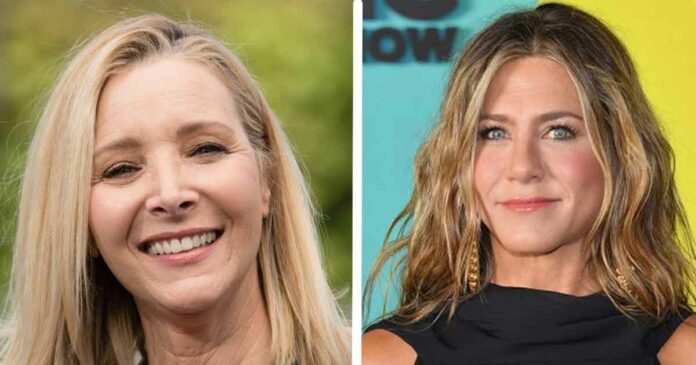 We all love reunions, don't we? Getting together and chit-chatting about the good old days. It's always great to catch up with your old mates. The six characters from Friends Sitcom are still so well connected that it calls for an on-screen reunion. But unfortunately, that's delayed! However, Jennifer and Lisa who played Rachel Green and Phoebe Buffay respectively were spotted in an interview for Variety where they made it feel like it was a small reunion of Friends. They talked about some good old days from Friends, made fun of each other, and also talked about their recent TV shows like The Morning Show and Space Force. And of course, after playing a wholesome of ten seasons based on comedy, it is now in their nature to be comic and that's exactly what they did. They slipped in a quote (Pivot, Pivot) from Friends and both of them laughed hard remembering the days from the shooting of Friends. You are going to love watching the interview because we fans can never get enough of the disclosures about our favorite Actors.
Wait, this is just a short clip from the whole interview! Keep reading to explore more!
In the complete video of the interview, they looked back on another memory of shooting 'F.R.I.E.N.D.S' and Aniston asked Kudrow whether she actually remembered the first time she met her. It didn't even take Lisa a minute before she gave her answer saying 'Yes I do – at the table read.'
I mean isn't it amazing? After all these years they still remember the first time they met each other so keenly. "You were wearing an appropriate Phoebe Buffay – like white linen, hippie shirt and you had a bunch of seashells and a necklace on" commented Jennifer. And we can't help thinking that it seems like Jennifer like her character Rachel Green had a lot of knowledge about fashion.
After all the talks about Friends, they went back to talking about their recent shows.
Lisa mentioned that The Morning Show is one of her favorites and that she and her husband would watch it anytime they are free together and said that Jennifer blew her away. Such a supportive friend you are Lisa! Jennifer was overwhelmed and thanked her. Lisa even said that Jennifer got quite into the character so much that Lisa couldn't recognize that it was her friend who was hosting the show.
Then Aniston talked about how after 40 they need to find themselves someone new. Lisa was amazed by the portrayal of Alex's breakdown and said that she hadn't seen anything like that before and that it felt so real.
Then after some talks, they moved on to Lisa about her show 'Space Force'. Jennifer said she was sorry that Lisa's character was in jail but then claimed that even the situation going on right now is the same as what her character is going through.
Jennifer stated that Lisa was very excited to work with Steve Carell in return for which Lisa said that although it was only for five days it felt like heaven. I mean duh! Of course, working with Steve Carell is so exciting don't you think?
Lisa also confessed that she likes being a guest family member as she has commitment issues after Friends. I wonder why that could be? Anyways, they could just go on talking about their current shows and went back to remembering the good old days.
Did you know that even celebrities like to check out their blooper videos?
Yes, that's right! During this interview, Jennifer gave us another shocker. She said "I love stumbling on Friends episodes. Thus one time I was with Courteney and we were trying to find something to reference, an old Friends thing. Then we stumbled on – there are bloopers online – and we sat there at the computer like two nerds watching these bloopers laughing at ourselves." I mean I cannot get over this incident at all! What a cool way to spend time with your friends. Note it down guys maybe you could do this sometimes with your friends too.
Lisa and Jennifer even discussed one blooper in particular in which Phoebe sings along with Ross playing a bagpipe. If you haven't watched that blooper already we have it for you here. I bet you will find the blooper more hilarious than the original scene.
They even talked about the scene where Phoebe caught Chandler and Monica together through Ross' new apartment. What was that line again? That's right!
"My eyes! My eyes!"
They said that's how Matthew Perry used to say things.
All in all, it was lovely seeing the BFFs get together through social media and have such heart-to-heart conversations.
We hope we get to see them all together on-screen as soon as possible.
Complete Reunion Video!