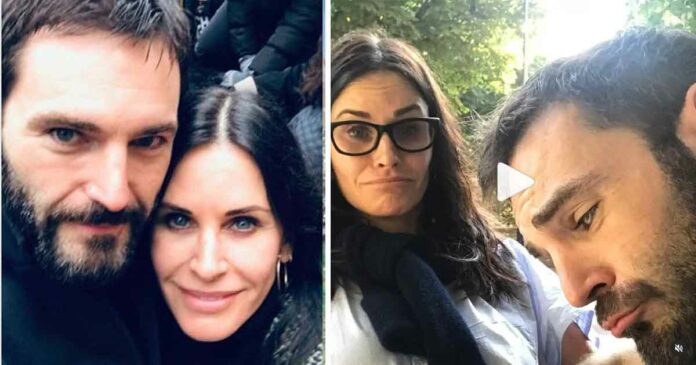 In 1994 a very simple sitcom aired for the first time on television. There was nothing supernatural or sci-fi about this show. But still, it is one of the most demanded TV shows to date. This show illustrated the life and its ups and downs in the most hilarious ways. It made us believe that with someone by your side, anything is possible. It demonstrated that Friends are nothing but our second family. The show was and is popular for many reasons. Friendship of course is one of them, but it is also favoured for its portrayal of romance. The chemistry between the couples on the show was jaw-dropping. Not just on-screen but even the off-screen love life of the cast has been pretty spectacular. 'Jennifer Aniston and Brad Pitt', 'Matthew Perry and Julia Roberts', 'Courteney Cox and David Arquette' are some of the well-known love stories of our favourite cast members. Today, we will talk about my favourite character Monica aka Courteney Cox.
Recently she uploaded a video on her Instagram profile with a man. She has openly accepted in the post that she loves her and for 7 years they have been together. It's hard for a few fans(like me) to believe that Courteney can have a better date than Chandler or Matthew Perry. But as per the post on Insta, yes she has someone else in her life.
It's very well known that Courteney Cox's dating list is rather short compared to her best friend Jennifer Aniston's. Courteney found the love of her life right after Friends caught up the heat. She and David Arquette first met on the sets of 'Scream'. There was a spark between them since the very beginning. It didn't take them much longer to declare each other as their one and only. They got hitched in 1999. The two were together for more than a decade. On 13th June 2004, they welcomed their daughter Coco into the world. But unfortunately, things didn't work out between them and they parted their ways in 2010. As per the sources, the split was on good terms and they are still very close to each other. So was the man in the Instagram post, David Arquette?
Actually, the answer to the previous question would be a no. After her divorce, Courteney did not lose hope and was still looking for the love of her life. In 2015 she met with the musician 'Johnny McDaid' and fell in love with him. They got engaged right after six months of dating each other but for some reason, they called it off. No, don't lose your heart just yet. Because they didn't break off here.
Like the saying "If two people are meant to be together, they will find their way back" so did Courteney and Johnny. In May 2016, Courteney told Us Weekly "Well, we love each other and we are – yes, we're happy!" At the same time, Johnny commented saying that he has never loved a woman like he loves Courteney. Cute right!
SO the video Courteney posted, is it with Johnny then? Of course yes, he is the man Courteney loves. It's not the first time that she publically expressed her love for Johnny. From posting a video of them singing and playing instruments together at the Royal Albert Hall to posting vacation pics. They have given us major #couplegoals!
Here's the video where Courteney was seen singing and playing an instrument with Johnny:
For this 2020 New year's celebration, they took a trip to the United Kingdom. Courteney posted a very cute picture of them kissing each other and captioned it as "I can see clearly now…2020! Happy New Year from the UK."
Again on Valentine's Day, she posted a picture saying "My one. Happy Valentine's Day." Ohh! How much we love seeing these cute pictures of this couple!
The Most Recent Video With Johnny
Anniversary is every couple's special day to celebrate. Sharing gifts, love, and affection are all that it is about. Recently, Cox celebrated 7 years of togetherness with Johnny McDaid, and to mark the occasion, she posted a cute video on Instagram and fans couldn't stop adoring the couple.
The video captures a few memories with Johnny and she captioned it wonderfully "7 years ago today I had my first date with this incredible man…and my life was changed forever. I love you, J."
We adore this couple and their lovely moments together. We are really happy for her as she finally found her happily ever after.