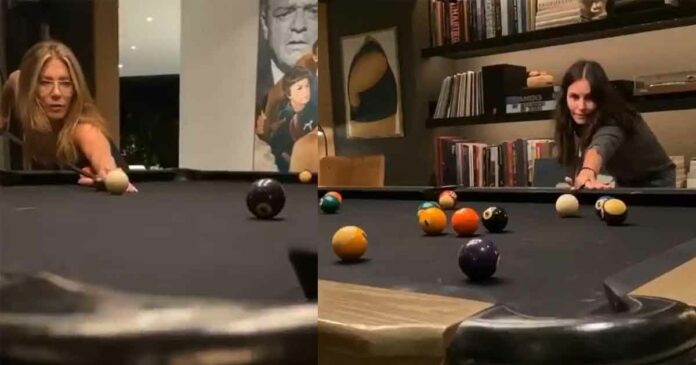 Super Sportive Monica is back! Remember the episode when she was in Barbados and played a Table Tennis match with Mike. They both were so harsh and perfect opponents one can ever witness. But, this time it was the game of Pools and she proved it to us, that she hasn't lost the Monica-Level of Energy at all. Unfortunately, it was Rachel who was standing against her, and quite evidently her skills were not at par with Monica's. So we can assume what might have happened to poor Rachel Green!
Recently Rachel posted a video on her Instagram wherein we see her along with Courteney playing a friendly game of pool. The video was cute and hilarious at the same time. Courteney, just like Monica, seemed perfect with her shots. She was nothing less than a pro in the game. However, Jennifer didn't seem so perfect and missed a lot many shots she could have scored. Just like the classy and competitive Monica we know, she couldn't stop trolling Jennifer in the video.
Aniston captioned the video saying, "Friends shouldn't let Friends play pool (especially when they suck😣)." And the same video was seen on Courteney's wall with a caption that said, "I may have had a good night…but could my friend BE any cuter?"
Well, we don't know whether Jennifer should continue playing pool even after such great trolls. But one thing we know for sure, she really looked damn cute and hot while playing the game. The moment when she swings her hair, many have skipped a beat already. But as far as her game is concerned, she was really pathetic in it.
Here's the video uploaded on Jennifer's profile:
Did you see Courteney aka Monica mocking Jennifer after the bad shot? Well, it was funny indeed! The same video was posted by Courteney from her account as well but with a different caption. But she couldn't stop there, she also posted a video flaunting her pool skills.
Just look at her perfect shots, she seems to be unstoppable in it too. Surely, Monica always loved to get praised and loved flaunting herself in the series too. And even today, she is enjoying the same. Check out the video below:
Well don't miss out on the comments on these videos as they are amusing too! On Courteney's video we see many famous personalities comment the following:
Every Friends fan is waiting to see all the six characters come together for the Reunion as soon as possible. It's getting delayed again and again and the eagerness of the fans is increasing multifold. Let's hope to see them all together soon.
For now, small meetings like the pool-play makes the fans so excited to see how the actors in the show are still friends even after the series is done with. We do hope and we also know it within ourselves that Monica and Rachel are going to be Friends Forever! Also, the other cast members will stay friends forever because it was not just a show that they created but they lived a life in there.